It looks like there's a Waldorf Astoria coming to Miami. The hotel will only open way down the line and details are still limited, though as a Miami resident I found this news to be interesting, given the type of development we're talking about.
Waldorf Astoria hotel & residences Miami
The Waldorf Astoria Miami has been announced, and it will be the tallest building in Florida. The building will be 1,049 feet tall and 100 stories, making it the tallest building in all of Florida. It will be located in downtown Miami, off Biscayne Boulevard.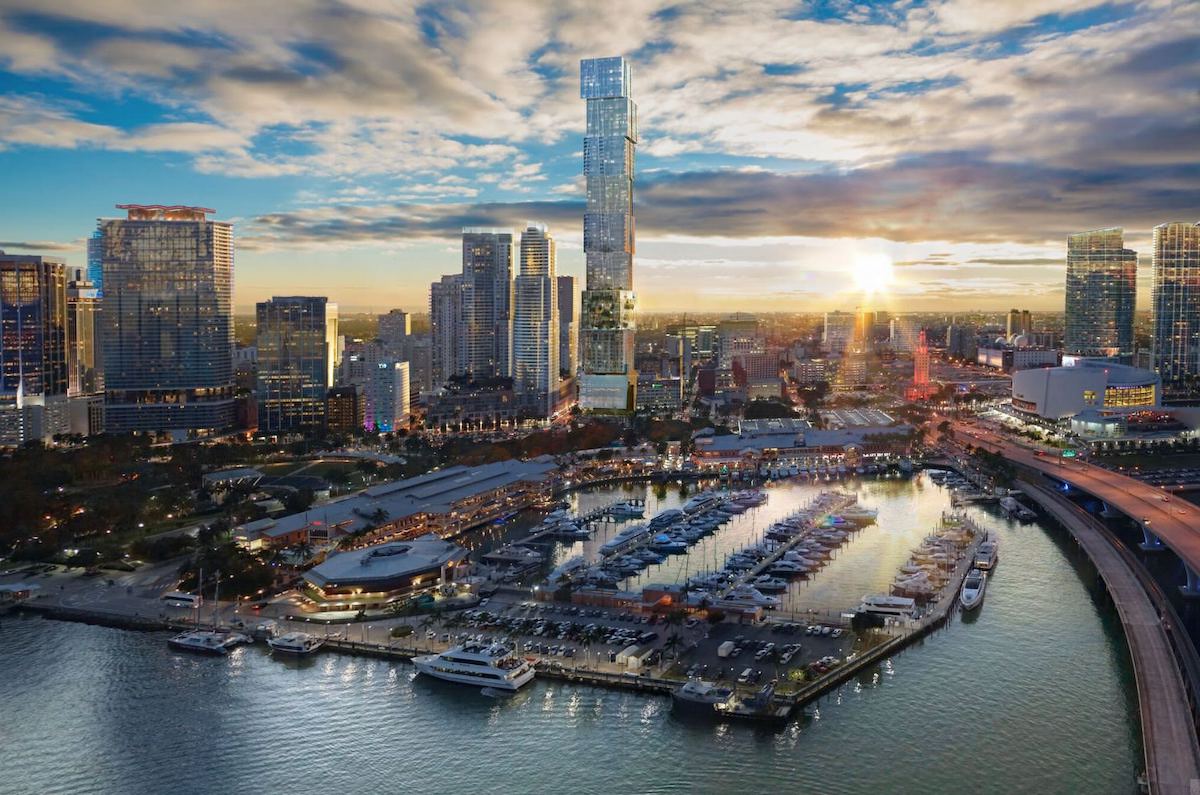 Rendering of Waldorf Astoria Miami
The mega-development will feature both residences and hotel rooms:
There will be 205 hotel rooms, on floors 7-16 and 26-31
There will be 360 residences on floors 40-100
While details about the hotel are limited as of now, we do have some details on the residences:
Residences will be anywhere from one to four bedrooms, ranging in size from around 500 square feet to around 3,500 square feet
Residences will start at $1 million, and will cost anywhere from $1,100 to $2,500 per square foot (ouch)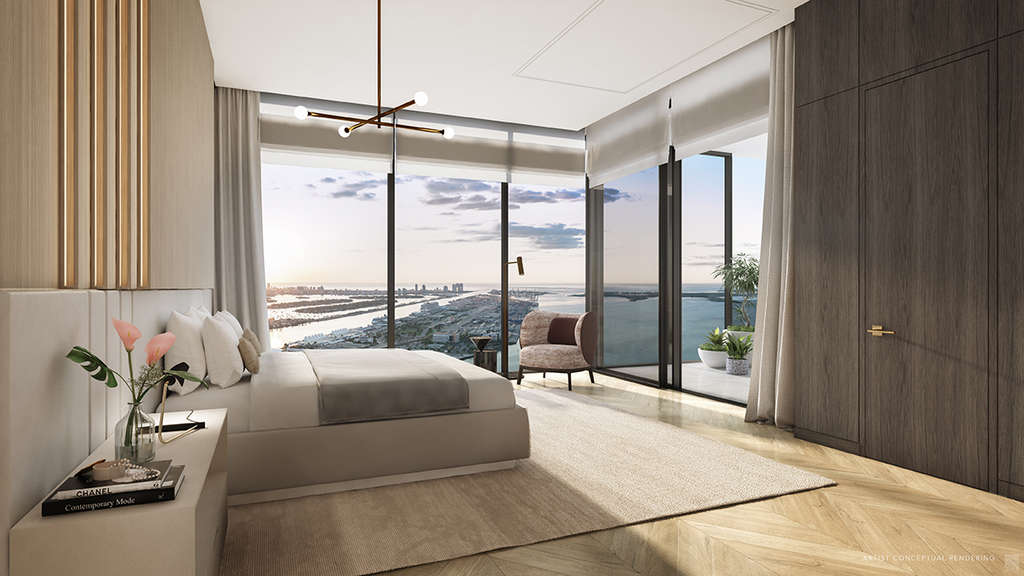 Rendering of Waldorf Astoria Miami residences
The building has been designed by architect Carlos Ott, and has a pretty cool design featuring nine stacked glass cubes that are offset.
The two acre lot on which the property will be built was purchased by developers in 2014 for $80 million.
While pre-sales of residences have now started, it's anyone's guess when construction will actually start, and for that matter when the hotel and residences will open. I'd be shocked if this building is finished before 2025 at the earliest, given that we're talking about a 100-story structure.
My general take on this project
I'm obviously no expert when it comes to real estate development. Nonetheless I'll share my take, both as a Miami resident and as someone who has been watching the hotel space in Miami pretty closely.
First of all, the location of this project has little appeal to me, personally. The Waldorf Astoria Miami will be in downtown just off Biscayne Boulevard. Yes, this is a central location in the sense that it's close to Brickell, the cruise port, and the Design District, and not far from Miami Beach.
However, the area immediately around this isn't very appealing to me. You're right next to the (soon to be renamed) American Airlines Arena, and this isn't even directly on the water, as you're on the "other" side of Biscayne Boulevard.
From a hotel perspective, if you're coming to Miami for vacation, you're going to have to take a car just about everywhere from this hotel (then again, that's the case in much of Miami).
In general in Miami we're just seeing an incredible number of new luxury developments, and they're all luxury "name brands" just trying to cash in on their brand. From Missoni, to Aman, to Aston Martin, the new developments are endless. Next thing you know there's going to be a Wolfgang Puck building.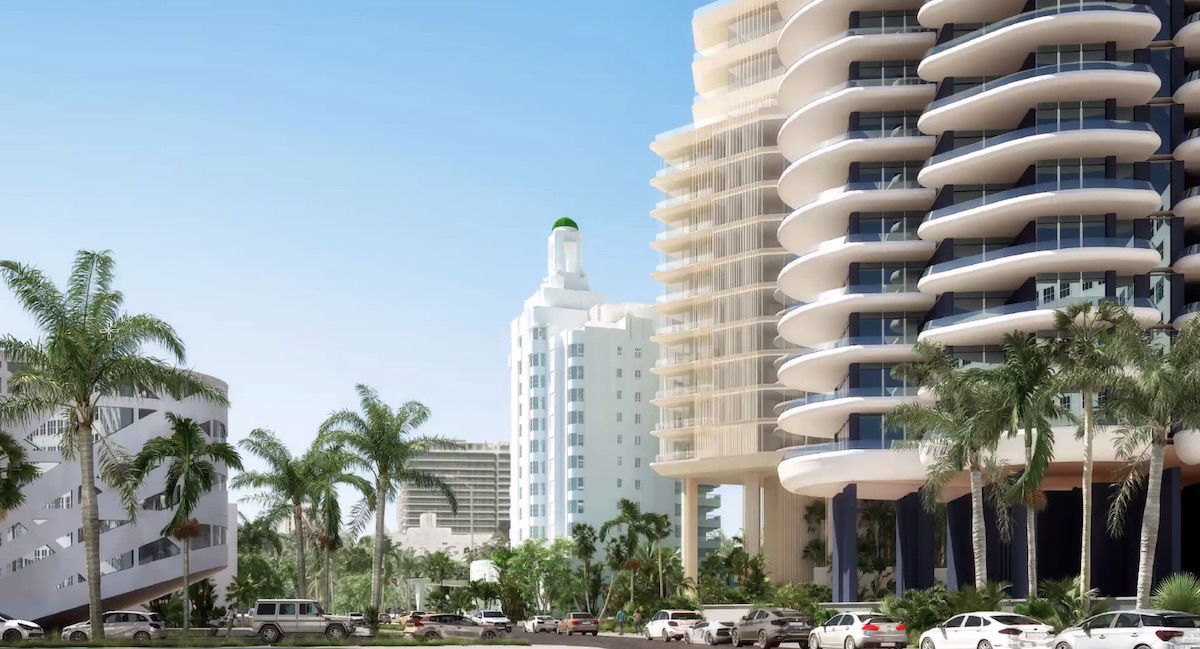 There are Aman residences coming to Miami
Bottom line
It looks like there's eventually going to be a Waldorf Astoria coming to Miami, which will nicely expand Hilton's luxury portfolio in Miami.
It seems pretty certain that this hotel will actually be branded as a Waldorf Astoria, given that the residences are being branded as such. However, it's anyone's guess when construction will actually start and when the hotel will open. At 1,000+ feet in height, the building will be hard to miss.
Anyone care to guess if/when the Waldorf Astoria Miami will open?