I'd argue the most anticipated hotel to join the Hilton Honors portfolio this year is the Waldorf Astoria Maldives Ithaafushi. This hotel looks absolutely stunning, and isn't far from Male Airport, so it can be reached by speedboat rather than requiring a seaplane.
Rooms at this hotel became bookable last week for stays as of July 1, 2019, and prices are outrageous — we're talking $2,000+ per night for a standard room.
So I was curious how points redemptions would work at this hotel. Traditionally Hilton Honors charges at most 95,000 points per night for a redemption, and almost all hotels are included. In the case of some hotels they may only have one or two rooms you can redeem at, but it's still possible to redeem.
If prices stick, this is going to be Hilton's most expensive property, so I'm curious to see how this is handled.
I've been checking the website for this hotel every morning and night, and as of this morning it looks like the hotel is bookable on points. The standard room here is a 2,518 square foot beach villa with a private pool.
It looks like the Waldorf Astoria Maldives is now bookable for 120,000 points per night. Keep in mind that if you're an Honors elite member you get a fifth night free (bringing down the average cost to 96,000 points per night), and you can also redeem any weekend night reward certificates here.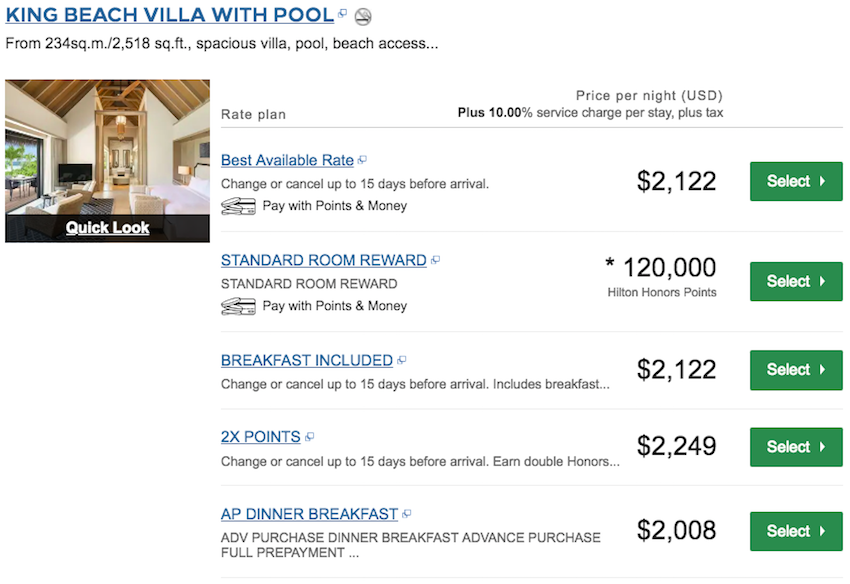 Best I can tell, points redemptions here have a two week cancelation policy, which is one of the more generous policies I've seen in the Maldives. The exception seems to be during festive season, when cancelations are required further in advance.
While Hilton doesn't have a formal award chart, historically their highest cost properties have been 95,000 points per night for a standard room. It looks like with the introduction of the Waldorf Astoria Maldives they've raised that to 120,000 points per night for this hotel.
Personally I'm fine with that. I value Hilton Honors points at ~0.5 cents each, so here you're able to redeem an average of 96,000 points per night over four nights, which is the equivalent of $480 per night including taxes, service charges, etc. That's an excellent deal, as far as I'm concerned.
Furthermore, Hilton continues to let you redeem free night certificates here, so it's nice they're not putting a cap on those.
If you want to top of your Hilton Honors points balance for a stay here, keep in mind you can buy Hilton Honors points for 0.5 cents each at the moment.

Anyone plan on booking a stay at the new Waldorf Astoria Maldives?