I'm more and more into Hilton Honors by the day. While they're not my primary loyalty program, there are a lot of things to love:
Their points earning rates for stays are excellent
They're greatly improving their portfolio of hotels; I recently stayed at the Conrad Bora Bora, and had a phenomenal stay
I've been keeping an eye on new hotel openings, and I think there's one most anticipated hotel opening in the Hilton Honors portfolio, so in this post I wanted to provide an update on that, and also share some thoughts about what this hotel could mean for points redemptions.
The Waldorf Astoria Maldives
While Hilton already has the Conrad Maldives Rangali Island, the brand will be opening two new hotels in the Maldives this year — the Waldorf Astoria Maldives Ithaafushi and the SAii Lagoon Maldives, Curio Collection.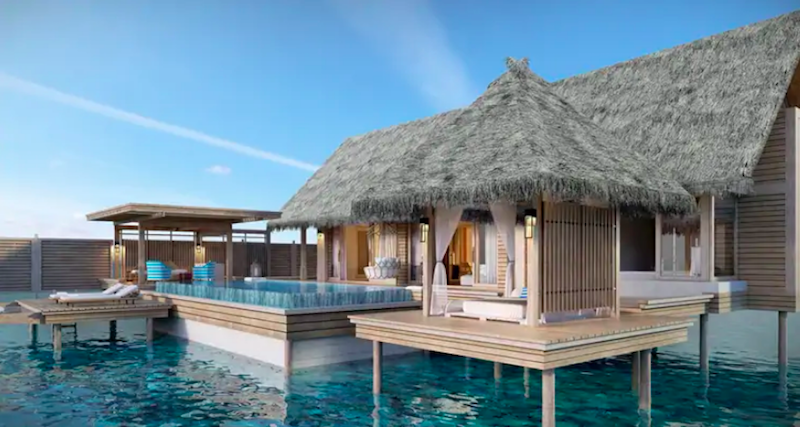 Waldorf Astoria Maldives rendering
Waldorf Astoria is Hilton's highest end brand, and it looks like this hotel will be in a completely different league than any other Hilton property ever.
The hotel is expected to open this spring, though the hotel isn't yet accepting reservations. Those who have inquired directly with the hotel about the pricing have gotten some insane figures. Apparently the base beach villa will cost $2,100 per night, while a grand overwater villa will go for $2,700 per night.
So when it comes to pricing, this hotel will be in a different league than any other Hilton property. Sure, the Conrad Maldives and Conrad Bora Bora can cost ~$2,000 in festive season, for example, but can also often be had for under $500 per night during promotions.
Of course we don't know if the prices for the Waldorf Astoria will stick, but it's clear that they're hoping this hotel will be able to command a huge premium over other properties.
Naturally this has lots of us into miles & points very interested in this property. I'm also very excited about this property because it's just a short speedboat ride for Male, so there's no need for a flight between islands.
While this might take away some of the seclusion, being able to skip those inter-island flights sure is a nice feature.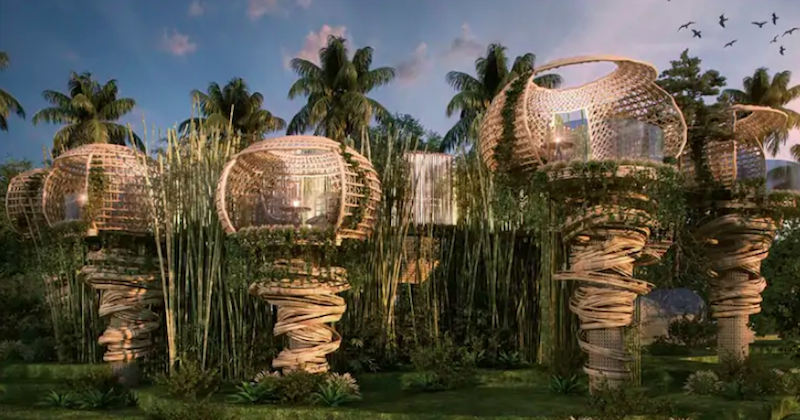 Waldorf Astoria Maldives rendering
What does the Waldorf Astoria mean for Hilton Honors redemptions?
Like I said, the hotel isn't bookable yet, so as of now all we can do is speculate. I imagine the demand for redeeming points here will be huge, so I'm certainly ready to pounce once the hotel opens.
Hilton Honors promises no blackout dates, which is to say that as long as a standard room is available for sale, you can redeem points there at the standard rate.
That still leaves a lot of questions, though:
Hilton Honors doesn't formally have award categories, though as of now no hotel retails for over 95,000 points per night for a standard room; will the Waldorf Astoria Maldives conform to that, or will we see higher pricing introduced?
We don't know how the hotel will define a "standard room," so will they create a sub-category of one villa that's technically a "standard room," or how many rooms will be available for redemptions?
Will we see some other creative blocks put into place, like this being the first Hilton property to not have standard rooms, or…?
We'll have to wait and see, as it's expected that rooms at the hotel will officially go on sale in the coming weeks.
My expectation is that they maintain the 95,000 point per night maximum, though probably only have a couple of rooms in the lowest category, which members can redeem points at… and that's fair enough.
Or who knows, this hotel seems to be in a different league than any other Hilton family property, so I'll be curious if the hotel and/or Hilton Honors try to get creative.
What are you expecting from points redemptions at the Waldorf Astoria Maldives?