I'd argue the most anticipated hotel to join the Hilton Honors portfolio this year is the Waldorf Astoria Maldives Ithaafushi. This hotel looks absolutely stunning, and isn't far from Male Airport, so it can be reached by speedboat rather than requiring a seaplane.
Up until now rooms haven't been bookable, though the hotel has told us to expect rates of $2,000+ per night (including taxes and fees) for a base room, which could make this one of the most expensive hotels in the Maldives.
I wrote in the past about how I was curious how points redemptions would work at this hotel. Traditionally Hilton Honors charges at most 95,000 points per night for a redemption, and almost all hotels are included. In the case of some hotels they may only have one or two rooms you can redeem at, but it's still possible to redeem.
If prices stick, this is going to be Hilton's most expensive property, so I'm curious to see how this is handled.
Well, the Waldorf Astoria Maldives is now accepting reservations for stays starting July 1, 2019. Initially, it was rumored the hotel would open in late April, though it could be that they're just being conservative and taking reservations for later for now.
As expected, rates are really high. The base room here is the king beach villa with pool, which is advertised as being 2,518 square feet and having beach access.


King Beach Villa Waldorf Astoria Maldives
Rates start at $1,833 for the best available rate, though by the time you add the 22% in taxes and service charges, you're looking at $2,236 per night.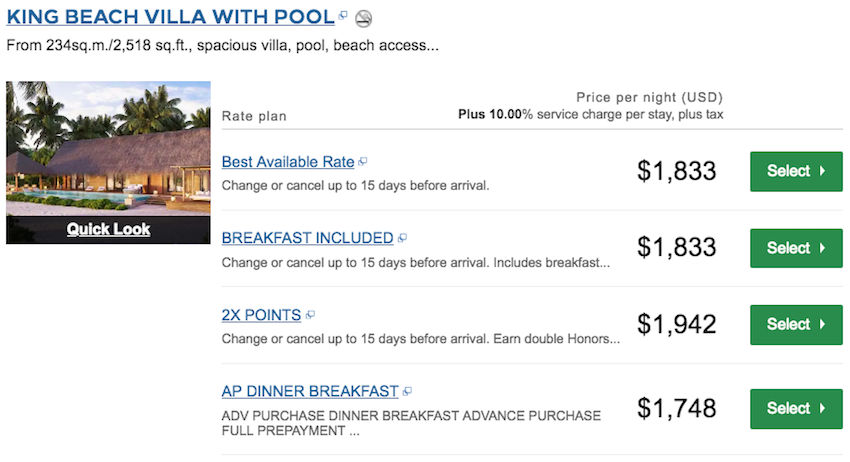 Meanwhile the cheapest rate for an overwater villa is $2,233 per night, or $2,724 including taxes and service charges.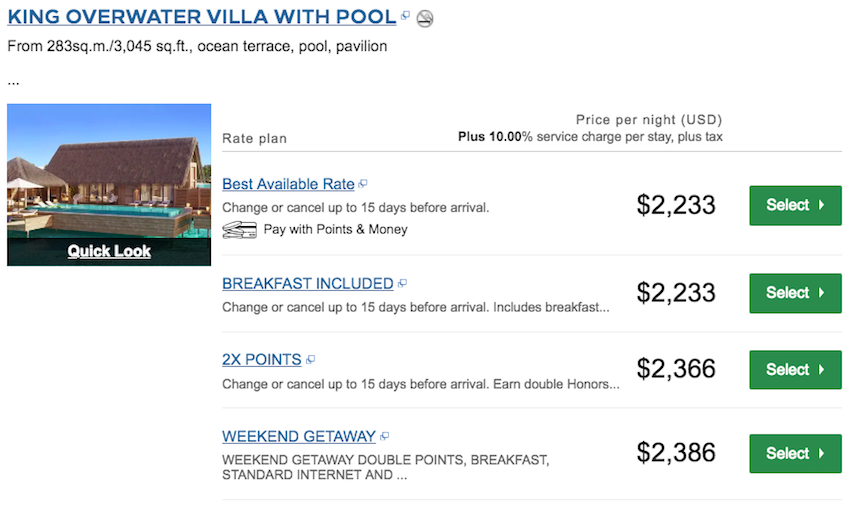 As of now I don't see any points availability loaded, short of booking Points & Money, where a night would cost 655,000 points. It's possible that this hotel somehow chooses to be "non-participating," or something, or it's possible that they just haven't gotten around to loading inventory yet. I'm following up with Hilton Honors to find out.
In the event that they do have points availability, I'll be sure to post again, and I'd recommend booking ASAP, because I imagine base rooms will sell faster than a Cathay Pacific first class mistake fare.