I've been living in hotels for over a month now, and I know the thing a lot of you were looking forward to with my "hotel life" was lots more trip reports. And I know the past month has been fairly boring on that front.
The truth is it's because I've been wrapping up "loose ends" on both coasts. I spent the first couple of weeks in Seattle as I still had some commitments there, then spent over a week in Sicily with friends, and now am in Florida spending time with my parents. So I've been taking care of those commitments before starting my "real" nomadic adventure.
But you better be ready, because the next month is going to be exciting on the travel front. Really, really exciting. You're going to get more trip reports than you'll know what to do with.
I don't want to reveal all of my summer travel plans, though I will outline my next trip, which starts later this week. As part of it I'll be experiencing:
Jet Airways Premiere/Business Class
Qatar Airways 787 Business Class
The new Hamad International Airport in Doha on opening day
Etihad's inaugural Abu Dhabi to Los Angeles flight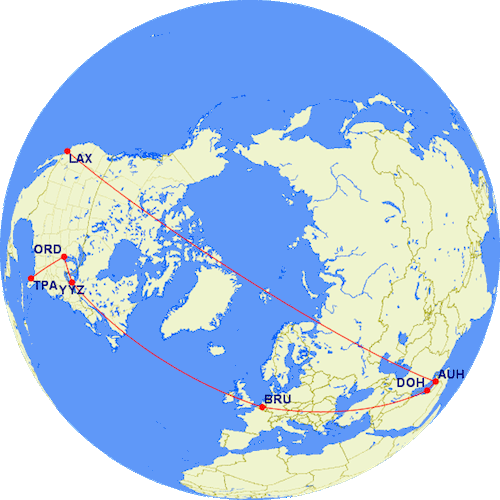 Let me explain, in the same order in which I booked (as opposed to the order in which the trip will take place):
Abu Dhabi to Los Angeles in first class on inaugural Etihad Airways flight
Last October Etihad Airways announced they would be launching daily service to Los Angeles. This would be their longest flight, and for that matter the longest nonstop flight to Los Angeles, at ~8,400 miles.
So as soon as the flight opened up for reservations I took a look at award space, and I saw that there was first class award space on the inaugural. I couldn't turn down the opportunity, so figured I might as well.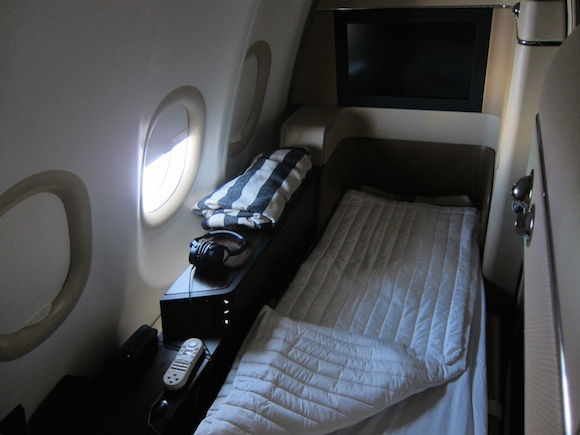 Etihad Airways first class
Originally the flight was supposed to be operated by a 777-200LR, which Etihad Airways is acquiring from Air India. So I was excited to a review a new aircraft type. Unfortunately they've since announced that for the first couple of months the flight will be operated by an A340-500, which I've flown before in first class.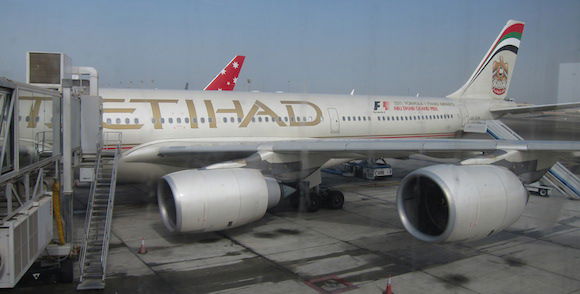 Etihad Airways A340-500
At 90,000 AAdvantage miles one-way without any fuel surcharges, I'd say that's quite a good value.
I planned that back in October, and have been putting together the rest of the "pieces" of the journey over the past week, as my plans have firmed up.
Jet Airways & Qatar Airways business class to the Middle East
When it came time to plan the outbound flight, I decided that no matter what I would review two new products enroute to the Middle East using American AAdvantage miles. I have a sizable balance of American miles, and want to redeem as many of them as possible before the next devaluation.
So the AAdvantage partner airlines operating flights between the US and Europe/Middle East that I haven't yet flown include:
Airberlin Business Class
Iberia Business Class
Jet Airways Premiere Class
Qatar Airways Business Class
I have plans to fly Airberlin and Iberia business class later next month, so I focused my efforts on finding award space on Jet Airways and Qatar Airways.
Jet Airways flies from Newark and Toronto to Brussels, with continuing service to India. There's no easy way to search their award space online (at least that I know of), so I phoned up American and they were able to find Premiere Class award availability on my preferred date from Toronto to Brussels.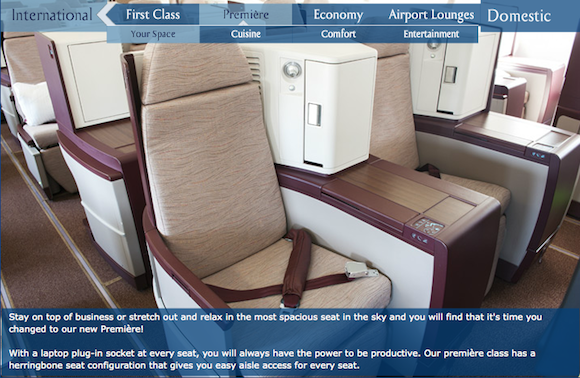 Jet Airways business class
Qatar Airways had business class award space on their nonstop flight from Brussels to Doha the following morning (and just about every other day, for that matter), after a three hour layover. This flight is operated by their Boeing 787, which features their reverse herringbone business class.
So I'm very excited to review those two products which don't seem to be reviewed all that much.
And at 67,500 AAdvantage miles one-way without fuel surcharges I'd say it's also quite a good value.
Checking out the new Hamad International Airport
As luck would have it (or not?), I'll be flying out of Doha on the day that the new Hamad International Airport opens. While Doha's old airport had a nice Qatar Airways Premium Terminal for first and business class passengers, the rest of the airport was basically a shack.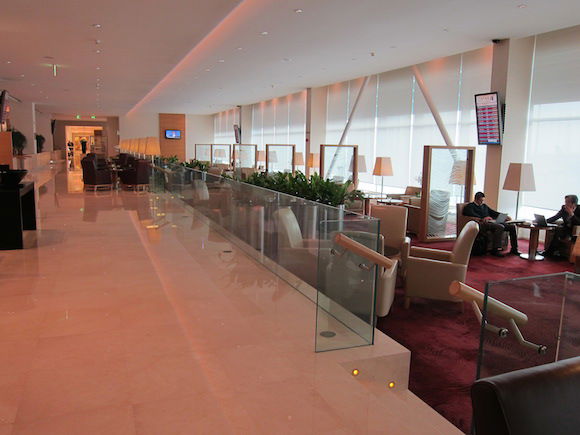 Qatar Airways Premium Terminal Doha
The new airport looks much nicer, and I can't wait to review it. Here's to hoping it all runs smoothly.
Checking out some hotels in Doha and Abu Dhabi
As I explained in a post late last week, there are some great hotel deals to be had in the Middle East in summer. So I have plans to check out the St. Regis Doha, St. Regis Abu Dhabi (I've already stayed at the St. Regis Saadiyat Island), Hyatt Capital Gate, and a few others.
Bottom line
This is only the first of a few trips I'll take over the next month, so stay tuned for lots of trip reports!