On Monday I "officially" moved into hotels full time, after an exciting 72 hour Cragislist blitz. So far I've been living at the Hyatt Olive 8 in Seattle, which is about a 15 minute drive from where I used to live in Bellevue.
So, has my life changed radically? Am I going crazy yet?
I figured I'd share my initial thoughts, just four days into this journey:
Being "homeless" hasn't hit me yet — business as usual
On one hand I expected I'd have strong (and probably mixed) emotions as soon as I moved into hotels full time. I figured I wouldn't feel a sense of "place," and that I'd miss the comforts of home. But much to my surprise it really hasn't fazed me yet.
And I guess that shouldn't surprise me, since I usually do travel a lot, and so far it doesn't feel different than any other trip, I guess.
So while I'm surprised I don't have stronger feelings, when I think about it I guess it shouldn't surprise me.
I've quickly learned the importance of being organized

While I always kept my apartment neat and organized, I have a bad habit of not keeping hotel rooms neat. I usually stay for short periods of time, so just dump everything out of my bag and throw it back in when I'm ready to leave.
Two days into living in hotels I realized this will drive me nuts long term, especially as I'm traveling with a bit more stuff than usual.
So I've done what I can to be "neat," both big picture and small picture. For one, I've set up a dedicated laundry bag for dirty clothes (yes, even though I've been traveling frequently for close to a decade, this is a novel concept to me — previously I just used different compartments of my bag). And while I'm not unpacking my suitcase, I'm keeping everything in my suitcase neatly.
But I've also found it valuable to keep the little things neat. For example, throwing away a gum wrapper instead of putting it on the nightstand, throwing away the soap wrapper after opening it, etc. Using this system has made me feel much more "at home" the past 24 hours.
I've figured out a bag system, finally
Yes, it's true that these are the bags I checked into a hotel with a few days ago.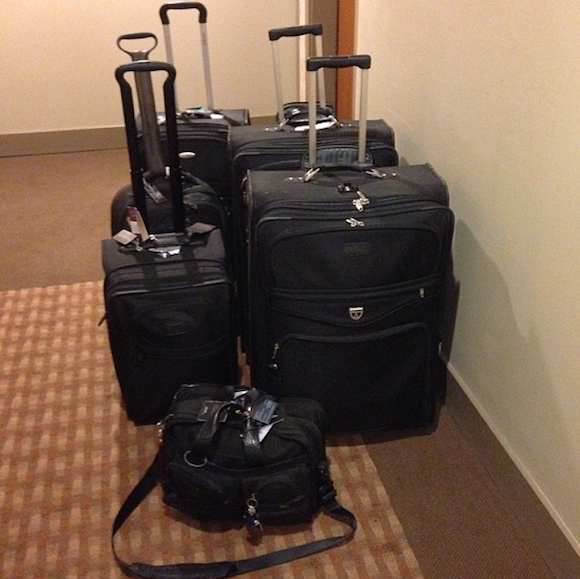 Full disclosure, the two biggest bags are actually packed up and ready to go to Florida. I'm heading to Florida in a couple of weeks, so figure I'll fly them there with me rather than shipping them.
But I was still trying to figure out my system for the other bags, and I think I've finally established one. My Tumi Alpha 20″ will be my primary bag, so I'll always have it and my laptop bag on me.
Then the slightly larger bag is my secondary bag, which I also plan on keeping with me. If I'm just doing a quick trip away from my "home base" I'll just leave that second bag at the hotel, while if I'm actually going somewhere for an extended period of time I'll take it with me.
I've realized I just can't maintain my sanity while living out of a 20″ bag, and the Olive 8 has been happy to store the second bag for me. So I think that's the system I'll go with for now.
The Hyatt Olive 8 is a great home base
All things considered the Olive 8 is an awesome home base:
The beds are comfortable
The sheets aren't too thick
It has a nice gym, pool, hot tub, steam room, and sauna
The lobby area is a nice place to get some work done with lots of outlets
There's a coffee shop in the lobby with reasonably priced cappuccinos
As a Diamond member I get complimentary restaurant breakfast, and they have a fairly good breakfast (though Hack My Trip and I disagree on the taste of the breakfast potatoes)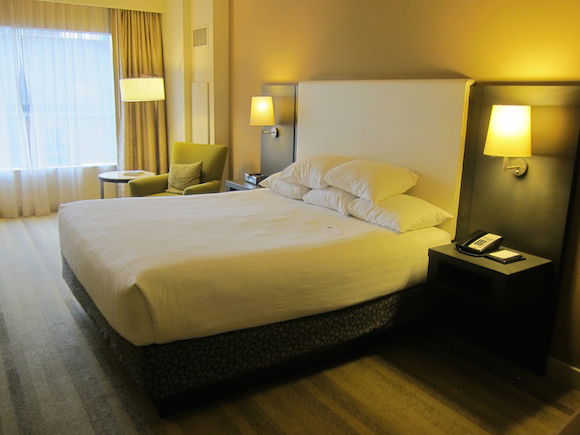 Getting over the temptation of restaurant breakfast
I wouldn't be doing my job if I didn't review multiple items on the breakfast menu, though I've also quickly realized that my pants won't fit in about two weeks if I have a regular omelet with breakfast potatoes every morning.
So I've transitioned to my usual egg white omelet, and am mixing it up with oatmeal/fruit every other day. At least that's the plan. I've managed to stay away from the french toast/pancakes section of the menu, fortunately.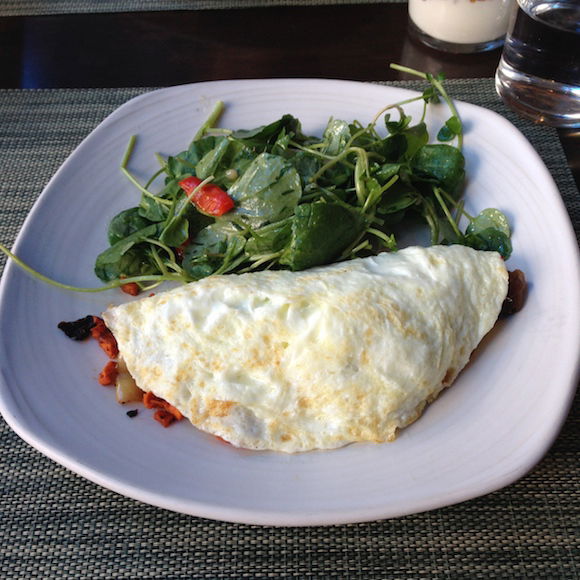 Restaurant Week will be the end of me
The past two weeks we've had restaurant week in Seattle. As if hotel living wasn't unhealthy enough to begin with, add in $15 three course lunches and $28 three course dinners at Seattle's best restaurants, and it just gets plain ugly.
Strawberry rhubarb ice cream sundae for lunch? Sure, why not?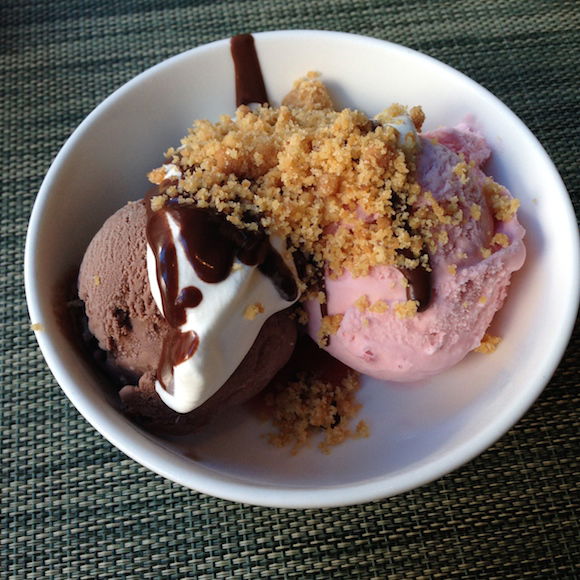 Thank goodness it's over. Now back to the gym.
Seattle people are fascinating
Seattle is such a unique place. My apartment used to be in Bellevue, which is basically the sterile "side" of Seattle. It's a utopia of sorts, in the sense that it's so "perfect" that it's off and just kind of boring.
You know the whole "Keep Portland/Austin weird" slogan? Yeah, well the same kind of applies to Seattle as well. We have some really unique people, and I'm really enjoying that.
I had dinner with a friend on Wednesday, and we were seated so close to the table next to us that you couldn't help but hear their conversation. Here are some of the gems I got from one of the four ladies at the table:
"I'm trying to like figure out what I want to change my last name to. I'm thinking Superstar, because everyone like already calls me that."
"I only wear mens jeans, which I buy at the thrift shop. They fit me better, and I don't need them altered since rolling them up is my style anyway."
"I still have to like by my Burning Man tickets. It's going to be totally ratchet this year."
"I'm so busy tomorrow, I have to get my finger tats touched up."
And it went on and on and on. If she were 20 I wouldn't have thought twice about any of that (well, except the part about changing her last name, which is just plain weird). The only concerning part is that she mentioned in the conversation she was 44, and that she was starting to feel like she was getting too old for "this stuff"…
Meanwhile over in Bellevue…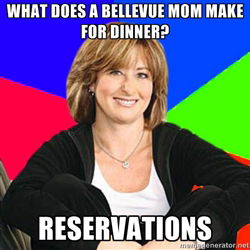 Bottom line
So far so good, nothing exciting to report, not that there really should be anything exciting a few days into this.
Thanks to everyone for their support, help, and encouragement with this move and adventure, and looking forward to actually "living" in hotels in some fun places abroad soon. Stay tuned!