ANA (All Nippon Airways), is the Japanese Star Alliance airline and has one of the most comprehensive online tools for searching Star Alliance award space. I highly recommend everyone use it (or at least know how to use it) regardless of whether you're trying to redeem United MileagePlus miles, US Airways Dividend Miles, Air Canada Aeroplan miles, or other Star Alliance miles.
If you already know how to use the ANA award search tool then by all means skip this post, but I get a lot of questions about it, so figured a tutorial would be helpful.
Signing up for ANA Mileage Club
In order to use the ANA award search tool you first have to join their frequent flyer program, the ANA Mileage Club. You can join here, and it's free and instant.
Link to the ANA award tool
For whatever reason the link to the ANA award tool is really tough to find on ANA's website, so I have it bookmarked. Here's the link to the ANA tool.
Searching Star Alliance award space
Once you're logged into the ANA award tool, if you have any miles at all in your account (and keep in mind both American Express Membership Rewards and Starwood Preferred Guest are transfer partners with ANA, so that's not tough to do) the page will look like this, and you'll be able to search Star Alliance award space:
If you don't have any miles, the page will look like this, with the option to search Star Alliance and Single Airline award space greyed out:
Worry not! Even if you don't have miles in your account there's an easy workaround: Click on "ANA International Flight Awards:"
Then enter any random route that ANA operates (like JFK-NRT, IAD-NRT, CDG-NRT, etc.), and click "Next."
When you get to the results page, scroll to the very bottom and you'll see the button reading "Use Star Alliance Member Airlines" is no longer greyed out!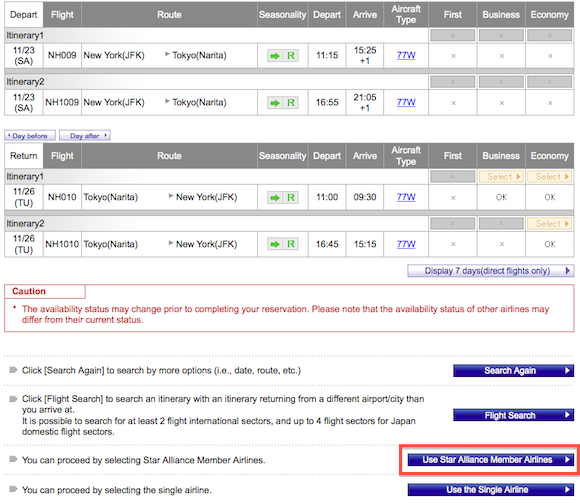 Click it, and you've now "cracked" into the Star Alliance searched tool. On the next page you'll be able to search award availability for any Star Alliance route.
Basics of the ANA award search tool
The Aeroplan and United websites can be useful for searching Star Alliance award space as well, so it helps to understand what sets the ANA award search tool apart:
The ANA tool displays award availability for all Star Alliance airlines (the same can't be said for United's website, which doesn't display LOT availability, for example)
The ANA tool displays the most accurate Star Alliance award availability for all airlines (both Aeroplan and United websites sometimes display "phantom" award space)
The ANA tool is most useful when searching nonstop award availability on a route — both the Aeroplan and United websites are better for searching routes with connections
The ANA tool allows you to search availability for one route on either one date in all cabins (first, business, and economy) OR for an entire week in a single cabin
Searching Star Alliance award space using the ANA tool
So pretend we want to search for Star Alliance award space between Frankfurt and Paris for November 23 and November 26. Once you enter the dates and routes, scroll to the bottom of the page.
There you'll be given the option as to whether you want to do a "Flight Search" (which is for searching award space in all cabins for a single date), or "7-Day Availability Search" (which is for searching award space in a single cabin for seven days):
If you click "Flight Search" the results should look something like this:
The yellow rectangles that say "OK" mean there's availability, so as you can see, every flight that date has availability in business and economy class. The "-" in the first class column indicates that the cabin isn't operated on that flight. If it were operated on the flight but not available it would show an "x" instead.
Meanwhile if you had done the "7-Day Availability Search" instead, you'd be brought to a further page where you have to specify which cabin you want to look up space for, so we'll select business class:
Then the results page will display availability on all nonstop flights for an entire week:
The good news is that if you want to later change the cabin you're searching there's a dropdown menu at the top of the page that allows yo to quickly change the class of service.
Using the ANA tool to search award space within a few days of departure
One quirk of the ANA tool is that it doesn't show outbound award space for travel within a few days of departure. For example, if I search roundtrip business class between Frankfurt and Paris over the next week, you'll notice that it only starts showing me outbound options starting Saturday, while it starts showing my return options as of today:
So if I really wanted to search Frankfurt to Paris award space for tomorrow I'd just flip the request around, and search for roundtrip space between Paris and Frankfurt. As you can see, that space that was blocked before suddenly appears under the return portion: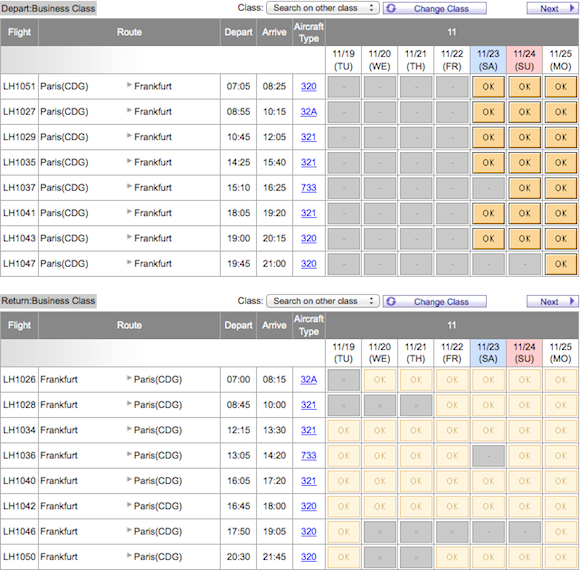 Booking flights you've found using the ANA tool
Obviously if you're using mileage currencies other than ANA Mileage Club miles then you're using the ANA tool simply for research purposes. Once you find flights with availability I generally recommend either jotting them down on a notepad or pasting them into TextEdit, and then you can call the Star Alliance airline your miles are with to book (unless they allow online award bookings).
Generally speaking each Star Alliance airline should have access to the same partner award space. There are some cases of blocking, like what US Airways is doing with Lufthansa, but aside from that it should be pretty consistent. Hopefully this makes it a bit easier to use your miles!