Before I explain my reasoning too much, let me make a prediction: over the coming years, airlines will begin releasing fewer saver level award seats to members of partner mileage programs than to members of their own mileage programs.
The evolution of airline alliances
The Star Alliance was founded in 1997, and was the first and biggest airline alliance in the world. It's amazing to think how much things have changed since then, especially when it comes to frequent flyer programs.
~17 years ago frequent flyer programs weren't nearly the beast they are now. They were a way to generate loyalty, and not massive businesses in and of themselves. I mean, look at the effect of loyalty programs over the past few years — if it weren't for AAdvantage, American would be out of business.
While each individual airline in an alliance is ultimately running their own business, for the most part they work well together, and are better off with alliances than without them. After all, while we've seen airlines change alliances over the years, I don't think we've ever seen an airline leave an alliance in order to become "independent" (well, short of going out of business). The mileage programs are often a different story, though…
Airline award reimbursement costs are low
Last December I shared some insight into how much award tickets booked on a partner airline cost frequent flyer programs. The numbers are shockingly low. Here are a few examples:
Singapore > Bangkok in Singapore Airlines business class: ~$35
Frankfurt > Vienna in Austrian business class: ~$50
Istanbul > Tokyo in Turkish business class: ~$250
Tokyo > Bangkok in Thai first class: ~$250
Vienna > Bangkok in Austrian business class: ~$300
Washington > Brussels in Brussels Airlines Business Class: ~$300
Warsaw > New York in LOT business class: ~$350
New York > Tokyo in ANA first class: ~$450
Los Angeles > Frankfurt in Lufthansa first class: ~$1,000
Historically the reason they're so low is that they were basically an accounting exercise. The reimbursement between carriers more or less evened out, and once there were "imbalances" airlines started blocking award space, as we've seen both United and US Airways do with Lufthansa over the years.
But aside from that, there seemed to be a pretty even exchange, as it was part of a much larger math equation. Keep in mind airlines aren't just compensating one another for miles redeemed on one another, but also for miles earned on one another (for example, if you credit a United flight to your Lufthansa Miles & More account).
Airlines don't have much of an incentive to release award space
When you're being reimbursed $35 for an intra-Asia business class seat, or $300-350 for a transatlantic business class seat, what incentive could the airline possibly have to release award space?
Admittedly the algorithms used to release award space are incredibly complex and are theoretically designed so that you're mostly only releasing award space for seats that would otherwise go unsold. But in practice that's far from the truth, as we do see award seats even over peak travel dates where every seat could otherwise be filled.
Really in many cases an airline's incentive to release award space is genuinely to reward loyalty. Yes, that's a concept that seems almost foreign today.
Members that accrued lots of miles deserve to redeem them so that they'll continue to be loyal to the program.
But what about airlines selling miles?
When you factor in that other airlines are selling an almost endless number of miles, at a certain point you're just allowing people to book cheap premium cabin tickets on your flights. Don't get me wrong, I love this and am thrilled about it, but from the airlines' perspectives I find it puzzling. And it's a trend that increasing sharply the past few years.

I think we're slowly seeing a trend whereby airlines will release most of their award space only to their own members and not those of partner programs.
Back in the day Lufthansa management was vocal about expressing their displeasure of what US Airways was doing, selling miles cheap and essentially giving their members free reign over Lufthansa first class cabins, which were at the time readily available on miles.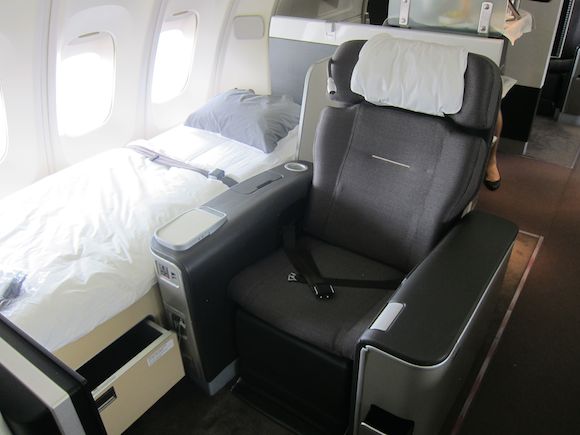 Lufthansa first class
In the meantime, Lufthansa only releases first class award space to partner airlines at most 15 days out, when they really can predict whether those seats would otherwise go out empty or not.
Bottom line
Don't get me wrong, I benefit from this as much as anyone. So I'm pointing this out because it's a trend I expect we'll continue to see, and not because I'm saying it's a change that airlines should make.
Airlines don't have a direct monetary incentive to release award space, aside from the last minute when they know for sure those seats will otherwise go unsold. So their real incentive to release saver level award space is genuinely to reward their loyal members.
As loyalty programs have continued to evolve and find new and creative ways to monetize, that's not being accomplished as much as they would hope.
So I don't want to see it, but I suspect we'll continue to see more airlines releasing more award space to their own members than to members of partner programs, like Lufthansa Miles & More, Singapore Airlines KrisFlyer, etc.
What do you think?