While Emirates is one of my favorite airlines to fly in first class, I've never been a fan of the Emirates Skywards program. That may slowly be changing…
Emirates Skywards reduces award fees
Historically Emirates Skywards has been a pretty lousy program when it comes to redeeming miles. Not only are their award costs high in many markets, but there have also been absolutely massive carrier imposed surcharges associated with most redemptions.
Well, it looks like Emirates Skywards has recently greatly reduced surcharges on award tickets.
Ultimately what happened is that the airline has reduced fuel surcharges on revenue tickets, and they passed those on for award tickets as well. There aren't major implications for revenue tickets (since they just raised base fares in the amount that the surcharges were decreased), while there are huge implications for award tickets.
What's odd is that I haven't seen any official announcement from Emirates, but the reductions are consistent across the board. You'd think they'd want to promote this.
For example, Emirates' two fifth freedom flights from the US are from Newark to Athens and New York to Milan. In first class these awards used to cost 85,000 Skywards miles plus $520 in taxes and fees one-way.
Now the taxes and fees on those flights total $40 one-way, an overall reduction in your out of pocket expenses of ~92%.


To give a further example, a New York to Dubai flight used to cost 136,250 Skywards miles plus an outrageous $812 in taxes and fees one-way.
Now the taxes and fees on that flight total $161 one-way, an overall reduction in your out of pocket expenses of ~80%.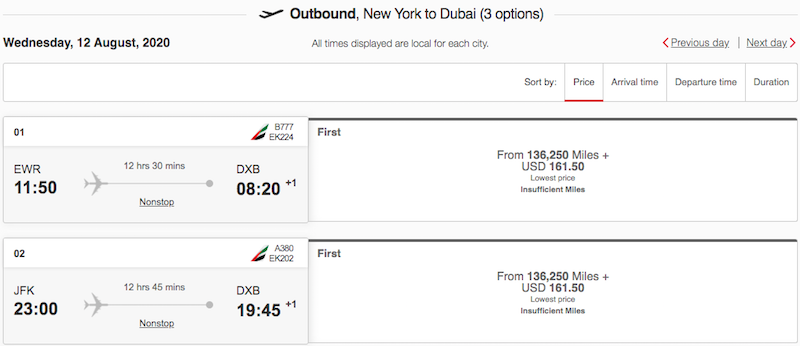 Note that Emirates redemption rates are cheaper when flying roundtrip. For example:
New York to Milan and Newark to Athens in first class costs 85,000 miles one-way, or 135,000 miles roundtrip
New York to Dubai in first class costs 136,250 miles one-way, or 217,500 miles roundtrip
You can find all redemption rates with the Emirates spending calculator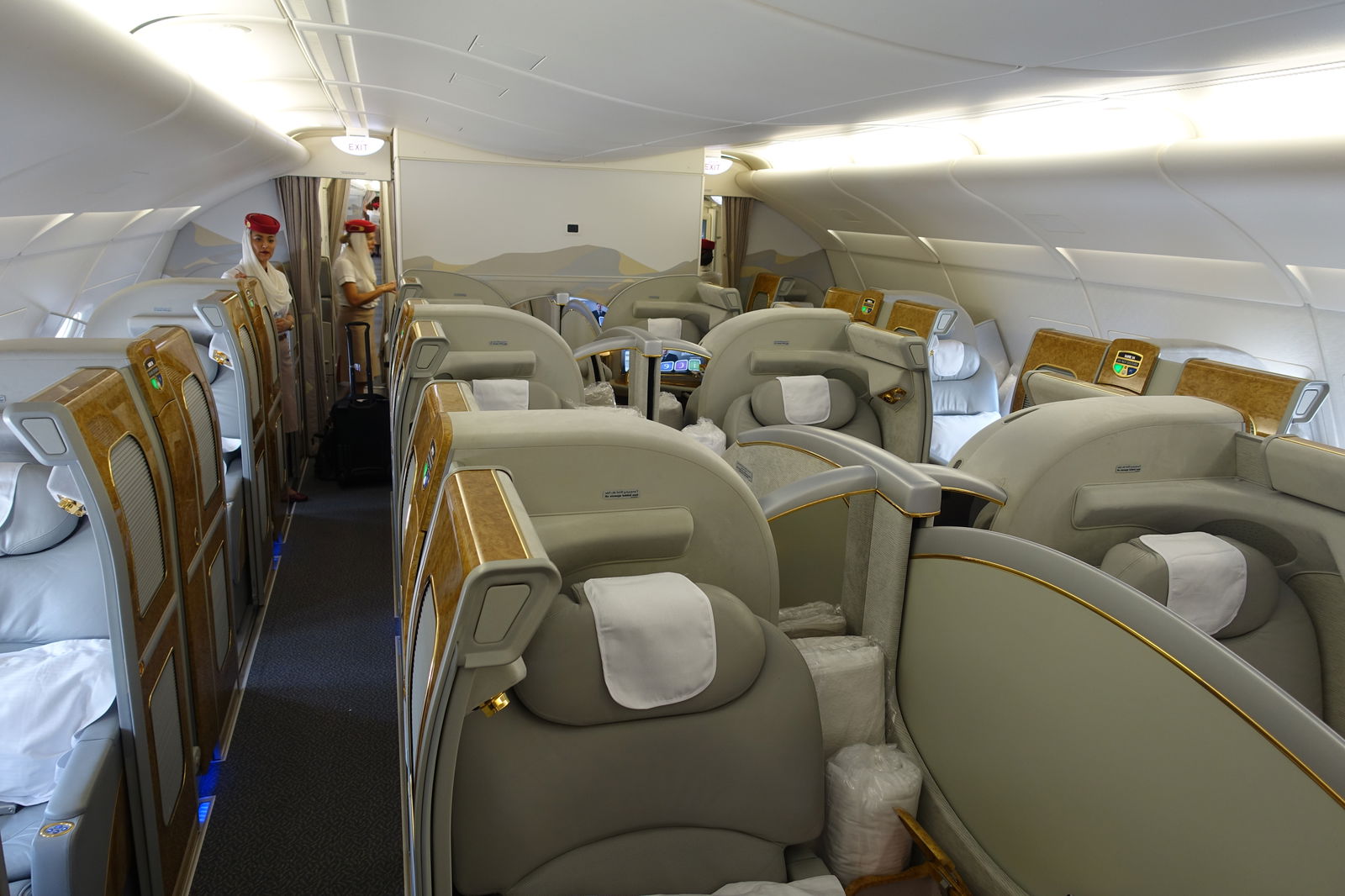 Emirates' award redemption rates are much lower than before
A new sweet spot to Europe
There aren't many airlines that release first class award space between the US and Europe in advance without significant surcharges. That's why I'd say Emirates Skywards reducing surcharges creates an incredible new sweet spot.
135,000 miles plus about $120 in taxes and fees for a roundtrip first class award between Newark and Athens? Incredible!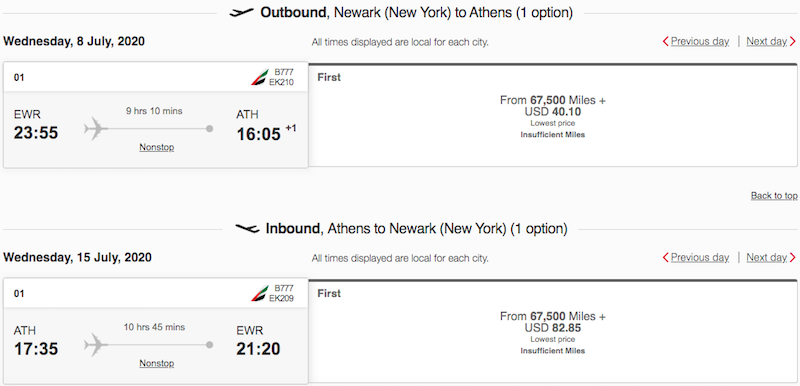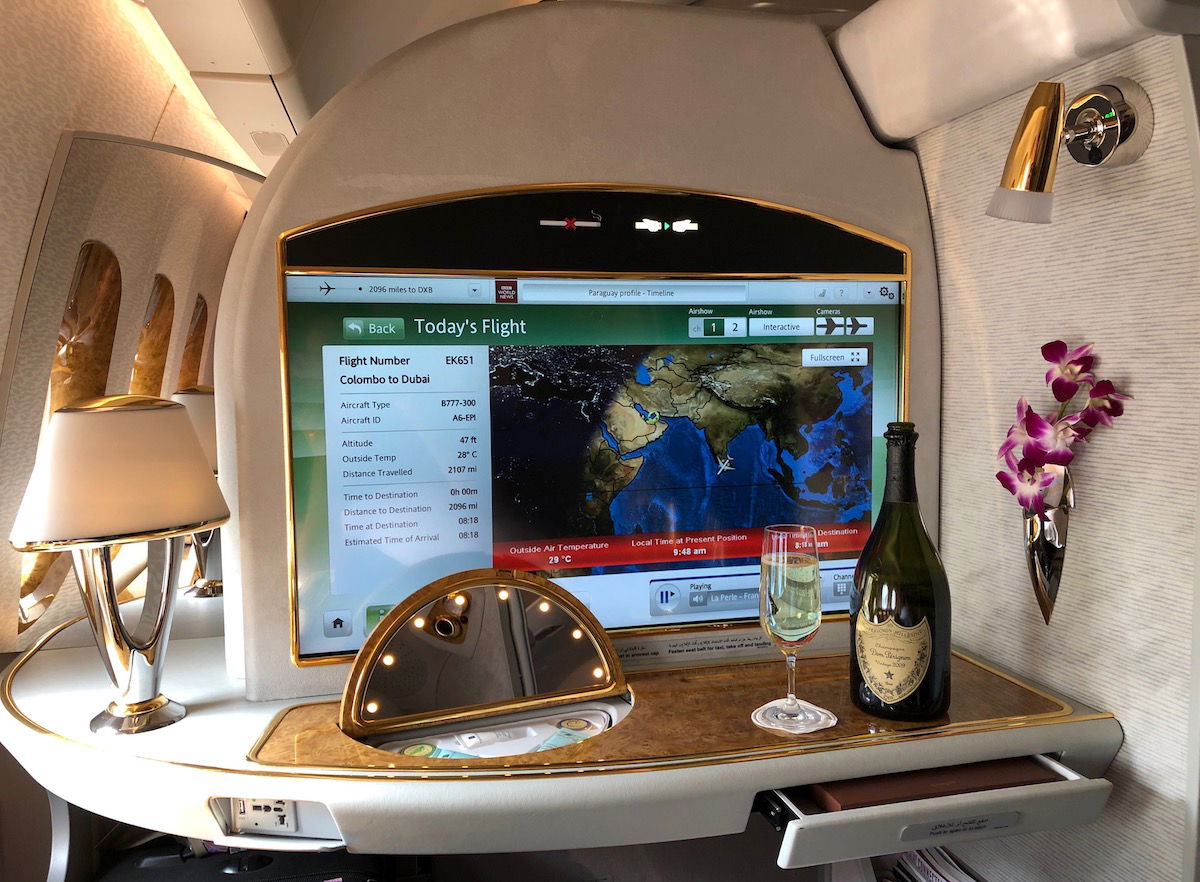 Redeeming miles for Emirates first class to Europe is now a great deal
Earning Skywards miles is easy
Emirates Skywards is transfer partners with all major transferable points currencies, including Amex Membership Rewards, Chase Ultimate Rewards, Citi ThankYou, and Capital One, so there are lots of great ways to earn those miles.
Sometimes we even see transfer bonuses, which can reduce the cost for many awards even further.
Bottom line
To me Emirates Skywards has just about gone from zero to hero. The program has hugely reduced surcharges, in some cases cutting them out almost entirely. Redeeming 135,000 miles for roundtrip Emirates first class without major surcharges is an absolutely incredible value.
This is a program I only previously ever considered for upgrades, but now I'd redeem miles directly through Skywards in a heartbeat.
Keep in mind that Emirates has watered down service for now due to COVID-19, so this likely won't be immediately useful. But this is definitely something to keep in mind for the future.
Anyone else excited to redeem through Emirates Skywards with these significantly reduced fees?
(Tip of the hat to @nedc203)