We've known this day was coming, though we now officially know when United will stop offering international first class service.
United is in the process of (very slowly) revamping their longhaul travel experience. As of December 2016, all longhaul international United flights feature Polaris service, which is United's new premium cabin soft product, including better food, bedding, and amenities. However, what's disappointing many is the slow pace at which United is introducing their new Polaris seats, combined with the pace at which they're cutting amenities.
As of now, only United's newly delivered 777-300ER aircraft featuring Polaris seats, as well a few Boeing 767-300 aircraft.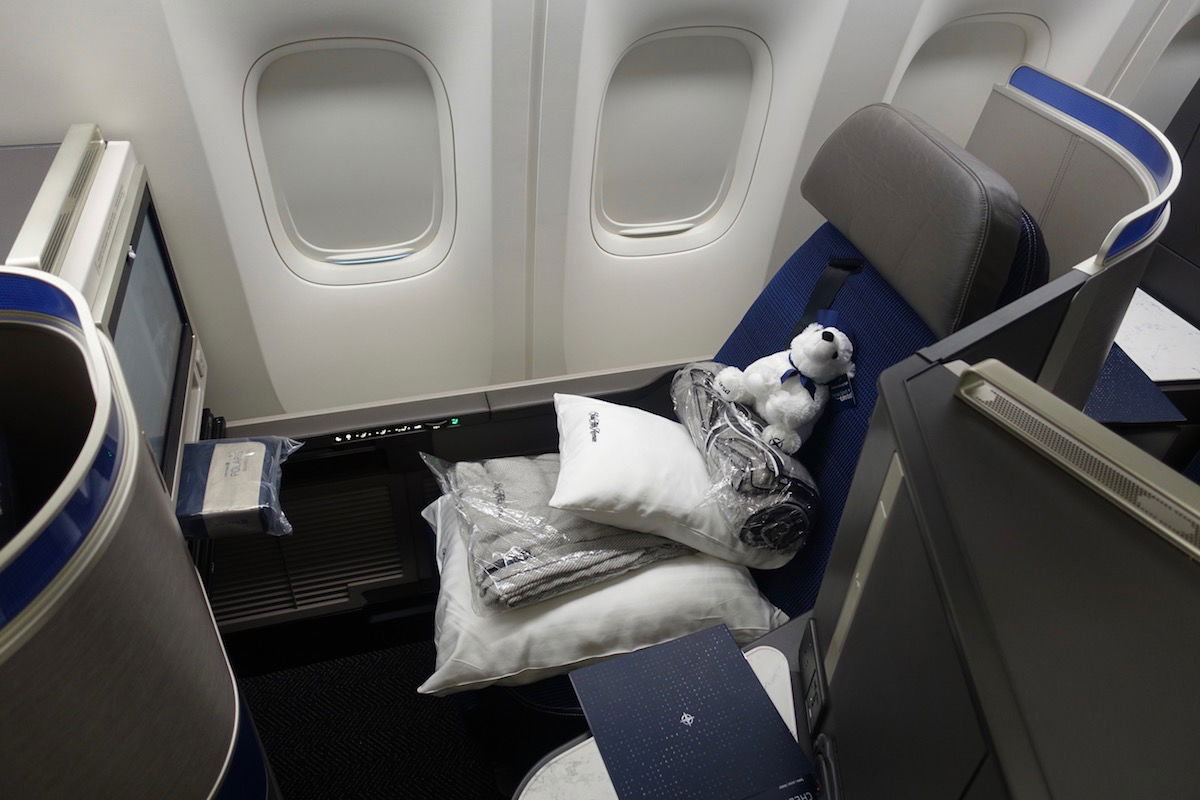 United's new Polaris seat
United hasn't yet reconfigured a single 777-200, 787-8, or 787-9, and chances are that it will be many years before United's entire longhaul fleet is reconfigured. As part of these aircraft reconfigurations, United is planning on phasing out international first class. They historically only had international first class on select Boeing 767-300s, select Boeing 777-200s, and all 747-400s. In the meantime United has retired all of their 747s, they're starting to reconfigure 767-300s that have first class, and presumably eventually they'll reconfigure 777-200s.
As United works towards eliminating international first class, they're also going to stop selling those seats. Last July it was revealed that United would stop selling international first class for flights as of May 1, 2018. However, since then that date has slipped, and United has continued to sell first class.
It looks like there's now an updated timeline for when three cabin first class will be discontinued. Per an internal memo, United has already stopped selling first class on 767-300s, and United will stop selling first class on 777-200s for flights as of June 20, 2018.
Obviously these 777-200s will still be around for a while, so some lucky business class passengers may be seated in first class, with the standard business class service. United hasn't yet revealed what system they'll use for assigning those seats, though perhaps they'll allow Global Services, 1K, and full fare passengers to select those seats (or something). As of now, first class seats after June 20 just show as blocked on the seatmap.
Just to show this policy change in action, here's the June 19 flight from Chicago to Hong Kong, where first class is for sale: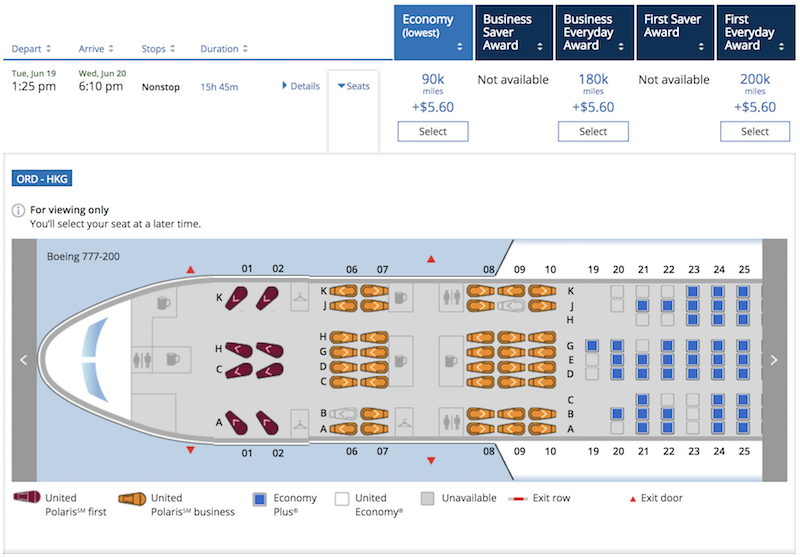 Then here's the June 20 flight, where first class is blocked off on the seatmap, and no longer for sale: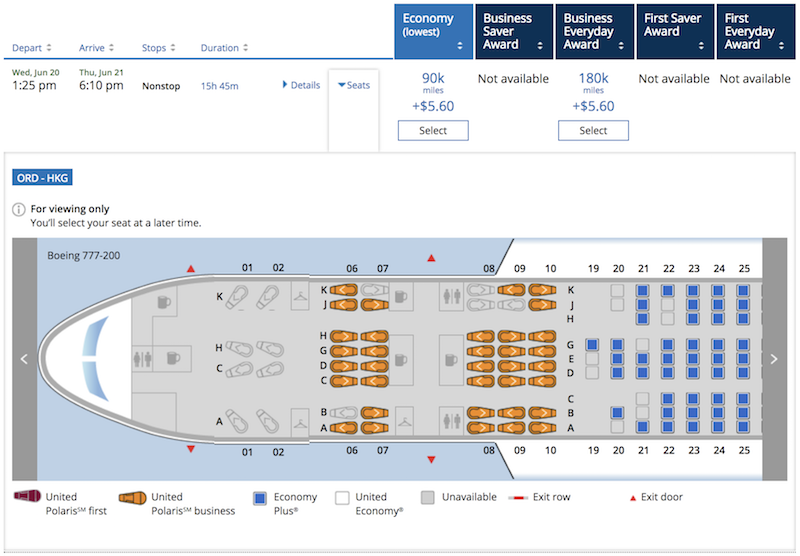 United is doing this because of the increased risk of aircraft swaps in the future, and presumably they're not able to get all that much of a revenue premium for their first class anyway.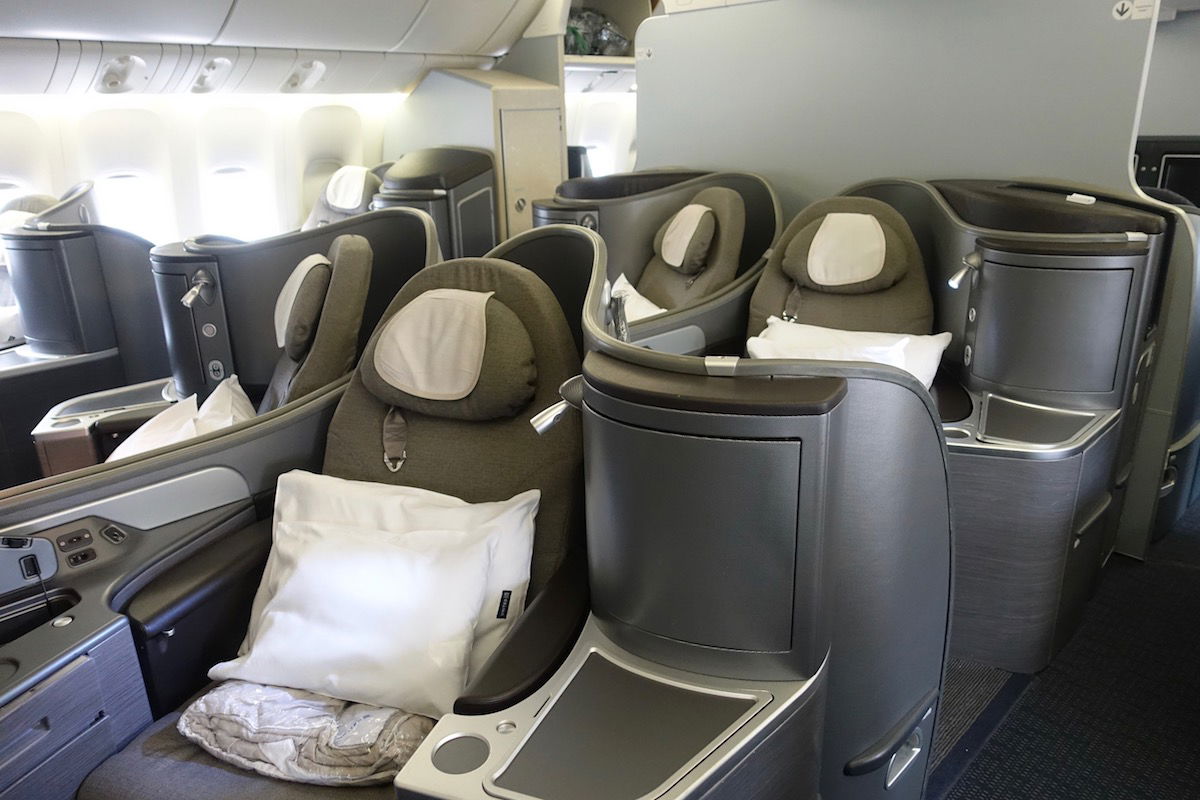 United's old international first class seat
Those lucky business class passengers who get first class seats on 777-200s are in for a very nice upgrade, given that United has eight seats per row in business class on these planes.
Anyone want to take an over/under on how long it will be until the last 777-200 with first class is actually reconfigured? I give it two years…