United's new CEO, Oscar Munoz, held an event today at Webster Hall in New York to unveil United's new premium offering. United is completely rebranding their business class product, which will be called United Polaris.
If you're like me and had no clue what a "Polaris" is, it's "the brightest star in the constellation Ursa Minor." Whatever that is. It's a catchy name in theory, though I'm also not sure the average consumer will remember it. I'm not sure why it can't just be called "business class." 😉
Here's the video United shared about their new business class experience:
Details of United Polaris
Here are the details of United's proprietary new business class hard product, which consists of 6'6″ beds with direct aisle access:
In setting out to create a transformative business class experience, United chose to outfit its widebody fleet with a custom-designed, exclusive-to-United seat, rather than select an option already in the marketplace. Designed in partnership with Acumen Design Associates and PriestmanGoode and manufactured by Zodiac Seats United Kingdom, each United Polaris seat will offer direct access to the aisle, 180-degree flat-bed recline and up to 6 foot 6 inches of bed space.

Crafted as individual, forward-facing, suite-like pods, each customer's personal suite will feature a "Do Not Disturb" sign, mood lighting, one-touch lumbar support, several storage areas, multiple surfaces for simultaneous working and dining, a 16-inch high-definition entertainment screen and, for seats in the center of the cabin, electronic privacy dividers. Complementing the new seats, United and PriestmanGoode have also conceived an all-new look for the United Polaris cabins.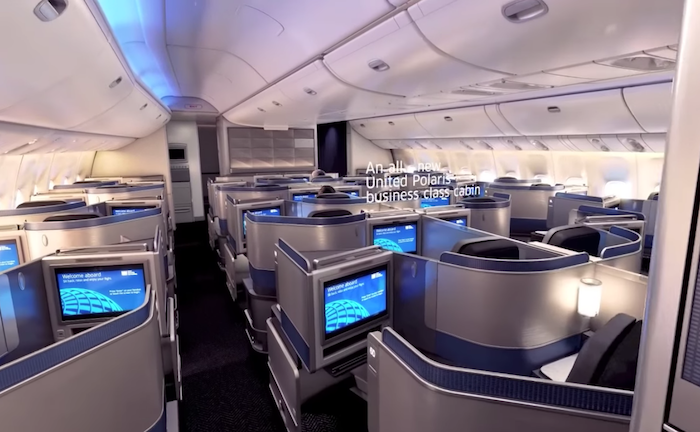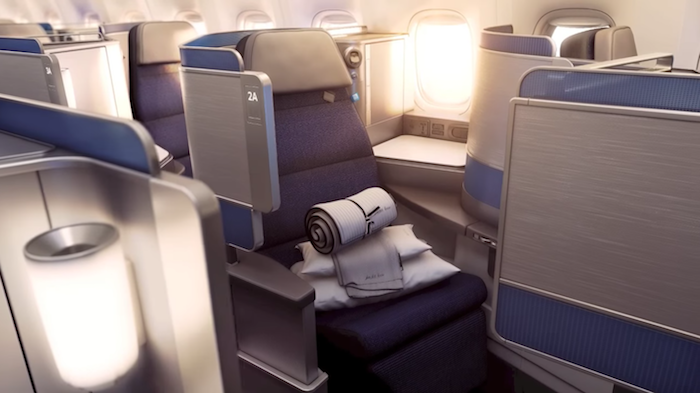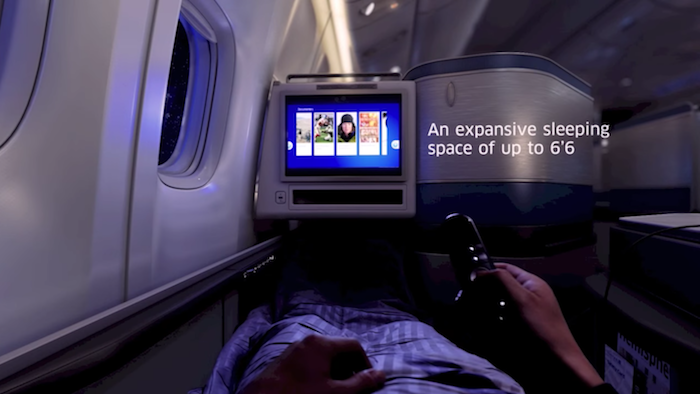 The onboard soft product will also be significantly improved, as United is adding Saks Fifth Avenue bedding, mattress cushions, slippers, and even pajamas on flights of over 12 hours:
In a first-of-its-kind partnership, United has worked with leading luxury specialty store Saks Fifth Avenue for custom-designed bedding. All designed to provide the best sleep in the sky, the new bedding collection will feature plush duvets, lightweight day-blankets and a large and small pillow for each United Polaris customer. In addition, mattress cushions will be available upon request.

Slippers will be available on all flights, and customized United Polaris pajamas will be available by request on flights longer than 12 hours. Flyers will also be able to request a gel-cooled pillow. New amenity kits will feature ergonomically designed eye shades, calming lavender pillow mist and additional products from Soho House & Co.'s Cowshed Spa.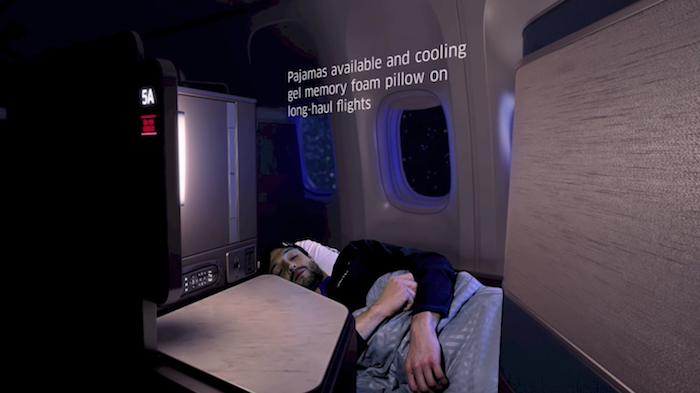 The onboard dining experience will also supposedly be improved, with gourmet chocolates on boarding, wine flights, a walk-up snack bar, and hot mid-flight snacks on daytime flights over eight hours:
Upon boarding their flight, each United Polaris customer will be welcomed with a pre-departure beverage of his or her choice and gourmet chocolate. While in the air, customers will enjoy regionally influenced in-flight menus updated seasonally, developed in partnership with The Trotter Project and its critically recognized chefs, including Bill Kim of acclaimed Chicago restaurants Urbanbelly, bellyQ and Belly Shack.

The airline will offer an upgraded wine experience, with the highest-quality options curated exclusively by United's Master Sommelier. Inflight service will also include made-to-order signature ice cream sundaes, a dessert cart with a variety of petit dessert options, chocolate truffles and wine flights. On daytime flights longer than eight hours and on all flights longer than 12 hours, hot mid-flight snacks such as lobster macaroni and cheese will be available.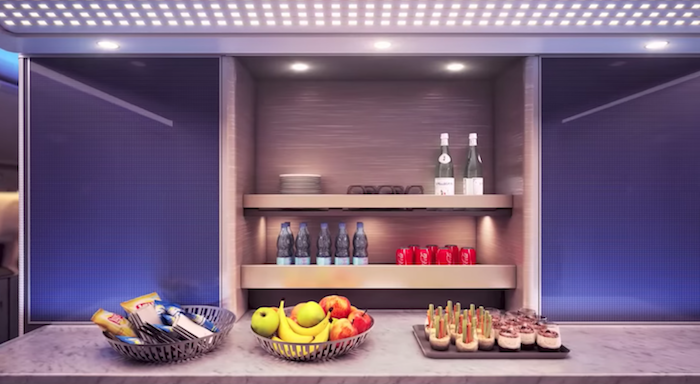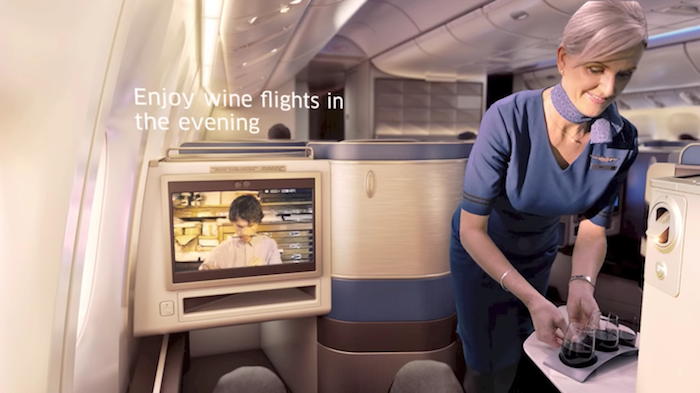 United is also introducing special lounges for business class passengers in nine locations, the first of which will open in Chicago on December 1, 2016. These will feature hot meals, daybeds, etc.:
United will also open an exclusive portfolio of United Polaris business class lounges in nine locations around the world – the only lounge of its kind offered by a U.S. airline to business class customers – that will feature custom-designed chairs, private daybeds, spa-like showers and chef-inspired hot meals served in a boutique restaurant setting so customers can refresh and dine before boarding their planes. Premium sparkling wines and spirits, refreshing snacks and bottled water will also be offered.

The first new United Polaris lounge will open at Chicago O'Hare International Airport on Dec. 1, 2016. Lounges in eight other locations – Los Angeles, San Francisco, Houston, New York/Newark, Washington Dulles, Tokyo Narita, Hong Kong and London Heathrow – will follow in 2017.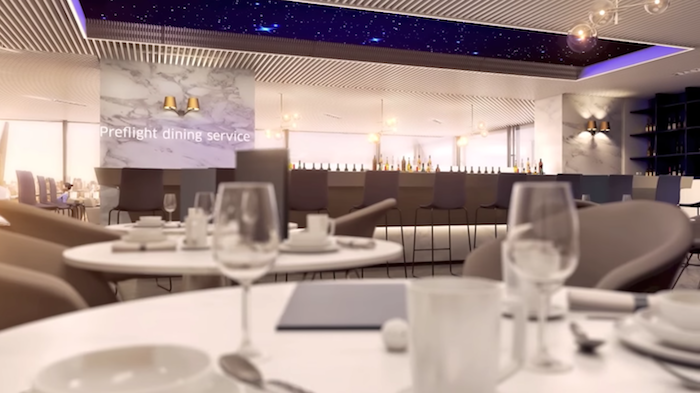 Timing of United Polaris
United Polaris will be available starting December 1, 2016, at least in terms of the soft product, as well as the lounge in Chicago. The first plane to feature the new seats will be United's new Boeing 777-300ER, which they're taking delivery of in December. After that the new 787-10s and A350-1000s will feature the new product. United's 767-300s and 777-200s will also be retrofitted with these seats.
United Polaris bottom line
This looks like a really impressive new product. I'm not sure United's new hard product is actually better than the existing top hard products out there, though I suspect they wanted a custom design which differentiated them.
The soft product improvements sound fantastic as well, in terms of the improved onboard and lounge experience. Of course the biggest point of variance will be service, which is consistently inconsistent with US airlines. There's only so much that can be done when you have many employees who don't actually want to be at work. But that's the case at all US carriers.
Either way, really great job, United!