Airlines are slowly adding back capacity in some markets they served before the pandemic. In some cases we're seeing airlines restart service with fewer frequencies and smaller planes, which is logical.
Well, I think the way Ukraine International Airlines (UIA) is restarting service to the US is pretty noteworthy, as the airline is taking the above concept to the extreme.
UIA will fly 737s to the United States
After a hiatus of several months, UIA will be relaunching service to New York JFK, its only destination in the US. Specifically, the service will resume twice weekly (on Sundays and Wednesdays) as of December 9, 2020.
What makes this noteworthy is that UIA will be using a Boeing 737 for the route, and as a result the flight will refuel in Iceland in both directions. The journey will operate with the following schedule:
PS231 Kyiv to Keflavik departing 10:00AM arriving 1:15PM
PS231 Keflavik to New York departing 2:15PM arriving 3:35PM
PS232 New York to Keflavik departing 10:10PM arriving 8:40AM (+1 day)
PS232 Keflavik to Kyiv departing 9:40AM arriving 4:30PM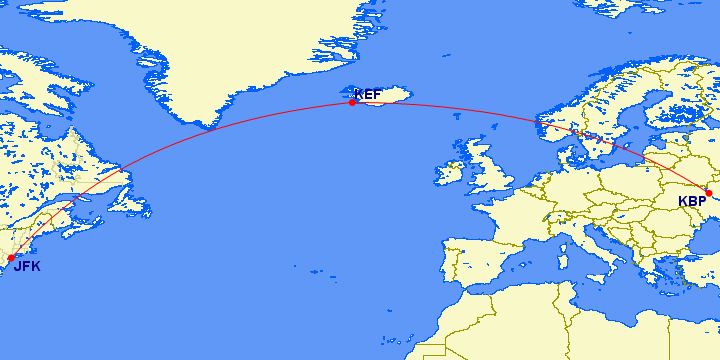 Ukraine's new routing between Kyiv and New York
With this routing:
The plane is scheduled to be on the ground for an hour in each direction in Keflavik
The westbound flight is blocked at 12hr35min (5hr15min from Kyiv to Keflavik and 6hr20min from Keflavik to New York), and the eastbound flight is blocked at 11hr20min (5hr30min from New York to Keflavik and 4hr50min from Keflavik to Kyiv)
At least Keflavik is more or less on the way for this journey, and it only adds around 40 miles over the direct distance (4,693 miles vs. 4,732 miles)
This is quite a product downgrade
Back in the day UIA flew a Boeing 767-300 between Kyiv and New York, which used to be its flagship aircraft.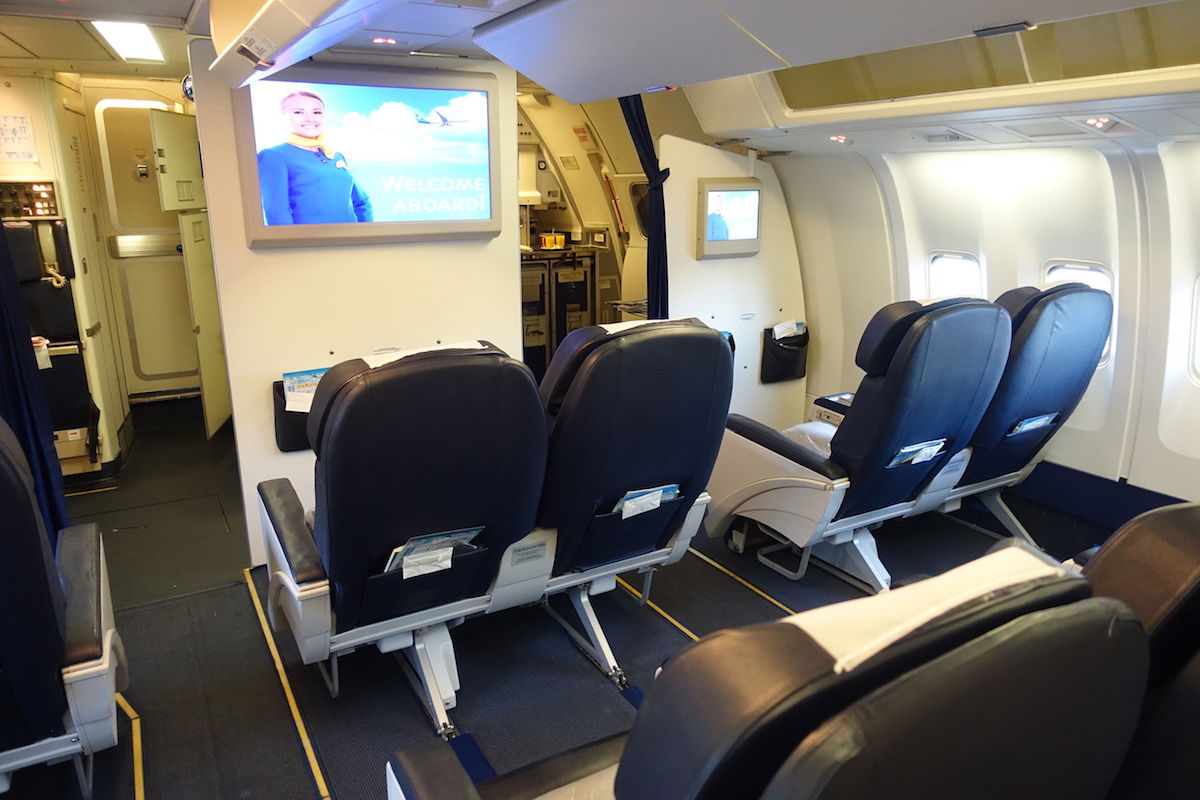 Ukraine's 767 business class
However, in 2018 UIA acquired some 777-200s, which the airline then started using between Kyiv and New York.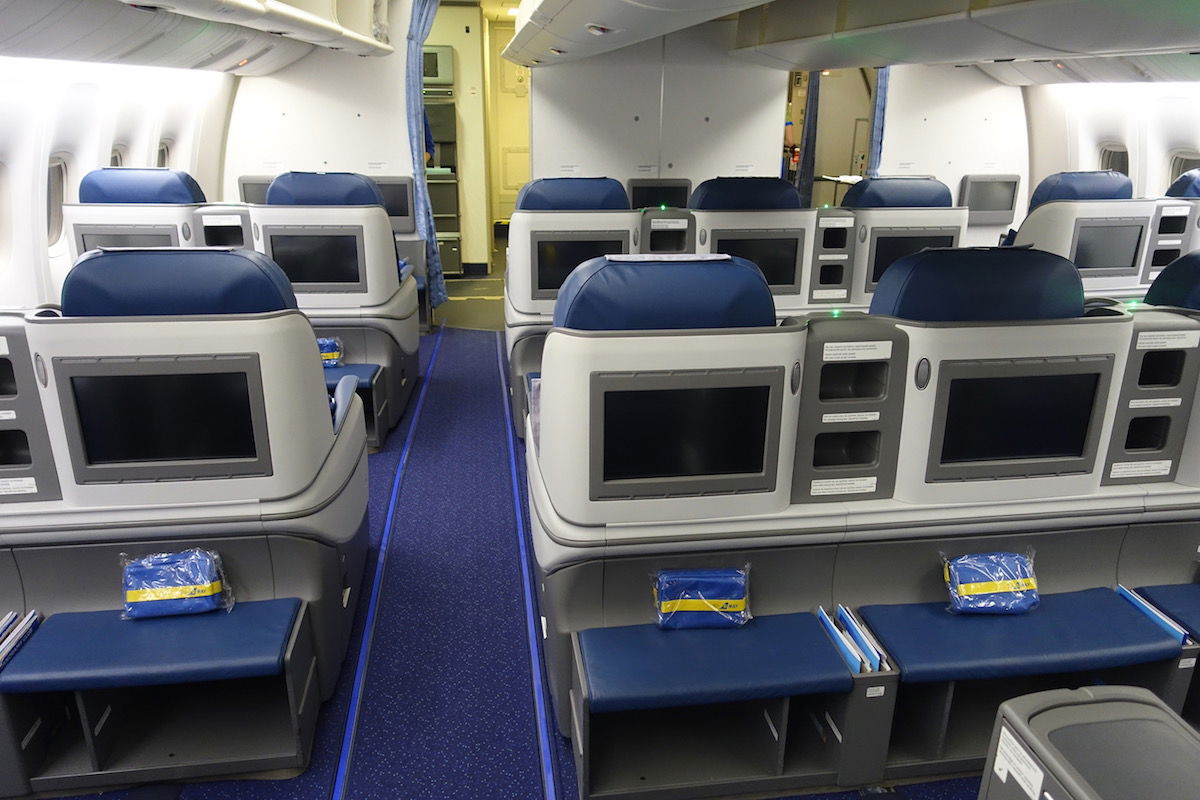 Ukraine's 777 business class
Now the airline will be flying 737s all the way to New York, where business class simply consists of standard economy seats with blocked middles.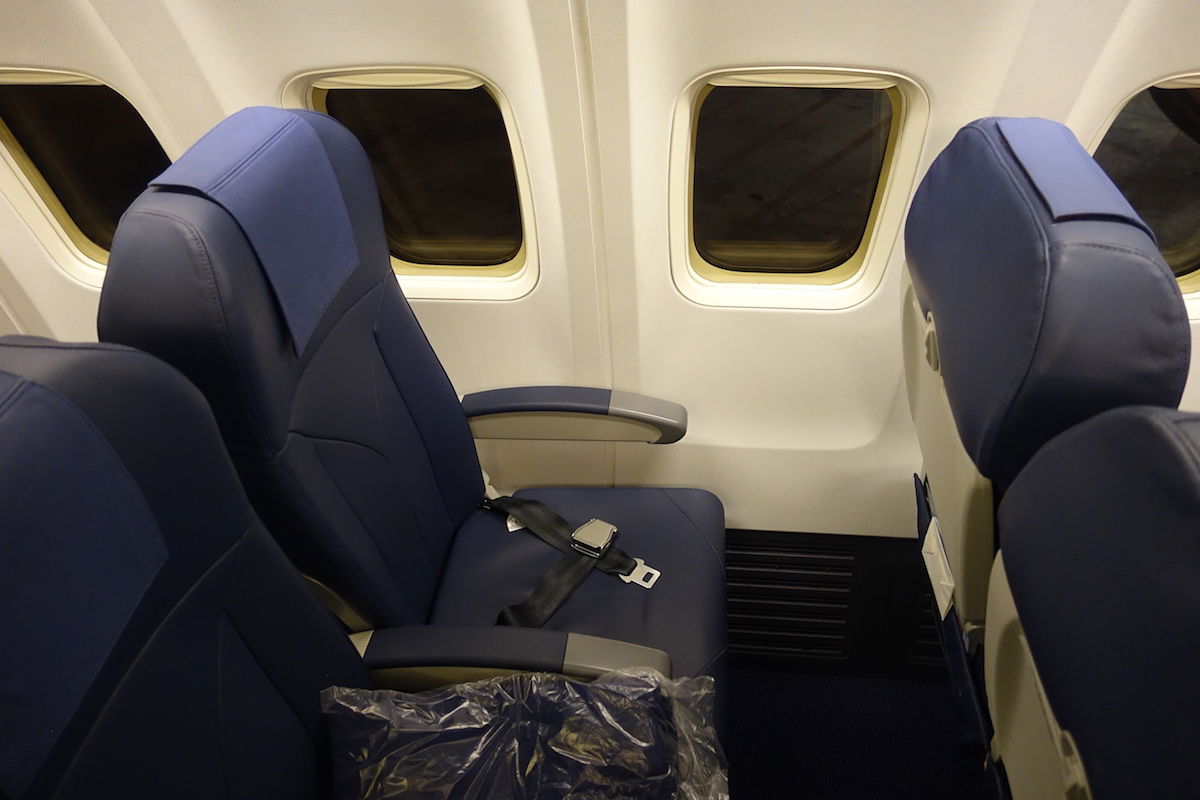 Ukraine's 737 business class
It goes without saying that this is a significant product downgrade. Then again, UIA is a pretty low yield airline to begin with, and during these times I doubt there's much paid premium demand.
Unfortunately it looks like UIA has in the meantime gotten rid of all three 777s as a result of the pandemic, either putting them into long-term storage or returning them to leasing companies, so that was a short-lived plane for the airline. The airline still has a couple of 767s, however.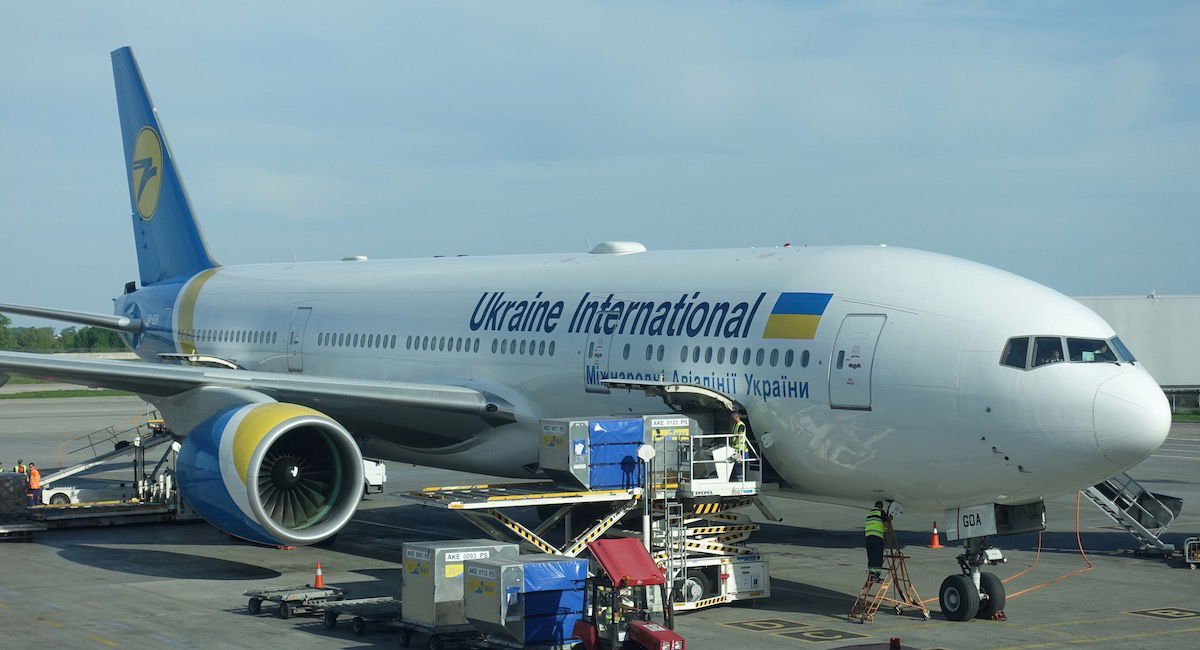 Ukraine International Airlines 777-200
Is this the world's worst flight?
One certainly has to wonder if this will be the most unpleasant scheduled flight in the world:
UIA's 737s don't feature Wi-Fi, power ports, personal entertainment, or even streaming entertainment
There are no real business class seats here
Wide body aircraft have the benefit of having a bit more space for people to stretch their legs, while that can be tough to do in a single aisle aircraft
Back in 2018 I wrote a post about a flight that Lufthansa was launching, which I considered to be the world's worst flight at the time. Lufthansa began flying between Frankfurt and Pune using a regionally configured aircraft, and it had a fuel stop in Baku. The total time onboard was over 11 hours in one direction.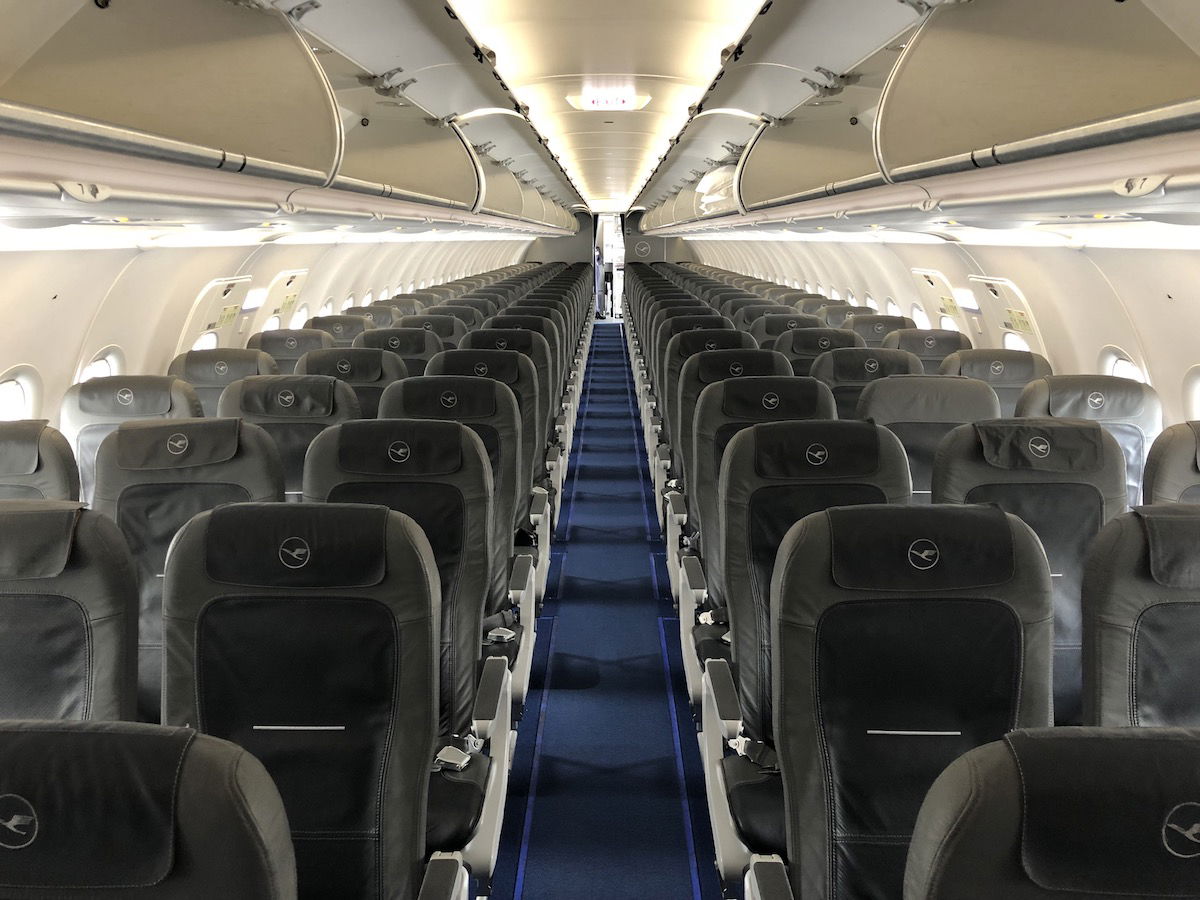 Lufthansa operated a regionally configured aircraft on an 11+ hour flight
This happened because Lufthansa had ended its contract with PrivatAir, which previously operated a specially configured 737 in the market. Fortunately that agreement ended up resuming, so that Lufthansa flight didn't last for long.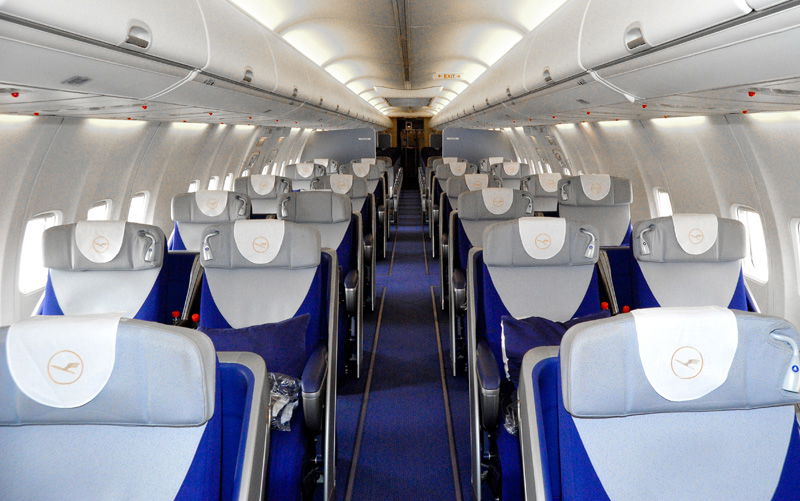 The more comfortable PrivatAir 737 that operated the route
Bottom line
UIA will resume flights between Ukraine and the United States twice weekly in December, using Boeing 737s. I commend UIA's creativity, since this is a way to add back service with an appropriate amount of capacity.
However, this certainly isn't a flight that I'd want to take. As I said above, UIA tends to have extremely low fares and goes after a cost sensitive customer base, so this should do the trick for the airline.
What do you make of UIA's new 737 flight to JFK?