There are some destinations that have been at the top of my list of places to visit for a very long time. For whatever reason I never get around to visiting them, and seem to always say "next year."
When planning my travel I'm usually looking for a combination of:
A destination I want to visit
A destination with interesting hotels to review
A destination I can get to on great airlines using miles efficiently
Anyway, at the top of my list of places to visit is Iceland, though I've just been perpetually pushing it off. There's no doubt it's an interesting destination to visit, there are interesting (though not especially luxurious) hotels to review, but it's the third point that causes me to always push it off.
There aren't really any especially fun or value-maximizing ways to get there. I mean, I'm not going to be flying Cathay Pacific, Lufthansa, or Singapore first class to get there.
But I've decided that it's time to put that aside and visit Iceland… I think.
Here's how far I've gotten in my research:
Booking a flight to Iceland
A nonstop roundtrip economy fare to Iceland this summer is $1,200+.

One of the cool things that Icelandair does is a "free Iceland" stopover. Basically they're trying to establish themselves as an airline you can fly between the US and Europe, and to boost tourism in Iceland they offer a free stopover in Iceland on any fare. In other words, if you book a fare from New York to Stockholm on Icelandair, it won't cost you any extra to spend some time in Reykjavik.
So if you're going to pay $1,200+ to fly just to Iceland, you might as well pay an extra $100 to connect to Stockholm.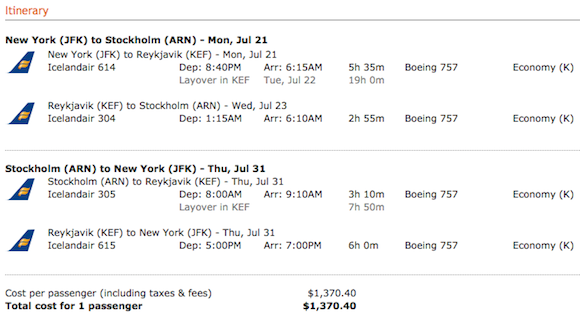 But then looking at business class fares, they're basically $700 more than the economy fare. I feel like that's worth it for four segments in business class.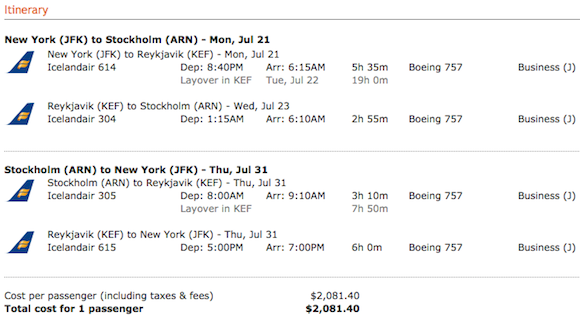 In fairness, Icelandair doesn't have a "real" business class product. Instead it's marginally better than domestic first class on a US airline. But I think it would make an interesting review, and spread across four segments I do think it's worth a premium of under $200 per segment to fly business class.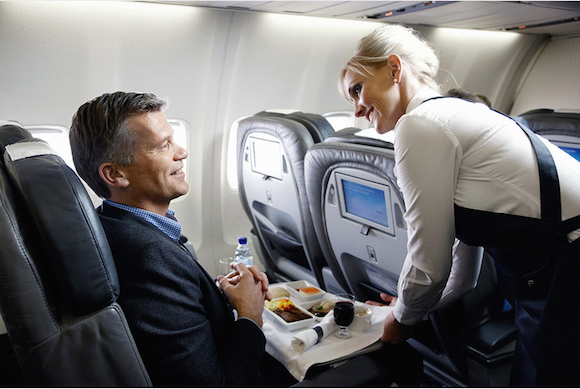 So while I hate paying ~$2,000 cash for a business class ticket, at the same time I can do the rest of the trip on points, so it doesn't "sting" that much… especially considering I'll get to visit two new destinations and there's no other super-efficient way to get there.
Hotels in Iceland
The Hilton Reykjavik is a Category 7 Hilton Honors property, making it 40,000 points per night. However, Hilton offers a fifth night free on points redemptions, so that lowers the cost to 32,000 Honors points per night. That's a hell of a use of Hilton points, given that revenue rates are $300+ per night.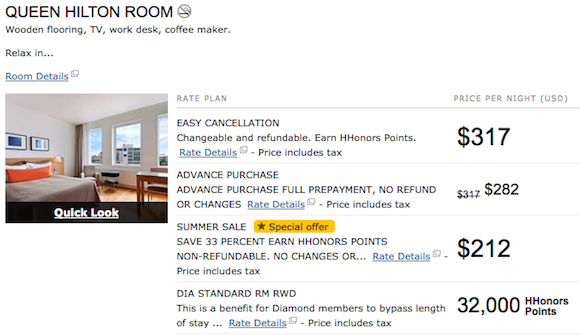 Ultimately I realize the Hilton is a bit removed from the center of the city, but I think it's still worth staying here given the points rate and all the benefit I'd receive as a Diamond member. I'd rather transport myself into the center of the city everyday and get that kind of a deal, than to stay somewhere there that's more expensive without as many benefits.
I'll also look at the Club Carlson options, given that they have a few more centrally located properties, which can be a great value when booked in conjunction with the second free night you get with the Club Carlson Visa.
Hotels in Stockholm
I've always wanted to visit Northern Europe. Last summer I finally visited Helsinki, which was beautiful though a bit on the quiet side for me. I've been wanting to visit more cities in Northern Europe ever since, and based on what I've heard Stockholm is probably the nicest major city.
The Sheraton Stockholm there is a Category 5 property, making it 12,000 Starpoints per night.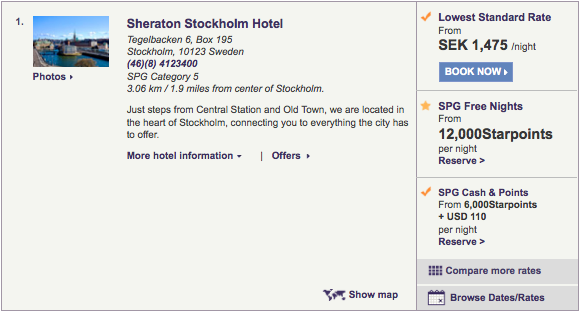 However, when you redeem points for a Starwood property, the fifth night is free, so that lowers the cost to 9,600 Starpoints per night.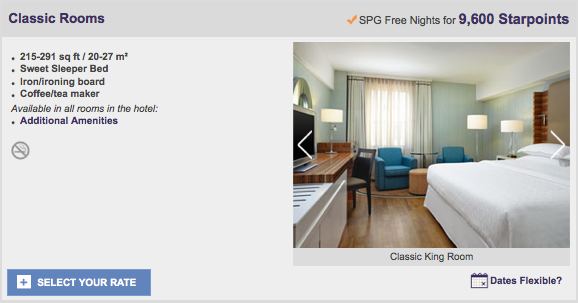 Despite the seemingly excellent value and free fifth night, the math actually isn't that clear on this stay. For five nights I'd pay 48,000 Starpoints, or the cash rate would be ~$1,100. That's a value of 2.3 cents per Starpoint, which actually isn't that compelling of a redemption rate. I value Starpoints at 2.2 cents each, and when you factor in the points you're forgoing by booking an award stay, you actually come out slightly behind.
But oddly this is one of those redemptions where it just "feels better" to use points, I think… if that makes any sense.
And frankly I'm surprised the Sheraton Stockholm rate is so reasonable. This is the peak of summer and based on what I've heard Stockholm is outrageously expensive, so I would have assumed the rate would be higher.
Bottom line
I hate paying out of pocket for business class, but at the same time marginally I think the cost is perfectly justifiable. And I think that's especially true when you factor in that I could redeem points for all the hotel stays.
What do you guys think? Should I go to Iceland this summer using this method? Or is there another method you'd use? Or should I push it off till next year and do something with better airline products instead?