The information and associated card details on this page for the Club Carlson has been collected independently by OMAAT and has not been reviewed or provided by the card issuer.
Links:
While a lot of airline and hotel loyalty programs seem to be running on "autopilot" the past several years, one of the most innovative programs of the past couple of years has to be Club Carlson. A few years ago they had a virtually unheard of loyalty program, at least for those of us in the US, while they've run several huge promotions since then to make their loyalty program arguably one of the most rewarding out there. Another way in which they've innovated is with their credit card, which has some really unique benefits, and is quite possibly one of the most rewarding credit cards to keep long term.
Sign-up bonus
The card offers 50,000 points after the first purchase, and an additional 35,000 points after spending $2,500 on the card within 90 days.
Earnings structure
The card offers 10x points per dollar spent at Club Carlson properties and 5x points per dollar spent on everything else.
Annual fee & foreign transaction fees
The card comes with a very reasonable $75 annual fee, which isn't waived for the first year (and I'll get into why it's totally worth it shortly). The card also has a 3% foreign transaction fee, so you can put the card away when you travel internationally, and are better off using one of Chase's no foreign transaction fee credit cards.
Annual benefits
This is the point at which the card starts to get awesome. First of all, you get 40,000 bonus points upon account anniversary every year. There's no catch, no minimum spend, you just get those points for paying the $75 annual fee. We'll get into what those points get you shortly, but that's a lot of points.
Furthermore, you get Club Carlson Gold status for as long as you have the card, which comes with the following benefits: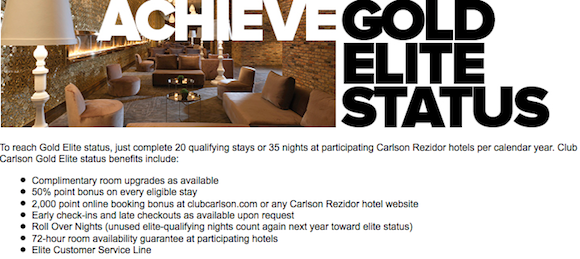 So most importantly you get complimentary internet (which all Club Carlson members get), a room upgrades, early check-in and late check-out subject to availability, a 50% points bonus, and a welcome gift. So while this isn't as good as top tier status with Starwood or Hyatt, for example, it gets you some of the most important benefits out there, in my opinion, like free internet (which can be outrageously expensive in Europe) and possibly a room upgrade.
It's worth noting that points rack up really quickly for Club Carlson spend as well. You get 20 base points per dollar spent at Club Carlson properties, a 50% bonus as a Gold member, and an additional 10 points per dollar if paying with the Club Carlson Visa, so you're potentially looking at 40 points per dollar.
THE PERK THAT MAKES THIS CARD AMAZING
The single greatest thing about the card — what actually makes the card almost too good to be true, in my opinion — is that if you have this card you get one free award night for every two or more consecutive award nights you redeem for. Yes, it's literally a buy one get one free. If you book two award nights at a hotel you pay for just one. Now you can't do two back-to-back stays at a property and take advantage of that benefit both times, but you can hotel hop and do two nights at a time, then you're essentially always getting 50% off redemptions.
Redeeming Gold Passport points
Club Carlson's award chart has six categories (though there are a few hotels that are more expensive), pricing out between 9,000 and 50,000 points per night, as follows: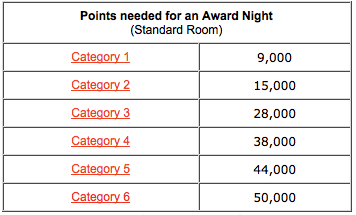 Let's use London as an example. I happen to think London is one of the single most frustrating hotel markets for those looking to redeem points (or looking to pay, for that matter, but I can't imagine every paying for a hotel in London). Hotels in London are extremely expensive to begin with, and points redemption rates reflect that. Club Carlson has over two dozen properties in the greater London area, many of which are category six properties.
Their award search tool is really easy to use. Simply go to their home page and select "Book With Points," and it'll show you what's available without even being logged into your account.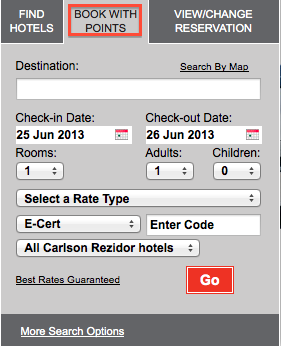 Let's look at London this summer, for example. In pulling up avilability for July 9-11, let's look at a couple of the better options that are available:

While paid rates are £385.44 (~$592USD) per night, a redemption would only cost 50,000 points per night. And keep in mind if you stay for two nights you'd just pay for one, so you'd literally be paying 50,000 points for a stay that would otherwise cost you ~$1,184USD.
And just to be clear, the above rate isn't an isolated event or anything, and it's not like there's just one hotel in that league. The Radisson Blue Edwardian Berkshire is even more expensive, at an average of £400 (~$615USD) per night. Again, the second night would be free, so you'd pay a total of 50,000 points for two nights that would retail for ~$1,230USD.

Club Carlson is also pretty strong in Paris. For example, take a look at the rates at the Radisson Blue Champs Elysees — it goes for €410 (~$537USD) per night, or 50,000 points. With the second night free you're getting ~$1,074 worth of hotel at retail for just 50,000 points.

The fact is that Club Carlson is especially strong in Europe, so no matter where in Europe you go, you're probably going to get amazing value using Club Carlson points.
Or hell, maybe you're as nutty as me and want to go to the world's Northernmost full service hotel — yep, it's the Radisson Blu Polar Hotel in Longyearbyen.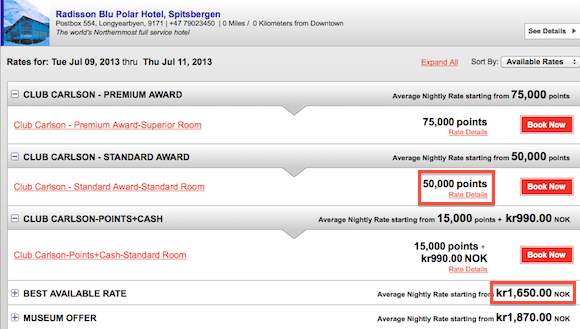 You can pay either $270USD per night or 50,000 points. Again, the second night would be free so you'd be paying 50,000 points for two nights, which I think is about all you need here. 😉
What are Club Carlson points worth?
Back in March I valued hotel points, and I said Club Carlson points are worth 0.4 cents each. My reasoning is that my internal "valuation" of a stay at a category six property is ~$200USD. That's definitely on the conservative side given the above rates, though I don't think it was too far off. What a lot of people correctly pointed out is that the value of those points potentially doubles if you're taking advantage of the second night free offer. Of course I didn't hard code that into the valuation back when I wrote the post because I can't assume everyone has the credit card, and that would start to create a really skewed sense of valuation. But if you don't mind staying in two night increments that would indeed double the value of points to 0.8 cents each (and many thought even that was low). Given that the card earns five points per dollar spent on everything, that's potentially the equivalent of 4% "return" on everyday spend, which is about as good as it gets.
The bottom line
Assume you spend $3,000 on the card (the minimum spend is $2,500 to get the full sign-up bonus). That would get you 100,000 points (the 85,000 point sign-up bonus plus five points per dollar for the $3,000 you spend). That's enough for two sets of two night stays at any Club Carlson category six property, including any of the above. So that's literally four free nights at their top properties just for signing up for the card and spending $3,000.
Similarly, just for having the card each year you're getting 40,000 points, almost enough for two more nights at their top properties. Given how easy Club Carlson points are to rack up otherwise — either through their generous promotions or 5x points for every day spend — this card is a total no brainer.
And even not factoring in the sign-up bonus or anniversary bonus, at five points per dollar spent you have to spend $10,000 on the card to earn 50,000 points, which is enough for two nights at their top hotels. That basically means if you're doing things right you're getting a free night at one of their top hotels for every $5,000 spent on everyday purchases. In non bonus categories, what other cards gives that kind of a return?
Links: