Typically when airlines have a partnership, you can redeem miles for travel on the other carrier. That's different, however, than being able to convert miles into the partner program.
For example, American Airlines and British Airways are partners, have a joint venture, and both belong to the oneworld alliance. You can redeem American miles for travel on British Airways, but you can't convert American AAdvantage miles into British Airways Avios.
In September, Singapore Airlines KrisFlyer and Virgin Australia Velocity announced something which I don't think has ever been done before — members of both programs would be able to convert miles into the other program if they so choose. Now, indirectly there are many ways to convert points between loyalty programs using the likes of points.com, though typically a lot of value is lost in the process.
There were lots of questions I had at the time about the new KrisFlyer/Velocity transfer option, including:
What will the transfer ratio between programs be?
Will there be limits on how many points can be transferred?
Will all miles be transferable, or only miles earned through flying or select other activities?
Transfer between KrisFlyer and Velocity is now live!
The partnership is now live, and KrisFlyer and Velocity members can convert miles between the two programs.
The transfer ratio is 1.35:1 in both directions. That means if you convert KrisFlyer miles into Velocity points it'll be at a 1.35:1 ratio, and if you convert Velocity points into KrisFlyer it'll be at a 1.35:1 ratio.
KrisFlyer miles are considerably more valuable than Velocity points, so I'd say that's a more-than-fair transfer ratio in that direction. The only other major restriction is that you have to convert a minimum of 5,000 miles per conversion.
The terms of this are much more lucrative than I had expected. Some Velocity members were hoping for a 1:1 transfer ratio, though I really don't think that was realistic.
Who benefits more — KrisFlyer or Velocity members?
In general I think Velocity members benefit more from this. KrisFlyer has extremely lucrative award redemption rates, especially for travel between Asia and Australia. And being able to redeem for Singapore A380 Suites Class is tough to beat. This also gives Velocity members access to the Star Alliance.
For KrisFlyer members, this opens up awards on some of Virgin Australia's partners, including airberlin, Delta, Etihad, etc. That being said, at a 1.35: 1 transfer ratio, I just don't see many circumstances under which it would make sense to transfer KrisFlyer miles into Velocity points.
Here's the Velocity award chart for one-way travel (as you can see, the chart differs based on the partner):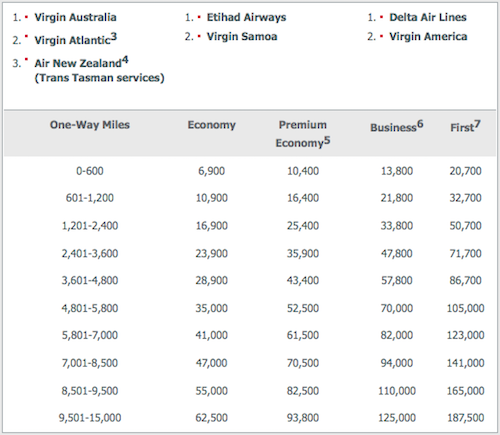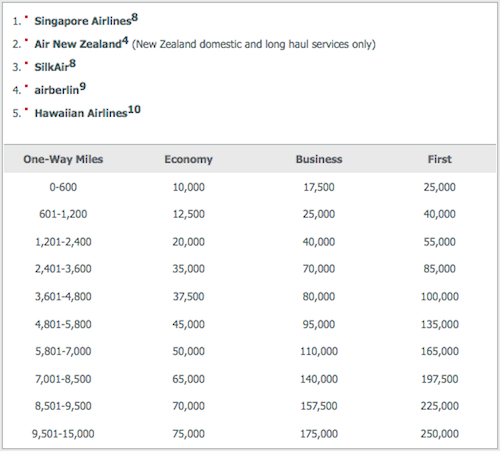 Bottom line
At the end of the day I'd rather redeem my KrisFlyer miles for travel in Singapore Suites Class, though I guess at least KrisFlyer members now have some added partners on which they can redeem miles, even if you lose some value in the process.
The biggest winners here are Velocity members, though.
Do you plan on taking advantage of this new transfer opportunity between the two programs?
(Tip of the hat to Points Hacks)