As I first wrote about last week, I've finally made the switch to T-Mobile. F-I-N-A-L-L-Y. For those of you not aware, T-Mobile offers a Simple Choice International Plan, where you get automatic coverage in over 140 countries around the world, with data and texting at no extra charge, plus a cost of just 20 cents per minute for calls.
I can't get over the fact that I've waited so long to make the switch. Previously I had AT&T and just didn't use data abroad, but rather kept my phone in airplane mode and connected to Wi-Fi whenever I had the chance. For someone who works online and spends about half of their time outside the US, that's plain embarrassing.
It took me so long to make the switch precisely because I hate cell phone companies, and because I kept pushing off the process of making the switch, thinking it would be a total pain. What pushed me over the edge was that T-Mobile recently added an hour of free Gogo Wi-Fi per flight. While I have an unlimited Gogo membership (and will likely keep it), that's the point at which I said "this is the carrier for me." Free inflight Wi-Fi and free international data couldn't be more up my alley.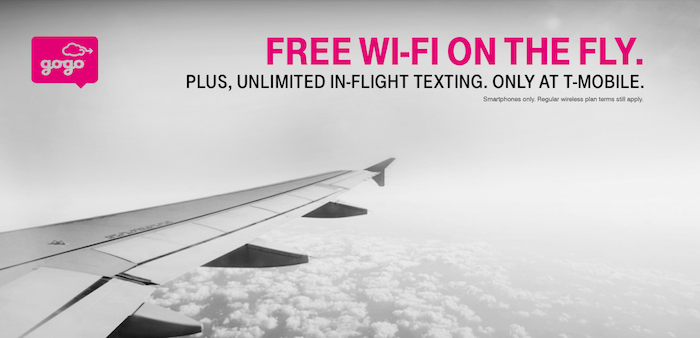 While the process was annoying, it was well worth it.
One complaint I've long heard about T-Mobile is that their reception in the US isn't good. That was obviously a big concern, though in my case for no reason, as it turns out. Reception has been every bit as good for me with T-Mobile as with AT&T, though admittedly I mostly travel to big cities. Some readers chimed in and basically said that T-Mobile reception is bad to non-existent when you get out into the middle of nowhere, which isn't a situation I often find myself in.
Over the past 36 hours I've been in Taiwan and Singapore, so I figured I'd share an update on my international T-Mobile experience. That is, after all, the main reason I made the switch.
How has my experience been with T-Mobile internationally?
Life changing.
Before I made the switch, some people warned me "just be aware that speeds will be really slow abroad." I would have been totally fine with that, given that slow speeds are better than no reception at all.
The second I landed in both Taipei and Singapore, I received texts welcoming me to the country and confirming I was in one of the 140+ countries eligible for the T-Mobile international plan. I appreciate that they make it so easy.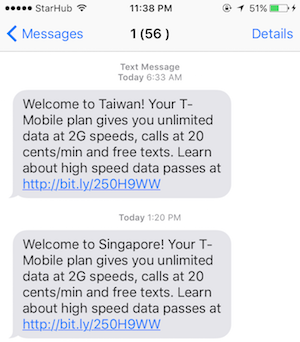 As someone who has literally never voluntarily used cell phone data abroad, I get almost the same sensation when I switch my plane out of airplane mode in a foreign country as I do when I shower on an Emirates A380. There's something that feels almost scandalous about it, as I picture myself being billed hundreds and hundreds of dollars with AT&T.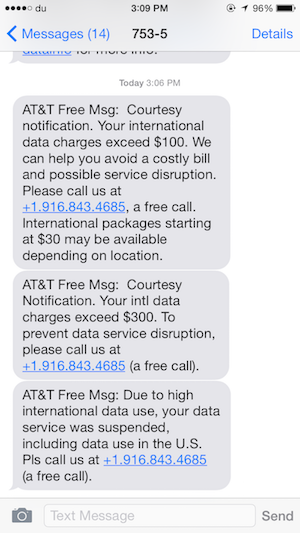 What are data speeds like?
The speeds were about what I expected, frankly, which I'm thrilled with.
Speeds are somewhat slower than they'd be in the US, but not problematically so. I can send emails, Tweet, Instagram, etc., without issue.
Loading my Instagram timeline takes a few seconds. Loading a Snapchat takes maybe 10 seconds. Texts send easily. Sending pictures via text takes maybe 15 seconds.
But the truth is that in the US, unless I'm connected to Wi-Fi, I'm usually only doing basic stuff on my phone, like email, Twitter, etc.
The only thing I wasn't able to easily do is load a video on YouTube that I wanted to watch.
So yes, speeds may be a bit slower than in the US, but not problematically so. I want Wi-Fi abroad so I can stay up to date on email, messaging, etc., and T-Mobile is beyond sufficient for that.
How about phone calls?
At 20 cents per minute, phone calls are a heck of a deal while abroad as well. I've found the phone quality to be excellent, about as good as in the US.
This is a huge benefit for me. My dad doesn't use a computer or any sort of texting, so I'd always have to log onto Skype, Google Voice, etc., to call him. Now I can just call him the moment I land to say hi.
Bottom line
I know I almost sound like I'm being paid by T-Mobile. I'm not.
I just spent years receiving crappy service and paying ~$270 per month for a plan with AT&T while getting charged out the you-know-what for international data.
I realize there were cheaper plans I could have used, but when I called AT&T to ask, they highly recommended I keep the current plan, because it had a plan with unlimited data, and I'd never be able to sign-up for that again. That was bad and dishonest advice.
My cell phone bill now is 60% cheaper, I get the same signal in the US, I can browse the web all the time while traveling abroad, I can make phone calls internationally at a very reasonable price, and I even get some free Gogo Wi-Fi.
T-Mobile markets themselves as "the Un-carrier," and I think that's pretty accurate, because I actually like them. I never thought I'd say that about a cell phone provider
So for those of you who aren't with T-Mobile, I can't recommend making the switch enough, assuming you don't live in a small town in the US where their service is lacking. The only other type of plan I'd ever consider is Google Fi, as Tiffany recently wrote about.