A couple of days ago I got an interesting question on Instagram, of all places. The question was:
With three planes gone missing just this year, how has your perception of flying changed?
And that's complicated to answer, at least for me.
It's a miracle how safe flying is, but the past week has just been heartbreaking.
Between Malaysia 17, Transasia 222, and Air Algeria 5017, you almost have to wonder what's going on. And perhaps equally heartbreaking is the story of the 17 year old boy that loved aviation and was on a round the world flight, when he crashed just after takeoff from American Samoa. Just horrible.
But what can we really take away from this? What do these things teach us?
As far as I'm concerned, a few things:
A reminder of how incredibly safe flying is
More so than the bad things that have happened the past few days, I'm reminded of how safe flying is in general. Flying has become so safe the past decade that you're almost safer in the air than in your living room. It really is nothing short of a miracle.
There are over 100,000 commercial flights every day carrying more than three million people all over the world. Every day.
Earlier this month, Amelia Rose Earheart became the youngest woman to fly a single-engine aircraft around the world. That's amazing on so many levels.
The fact is that it would be irrational not to fly as a result of what has happened the past few days. It's devastating, but it doesn't change just how safe flying is across the board.
How horrible the world is
Pardon me for being grim, because this isn't specific to the crashes we've seen the past few days, but in general. When you turn on the news you realize just what a crummy place the world is right now.
I've gotten to the point where I just can't turn on the news anymore, because it just makes me want to cry and crawl into a human sized bubble and never come out.
How awesome the world is
With the horrible things we've seen, we've also seen some amazing things.
Like the Dutch showing respect when the bodies from MH17 arrived, which gave me goosebumps. I try to do most of my work from hotel club lounges since I have a tendency to fall asleep when I'm in my room, and just seeing the ceremony in passing had a hard time holding back tears.
Or the image of the Malaysia Airlines flight attendants holding hands. Human beings are incredibly resilient, and the responses to these tragedies have been amazing.
But as far as I'm concerned, the two most important lessons are:
Spend as much time with your family and friends as you can
Whether or not my Royal Jordanian flight last year actually had me in danger or not (and it probably didn't), it did change my approach towards life.
Not just in terms of always keeping my family in the loop of where I am so they're not worried, but also in terms of just generally appreciating family and friends. They're more important than anything.
Get stuff off your bucket list!
As crazy as it might sound, what I've taken away from the past week more than anything is to get stuff off your bucket list.
There are two things that I'm convinced of in life:
We're all going to die
For the most part, we don't have any control over when we die
The last part is key, and I want to clarify that we should of course be smart. I'm not someone that believes "God knows when I'll die, so I can do whatever I want and it won't matter," because I don't think that's true. I think we have the obligation to do the right things and take care of ourselves. So we can't jump off a building and say "oh, it's God's will."
But what we don't have control over is when some horrible act happens, when something totally takes us by surprise. And that's why I think the thing we should take away from this more than anything is to just do the stuff we've been wanting to do in life, and hopefully with the people we've been wanting to do it with.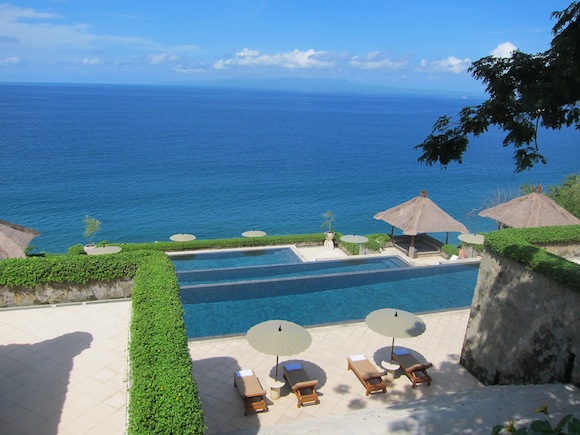 My trip to Bali with my mom for her birthday last year was worth every penny.
Life is too short and unpredictable not to do what makes you happiest.
I'm beyond fortunate to be able to do what I love every day thanks to you guys, but despite that I've kind of been "complacent" about my travel aspirations. People always ask me "have you been to _____?" or "have you flown _____?" or "have you stayed at _____?" And I often respond, "no, but it's at the top of my list."
And the truth is that it is, I just haven't been doing much to tackle that list. And that's going to change.
For example, I really want to go to Stockholm, Iceland, and Longyearbyen, and I've been finding excuses for why not to go there. There's never much in the way of "interesting" award options to where I can justify flying there for the sake of a review, they're tough to get to, etc. I've had thousands of excuses.
Conversely, this week I flew (last-minute) all the way to Brussels just for the 45 minute Brussels Airlines Tomorrowland flight from Frankfurt to Brussels.
It was completely inconvenient and it was totally worth it.
It was one of the coolest things I've witnessed in my life. Of course I'll have a full trip report, but in the meantime here's a video I took:
More so than how cool the flight itself was, it was equally fun to watch just how happy people on the flight were (even if the concept of a music festival is somewhat lost on me).
Bottom line
I'm not trying to be preachy, and certainly don't have all the answers to life, but I feel very strongly that life is too short not to live it to the fullest.
To a large extent the bad things that could happen to us are out of our control, but the good and fun things we can do with life aren't.
I realize I'm incredibly fortunate to have such flexibility, but even if you only have two weeks a year of vacation, make that next trip one that checks a few things off your bucket list, in my opinion.