TAP Air Portugal is growing their transatlantic route network significantly this year. This is largely thanks to the airline acquiring new aircraft which will fuel this growth. This includes the airline getting 20 Airbus A330-900neo aircraft plus 14 Airbus A321LR aircraft.
In 2019 alone, the airline is adding service from Lisbon to Chicago, San Francisco, and Washington. On top of that, the airline is adding flights from Porto to Newark, which will be the first transatlantic route with the A321LR.
Given the pace at which the airline is growing, I've been wondering what's next for them. Well, TAP Air Portugal's Chairman of the Board, Miguel Frasquilho, has just given us a glimpse of what's to come during a recent speech.
According to him, in 2020 TAP Air Portugal intends to expand their transatlantic network by adding flights to Atlanta, Houston, Los Angeles, and Montreal.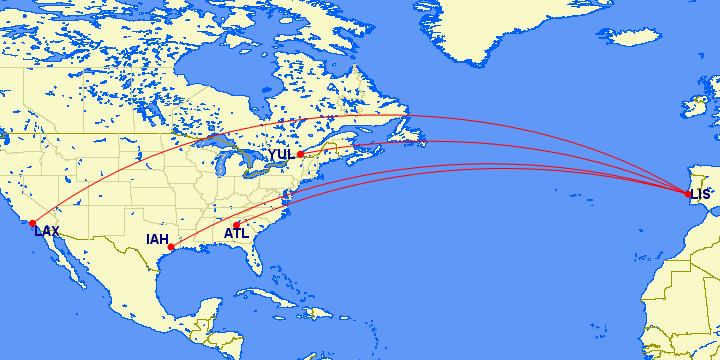 As a reminder, TAP already flies to Boston, Miami, New York JFK, Newark, and Toronto in addition to the three destinations they're adding this year.
We'll see whether or not all four of these routes actually happen in 2020 — it's not uncommon that airlines have goals, and then don't completely follow through on them.
However, this expansion mostly seems reasonable enough. All of TAP's expansion this year is to United hubs, and it seems they're continuing that trend in 2020, by adding flights to Houston and Los Angeles.
Montreal makes sense, since it's a destination that can be served by an A321LR, and presumably there's a good amount of demand there. Furthermore, Air Canada is in Star Alliance, so they'll have some feed.
It's the Atlanta route that doesn't make much sense to me. Atlanta is a massive airport, but that's due to Delta. Delta doesn't even fly nonstop to Lisbon from there, and if they can't make it work, I question how TAP can make it work with virtually no feed at the airport.
Bottom line
I'm happy to see TAP expanding their transatlantic operations rapidly, giving the excellent fares and good award availability they offer. Add in their new planes featuring excellent fully flat seats, and flying with them makes more sense than ever before.
Their strategy seems to mostly be to add service to Star Alliance hubs. It's the Atlanta route that's the wild card here.
What city would you most like to see TAP add service to?