Last June we first learned that Garuda Indonesia wanted to begin flying to the US, which I've been excited about. However, they had a couple of hurdles to overcome before they could do so.
The biggest hurdle was that Indonesia didn't comply with International Civil Aviation Organization (ICAO) safety standards, meaning they didn't have the Category 1 rating required in order to operate flights to the US. Fortunately they managed to get a Category 1 rating last August, so now Indonesian airlines are allowed to start flying to the US.
This February they took the next step towards formalizing this new service, when they filed with the Department of Transportation requesting to launch 3x weekly flights between Jakarta and Los Angeles via Tokyo Narita using a Boeing 777-300ER.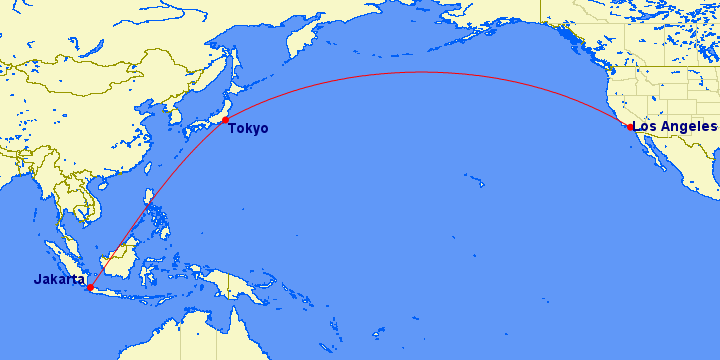 I love Garuda Indonesia — they have one of my favorite first class products in the world, and have fantastic cabin crew — so I was looking forward to this. However, I was also suspicious of the logic behind the route. There's no way they could turn a profit on this route, given there are already over a dozen airlines offering one stop service between Los Angeles and Jakarta, and prices are extremely low. So it seemed to be that the route was more for political and prestige reasons than anything else.
However, it's now November (when the flight was supposed to launch), and we still haven't heard anything further. We now have a formal update. Garuda Indonesia has postponed plans to fly to the United States. They claim the reason is because the Japanese government is refusing to grant the airline fifth freedom traffic rights between Tokyo and Los Angeles (meaning they couldn't sell tickets in the market), and also because they haven't completed administrative requirements with the US DOT.
Per The Jakarta Post:
"The Japanese government is less than supportive to the Indonesian airline to fly and take passengers from Tokyo [to the US]," Garuda Indonesia president director Pahala N. Mansury said on Tuesday.

"We are still waiting for the permit from the US Department of Transportation. The second [step] is to find a transit city." Pahala added.
It's possible that either of these explanations is true (at least technically), though I suspect that's not the primary reason this route has been postponed. Garuda Indonesia has a new CEO who wants to cut service and expansion (including possibly eliminating first class), so it seems much more likely that this is the primary motivation.
I would be curious what the situation is with Japan, though, as I'm not sure on what grounds they're "less than supportive."
Unfortunately I guess we won't be seeing Garuda Indonesia at LAX anytime soon.
(Tip of the hat to @agnesbyrne)