STELIA Aerospace, which is a wholly owned subsidiary of Airbus, has today unveiled a new business class seat that I expect will become quite popular within a few years.
STELIA Aerospace OPERA business class seat
STELIA Aerospace's new business class seat is called "OPERA," and it's specifically designed for single aisle aircraft. This new product features fully flat seats, direct aisle access, and doors at every seat, and it's claimed that this will offer wide body comfort on narrow body planes.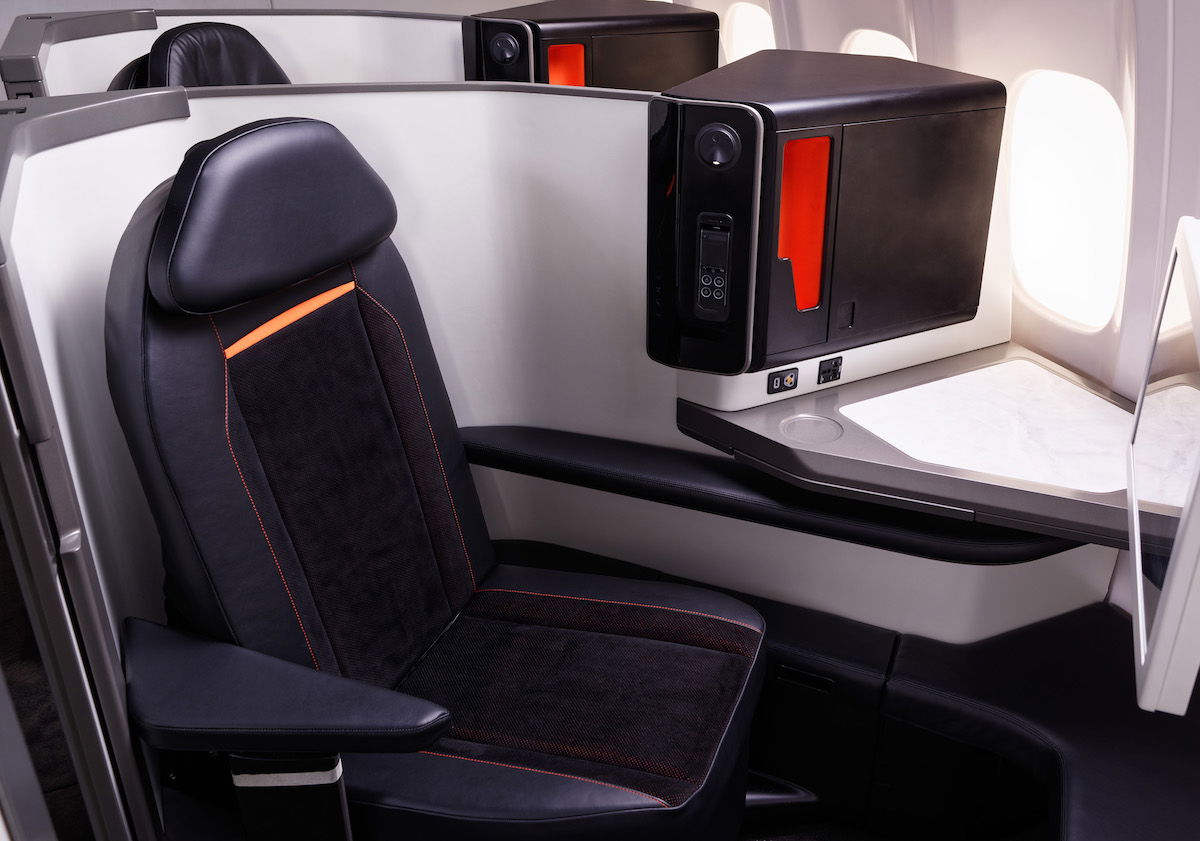 STELIA Aerospace OPERA seat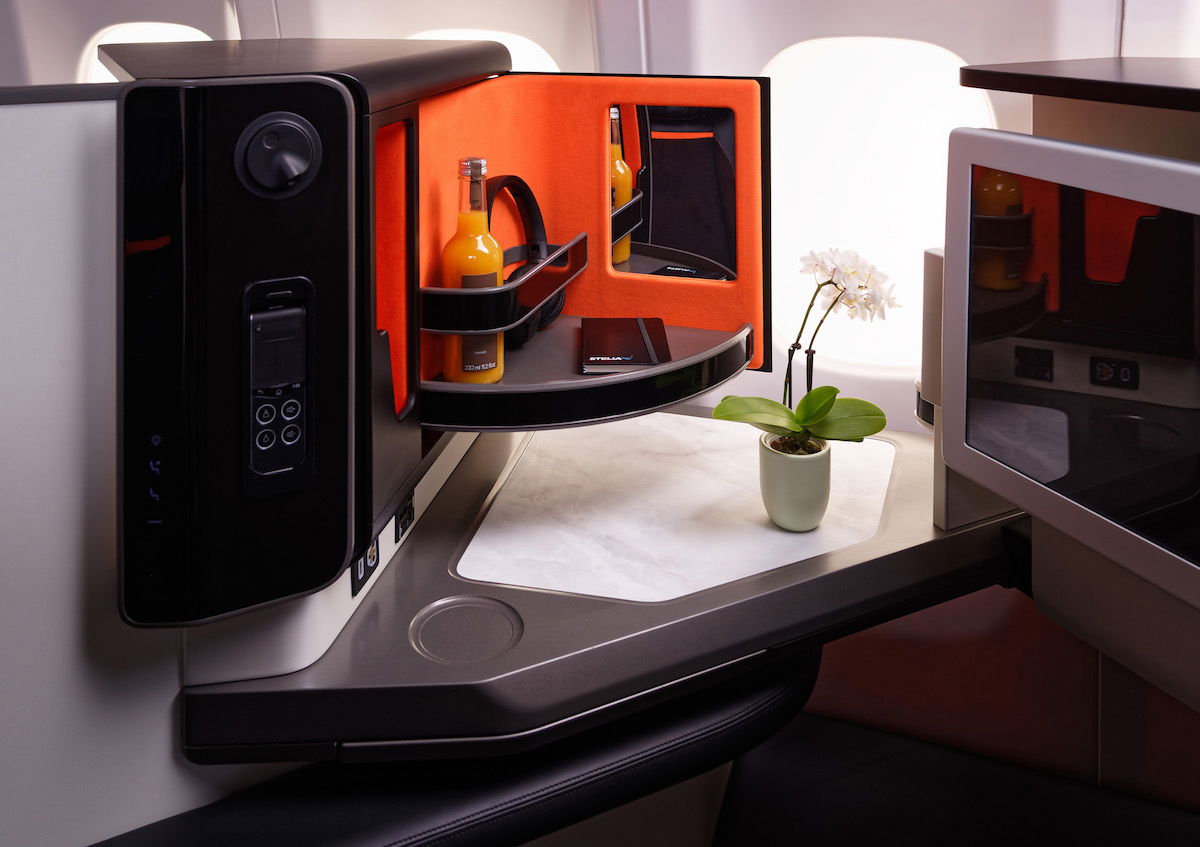 STELIA Aerospace OPERA seat
Here are a few of the highlights of the seat:
The widest fully flat bed available on a single aisle jet, with plenty of foot space
A 20″ personal entertainment monitor
Increased privacy with a fully integrated door
Extra stowage capacity, including a closed amenity stowage and a laptop stowage zone
A large and stable meal table, stowed under the cocktail table
Adjustable armrests and ambient light
The seat has a simplified design for weight and cost optimization, as well as easy installation and wiring of screens
Video & pictures of Airbus' new business class seat
Here's a video of the new STELIA Aerospace OPERA product:
Here are some additional pictures: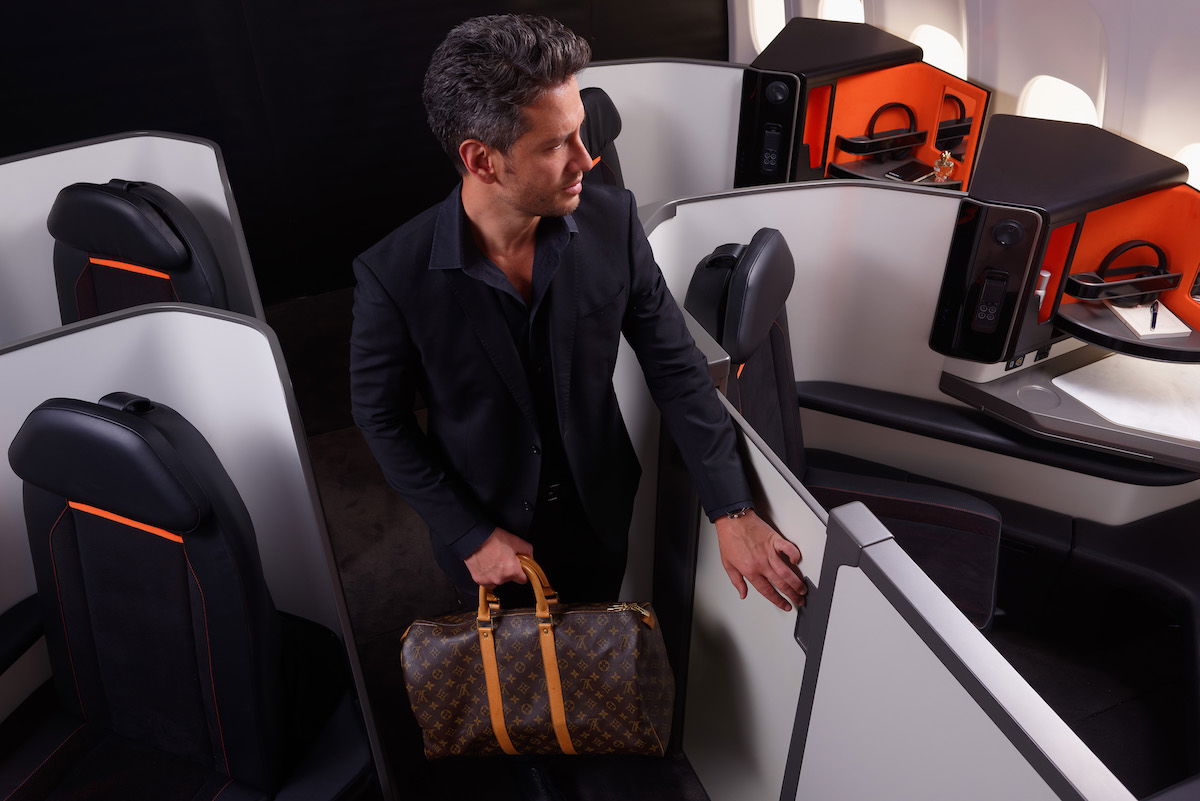 STELIA Aerospace OPERA cabin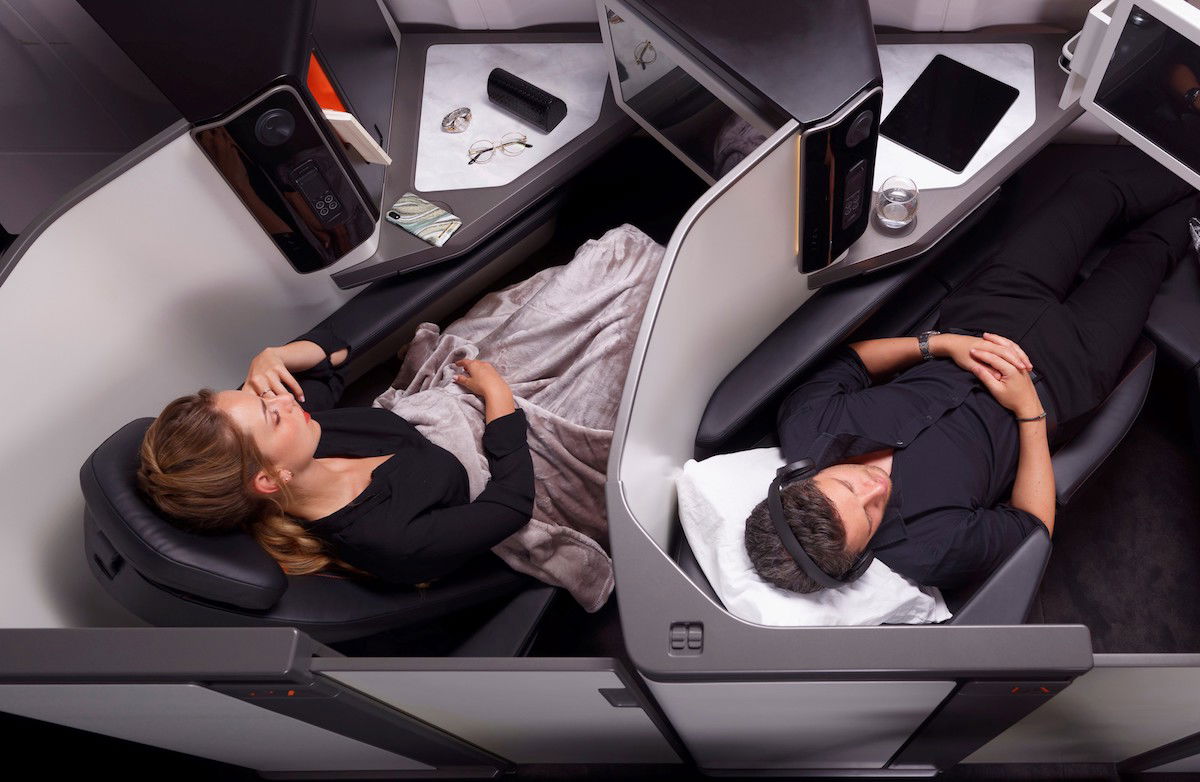 STELIA Aerospace OPERA cabin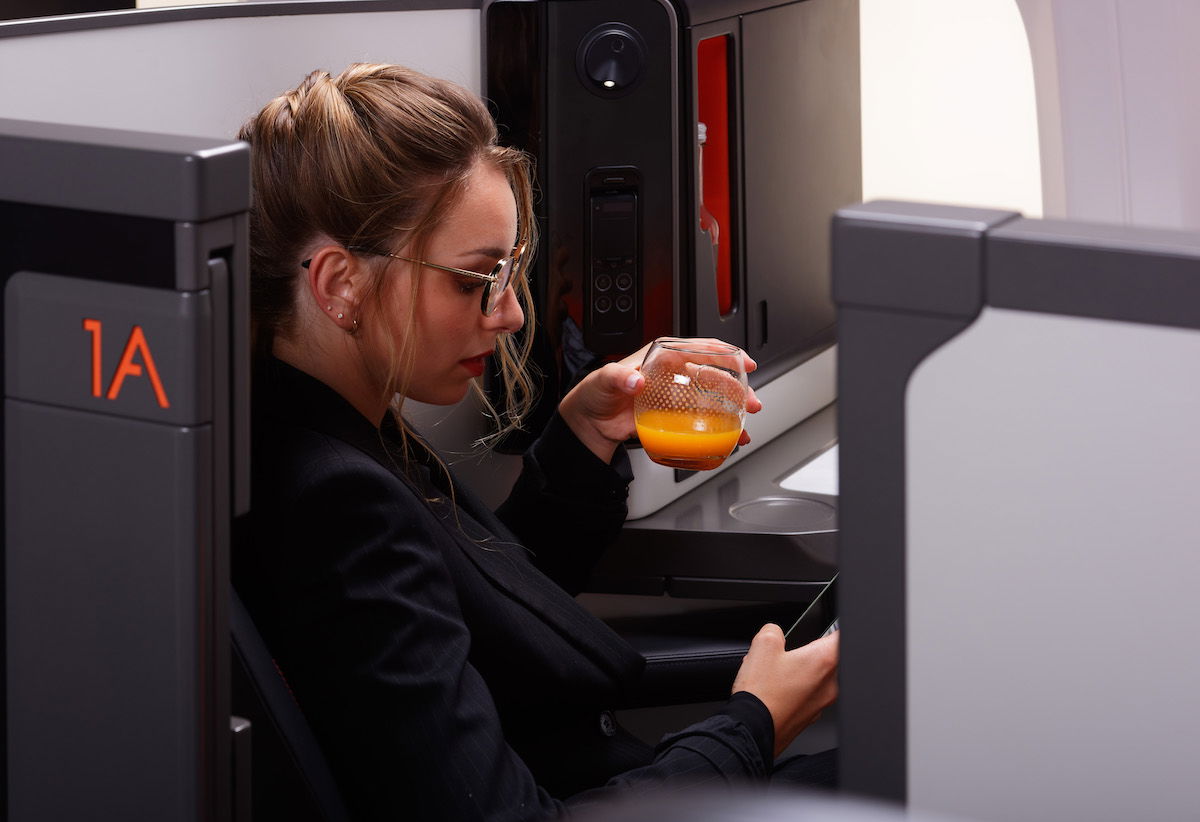 STELIA Aerospace OPERA seat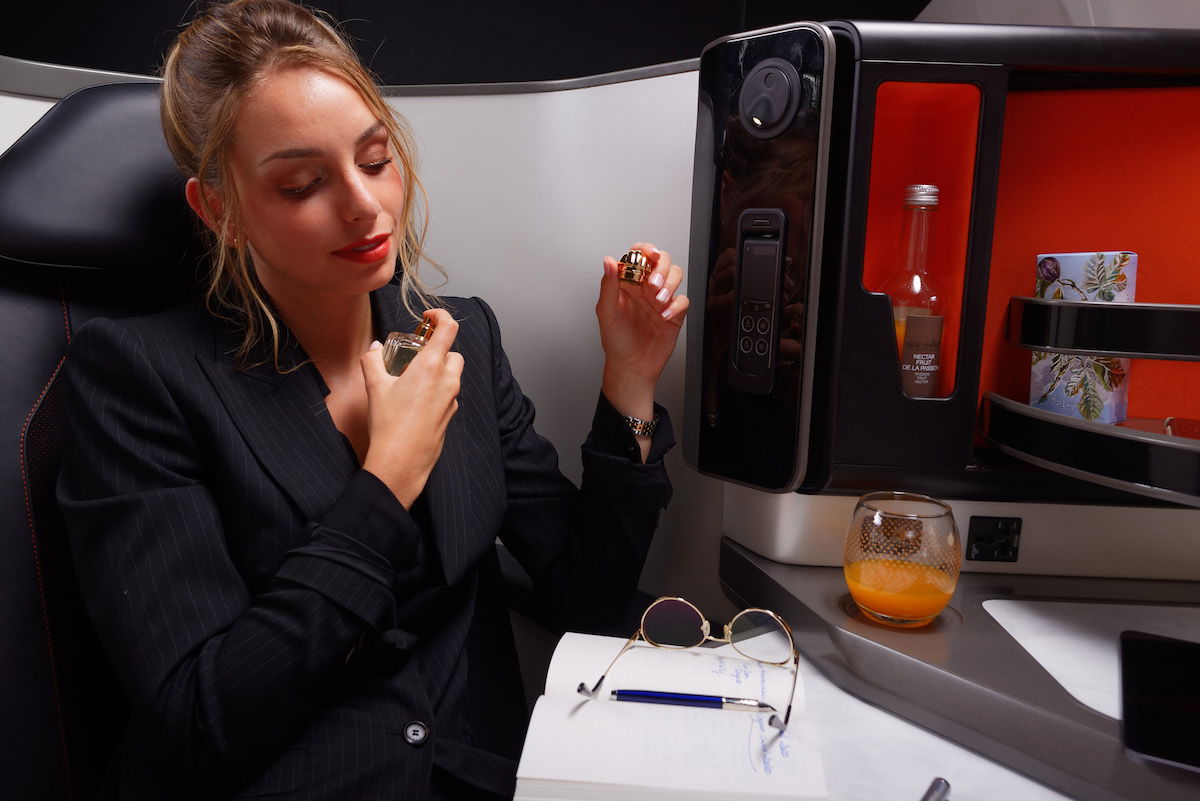 STELIA Aerospace OPERA seat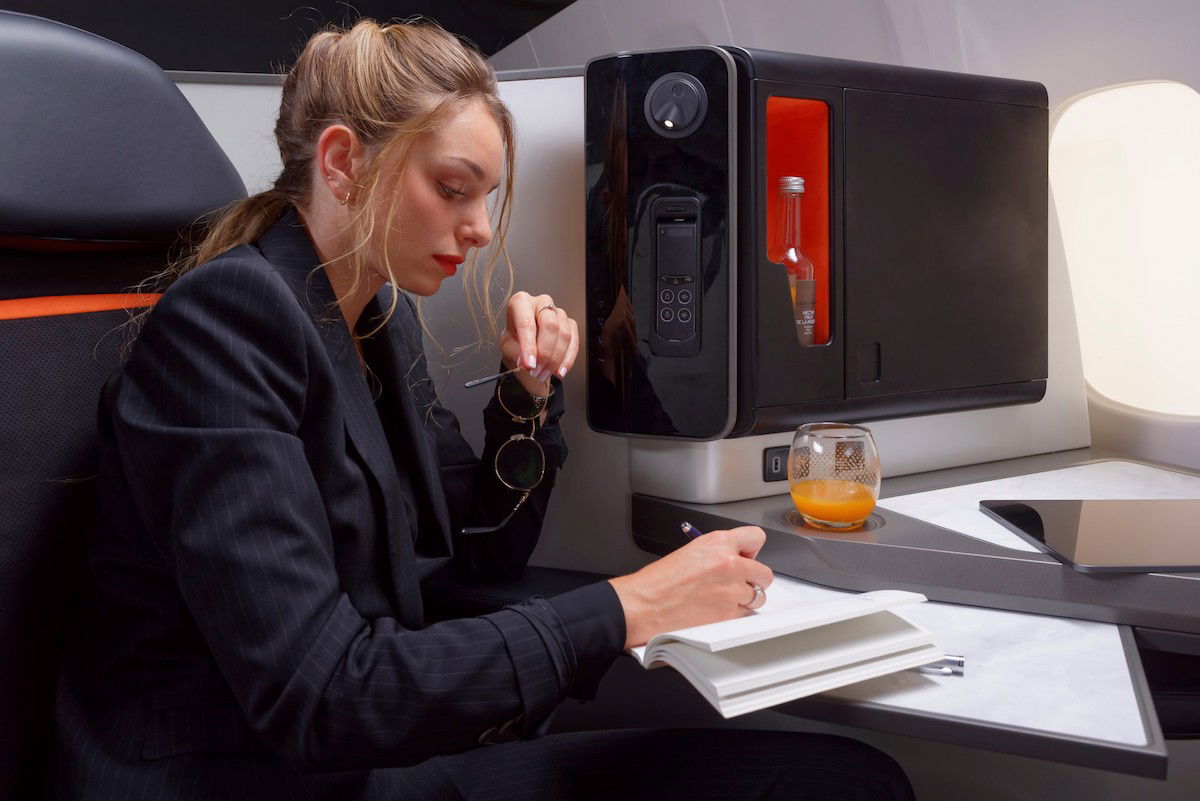 STELIA Aerospace OPERA seat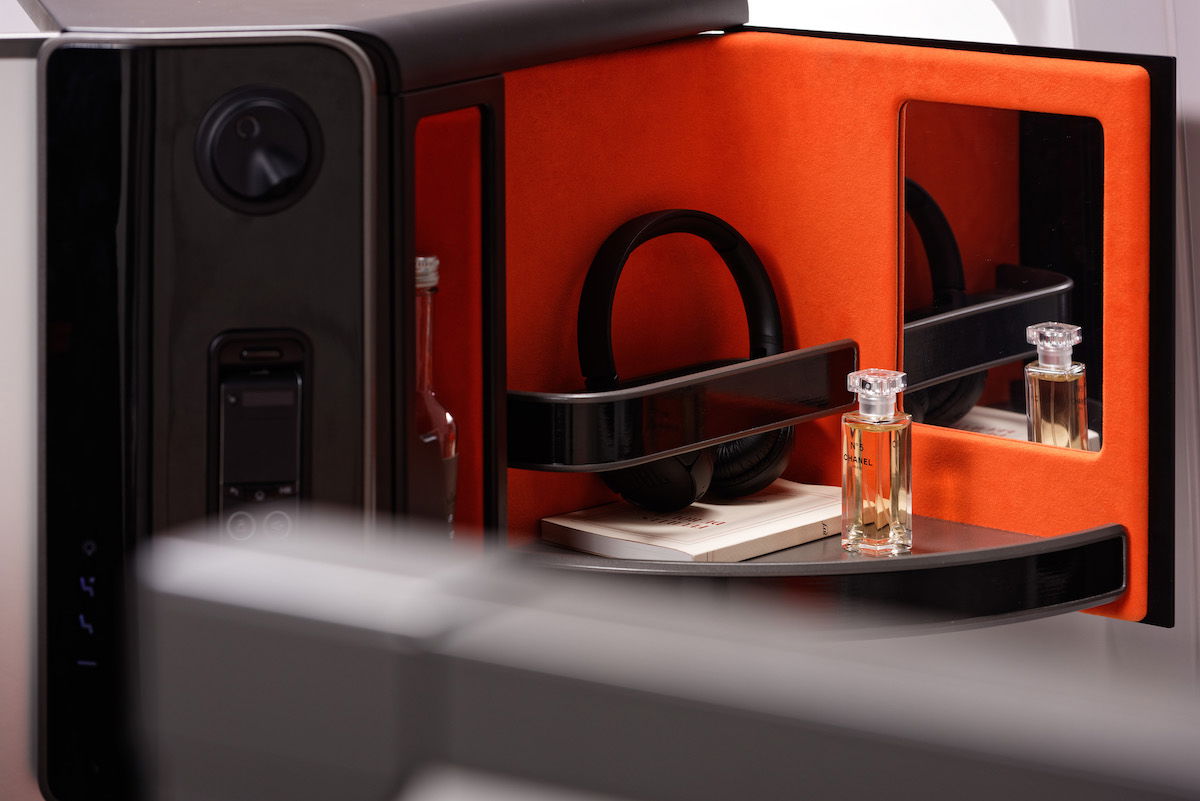 STELIA Aerospace OPERA seat
The cabin looks gorgeous, but am I the only one a bit amused by these pictures?
Those don't look like your average business class passengers 😉
Spraying yourself with perfume in an aircraft cabin is generally frowned down upon (you might as well be clipping your nails)
Expect this seat to be popular on the Airbus A321XLR
It's no coincidence that an Airbus-owned seat manufacturer is introducing a product like this. In mid-2019 Airbus unveiled the A321XLR, which will be a game changer for airlines.
This modified A321 will be the longest range narrow body jet yet, as it will be capable of flying up to 5,400 miles nonstop (that's potentially about a 10-hour flight). This will enable airlines to operate all kinds of long and thin routes, though understandably there has been some concern about what this means for the passenger experience.
At least in business class, this seat should offer about as good of an experience as you could hope for on a single aisle jet.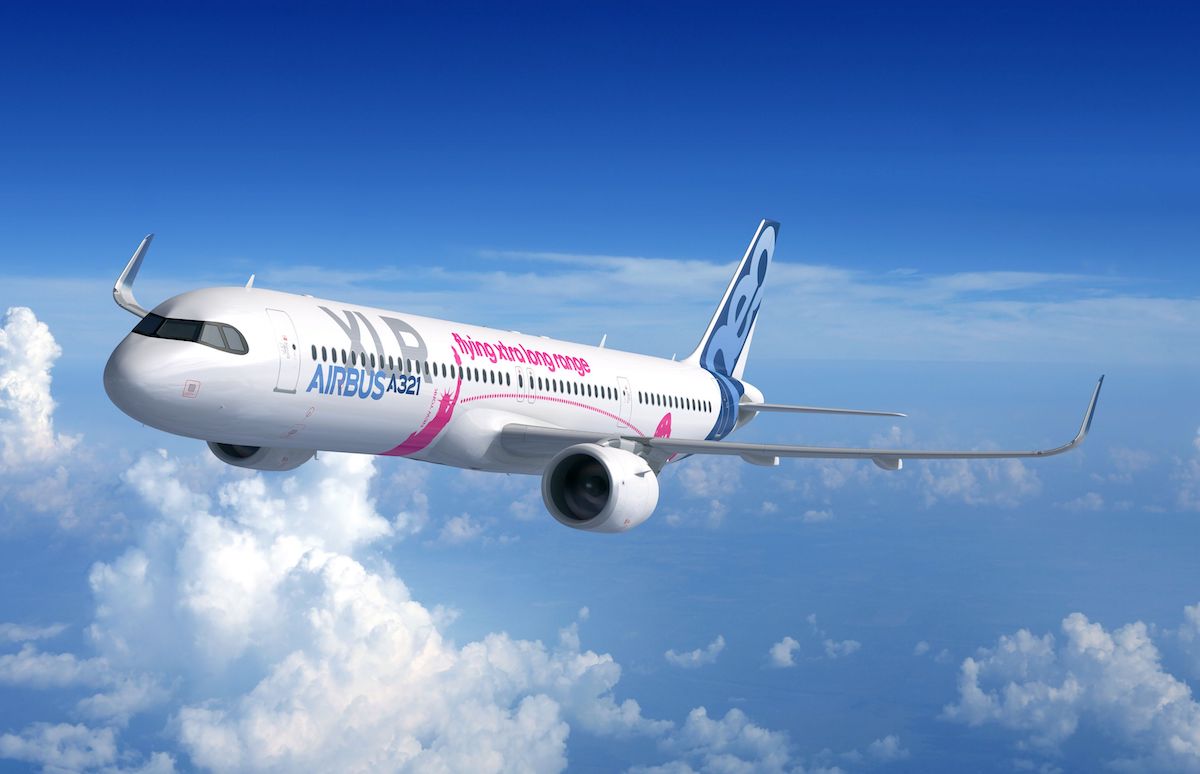 Airbus' new A321XLR
My take on this new business class seat
When I first saw this seat I thought to myself "well this just kind of looks like your standard reverse herringbone seat with a door." In other words, it looks a lot like British Airways' new Club Suite, with is a modified Collins Aerospace Super Diamond seat.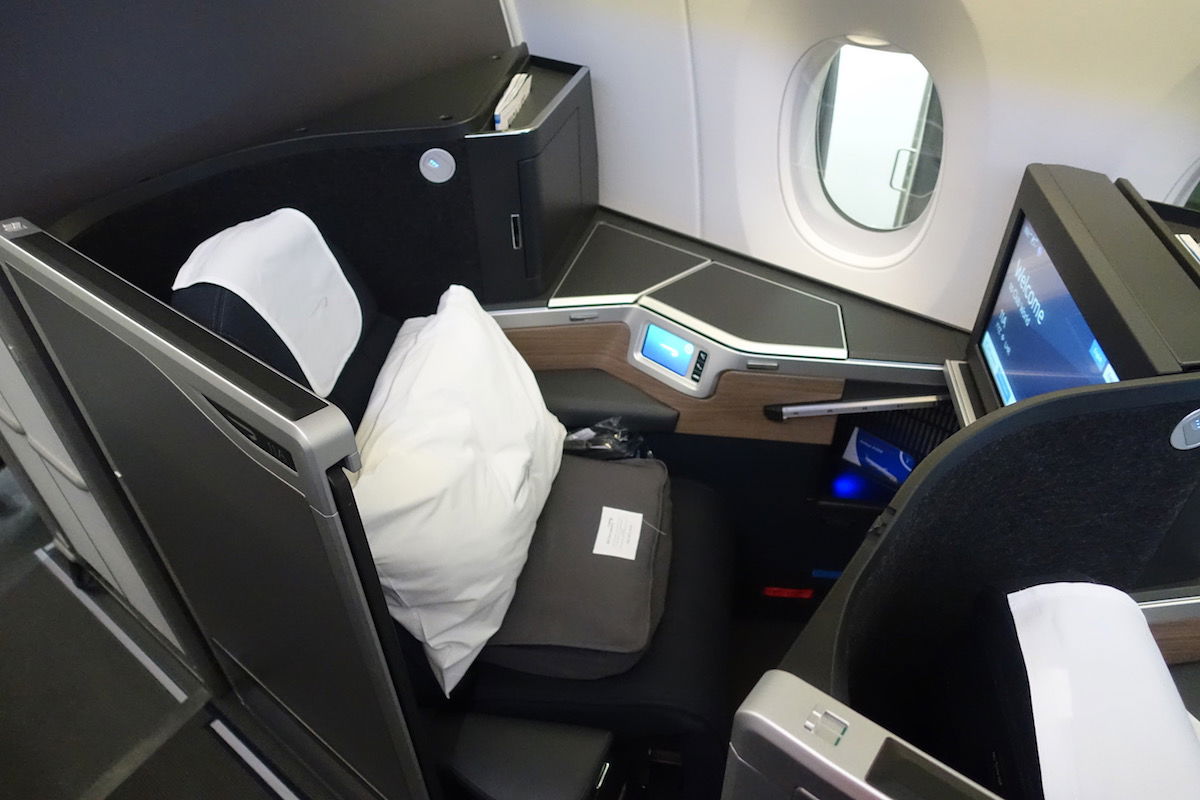 British Airways' A350 Club Suites
Or to compare it to another narrow body product, it's like a modified version of American's A321T first class, except it features a door.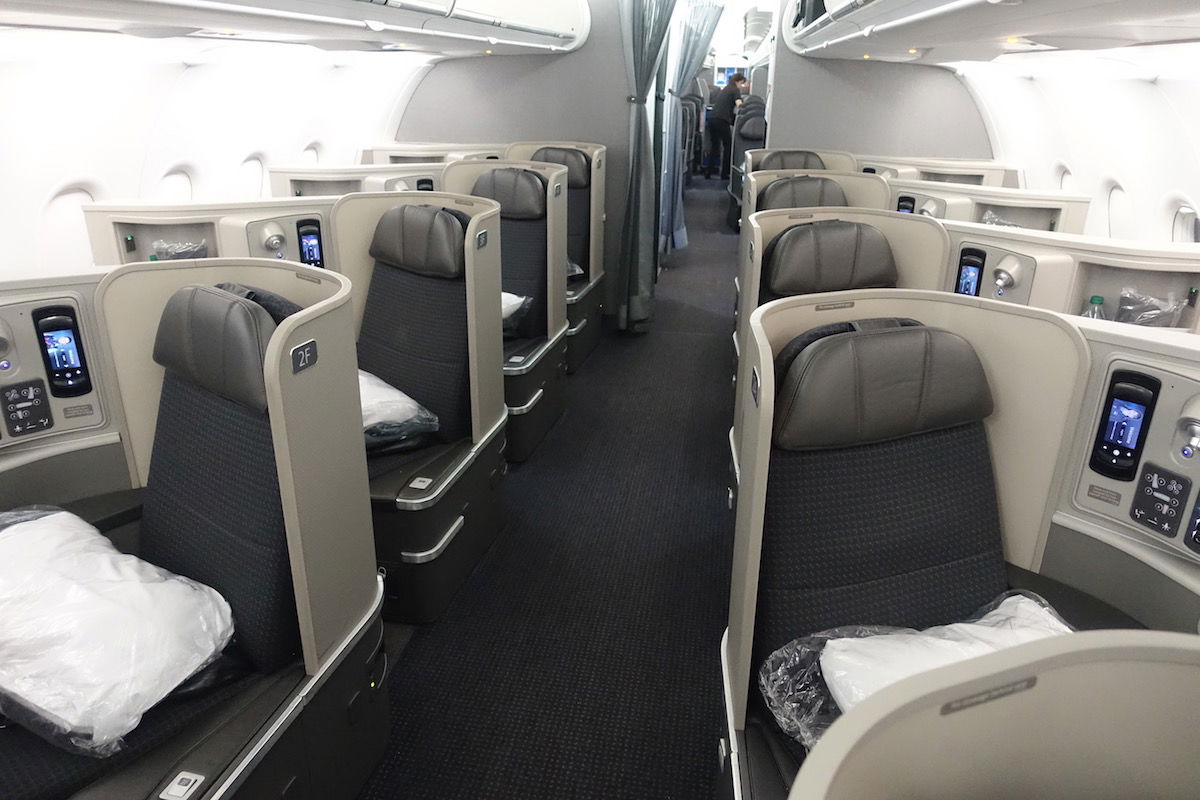 American's A321T first class
The more I think about it, the more I like this seat, at least based on what we know so far. I feel like:
The seat looks beautifully designed, with good attention to detail (for example, I love the laptop storage), and it does look like there's quite a bit of space for your feet, which is a problem in other types of reverse herringbone seats
The actual entryway and space around the shoulders looks quite tight, but unfortunately that's to be expected as we see more and more airlines introduce suites with doors in business class
Is this the best single aisle business class product yet?
The only other semi-compelling business class we've seen introduced specifically for single aisle planes is the Thompson Aero VantageSolo seat.
While that product could potentially feature doors, arguably it's a step backwards in the evolution of business class. The seats are herringbone rather than reverse herringbone, as they face the aisle.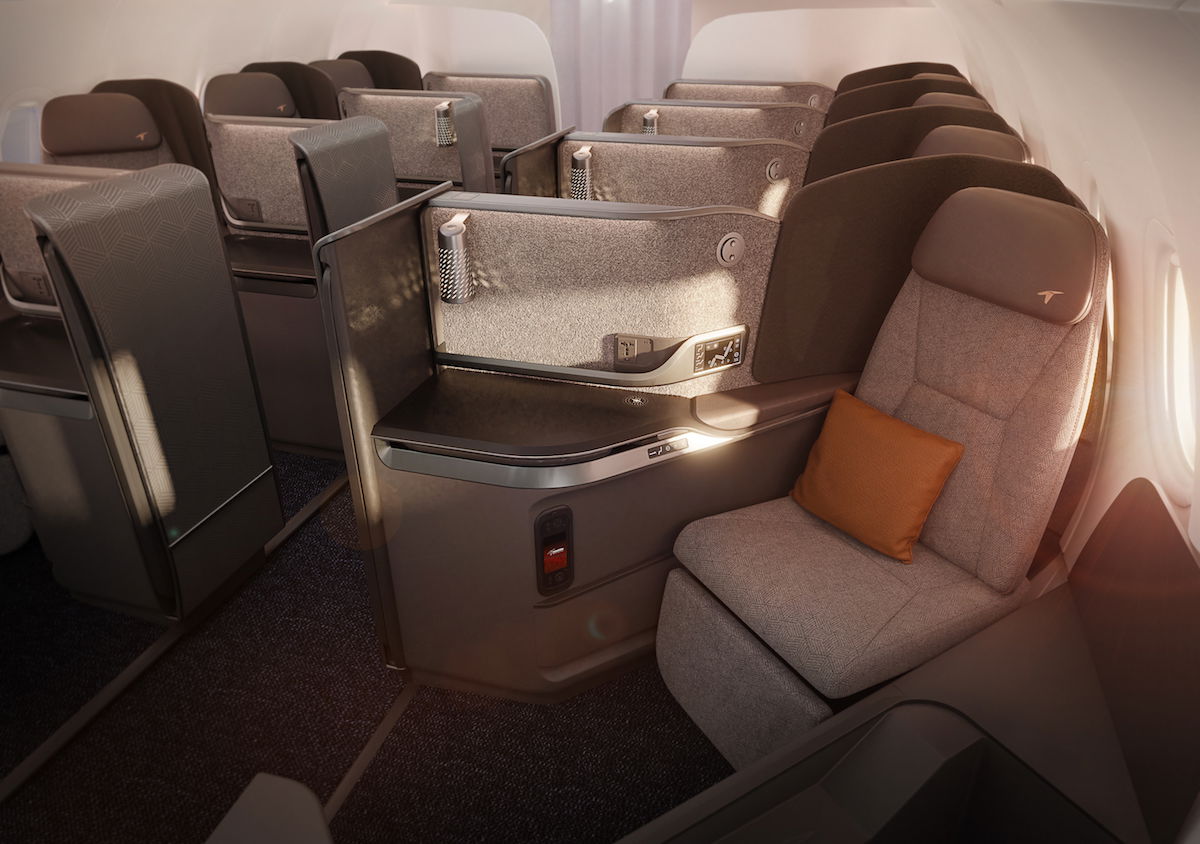 Thompson Aero VantageSolo seat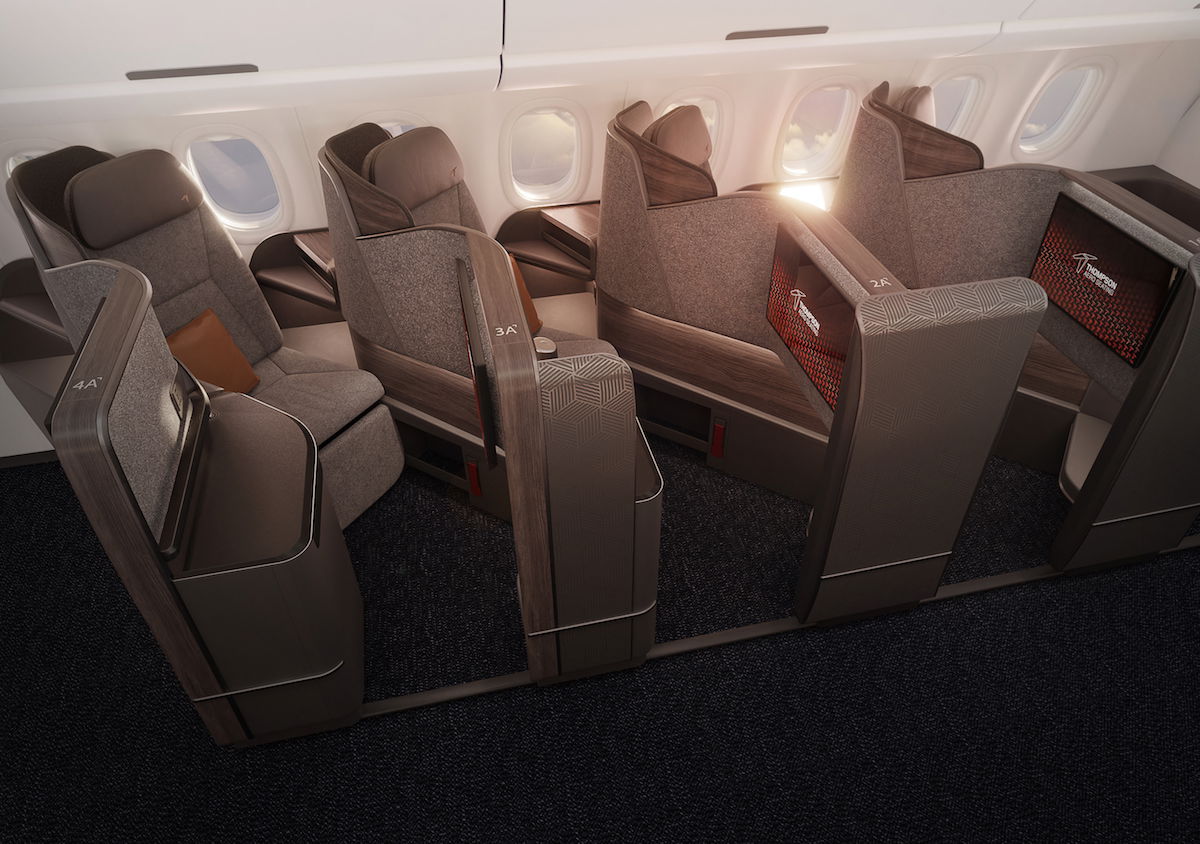 Thompson Aero VantageSolo seat
Based on the pictures and what we know, I'd absolutely pick the OPERA seat over the VantageSolo seat.
Bottom line
STELIA Aerospace has unveiled its new OPERA business class product, designed specifically for single aisle aircraft (presumably with a particular focus on the A321XLR).
I'd say this is probably about as good as it will get for business class on a narrow body plane, as this product offers fully flat beds with direct aisle access and doors. Furthermore, unlike the VantageSolo configuration, these seats are reverse herringbone (facing the windows) rather than herringbone (facing the aisle).
What do you make of this new single aisle business class seat?