Popular aircraft seat manufacturer Thompson Aero has unveiled a new business class seat. It's quite innovative and has potential, though I'm not convinced the market for it is that huge, or that there aren't also some drawbacks.
Thompson Aero's new single aisle business class
Thompson Aero has launched VantageDUO, a brand new business class seating concept. Most business class innovation is targeted at the high end of the market, namely long haul flat beds with doors. This, meanwhile, is targeted at a different market. Specifically, it's intended to be an alternative to your typical regional recliner business class seat, and it's also specifically designed for narrow body aircraft.
Here are some of the basics of the Thompson Aero VantageDUO seat:
Seats are in a 2-2 configuration on narrow body jets, and have 41″ of pitch (for context, domestic first class seats in the United States generally have 36-37″ of pitch)
Seats are angled away from the aisle, in order to reduce seat pitch
While most seats with a similar footprint feature up to 110 degrees of recline, these seats feature 130 degrees of recline
Seats have a fixed shell, so you won't be reclining into anyone else's space
When reclined, seats have a zero gravity position, "taking pressure off the heart and allowing a stress-free position"
Seats can feature 13.3″ personal televisions, AC and USB power outlets, wireless charging, storage pockets for water bottles and tablets, and the ability to have seat numbers written into the seat fabric
While window seats don't have direct aisle access, they have a larger counter space, thanks to the footwell underneath that area
Below are some of the highlighted features of the seats, some pictures, and a video of the product.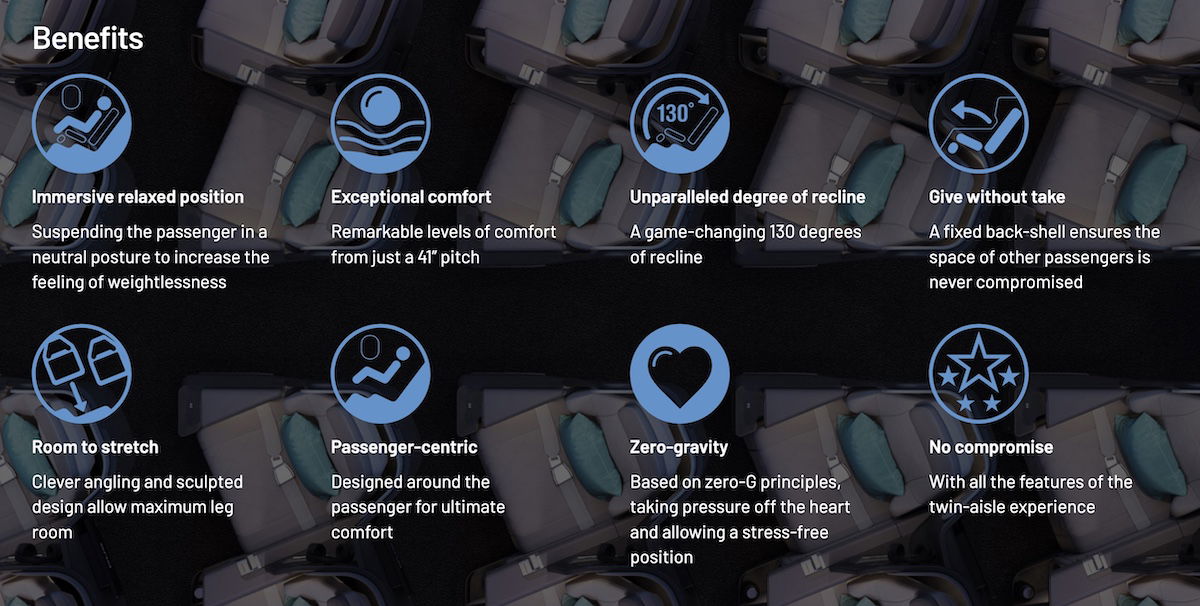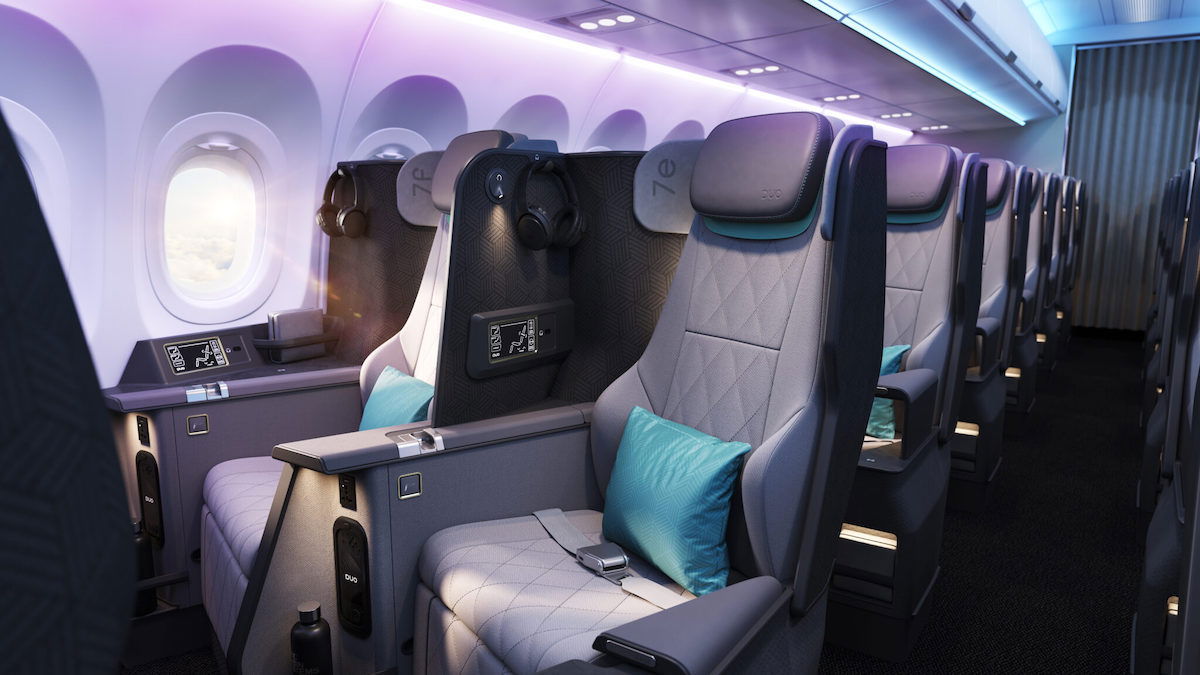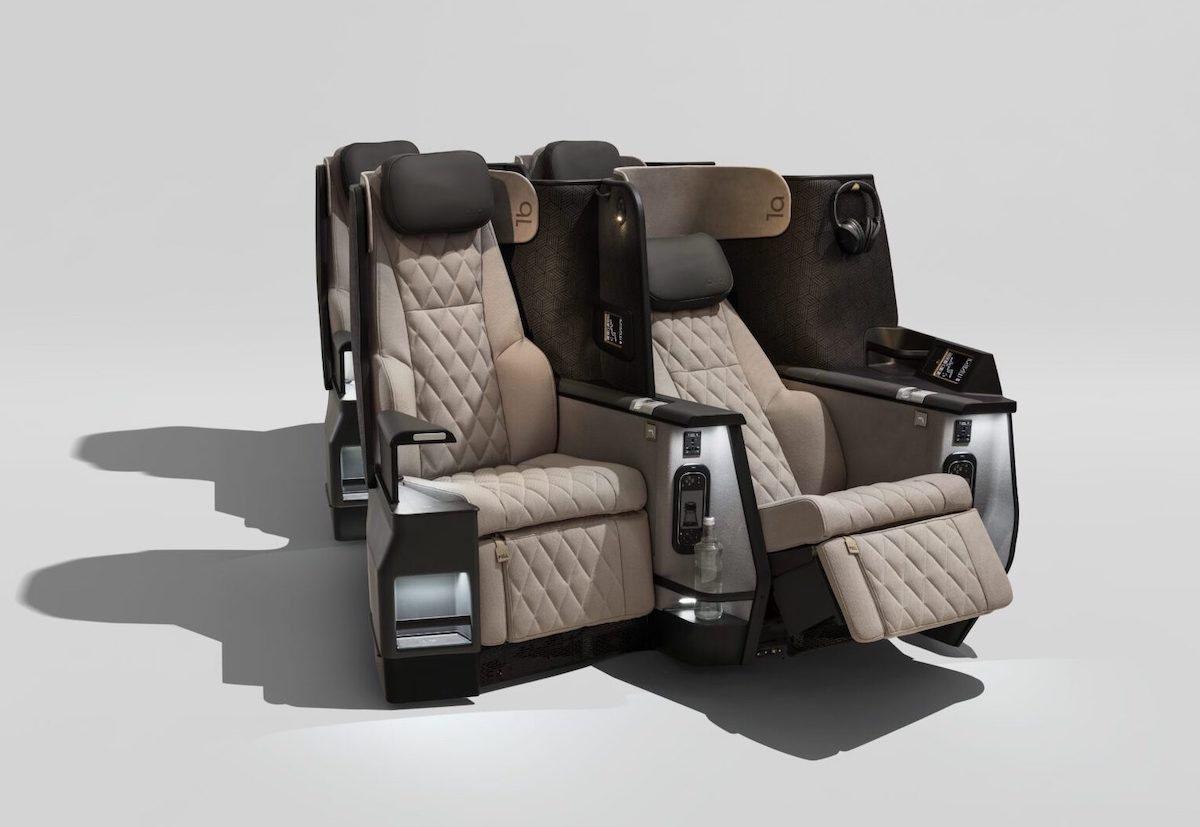 My take on the Thompson Aero VantageDUO seat
It's exciting to see a unique new regional business class product, because it's a market where we don't see much creativity. For example, Delta recently launched a new first class seat on its Airbus A321neos, and that's just about the most innovation we've seen in this space otherwise (and it's definitely moderately evolutionary, rather than revolutionary).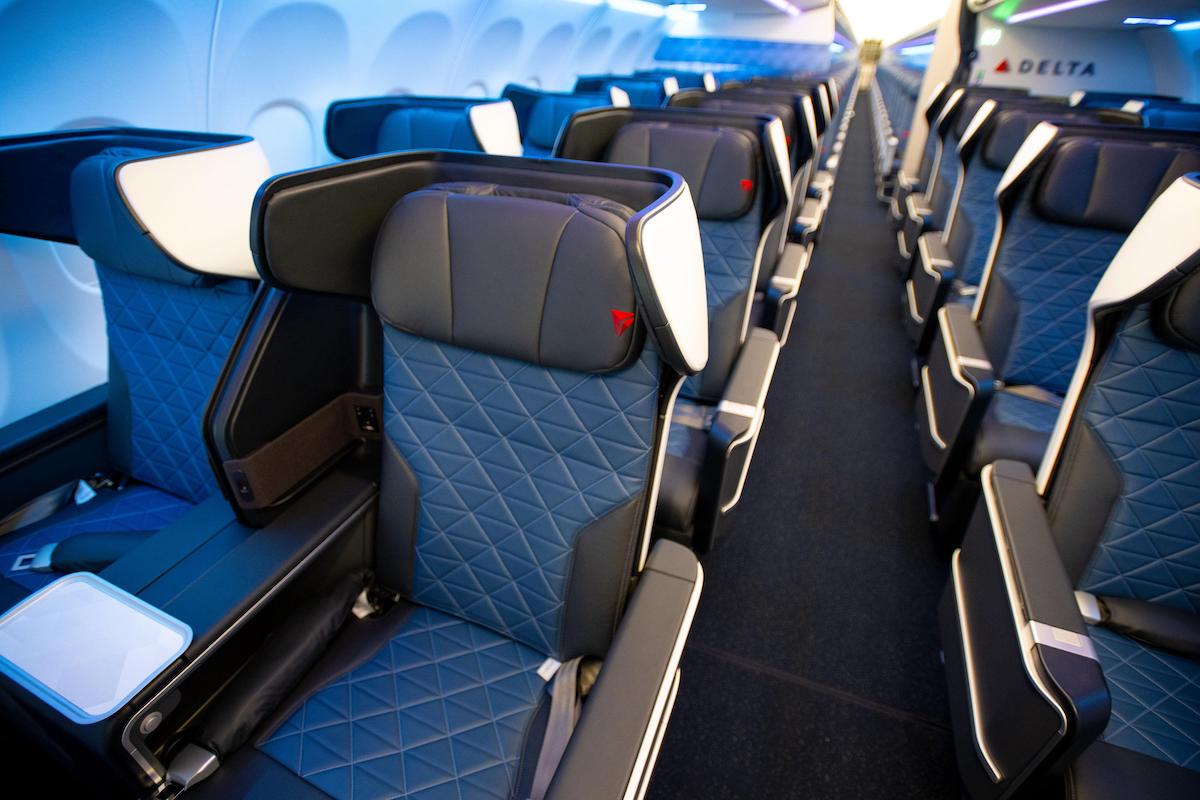 The first question is which airlines would even consider a product like this? Narrow body aircraft are continuing to fly further and further, thanks to planes like the upcoming A321XLR, so there is a need for more comfort. Generally speaking:
I wouldn't expect to see this in domestic first class on US airlines, because US airlines likely wouldn't be willing to increase seat pitch from 37-38″ to 41″ (the only exception is Alaska, which has more generous pitch)
I could see some more premium airlines using this as their regional business class seat; for example, the pitch is comparable to Turkish Airlines' A321neo and 737 MAX business class, so this seems like a good replacement there
In theory this also seems like it could be a good premium economy product for airlines that choose to install that on A321XLRs, but again, the pitch is just a bit too much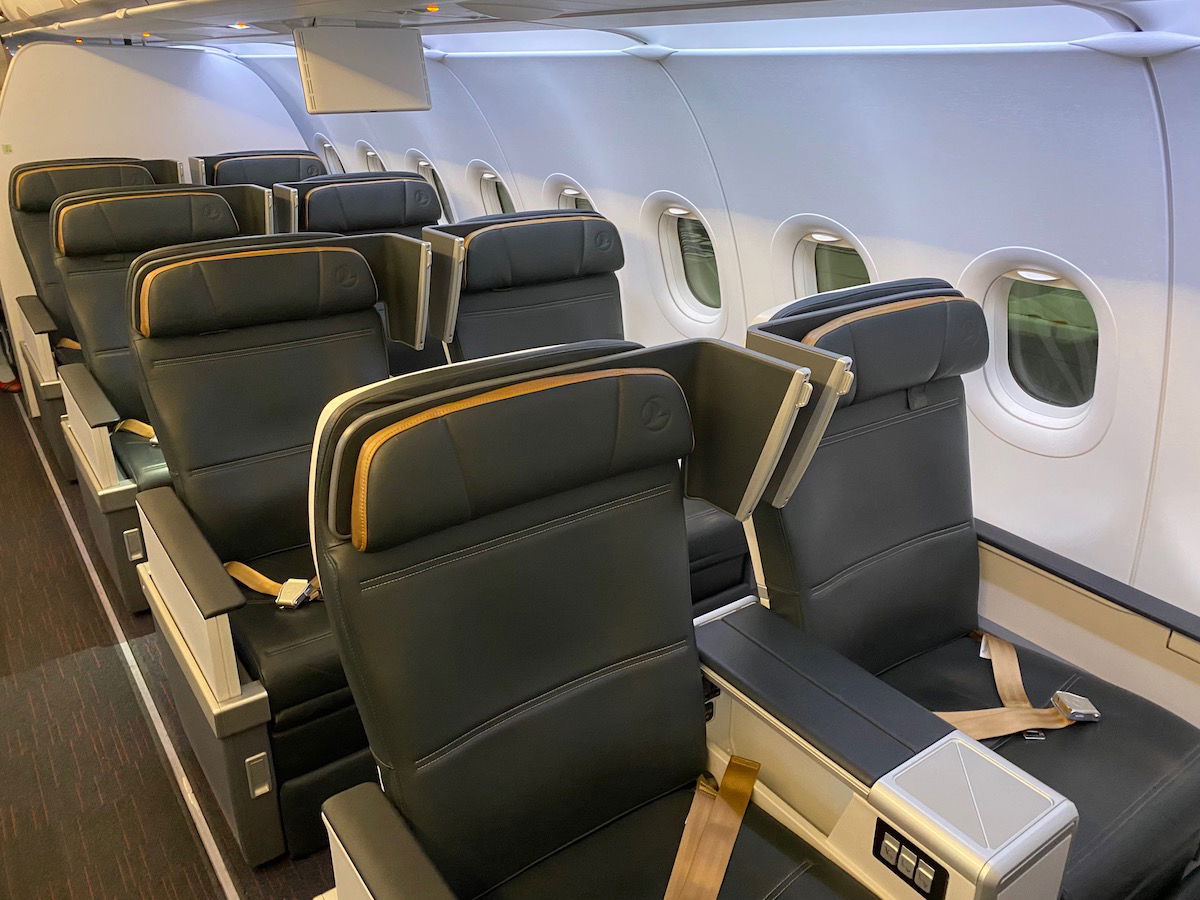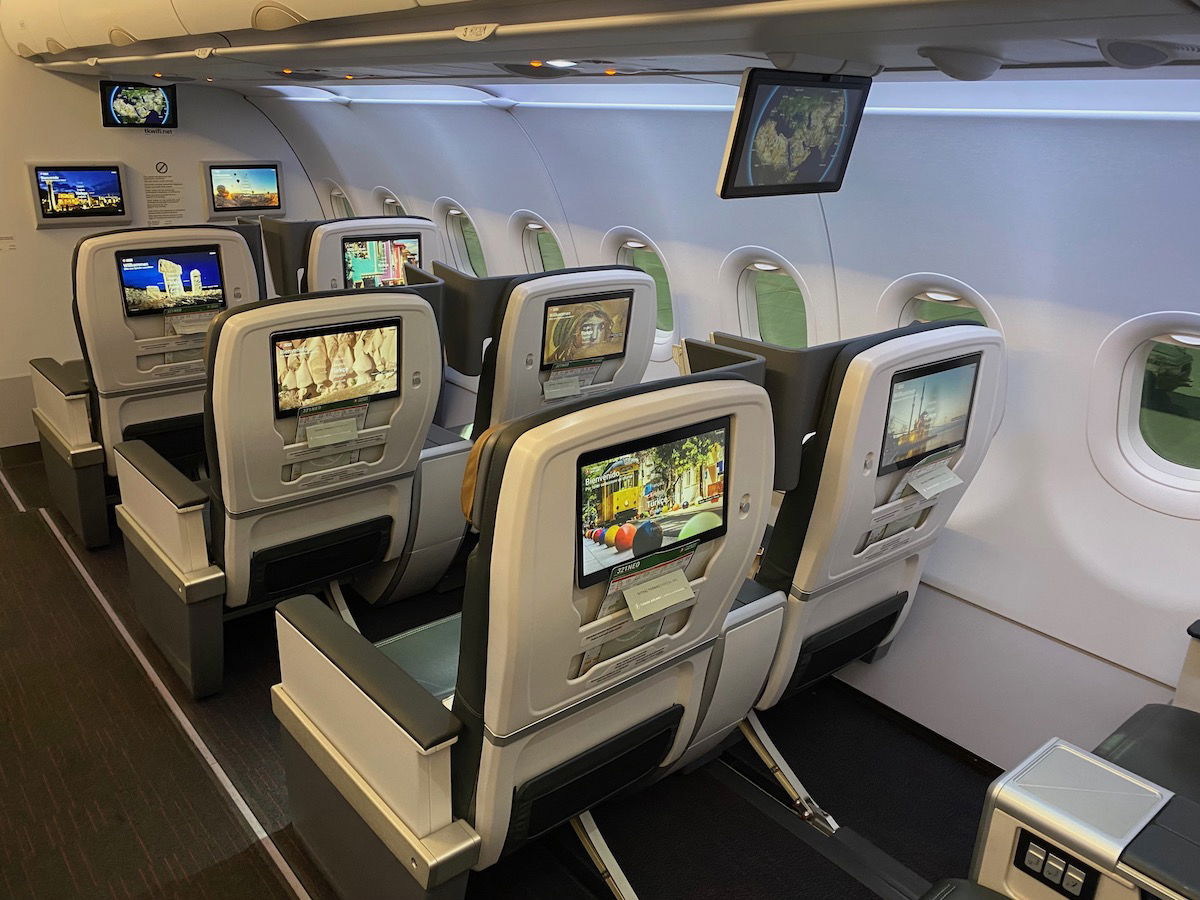 Demand for this product aside, would this be a significant passenger experience upgrade? I think the benefits here are obvious, including increased seat recline. However, there are also some potential downsides:
The fact that the airline is "saving" space by angling seats away from the aisle also raises concerns about seat width, since there's only so much usable space without cutting into the aisle
Part of the efficiency from this product comes from the use of a footwell, and I haven't yet seen a picture of what the footwell would look like in this seat; nobody likes having to place their feet in a small footwell
While a fixed shell is nice in terms of not intruding into the space of the passenger behind you, it raises more concerns about how spacious this product actually is
I feel like the best comparison to this might be Cathay Pacific's regional business class seat, which also features more recline than standard and a fixed shell; however, I'm not sure I love it, as it kind of feels like being in a dentist's chair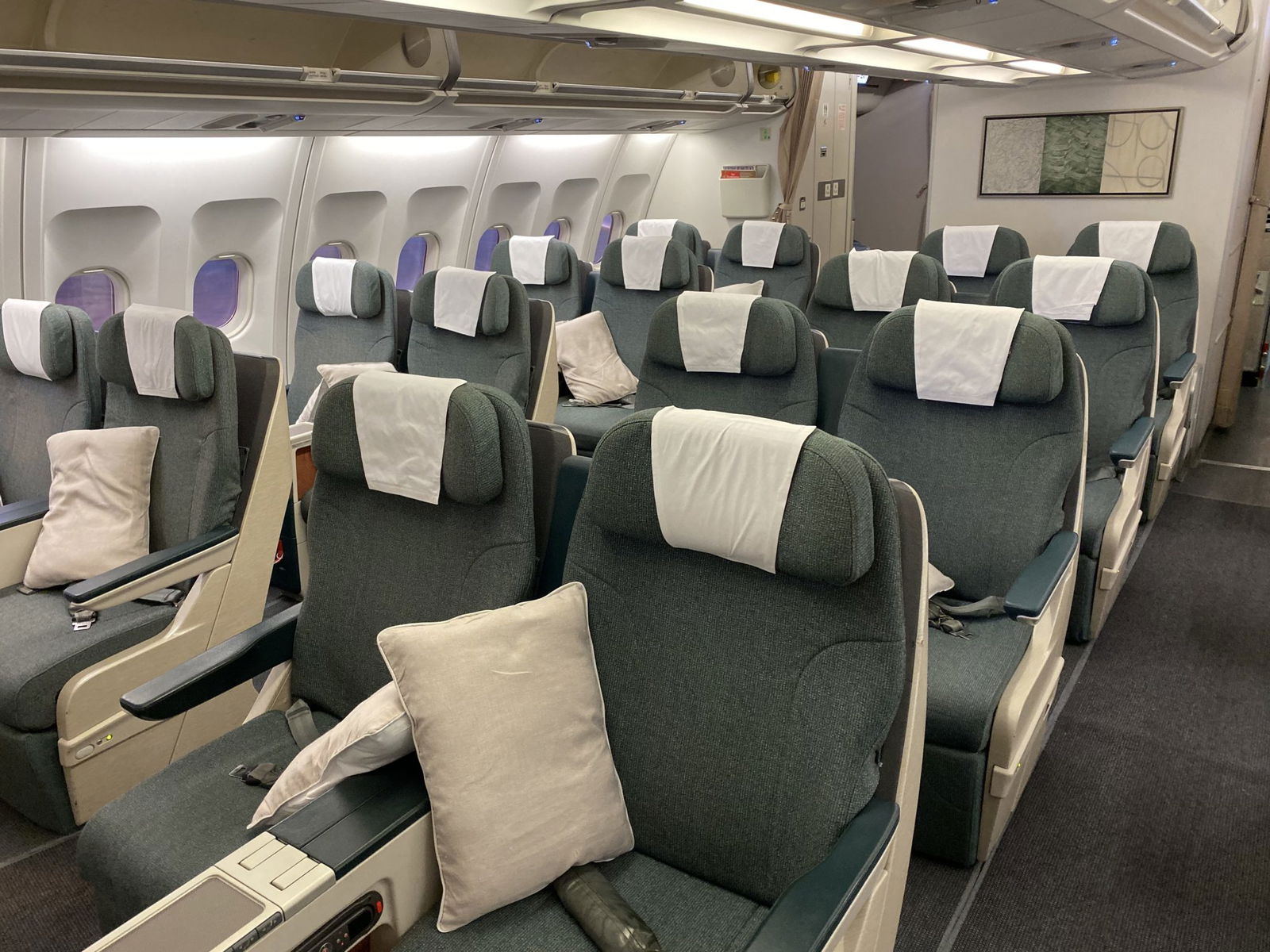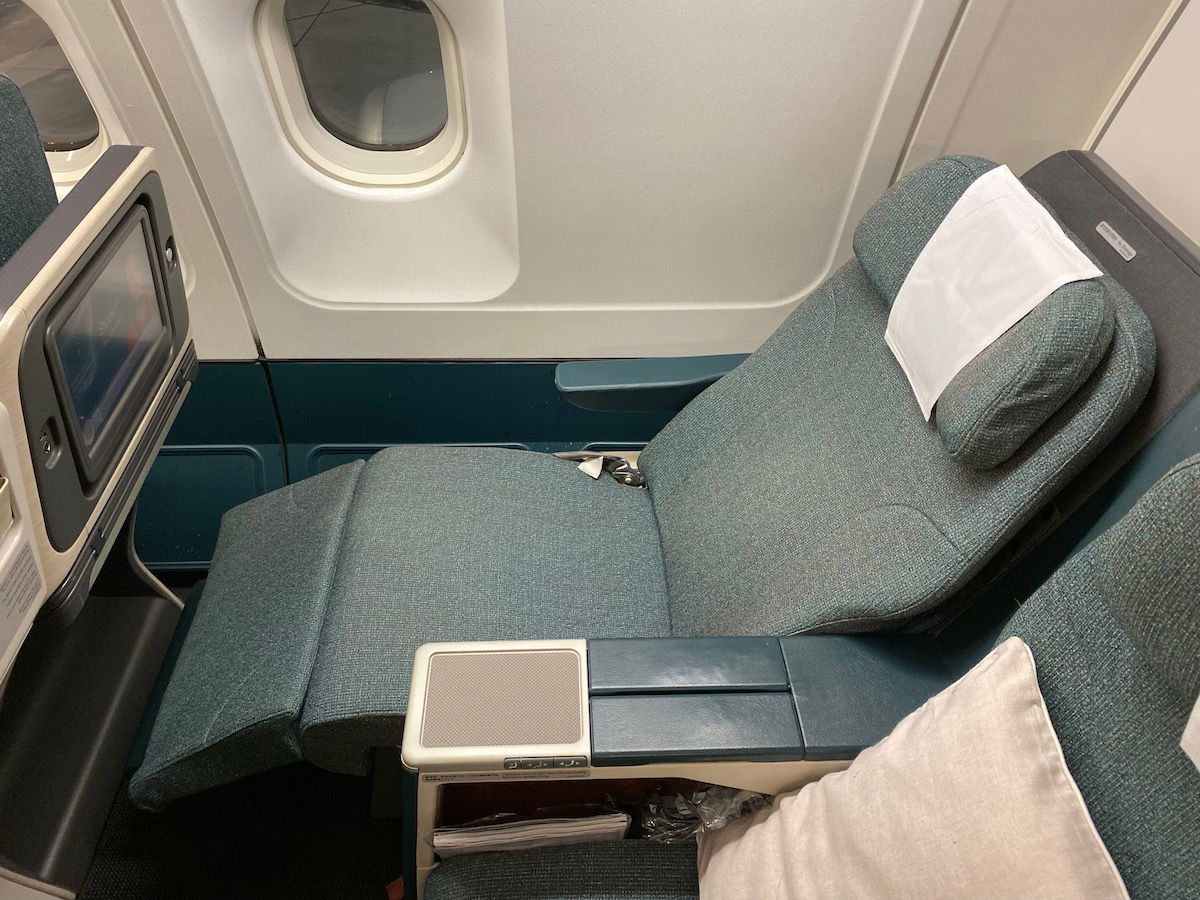 Bottom line
Thompson Aero has unveiled a new narrow body business class seat, named VantageDUO. The seat will have 41″ of pitch, so it's quite efficient, and will feature 130 degrees of recline, way more than comparable seats. Many will also appreciate the fixed shell, since it means you won't have anyone reclining into your space.
While all of that sounds great, presumably this increased recline comes at a cost comfort-wise, and I can't help but wonder whether this product might just feel a bit claustrophobic. I'm curious to see if any airlines order this product, and I'll reserve judgment until I'm actually able to try this seat.
What do you make of Thompson Aero's new VantageDUO concept?