In mid-2012 SriLankan Airlines announced they would be joining the oneworld alliance, with hopes of finalizing the arrangements by late 2013. Unfortunately that didn't happen, though last October they announced a target join date of April. Then in January there was further confusion when SriLankan's PR team confirmed that they would be joining on March 1, which wasn't the case.
Anyway, SriLankan is now officially part of oneworld, as of May 1, 2014. Why is this significant? Per the press release:
• First carrier from Indian subcontinent to join any global airline alliance

• Completes biggest expansion of world's premier alliance since its launch 15 years ago

• Key government ministers witness unveiling of first SriLankan aircraft in oneworld livery at joining ceremony at Asia's newest airport, Hambantota's Mattala Rajapaksa International

• Bonus miles/points for frequent flyers to celebrate

• New Visit South Asian Sub-Continent pass added to leading range of alliance fares

• SriLankan to code-share with two more oneworld partners – Finnair and S7 Airlines

As I mentioned in the previous post, I'm quite excited about SriLankan joining oneworld. Admittedly, their limited longhaul operations won't be a game changer, but regionally they have quite a strong route network.
Years ago I was enthused about SriLankan joining oneworld because I figured they'd be one of the only ways to get to the Maldives on oneworld miles, though in the meantime options for those hoping to redeem miles to the Maldives have expanded dramatically:
While oneworld already has a fairly strong longhaul presence in Asia with Cathay Pacific and Japan Airlines, their short-haul operations are often limited, so SriLankan is a great addition there.
SriLankan even has what looks to be a really nice, updated, business class product. Their website is so bad they don't even make reference to it online, but the refreshed product is now available on many of their longhaul flights:
I last flew SriLankan several years ago, and this was their "new" business class product at the time: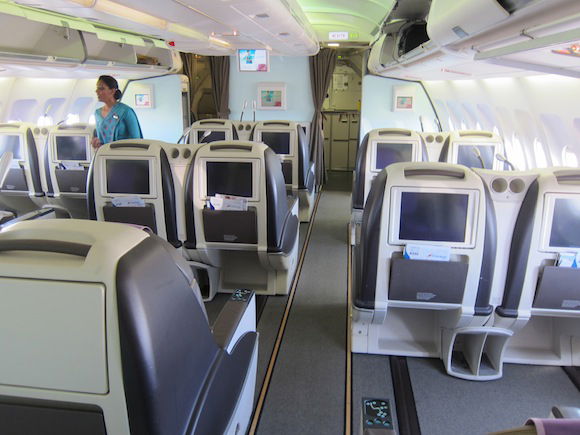 And it's worth noting that even with the older product I've always enjoyed SriLankan's food and service.
One of the features of an airline joining an alliance is typically a period of double miles for flights on the new alliance partner. SriLankan has already announced the promotion for their FlySmiLes members, as follows:
The 300,000 members of SriLankan's FlySmiLes loyalty programme will receive twice their usual FlySmiLes miles when flying on most oneworld partners between 15 May and 30 June 2014.

Similarly, members of most established oneworld airlines' loyalty programmes will receive double the normal mileage awards/points when flying on SriLankan during the "welcome" period.
Other oneworld carriers have matched, including American. They're offering double AAdvantage miles for travel on SriLankan. The promotion is valid for travel between May 15 and July 1, 2014. Registration is required prior to travel using promotion code ULDBL.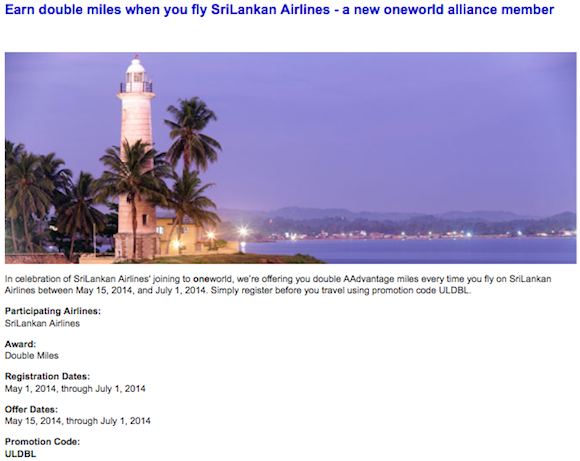 Unfortunately as of yet SriLankan award space doesn't seem searchable online, including through the British Airways award search tool. As soon as that changes and I get an idea of what award space on them looks like I'll be sure to post again.