If you'd like to try Skyroam, One Mile at a Time readers can get 10% off by following this link and using the promo code "OMAAT" at check-out.
Skyroam is a company that rents and sells portable WiFi hotspots for use around the world. Nick reviewed the old Skyroam device a few years back, so when Skyroam launched their new product, they offered to loan one to One Mile at a Time to test out, along with a discount code for readers.
Given that I was going to be spending time in a few different countries, including China with Ben, it seemed like a good opportunity to test the Skyroam Solis in various places.
Ben has written about connecting to international cellular networks on T-Mobile, and Tiffany has written about the joys of Google Fi.
But Google Fi requires an Android phone, and I'm a Verizon loyalist with an iPhone, so what options do I have for cellular data service when traveling abroad? Well, Verizon does offer international data in many countries for $10 per device (and AT&T has similar options). But what else is out there?
If you want to connect multiple devices, you should look into a portable Wi-Fi device. And if you want one that you can just turn on and use when you arrive in a foreign country, consider the Skyroam Solis.
What is it?
The Skyroam Solis is a portable Wi-Fi hotspot. Basically when you arrive in a country, you can turn it on and be ready to connect to the internet from your phone, laptop, tablet, or whatever.
In the past, I've used a portable Wi-Fi device like this one from Huawei. It works well, but it requires you to purchase a SIM card in the country where you want to use it. This means stopping at a wireless store, hoping they have a SIM card that will work with a data-only device (not to mention reasonably-priced data plans), and an employee who is willing to activate the device for you (usually it requires you to put the card in a cell phone and call a number).
I've also occasionally had to mess around with the Huawei device's settings to even get it to work in certain countries. Plus it has very limited battery life, and won't survive a full day of regular use without a battery recharge.
The Solis (which I affectionately refer to as the "orange hockey puck" for obvious reasons — Skyroam just sounds like a James Bond movie to me) has the advantage of simplicity: turn it on and you're connected, in over 100 countries.
You can connect up to five devices to it (so if you are traveling with several people or using multiple phones/tablets/laptops, this saves you money over Verizon/AT&T's $10 per device fee).
The Solis can also function as a charger through its USB-C cable.
Skyroam Solis Cost
The Solis "device" costs $149.99, plus $9 per "daypass," with each daypass entitling you to 24 hours of use.
You only pay the $9 on the days you use Skyroam, and that $9 is good for 24 hours of use. You can also buy 5 daypasses for $40.
There are no data overage fees: you get 500 MB of data per day at the highest network speed available (usually 4G-LTE), and then it drops down to a 2G speed.
Skyroam also offers rentals of the devices if you don't want to purchase one.
Setting it up
The Skyroam Solis comes with a quick setup guide, but basically you connect it to your home Wi-Fi network, type in the registration URL, and set up an account.
It was pretty easy.
Once you've done that, you can purchase day passes, and you're good to go.
Using the Solis
Overall I'm a fan.
The hockey puck has a battery that lasts all day and then some (in fact, you can use it as a charger for USB-C gadgets).
In China, Ireland, and Panama, I was able to acquire a cellular signal just by turning it on.
When I tested the data speeds, they varied from quite slow (especially when I was in China and also had to use a VPN) to very fast (when I was in Panama).
Still, I was always able to do what I needed to do using the Solis.
Battery life was really impressive – I could go through a couple days of moderate use without having to recharge it. (There is a battery charge indicator on the device itself.)
Some drawbacks: occasionally it took quite a while to connect to a cellular network after I turned it on – sometimes up to 15 minutes. And a few times it spontaneously disconnected and the only thing that seemed to work was turning it off and on again.
It's also not exactly tiny or weightless. I had it in my pocket most of the time, and that didn't leave room for much else. (If you're carrying a bag with you, this obviously isn't an issue.)
Bottom line
The Skyroam Solis is a good option for people who don't have T-Mobile or Google Fi, and especially for those who have multiple devices that they'd like to connect. The battery life will get you through a lot of use, and the convenience of just turning it on and being good to go was really nice.
This is a more expensive option than purchasing local SIM cards, but was also vastly less complicated. I can see this being a great option for people who don't travel enough to warrant an international phone plan, or those who are going to be in multiple countries in a short period of time and don't want to mess with buying SIM cards every few days.
If you'd like to try Skyroam, One Mile at a Time readers can get 10% off by following this link and using the promo code "OMAAT" at check-out.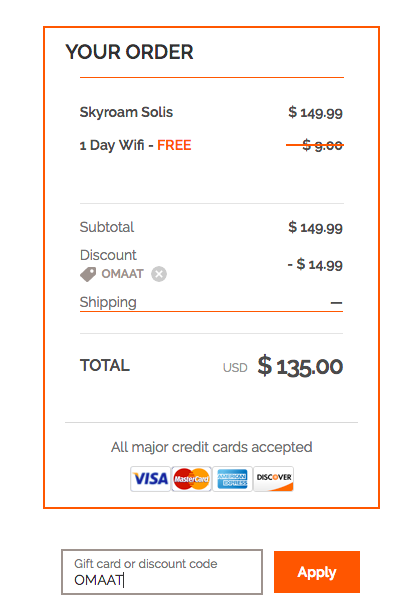 Has anyone used Skyroam? What was your experience?