Reader sofeea5664 asked the following question in the "Ask Lucky" forum:
So…my husband and I are going to Hong Kong next year. We have the option of flying Singapore First (not Suites) or Cathay Business from San Francisco. Both are direct flights. I have a TON of AA miles to redeem for Cathay Business (can't find any first even doing a search a year out), but will deplete pretty much all my AmEx points for Singapore First. I've read Cathay Business is an amazing product and would not be disappointed. Any suggestions?
On the surface the answer seems obvious. First class on a top carrier is better than business class on a top carrier… right?
But there are two things at play here:
Cathay Pacific business class
I recently flew Cathay Pacific A330 business class from Male to Hong Kong, and then 777 business class from Hong Kong to Newark (the latter is the same plane you'd fly out of San Francisco).
Cathay Pacific business class features a fantastic reverse herringbone hard product, with a great blanket and pillow as well. You'll arrive well rested. As far as business class products go it's pretty tough to beat.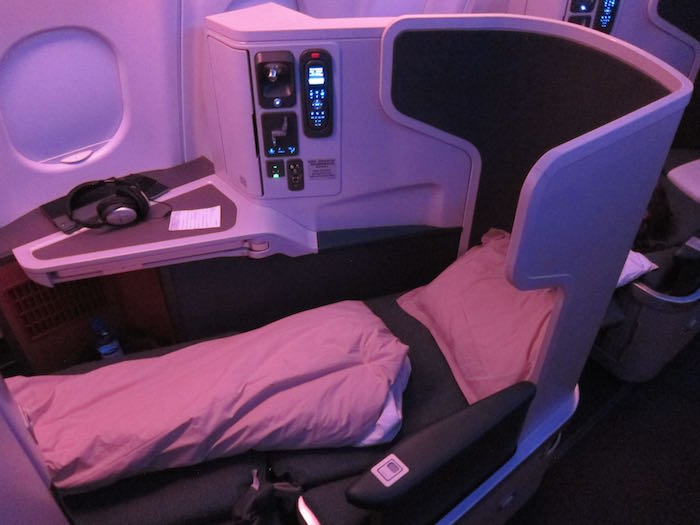 That being said, I'd call the service solid but not memorable. The food is edible and the crews are generally friendly, though it's not the level of attentive service you'd receive in first class.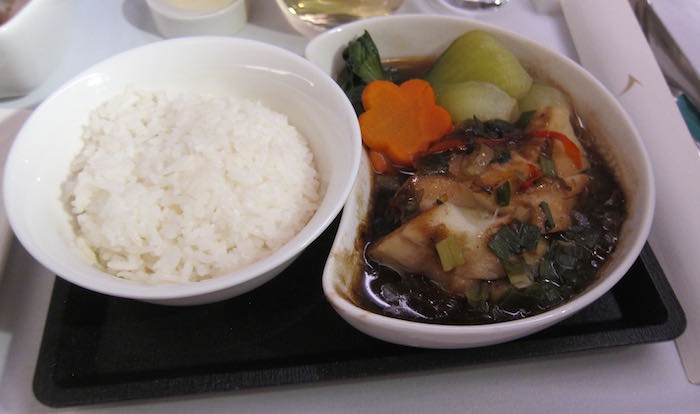 All things considered I found service in Cathay Pacific business class to feel a bit like an assembly line, where you're just part of the "motions" they're going through. But at least they didn't strike me as disgruntled assembly line workers. 😉
I've always said business class is all about the hard product, though, and that's an area where Cathay Pacific shines.
One other thing to note is that Cathay Pacific is generally very good about releasing last minute first class award space, and if you're redeeming American miles, you can even upgrade the type of award without having to pay the change fee. So if you keep an eye on award space and are possibly willing to connect through Los Angeles, I'd say your odds of snagging a first class award last minute are pretty good.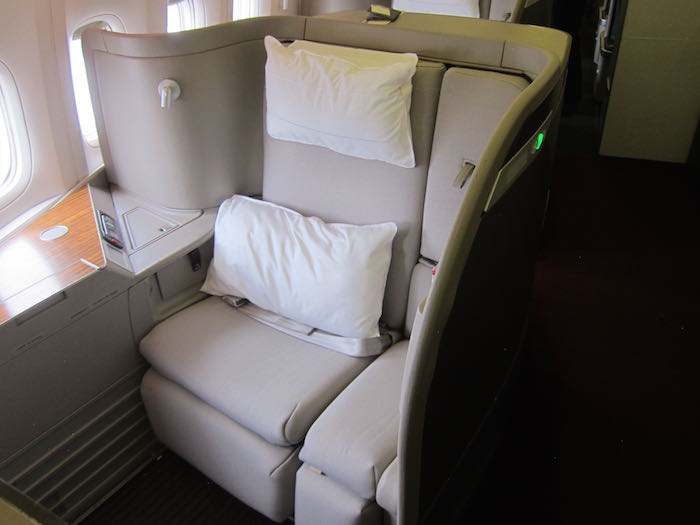 Singapore Airlines first class
Singapore is one of the best airlines in the world, and their first class service generally ranges from very good to incredible. And while San Francisco to Hong Kong isn't operated by an A380 (and therefore it doesn't have Suites Class), it is operated by a 777, on which it will soon be hard to find first class award seats.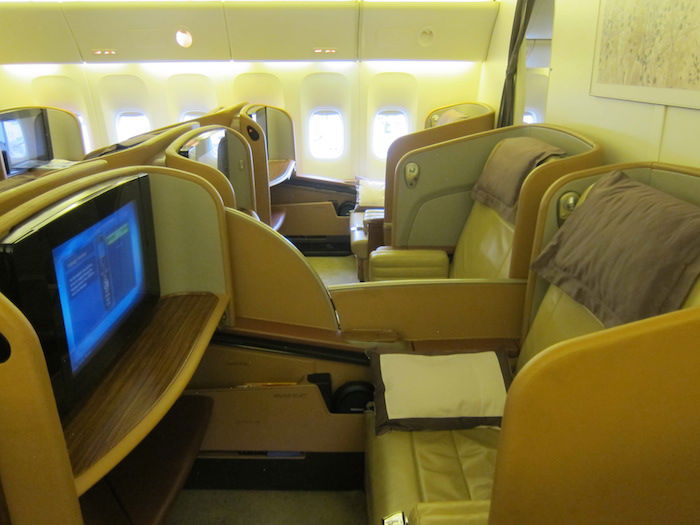 That's because Singapore Airlines is reducing their first class cabins on the 777s from eight seats to four seats, so pretty soon I'd expect to see very few first class award seats available in advance. That makes this an award which might not be all that easy to snag in the future.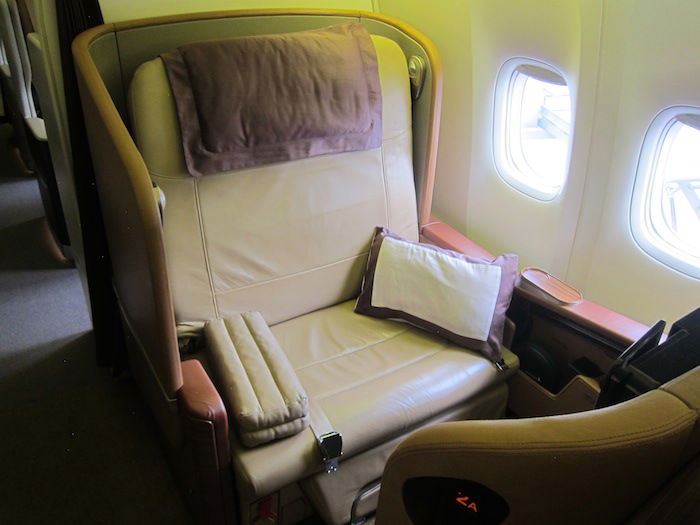 That being said, as far as Singapore Airlines longhaul first class goes, I think the San Francisco to Hong Kong route is probably one of the more disappointing: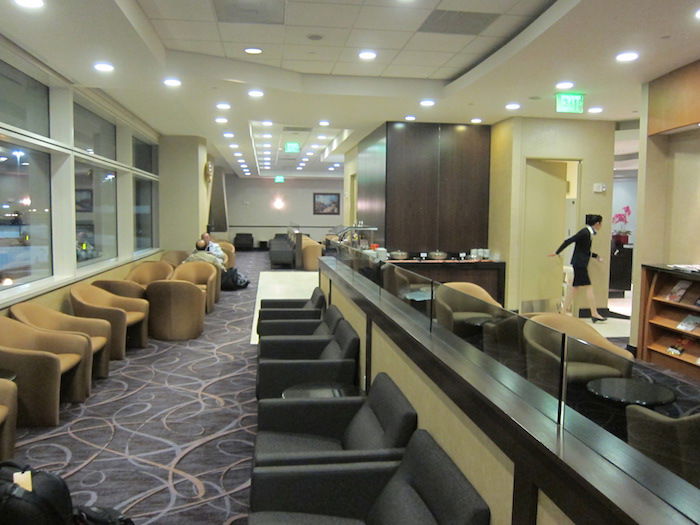 Which option would I select?
Singapore Airlines first class is better than Cathay Pacific business class. Period. And while it's possible Cathay Pacific first class will open closer to departure, it's far from a guarantee, especially on the nonstop flight from San Francisco to Hong Kong.
I'd say it's tough to turn down the nonstop first class option on Singapore when it's available, especially as the opportunities to redeem for it will undoubtedly be decreasing in the future.
But how do you balance Singapore being an overall better option with the fact that it would use up almost all of your American Express points?
I guess my thoughts is that Singapore KrisFlyer miles are probably the single easiest mileage currency to accrue. Singapore is transfer partners with American Express Membership Rewards, Chase Ultimate Rewards, Citi ThankYou, and Starwood Preferred Guest. So you can transfer all four flexible points currencies at a 1:1 ratio to Singapore KrisFlyer.
There are so many cards through which you can accrue points that can be transferred to Singapore KrisFlyer, including the following:
Bottom line
Ultimately I think you can't go wrong either way here. Cathay Pacific has one of the best business class products, while Singapore Airlines is consistently excellent, even if this isn't my favorite route on which to fly them.
But I'd still choose Singapore Airlines first class over Cathay Pacific business class, despite the points imbalance here. Singapore KrisFlyer — and for that matter transferrable points in general — are so easy to accrue nowadays. Even if you spend all your Membership Rewards points on this redemption, you shouldn't have too much trouble earning them back (or otherwise accruing Chase Ultimate Rewards, Citi ThankYou points, etc.).
Which option would you go with in the above situation — Singapore first class or Cathay Pacific business class?