Update: Read my full Singapore Airlines Business Class 777-300ER Hong Kong To San Francisco review.
My United 777-300ER flight from San Francisco to Hong Kong arrived at around 7PM, and then at 11:30PM I had a Singapore Airlines flight from Hong Kong back to San Francisco. I've reviewed Singapore Airlines Suites Class, first class, etc., though it has been years since I've reviewed their business class product.
I booked this ticket using Singapore Airlines KrisFlyer miles just a couple of days before departure. The ticket cost 82,000 KrisFlyer miles one-way (after the devaluation), which is reasonable, especially when you consider how many transferable points currencies can be converted into KrisFlyer miles.
It was also my first time flying Singapore's "new" business class product. In reality the seat has the same bones as their old business class product, though the finishes have been nicely updated.
Singapore's 777-300ER business class cabin has a total of 42 seats, spread across 11 rows in a 1-2-1 configuration. There are two rows of business class between doors one and two (behind the two rows of first class), and then behind door two there are another nine rows.
Singapore's new cabins are really stylish and elegant, between the mood lighting, finishes, color scheme, etc.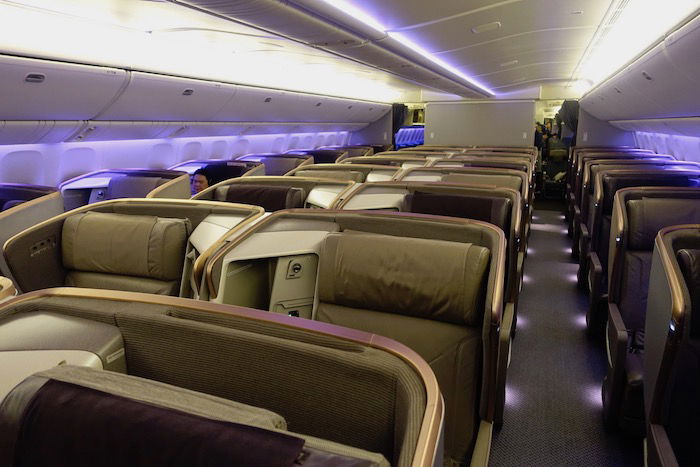 I had assigned myself seat 21A, which is in the second to last row of business class. Business class was about half full, so I had the last three rows of the cabin to myself, which was nice.
The seats themselves are simultaneously well designed, and also fairly uncomfortable. The seat is really wide, and has tons of storage. Furthermore, most things seems to be logically placed. The outlets and headphone jack were right next to the seat, there were several compartments that close, etc.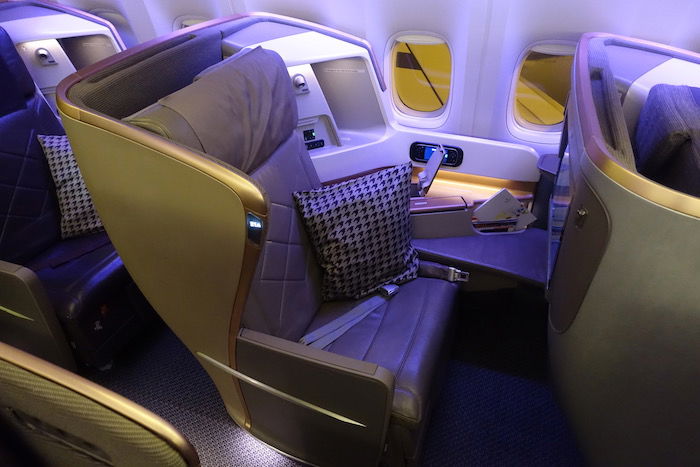 The downside to these seats is the very limited foot space. I'll talk more about the bed mode in a bit, but essentially the seat folds over to turn into a bed, and unless you sleep in the fetal position, you'll have to rest your feet in a small cubby in the very left of the seat, which can best be done by sleeping diagonally. That's probably not the most comfortable setup for most…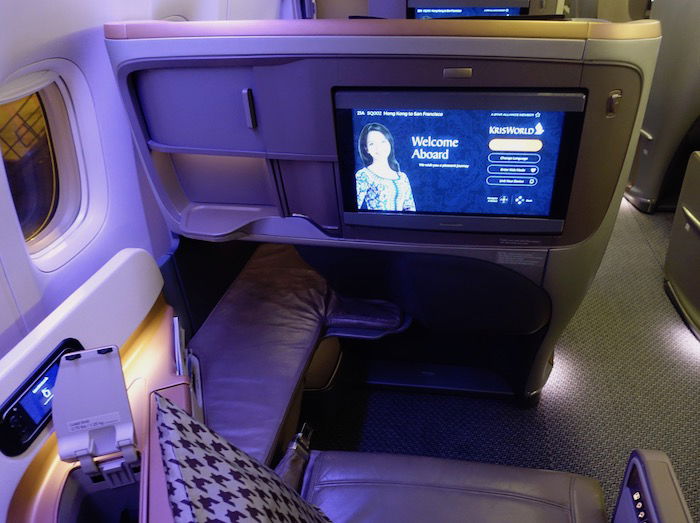 As far as the amenities go, Singapore doesn't offer amenity kits in business class on any flights. Instead they offer slippers, socks, and eyeshades, and then other basic amenities are available in the lavatory. I've heard Singapore doesn't offer amenity kits because they find them to be wasteful; I can't say I blame them.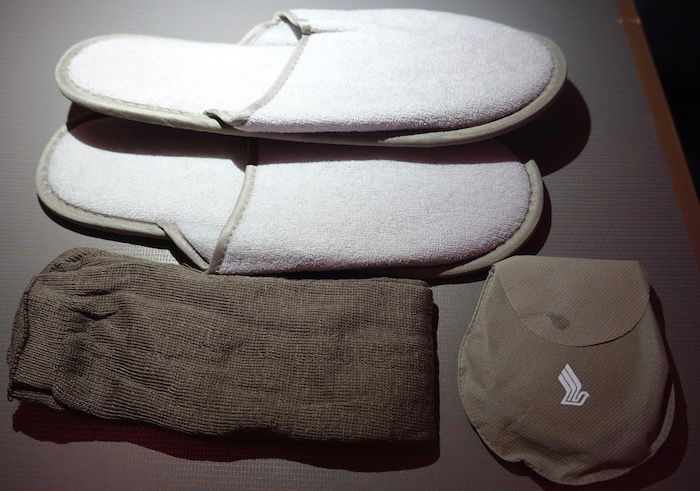 Given the late night departure, there was a limited supper service after takeoff, and then breakfast before landing.
The supper service consisted of drinks and nuts to start.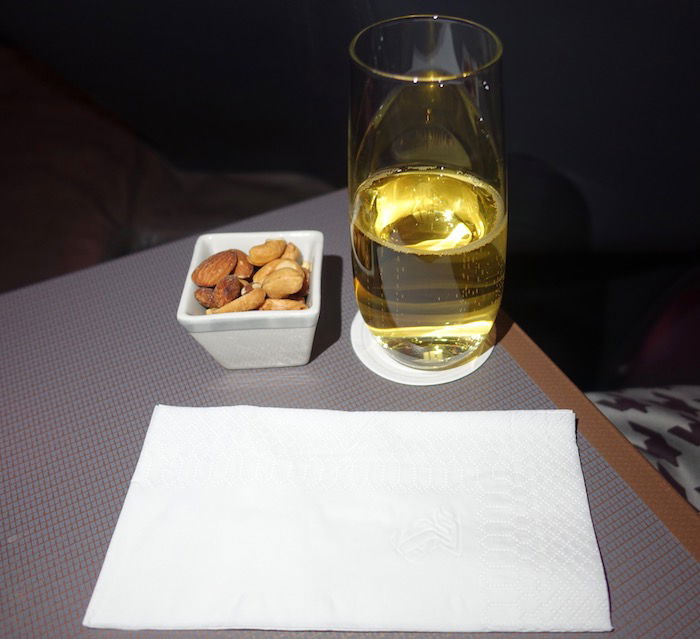 Then there was a starter consisting of prawns on nicoise salad. It was excellent.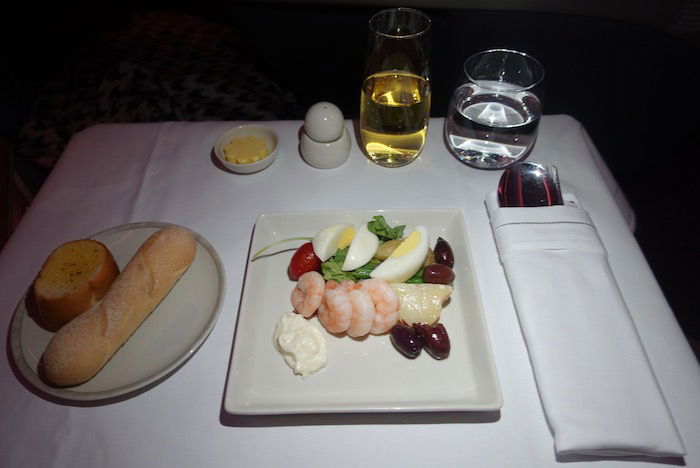 For the main course I ordered the seared chicken breast with thyme jus. It wasn't good at all — the chicken was rubbery. In fairness to Singapore, they do offer "Book the Cook," where you can pre-order your meal from a wider selection, so perhaps that was partly my fault.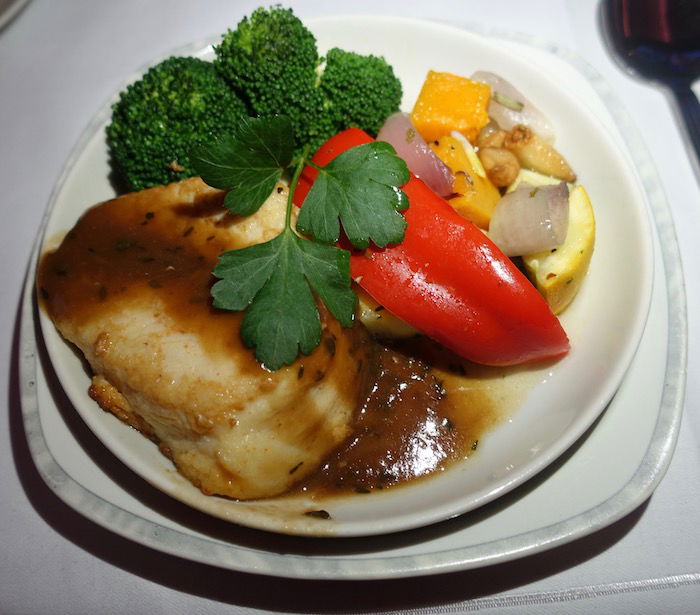 Dessert consisted of yuzu and milk chocolate mousse cake. It was light and refreshing, while also being sweet — yum.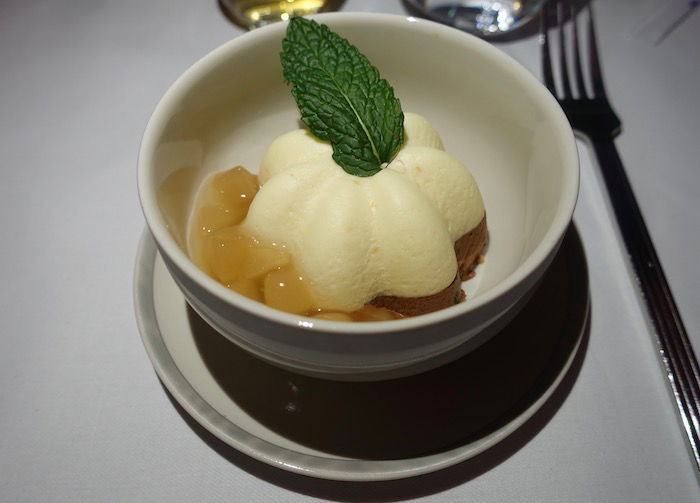 Then there was also a cheese course.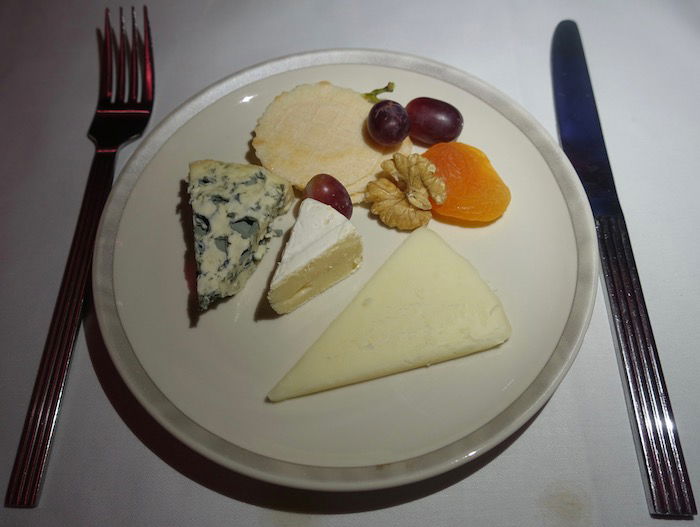 There were light snacks available throughout the flight, and then breakfast before landing. I wasn't terribly impressed by the food on this flight, but then again, supper flights on Singapore rarely impress, which is fair enough, since most people just want to sleep after takeoff.
The service was flawless. The crew was the typical perfection you expect on Singapore Airlines. They were attentive, friendly, confident, charming, and got all the little details right. The entire supper service was done just over an hour after takeoff. So the crew gets full marks for the great job they did.
After supper I tried to sleep. The seat can be turned into a bed by flipping over the back of the seat, where the mattress sheet and pillow are already attached, so it's quite easy to do yourself. The sleeping surface is quite large, though the seat's padding isn't great, and you do have to squeeze your feet into a small cubby at the far left of the seat if you're someone who doesn't sleep in the fetal position.
I actually didn't mind that too much, since I curl up when I sleep, so I was mostly fine just slightly placing my feet in the foot cubby. Regardless, this isn't an ideal hard product. If you do book Singapore's business class, do everything in your power to select a bulkhead seat, as they have significantly more personal space.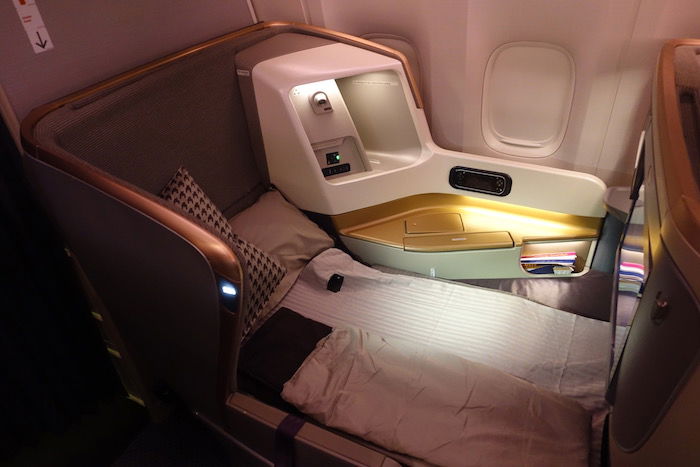 I had intended to sleep most of the flight back, given what a couple of long travel days it had been. I slept pretty well for the first half of the flight, though the second half of the flight was bumpy. There was a strong jet stream — the flight time was under 11 hours, so we arrived 90 minutes early. And we really felt that for the second half of the flight, where there was consistent chop. The turbulence wasn't horrible or anything, but it was noticeable enough that it kept me awake.
Fortunately Singapore's 777s have Wi-Fi, and it's reasonably priced. You can buy a Wi-Fi pass lasting the entire flight without data caps for ~$21, which is fair. The Wi-Fi speed was great as well. This is so much better than the setup they have on the A380, where they charge based on usage, and it's outrageously priced.
Entertainment on Singapore was excellent as well in terms of their selection of movies and TV shows.
Singapore Airlines 777 business class bottom line
Singapore Airlines is known for offering among the best onboard experiences of any airline in the world. While they're still excellent, I think there's no denying that other airlines have been catching up, and have been narrowing the gap a bit.
For example, service on Singapore continues to be phenomenal, and the cabin is stylish, but the hard product isn't really cutting edge anymore, the bed is a bit hard, the food wasn't great on this flight, etc.
So overall Singapore is fantastic, though I can't definitively say it was better than United's new 777-300ER Polaris, which is saying a lot…