If you've been hoping to visit Floret by Cafe Flora through Priority Pass, you're out of luck — the restaurant has just been removed from the network.
The saga of Seattle's Priority Pass restaurant
This February Priority Pass added a restaurant at Seattle Tacoma Airport — specifically, Floret by Cafe Flora. This was an exciting development, as it represented the first Priority Pass restaurant for the airport.
The airport was desperately in need of more Priority Pass locations, given that Alaska Lounges at the airport were removed from the lounge network last year.
Unfortunately it hasn't been all smooth sailing for the restaurant and Priority Pass:
Floret by Cafe Flora was removed from Priority Pass just days after it was initially added
When that happened, it was taken off the Priority Pass website, but some reported that the restaurant was still accepting Priority Pass; then about a week later they stopped accepting it altogether
As of April 2019, Floret by Cafe Flora started accepting Priority Pass once again, but only from 2PM until close
@OneMileataTime Floret is back pic.twitter.com/NACyUP58Bs

— JC (@JonathanChen77) April 16, 2019
Unfortunately there's bad news on this front now. Floret by Cafe Flora has now been removed from Priority Pass altogether. While the restaurant still shows up on Priority Pass' website as of now, the following sign can be found in front of the restaurant (thanks to reader Greg for sharing this).
The basics of Floret by Cafe Flora
In the event that Floret by Cafe Flora makes a return (which isn't out of the question, given their history), I'll still keep some of the basic details about the restaurant in this post. Floret by Cafe Flora is located airside (after security) next to gate A1, at the intersection of Concourses A & B).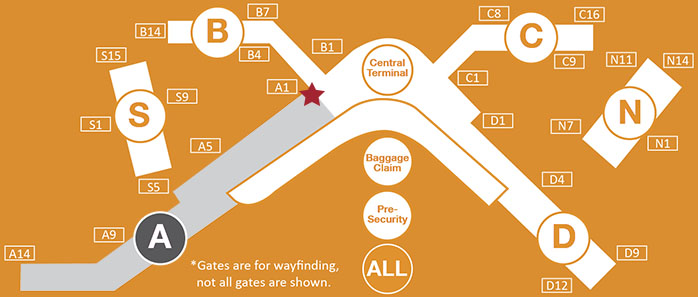 All terminals and gates at SeaTac are connected airside, so all passengers should be able to use this.
Here's how the restaurant describes itself:
Offering fresh and local seasonal vegetarian fare, Stumptown coffee, craft cocktails and local beer, wine and spirits.
You can find the lunch and dinner menu here, and the drinks list here.
When it was part of the network, Priority Pass members received $28 worth of food & drinks per person.
In order to be eligible you needed to have a same day day confirmed boarding pass, though there was no explicit requirement that it needed to be an outbound boarding pass (so in theory you could visit on arrival).
The Priority Pass member was responsible for any overage beyond the $28 credit, and that credit couldn't be applied towards gratuity.
Bottom line
It's anyone's guess why Floret by Cafe Flora left Priority Pass. There are a few potential reasons I could see:
People weren't tipping as they usually would, and between the discount they gave Priority Pass and servers not being paid compensated as they hoped, they could have decided it wasn't worthwhile anymore
It could be that the restaurant was so busy even without Priority Pass members, and they decided they didn't need that business
It could be that they just didn't have the proper staffing in place to handle Priority Pass demand
It could be that Priority Pass' payment terms created a cash flow issue for them, since I believe they only pay one or two months later
What's your theory on why Floret by Cafe Flora left Priority Pass? Did you have the chance to eat here while it was part of the network?