The saga of SeaTac Airport's Priority Pass restaurant lives on. Earlier this year SeaTac Airport got its first Priority Pass restaurant. The airport was desperately in need of more Priority Pass locations, given that Alaska Lounges at the airport were removed from the lounge network last year.
So in February Priority Pass added a restaurant at Seattle Tacoma Airport — specifically, Floret by Cafe Flora. However, just days after adding the restaurant to Priority Pass they removed it from the network, and it wasn't clear if the restaurant would come back or not.
Initially it was removed from the Priority Pass website, but people reported that the restaurant was still accepting Priority Pass guests. Then there were reports that they officially stopped accepting Priority Pass.
While Priority Pass' website hasn't yet been updated, a reader reports that Floret by Cafe Flora is once again accepting Priority Pass members, but only from 2PM until close (and that's confirmed by signage). That's awesome news, since I was worried the restaurant wouldn't return at all.
@OneMileataTime Floret is back pic.twitter.com/NACyUP58Bs

— JC (@JonathanChen77) April 16, 2019
As a reminder, Floret by Cafe Flora is located airside (after security) next to gate A1, at the intersection of Concourses A & B).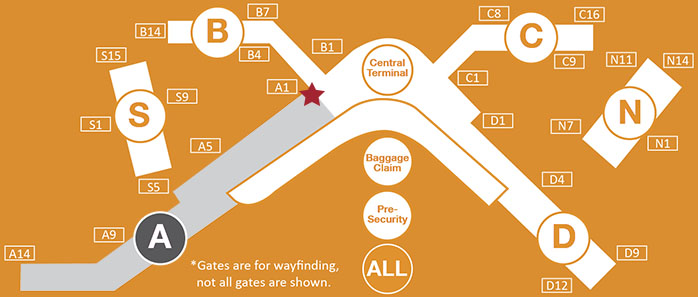 All terminals and gates at SeaTac are connected airside, so all passengers should be able to use this.
Here's how the restaurant describes itself:
Offering fresh and local seasonal vegetarian fare, Stumptown coffee, craft cocktails and local beer, wine and spirits.
You can find the lunch and dinner menu here, and the drinks list here.
Priority Pass members are entitled to $28 worth of food & drinks per person.
In order to be eligible you need to have a same day day confirmed boarding pass, though there's no explicit requirement that it needs to be an outbound boarding pass (so in theory you could visit on arrival).
The Priority Pass member will be responsible for any overage beyond the $28 credit, and that credit can't be applied towards gratuity (and personally I think it's appropriate to tip, as a Priority Pass membership is just a form of payment here).
Bottom line
I know some restaurants that join Priority Pass can be extremely overwhelmed by the amount of demand that this creates, and it's my understanding that this was initially the problem with this place. They weren't fully capable of handling the new demand.
So while Priority Pass is only accepted in the afternoons now, that's still better than no Priority Pass restaurant at all.
If anyone has the chance to check out Floret by Cafe Flora since it rejoined Priority Pass, please report back!