In the interest of full disclosure, OMAAT earns a referral bonus for anyone that's approved through some of the below links. These are the best publicly available offers (terms apply) that we have found for each product or service. Opinions expressed here are the author's alone, not those of the bank, credit card issuer, airline, hotel chain, or product manufacturer/service provider, and have not been reviewed, approved or otherwise endorsed by any of these entities. Please check out
our advertiser policy
for further details about our partners, and thanks for your support!
Priority Pass is the world's largest network of independent airport lounges, with over 1,200 locations around the world. The number of Priority Pass members has increased greatly the past couple of years, ever since the Chase Sapphire Reserve® Card was introduced, since now there are quite a few credit cards with lounge access.
Priority Pass has gotten creative when it comes to the "lounges" they've added to their network. For terminals in which they struggle to reach a deal with a traditional lounge, Priority Pass has in some cases come to agreements with restaurants.
The idea is that Priority Pass typically pays a lounge a fixed amount for each guest who enters, so instead Priority Pass pays restaurants a fixed amount, in exchange for giving their members a dollar credit that they can spend towards food and drinks. At this point Priority Pass has over a dozen restaurant locations at US airports, including the following:
Bobby Van's JFK Priority Pass details
This February, Priority Pass added Bobby Van's Steakhouse at JFK Terminal 8 to their network. Priority Pass members receive $28 of food and drinks per guest, and Priority Pass members can bring in at most one guest each.
I had a flight out of JFK last night, so decided to visit Bobby Van's, even though I had access to the American Flagship Lounge (the comparison between the food in the restaurant and the food in the lounge may surprise you, so stay tuned for that).
Bobby Van's is open daily from 6AM until 10PM, so you can visit for breakfast, lunch, or dinner.
As a reminder, here are some of the popular credit cards that come with a Priority Pass membership:
Bobby Van's Steakhouse JFK review
I visited Bobby Van's at JFK yesterday at around 6PM. After passing through security at Terminal 8, Bobby Van's is located immediately to the right.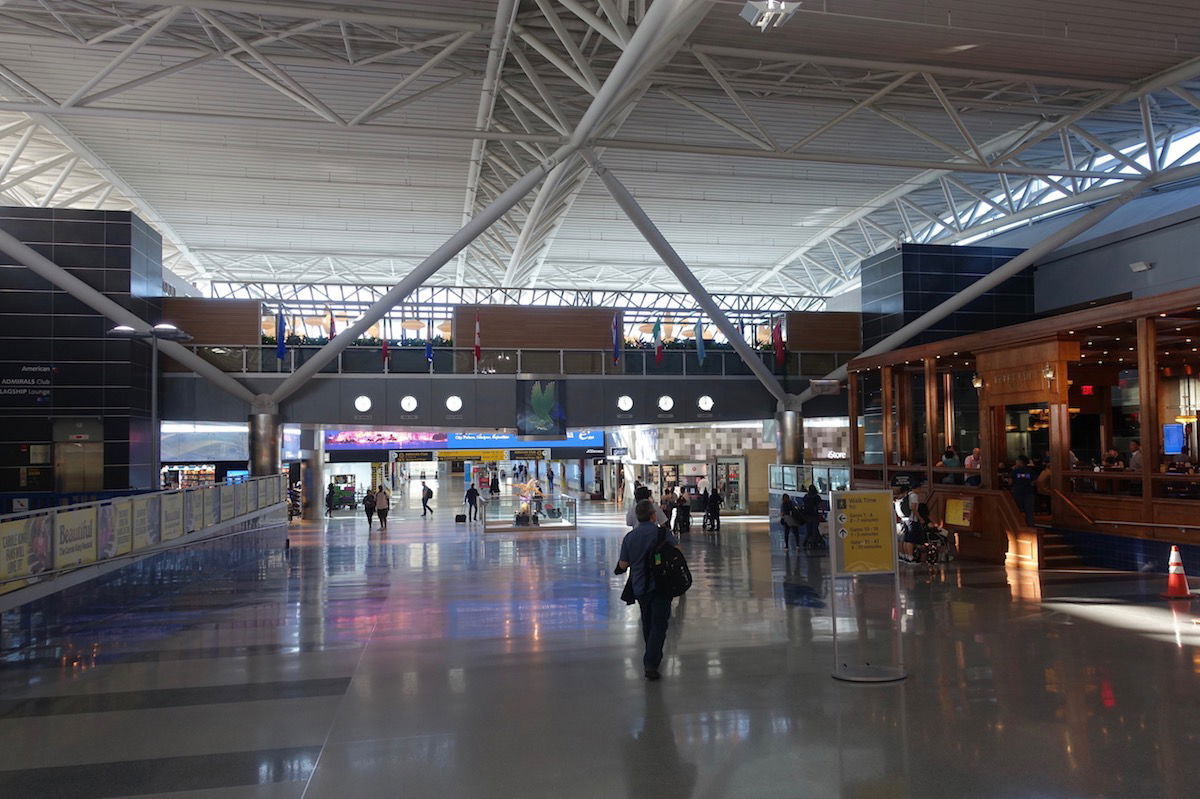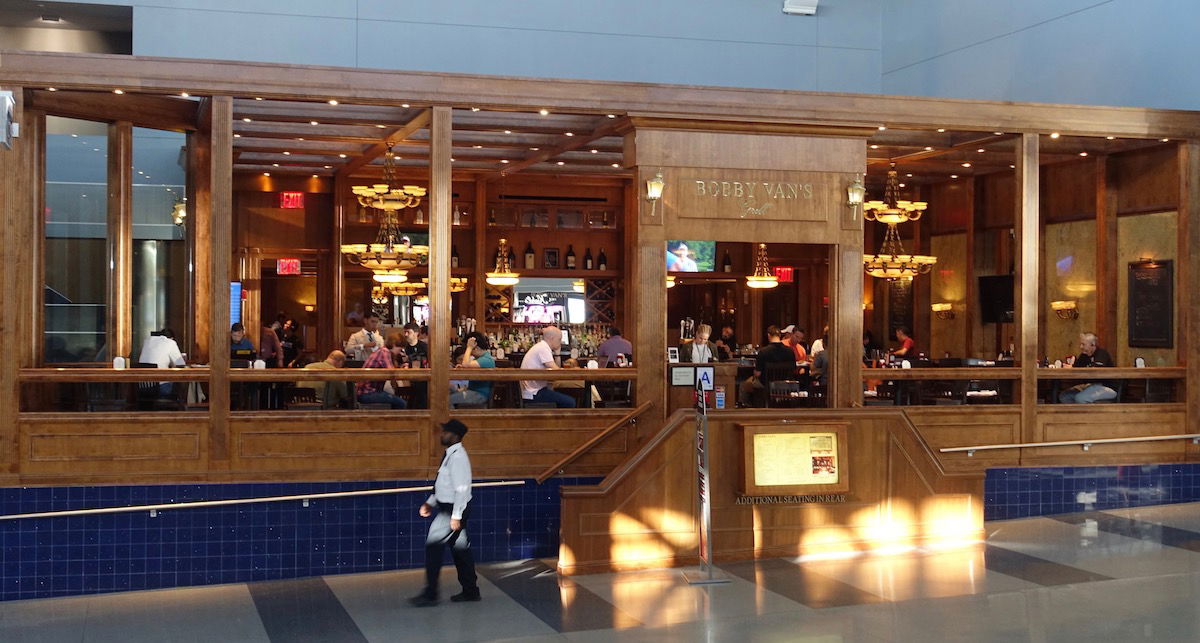 The restaurant has two main areas. There's the bar area, with high-top tables, bar seating, and also some lower tables.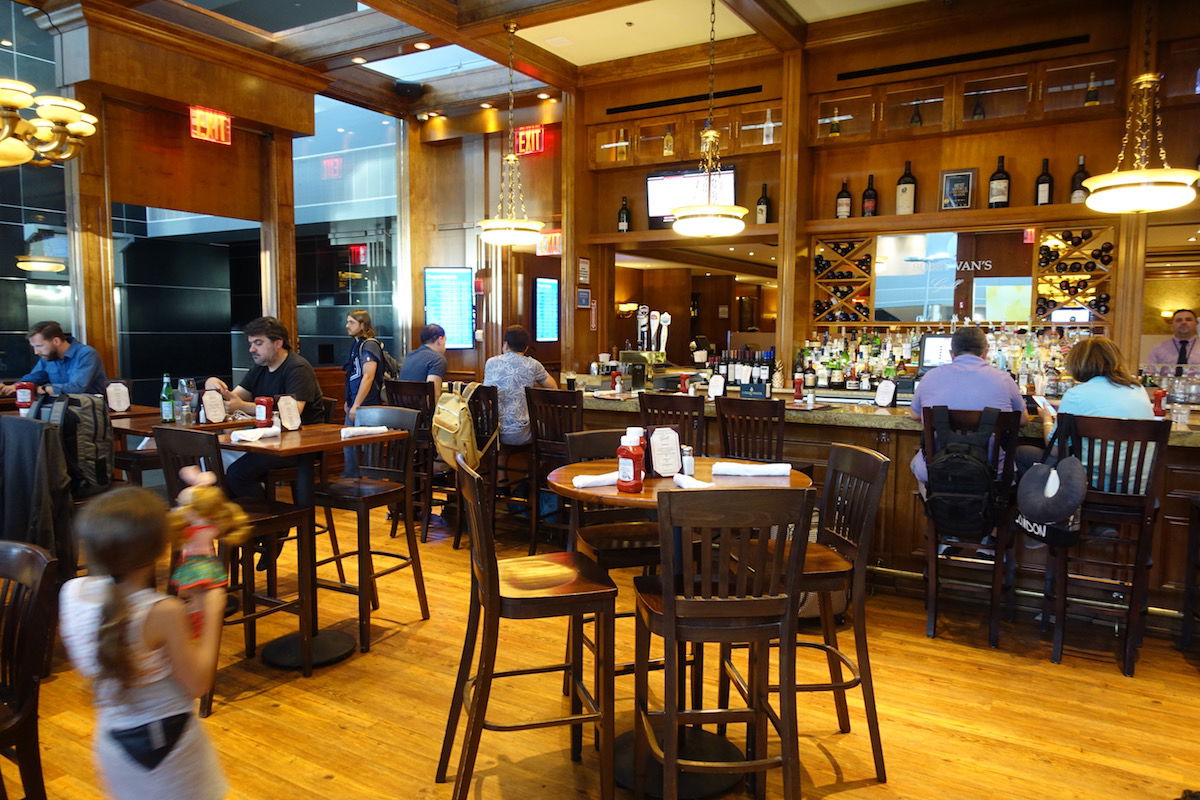 Then there's a dining room with white tablecloths.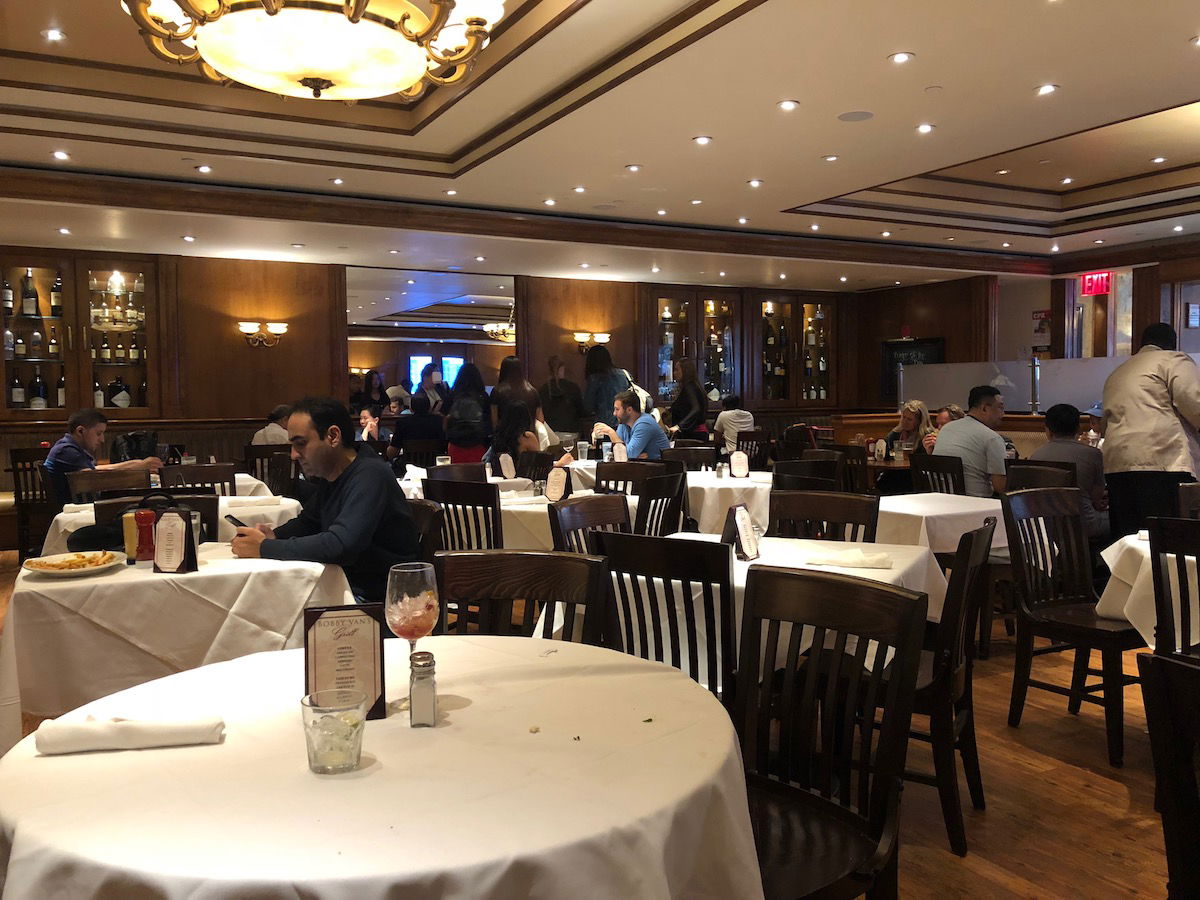 My initial impression of the restaurant was negative, given my interaction with the hosts, which was awful. It was so bad that I was wondering if I was on a hidden camera TV show, or something.
The host seating people was actively hostile and aggressive. There was a Chinese guy checking in ahead of me who was friendly and his English was reasonably good, but not perfect. The guy berated him for not talking faster, and for asking questions. In the meantime the guy had asked three other people how many were dining in their parties.
Then another host showed up, and she said "follow me" without looking at anyone in particular, and there were four different parties standing there. She walked away without looking back, and eventually someone yelled "who should be following you?" and she responded "any of you." "Really, any?" "The party of four, hurry."
That doesn't do justice to the rudeness and eye-rolling of the hosts, but my gosh, those people should not be working in customer-facing jobs.
I was presented with a menu as I sat down, and it was huge.
Here's the drink menu: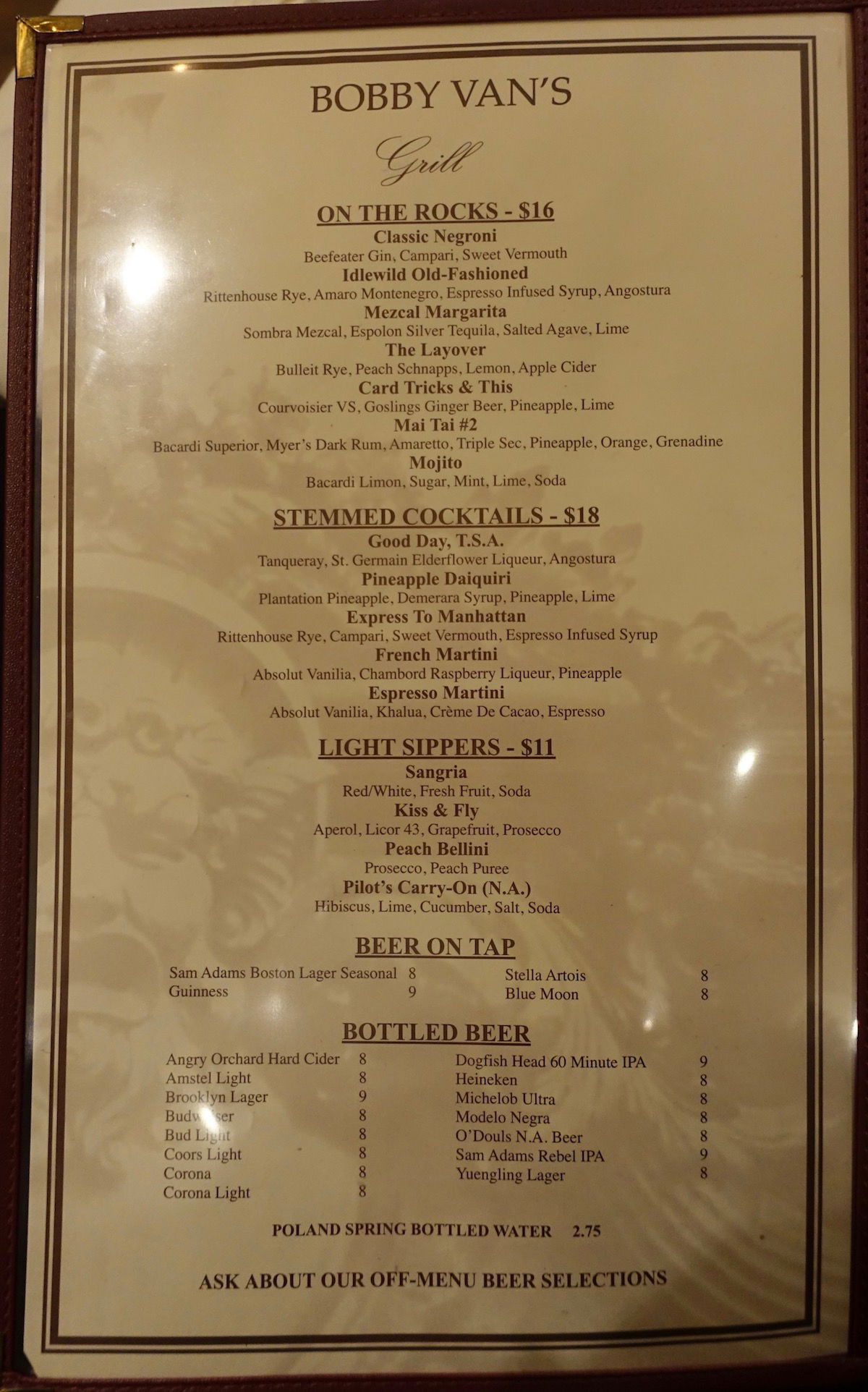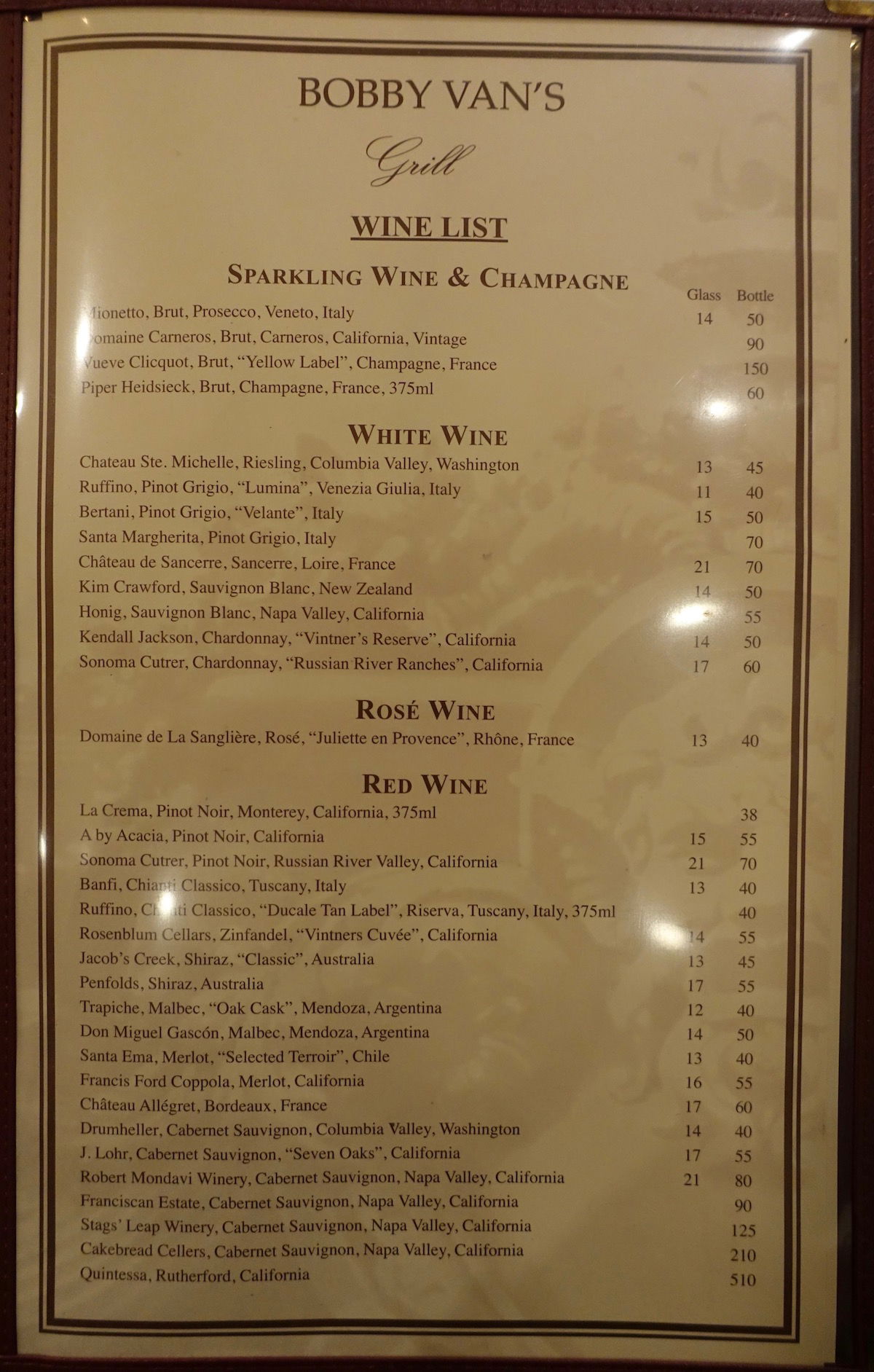 Here's the lunch and dinner menu: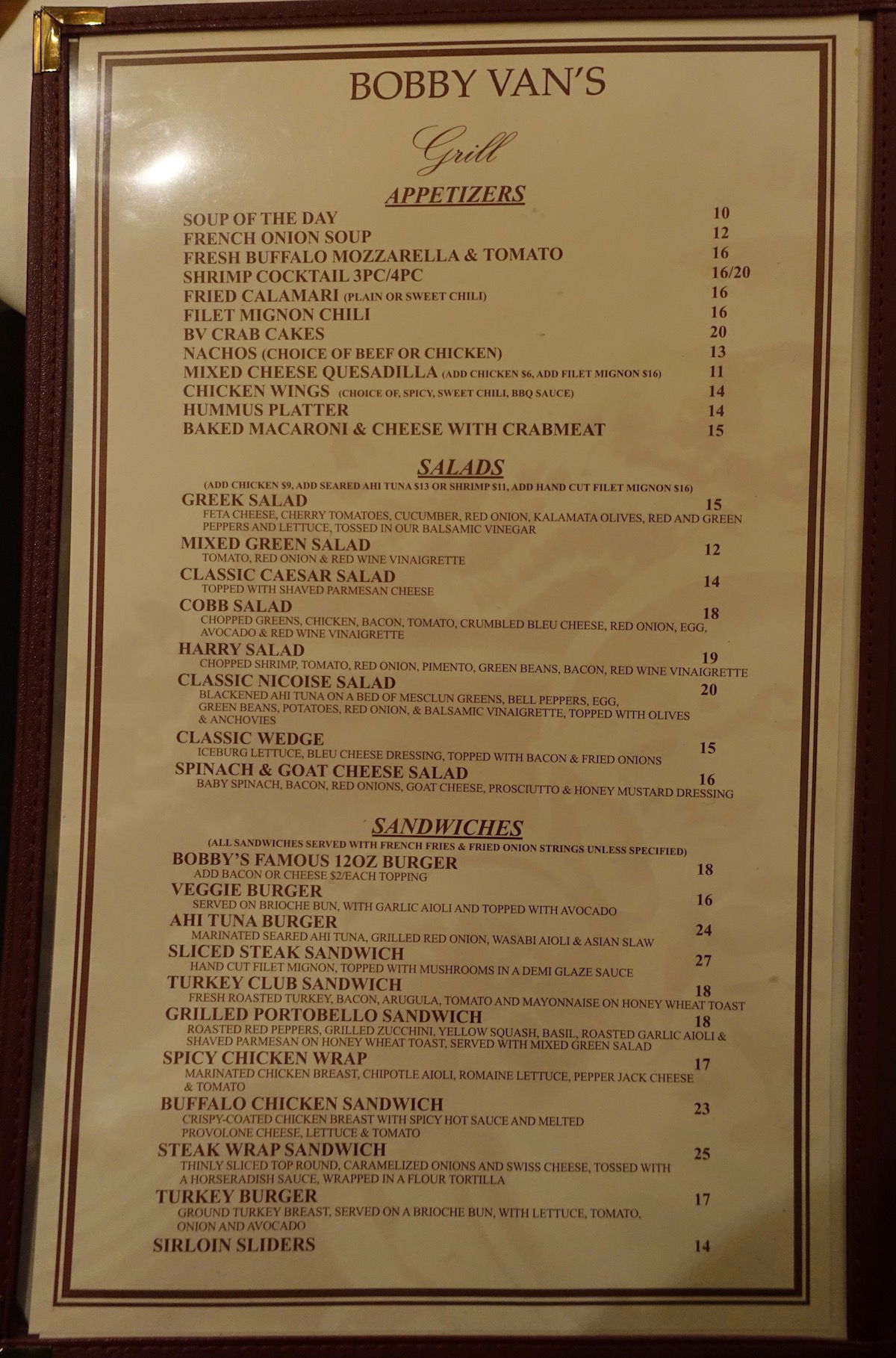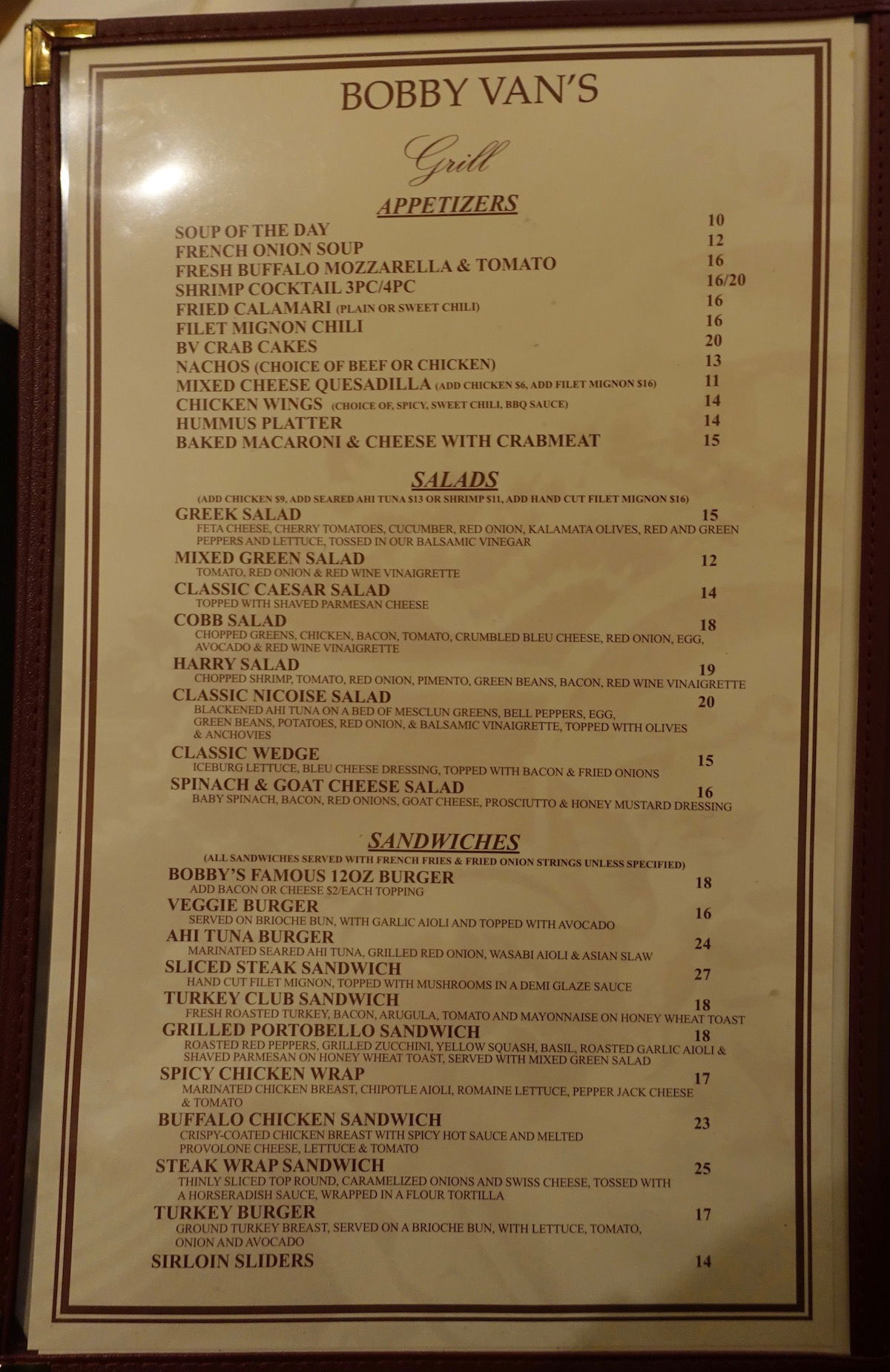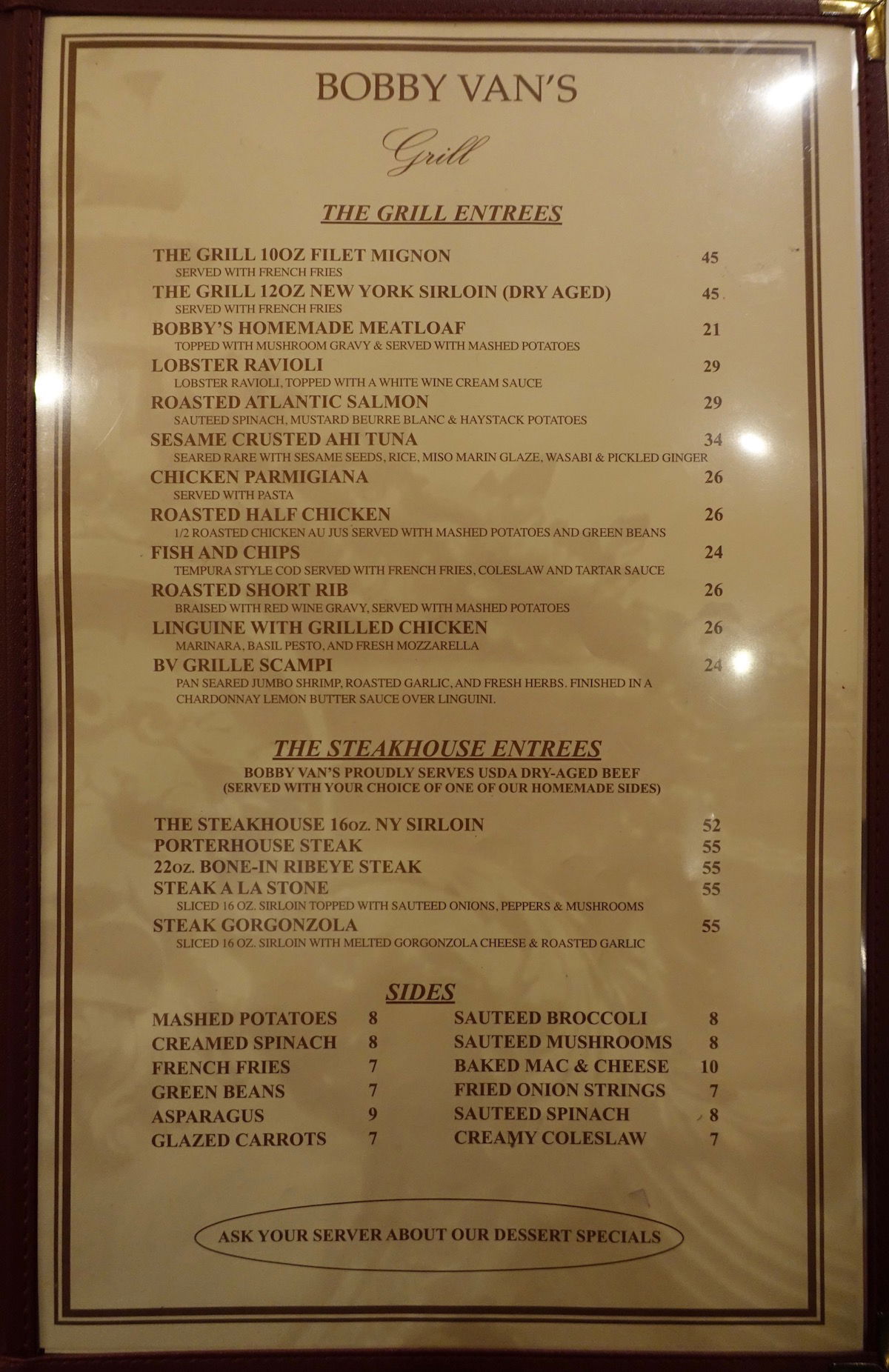 And here's the breakfast menu: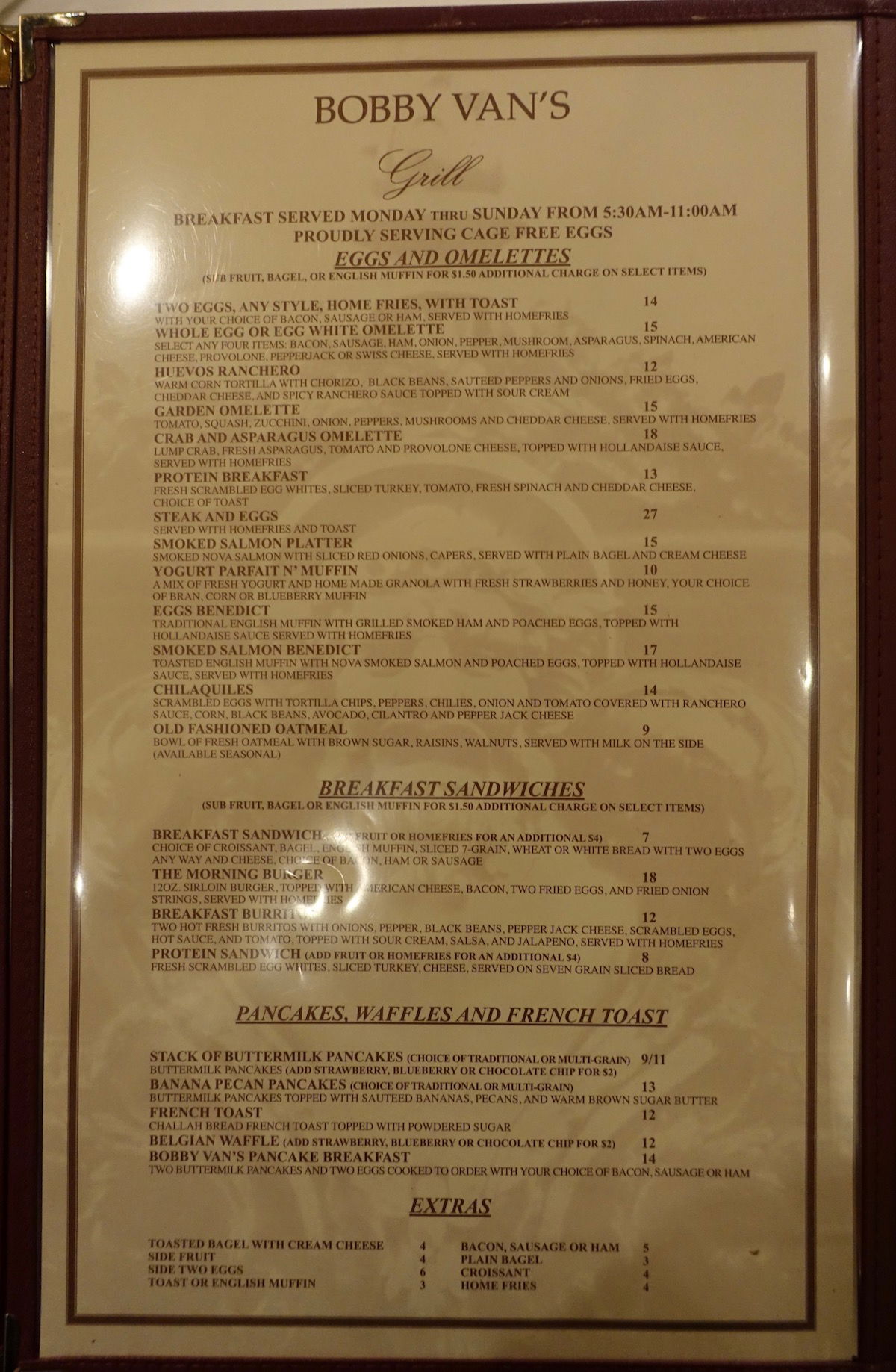 On the plus side, service was quick. When I sat down I was asked when my flight was. I had several hours, though despite that, all my food came out within 15 minutes.
To start I ordered the soup of the day, which was a beef and vegetable soup. In reality it had mostly potatoes and pasta, and was all right (it wasn't bad, but wasn't exactly good either).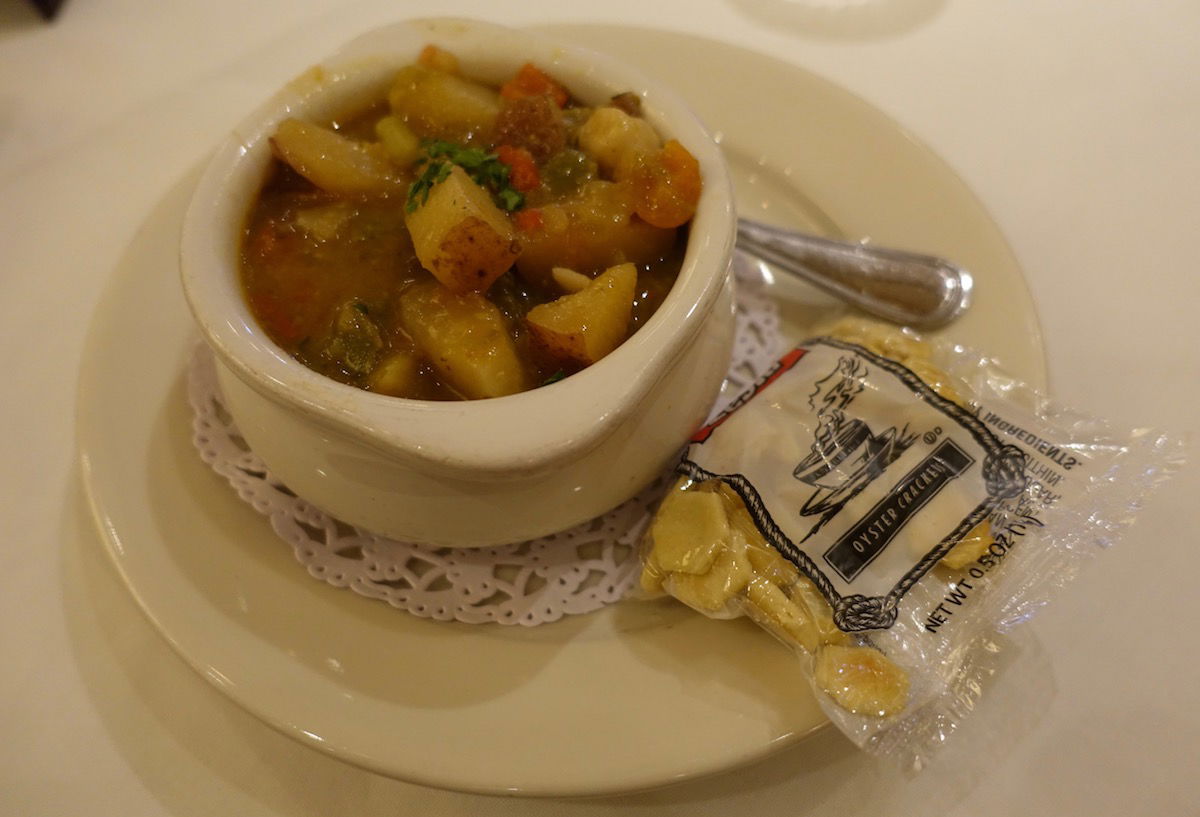 Then I ordered the Harry Salad, with chopped shrimp, tomato, red onion, pimento, green beans, bacon, and red wine vinaigrette. I don't eat bacon, and stupidly I forgot to request it without bacon (I saw bacon listed as an ingredient on the menu, reminded myself to tell the server I'd like it without bacon, and then forgot).
The salad was okay, but nothing special. Would I be happy if I were served a salad like this at Applebee's? Yes, I suppose. Would I be happy if I were served this at a nice steakhouse? No way. The shrimp and veggies just tasted watery and bland. They weren't terrible, but just bland.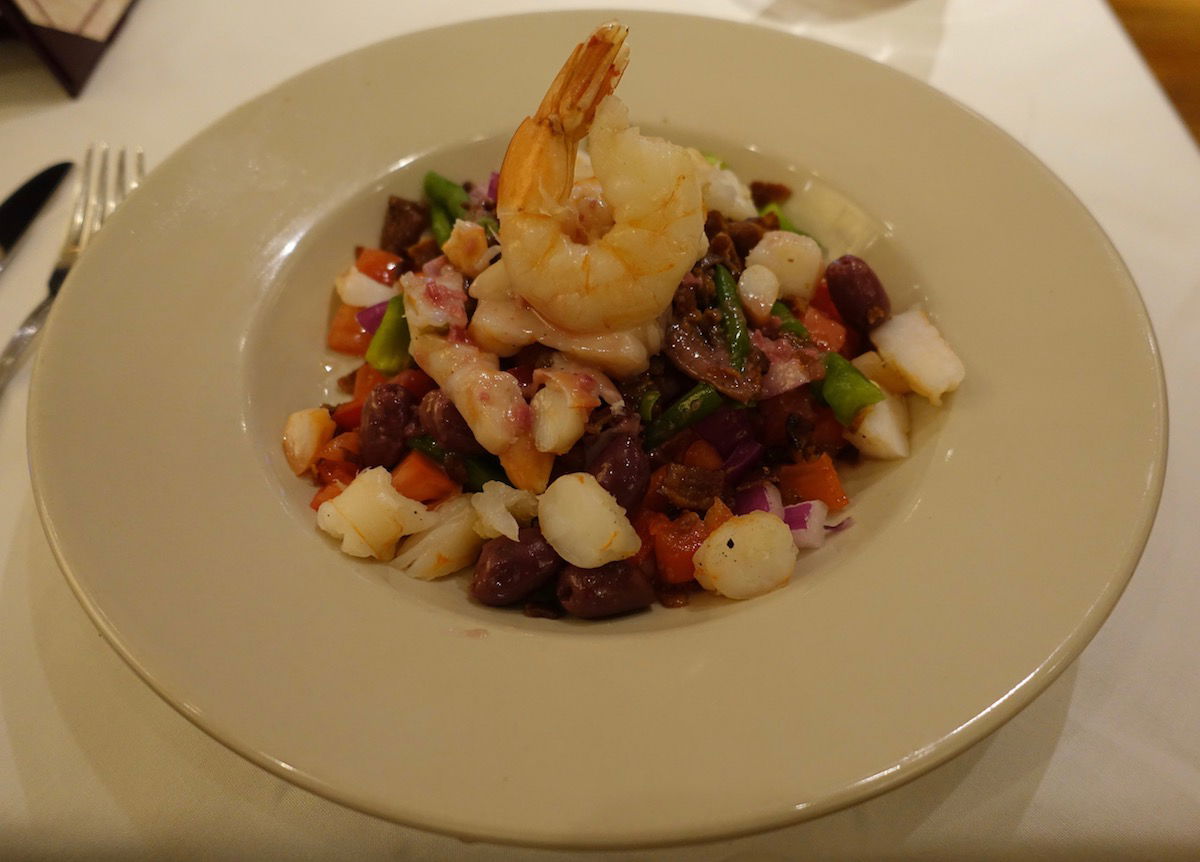 I wouldn't go so far as to say that my server was friendly, though unlike the hosts, he wasn't actively hostile, so my interaction with him was the best one I had at the restaurant.
At the conclusion of the meal I had $28 taken off the bill by presenting my Priority Pass card, leaving me with a balance of about $8. As you can see, they tried to draw notice to the suggested gratuity amount.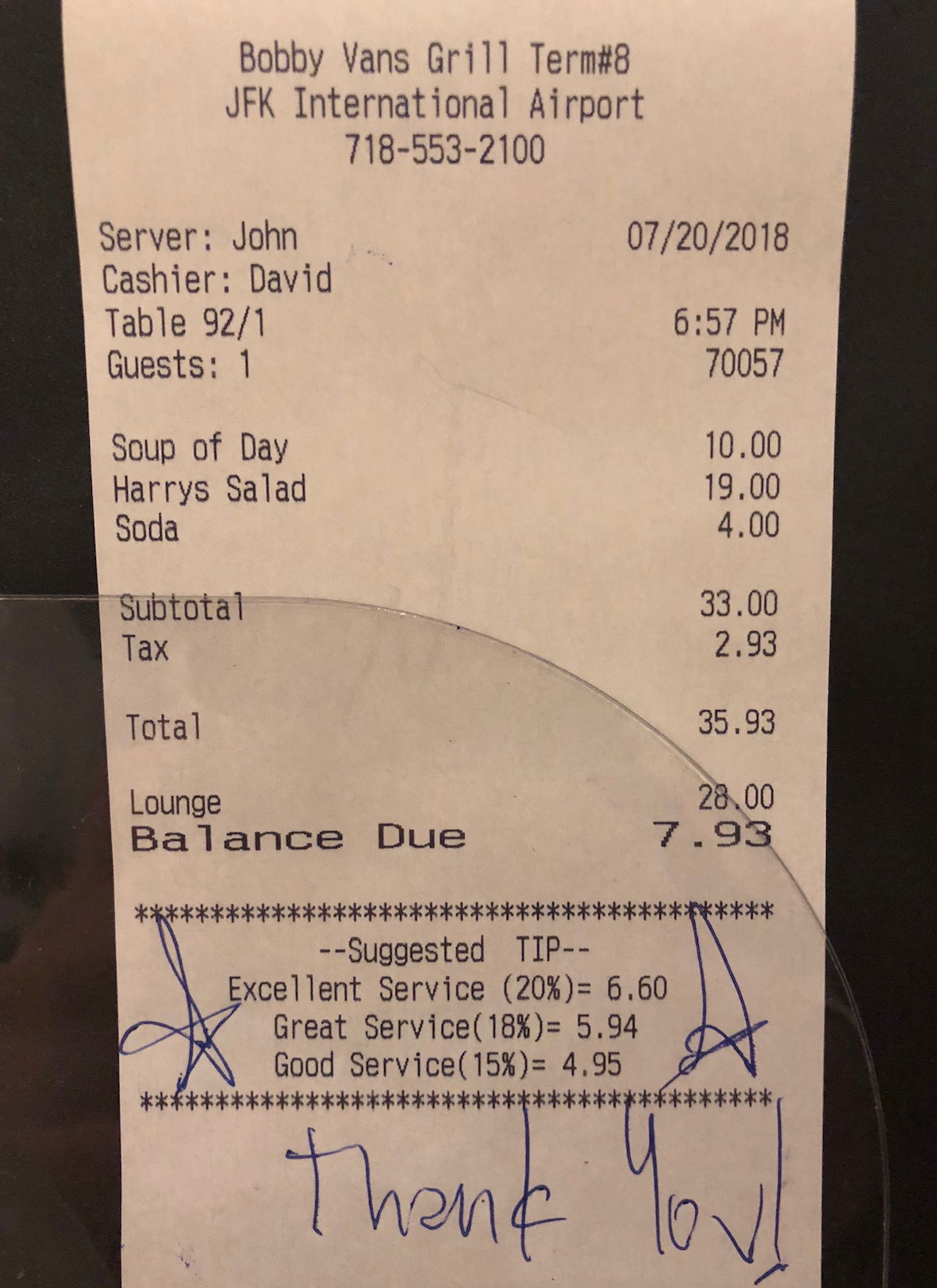 There was even a separate pamphlet stating that a tip of 18-20% is customary.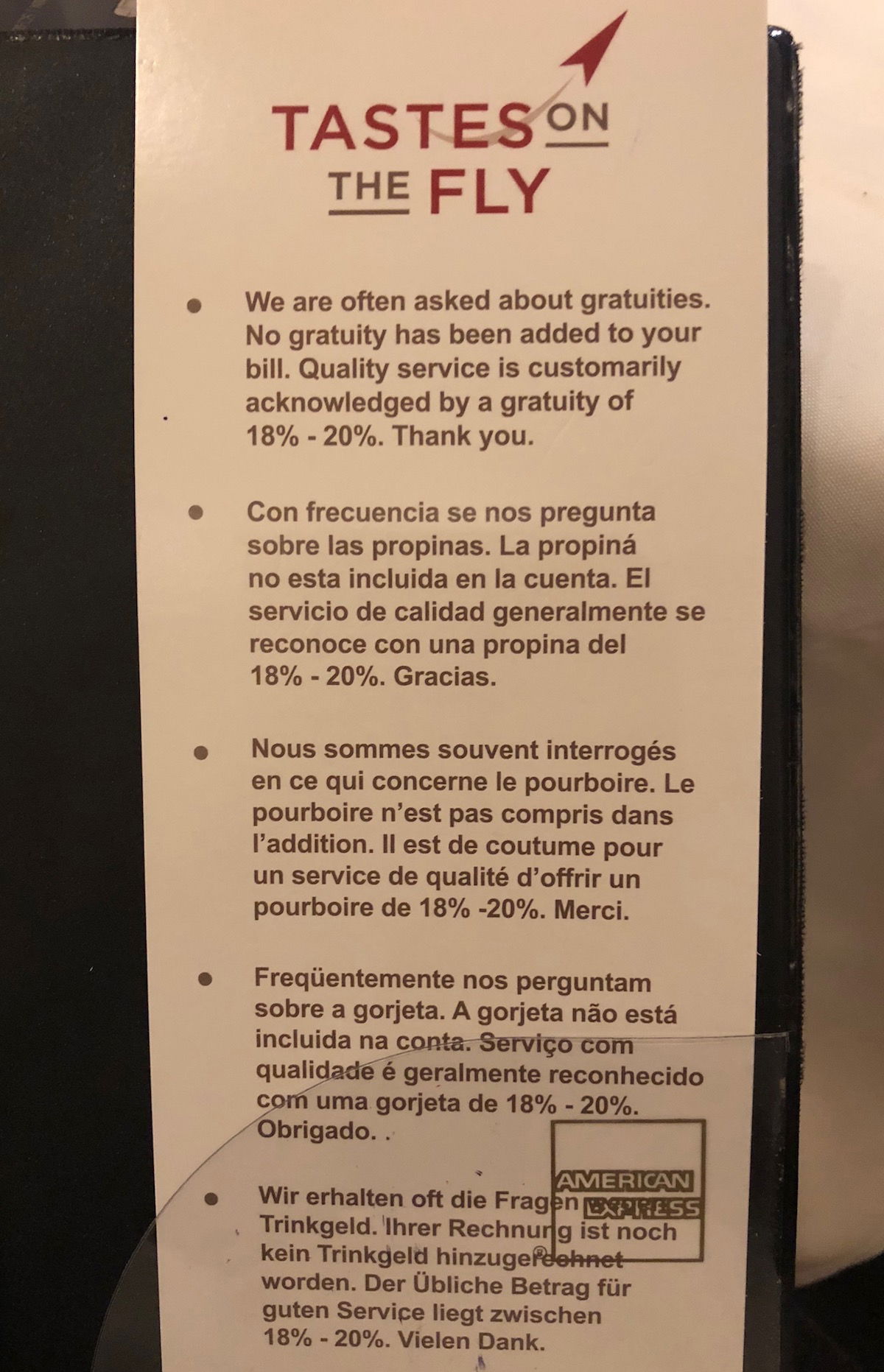 I don't at all mind that they do this, given the number of international visitors, and also given that a lot of people are using Priority Pass, and may not think it's necessary/appropriate to tip. So I left a $6 tip on my meal (which was probably too much given the not-great service).
Bottom line
I'm thrilled to see Priority Pass add restaurant to their network, as it presents a great alternative in those instances where they can't strike a deal with a lounge in a terminal. JFK's Terminal 8 didn't previously have a Priority Pass lounge, so this is a nice addition.
Unfortunately Bobby Van's disappointed me, though. The restaurant is okay — the food is unmemorable but edible. What surprised me was the outright hostile service. I'm not sure if the two hosts were just having a bad day or what, but I'd expect friendlier service from the DMV. I'm always surprised when high-end restaurants decide to open locations at airports. I've never been to one of the other Bobby Van's locations, but based on this I wouldn't visit, even though I imagine the others are much better.
So if you have a Priority Pass membership and don't otherwise have lounge access then it's worth visiting Bobby Van's. This is a great addition.
However, in this case I had access to the Flagship Lounge, and I wanted to do a side-by-side comparison of the food at Bobby Van's and the food in the lounge. Much to my surprise, the lounge had more restaurant quality food than the restaurant (more on that in another post).
If you've visited Bobby Van's at JFK, what was your experience like?
The following links will direct you to the rates and fees for mentioned American Express Cards. These include: The Business Platinum® Card from American Express (Rates & Fees), and The Platinum Card® from American Express (Rates & Fees).