SAS (Scandinavian Airlines) has announced some impressive international expansion lately. In 2016 they'll be growing their US route network by adding flights from Stockholm to Los Angeles and from Oslo and Copenhagen to Miami. This nicely complements their existing flights to Chicago, Newark, San Francisco, and Washington.
Since 2014, SAS has also operated an all business class flight between Houston and Stavanger, Norway. The flight has been operated by a 737, though is being discontinued this month due to "reduced activity in the oil industry."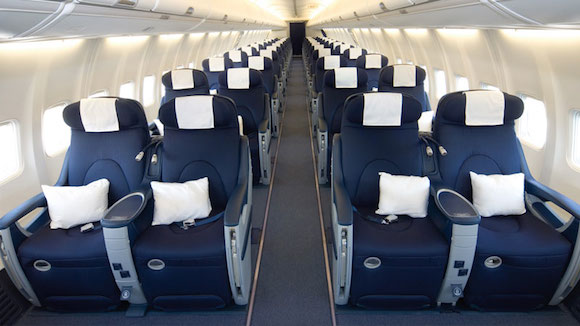 Instead SAS will be using that plane to add a second daily flight between Newark and Copenhagen, which will be operated by that same all business class 737. That new flight launches on October 25, 2015, though it looks like it will only last through the winter season.
SAS has other plans for that plane, apparently. SAS will be launching daily flights between Boston and Copenhagen as of March 29, 2016. The flight will be operated by a Privatair 737 with the following schedule:
SK927 Copenhagen to Boston departing 12:50PM arriving 3:20PM
SK928 Boston to Copenhagen departing 5:30PM arriving 7:00AM (+1 day)
At ~3,700 miles, the flight is blocked at 7hr30min eastbound, and 8hr30min westbound.
Rather than having just 44 seats, the 737-700 will be see a reduced business class cabin and the addition of an economy cabin, for a total of 86 seats. The plane will consist of 20 business class seats and 66 economy class seats.
That seems like a smart idea, given that presumably there's not demand for that many business class seats every day, so the economy seats will be easier to fill and decrease the downside potential of the flight.
Do keep in mind that this 737-700 features angled flat seats in business class, which aren't anywhere close to as good as SAS' new business class product. Furthermore, I couldn't imagine voluntarily flying a 737 in economy on a transatlantic flight.
Bottom line
Kudos to SAS on what I think is a really smart use of a PrivatAir 737. While the Stavanger to Houston route was unique, there was simply no way that was going to be sustainable long term. Boston to Copenhagen seems like a much more appropriate market for a 737, and by reconfiguring the plane with an economy cabin, there's a good chance they can actually make the route profitable.
What do you make of SAS' new route between Boston and Copenhagen? Would you take it if convenient, or avoid it because it's a 737?
(Tip of the hat to Peter)