Back in May, SAS announced the new business class product they'd install throughout their longhaul fleet starting in 2015.

SAS A330 at Oslo Airport
Not only will they install it on their existing A330/A340 aircraft, but they'll also install it on the four A330s they'll be taking delivery of over the next two years, as well as the A350s they'll begin taking delivery of in 2018.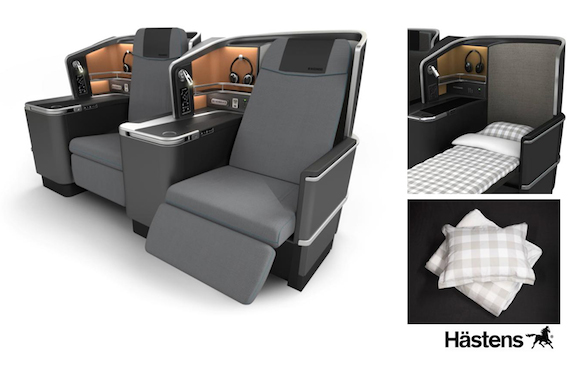 SAS new business class
At the time the announcement was made, SAS said that the first plane with the new business class should be in service in early 2015, and that the reconfigurations should be completed within 12 months.
Anyway, up until recently we didn't have an exact timeline of when the new product would be flying, though Henning at BonusFeber did some digging, and it appears as if SAS has updated the seatmaps with the new product as of early next year.
So far, the SAS new business class seatmap shows for the following flights:
Copenhagen to Newark as of February 1, 2015
Stockholm to Newark as of March 17, 2015
The way to tell is that the new business class seatmap is in a 1-2-1 configuration
Meanwhile the old business class seatmap is in a 2-2-2 configuration:
Now, SAS hasn't made an official statement indicating the start dates of service for the refreshed aircraft, but rather has just updated the seatmaps. So I wouldn't count on those dates sticking 100% (and even if they officially announced it, I still wouldn't count on it sticking 100%).
Still, it's nice to have a general timeline of when they'll introduce the new business class. And it's really not surprising that New York is the first place they'll be flying it to.
The new SAS business class product is a huge improvement over the old one. The old seats were angled, while these are fully flat and each feature direct aisle access. The seats are almost identical to the new business class seats that Qantas is installing on their A330 aircraft.

Qantas A330 new business class
I do hope to try the product out sometime, though SAS is notoriously stingy when it comes to releasing premium cabin award space. That being said, when you can find award space it's a great use of Aeroplan miles, since they charge just 45,000 miles one-way between the US and Europe, and don't impose fuel surcharges for travel on SAS.
Do you have any plans to try SAS' new business class product?