SAS has just announced that they'll be discontinuing their all business class flight between Houston and Stavanger, and instead will be adding an additional flight between Newark and Copenhagen.
SAS discontinuing Houston to Stavanger route
Last August, SAS launched an all business class flight between Houston and Stavanger, Norway. The flight operates 6x weekly using a wet leased PrivatAir Boeing 737-700, featuring an all business class configuration. The aircraft features just 44 seats spread across 11 rows.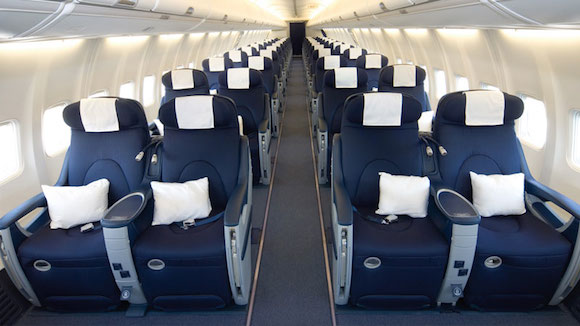 As the world's longest 737 route, it was a unique one, of course, intended to capture the oil business between the two cities.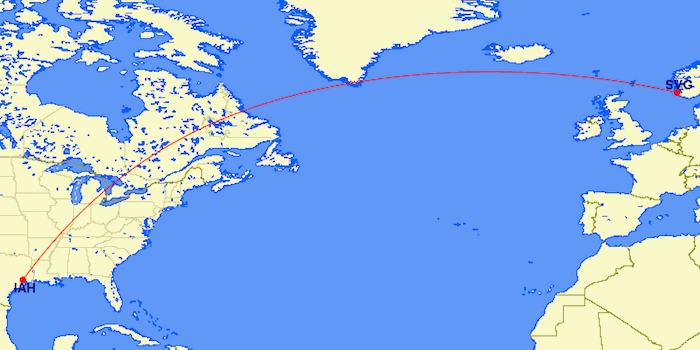 Here's the explanation which is given for the route being cut as of October 24, 2015, which I think is pretty self explanatory:
As a consequence of reduced activity in the oil industry, SAS has experienced a severe decrease in demand and thus passenger loads on the Stavanger Houston route. Hence, SAS no longer has sound commercial grounds for continuing this niche route.

"The oil route came out of creative and constructive product development between SAS and our core clients in the oil industry. We have done all we can to make it viable, however, we have had to accept that the downturn in the industry unfortunately is also impacting us, hence our decision to switch the aircraft to Copenhagen-New York, where the market offers far more potential right now," says Eivind Roald.

The last flight from Stavanger will depart on 23 October returning in Stavanger on 24 October. SAS will do its utmost to make alternative arrangements for all customers who have flight bookings after these dates.

"I am naturally sad to disappoint our customers who have been loyal users of the route and who will no longer be able to fly directly between these two destinations," says Roald.
SAS adding Newark to Copenhagen service
SAS will continue to use the PrivatAir 737, though will instead be deploying it on their Newark to Copenhagen route, to add a second frequency.
The new Newark to Copenhagen route will launch 6x weekly (every day except Tuesdays) as of October 25, 2015, as follows:
SK902 Newark to Copenhagen departing 11:55PM arriving 12:45PM (+1 day)
SK901 Copenhagen to Newark departing 6:25PM arriving 10:35PM
The timing quite nicely complements SAS' existing schedule between Newark and Copenhagen, which is as follows:
SK910 Newark to Copenhagen departing 5:40PM arriving 6:15AM (+1 day)
SK909 Copenhagen to Newark departing 12:20PM arriving 4:15PM
Interestingly, SAS will actually be reconfiguring the PrivatAir 737 eventually as well. Presently the plane features 44 business class seats, while it will eventually be reconfigured with 20 business class seats and 66 economy class seats. That probably helps to make the flight more viable for them, since presumably there's not usually demand for that many business class seats.
Bottom line
Houston to Stavanger was a unique route for sure, so in terms of creativity I'm sad to see it go. At the same time, that route never seemed viable long term.
Newark to Copenhagen is definitely a more logical route on which to place it, since it's a route which could use extra capacity. Reconfiguring the plane to add some economy seats will probably help make the route more viable year round as well.
Still, that also sort of takes the lure out of the narrowbody all business class experience. At this point you're just flying a normal 737 across the Atlantic, which doesn't sound all that appealing.
It is worth noting that the 737 features angled business class seats, so they're far from the best out there. Especially in comparison to SAS' excellent new business class product, which will soon be available on all their A330s and A340s.
Are you surprised SAS cut the Houston to Stavanger route? Does reconfiguring the 737 make sense?
(Tip of the hat to The Points Guy)