We'll have to mark this as "developing" for now, but it looks like there may be an aviation Cold War brewing…
Many countries are imposing sanctions against Belarus, following the country essentially hijacking a Ryanair 737 that was flying between Athens and Vilnius. At this point Belavia has been banned from using European Union airspace, and airlines are also being warned not to use Belarusian airspace.
We knew that Russia was on Belarus' side, though a big question has been what that would mean in practice, especially as it impacts aviation. Well, we may have our answer, and it's potentially pretty petty — Russia may be blocking some inbound flights that choose to avoid Belarusian airspace.
This was first noticed when Air France's Paris to Moscow flight was canceled yesterday. As it was explained, this was "for operational reasons linked to the bypassing of Belarusian airspace, requiring a new authorization from the Russian authorities to enter their territory." Air France's flight on the route today was canceled as well, and tomorrow's flight has already proactively been canceled.

This wasn't a one-off (or three-off, I suppose) thing either. The same thing happened to Austrian Airlines today, on its flight from Vienna to Moscow.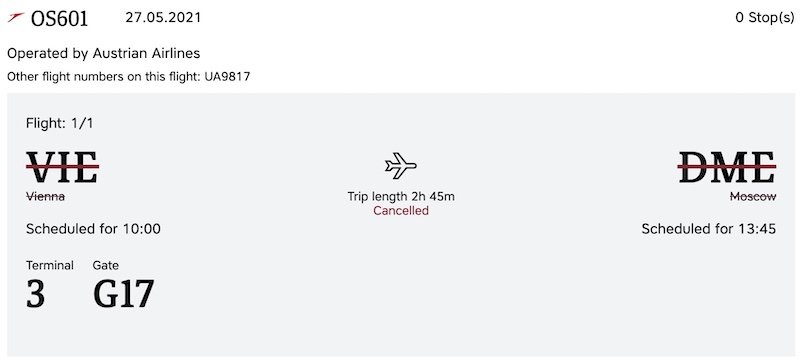 When airlines change their routes they have to file new flight plans, and Russia is simply choosing not to approve these as it usually would. That's seemingly for no other reason than to be petty, because there's no other logical justification.
Now, it's worth clarifying that flights to other Russian destinations seem to be operating as usual, some flights to Moscow are operating normally, and we have limited data points so far, and therefore we can't say anything definitively.
But if this is as it appears, I don't think it would really surprise anyone. Things are escalating, and if that continues, this could potentially have massive global implications for aviation.
Right now Russia just seems to be petty with flights to Moscow, but could the country eventually introduce (what it would view as) a reciprocal flight ban, block off its airspace to any airline registered in a country that blocks its airspace to Belarus? This could come in the form of simply not approving flight plans, rather than a blanket ban.
Russia is a massive country and has some of the most "essential" airspace for airlines operating in all kinds of long haul markets, and any restrictions surrounding that could be major. I'm not saying that'll happen, but it also can't be ruled out.
Bottom line
Russia seems to be blocking some flights that are choosing to avoid Belarusian airspace, in the form of not approving modified flight plans. For now just a limited number of flights have been impacted, though if this escalates, it could have major implications for global aviation.
Russia is clearly siding with Belarus, so this is one way for Russia to stir the pot. While we aren't there yet, I don't think we can rule out Russia imposing widespread airspace restrictions.
What do you make of Russia blocking flights that avoid Belarusian airspace?