Russia's invasion of Ukraine is having all kinds of implications for global aviation (among other things), as we're seeing plenty of complicated new airspace bans. As a result we've seen airlines operate significantly longer routings than in the past. However, as flagged by Flightradar24, I don't think anything can hold a candle to Belavia's flight from Minsk to Istanbul.
Minsk to Istanbul used to take two hours
Belavia is the state-owned carrier of Belarus, and the airline operates a nonstop flight between Minsk (MSQ) and Istanbul (IST). With a distance of 872 miles, that flight used to take around two hours (assume commercial jets fly around 500 miles per hour, but then the climb out and descent take a bit longer).
Through May 28, 2021, this route consistently took around two hours, and sometimes even a bit less, as the airline was able to operate a direct routing with limited restrictions.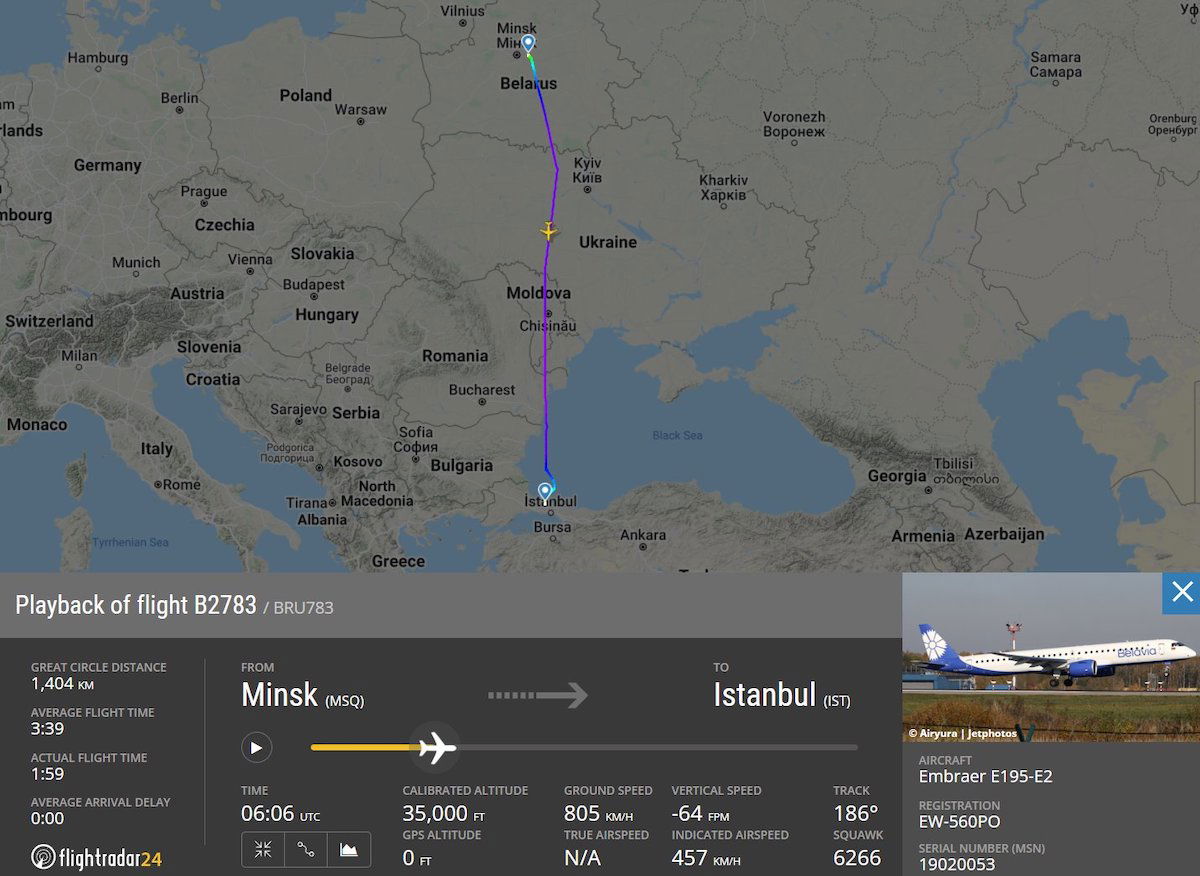 Then the flight became 90 minutes longer
Starting May 29, 2021, Belavia's flight from Minsk to Istanbul started taking a lot more time, around 3hr30min. Why? Well, this followed the government of Belarus committing aircraft piracy, by forcing a Ryanair flight from Athens to Vilnius to divert to Minsk so that an opponent of the government could be arrested.
The government essentially fabricated a lie that a bomb threat was received for the flight, all with the goal of convincing the pilots to divert the plane in order to arrest someone. The international community came down hard on Belarus for this, and the national airline started to be banned from the airspace of several countries.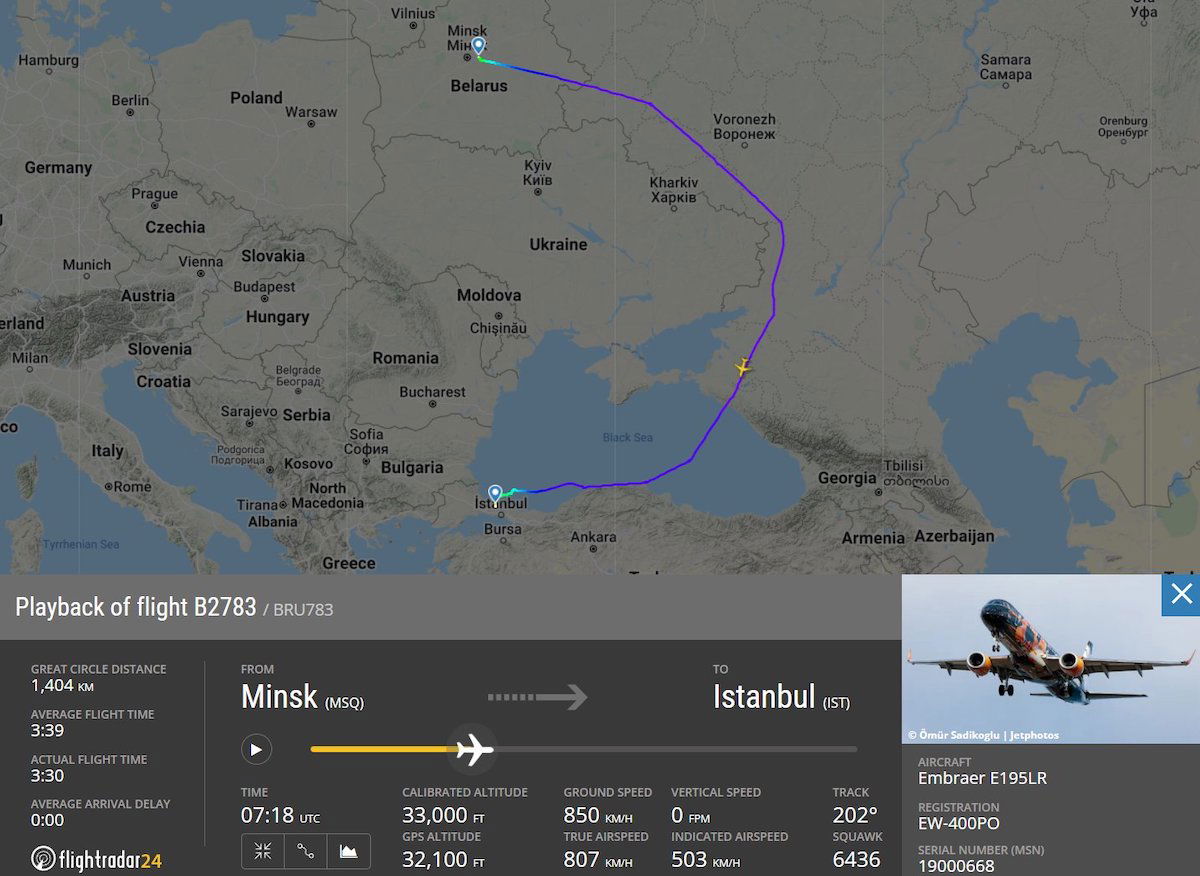 Now Belavia's Istanbul flight is nearly six hours
Belavia's flight from Minsk to Istanbul has just become even longer, to the point that the airline is having to fly a bigger plane in the market in order to have sufficient range. Specifically, from February 25, 2022, onwards, Belavia's flight from Minsk to Istanbul is taking 5hr45min or more. Why?
The airline is now not only avoiding Ukrainian airspace, but is also avoiding airspace in Western Russia, as so many airlines are, due to the risks. Even though Belarus is an ally of Russia, there's a lot of military movement in the area, and commercial planes are avoiding the region.
Just take a look at that routing. Again, the direct air distance here is 872 miles, while yesterday this flight covered an actual distance of 2,779 miles, which is over three times the direct distance.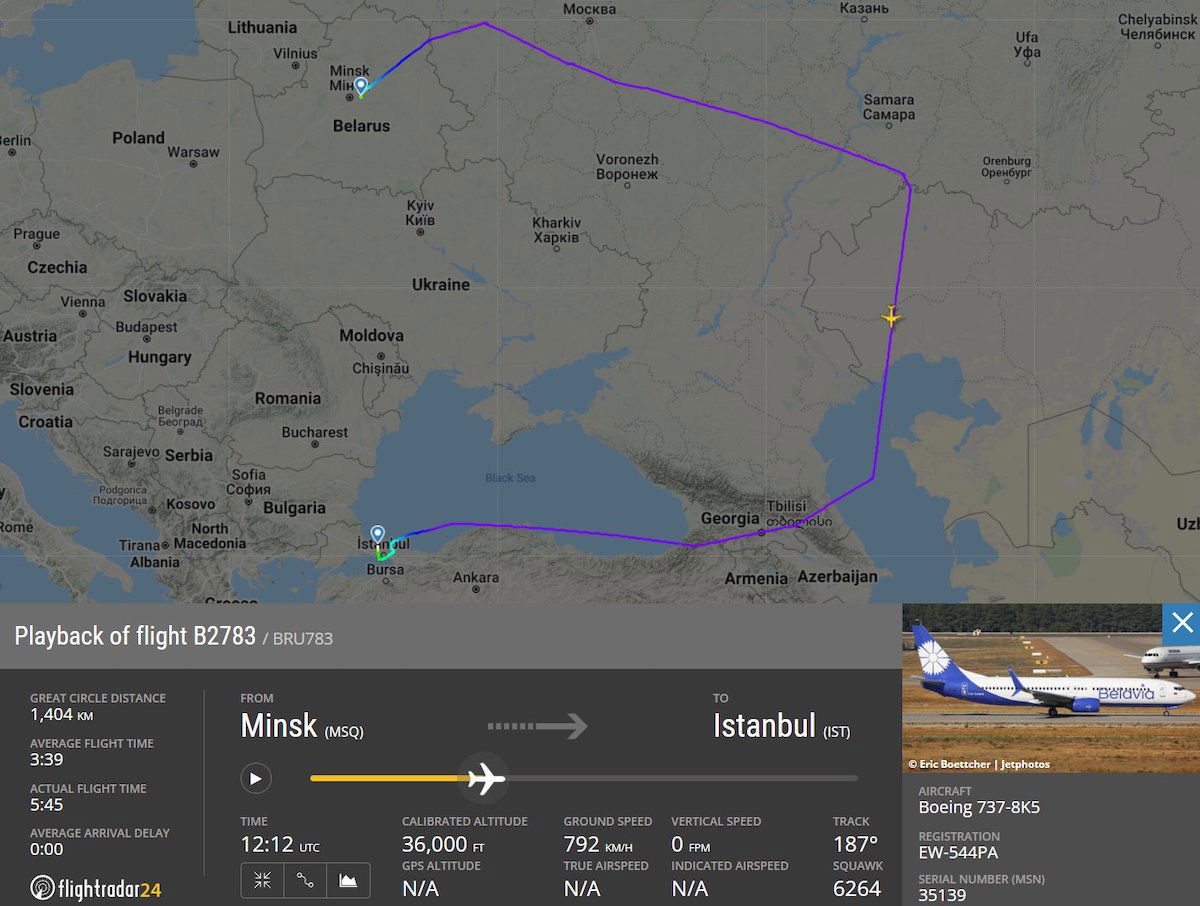 The airline used to operate an Embraer E195 on the route, but is now having to fly a Boeing 737-800, in order to have a plane with enough range.
Over the years we've seen airlines operate all kinds of indirect routings due to diplomatic spats and airspace restrictions. Just look at the Qatar blockade that was in place for several years. However, I don't think I've ever seen a flight operate this indirectly, flying well over three times the direct distance.
I'd imagine at this point there's absolutely no commercial justification for operating this route, as not only is the airline operating such an indirect routing, but it's having to use a bigger plane than before. With Belarus being a close ally of Russia, I suspect this route is more political than profit-driven at this point.
Bottom line
Belavia, the national airline of Belarus, is operating quite a routing between Minsk and Istanbul. The direct distance between the two airports is just 872 miles, and back in the day this route took under two hours.
That flight became roughly 90 minutes longer after the government of Belarus committed aircraft piracy in May 2021. Now the flight has become well over two additional hours longer, as it avoids not only Ukrainian airspace, but also Western Russian airspace. I'm curious to see how much longer this route operates in its current form.
What do you make of Belavia's routing from Minsk to Istanbul?