Yesterday Belarus did something I don't think we've ever seen before (at least not in Europe), where the country essentially hijacked a commercial airliner bound for another country in order to arrest someone. As more details emerge, this situation looks worse and worse, and I hope authorities take this seriously (though unfortunately I suspect this may be one of those "thoughts and prayers" situations).
The basics of what happened yesterday
A Ryanair flight was flying from Greece to Lithuania. One of the passengers is a journalist who is wanted by Belarus' (essentially) dictator for exposing the country.
Based on what we know, Belarus claimed there was a bomb onboard, and the Ryanair pilots were told to divert to Minsk, the capital of Belarus. At this point the pilots were closer to Vilnius than Minsk, and they didn't buy the story, and initially said they wanted to continue to their destination. However, Belarus then deployed a fighter jet to essentially force the plane to land in Minsk.
When the plane landed, authorities arrested the "wanted" passenger, and eventually the plane was allowed to continue to Lithuania.
The gravity and precedent of this situation can't be understated. Aviation is supposed to come with certain freedoms and protections, and the concept of an international flight being hijacked by a government of another country in order to arrest an "enemy" of the government can't be tolerated.
Think of the implications here — could a flight from the United States to Japan that flies over Russia be forced to divert by the Russian government if there's an "enemy" onboard, or could a flight from Germany to Thailand that flies over China be forced to divert by the Chinese government if there's an "enemy" onboard?
Ryanair's evolving response to this situation
Last night Ryanair issued an official statement about what happened to this flight, which was downright offensive (given that we already knew most of the details):
The crew on a Ryanair flight from Athens to Vilnius today (May 23) were notified by Belarus ATC of a potential security threat on board and were instructed to divert to the nearest airport, Minsk.

The aircraft landed safely and passengers were offloaded while security checks were completed by local authorities.

Nothing untoward was found and authorities cleared the aircraft to depart together with passengers and crew after approx. 7hrs on the ground in Minsk.

Ryanair has notified the relevant national and European safety agencies and we apologise sincerely to all affected passengers for this regrettable delay, which was outside Ryanair's control.
REALLY?! Just conveniently gloss over the whole fake bomb threat and a passenger being arrested? If you're not going to be honest, just don't issue a statement.
Fortunately Ryanair's statement this morning is a bit more reasonable:
Ryanair condemns the unlawful actions of Belarusian authorities who diverted Ryanair's flight FR4978 to Minsk yesterday (May 23), which was an act of aviation piracy.

This is now being dealt with by EU safety and security agencies & NATO. Ryanair is fully cooperating with them and we cannot comment further for security reasons.
That's the correct response. It's one thing if Ryanair felt like it didn't initially have all the info, but the initial statement was downright inaccurate.
Ryanair CEO Michael O'Leary is one of the most outspoken guys in the airline industry, and this morning he has called this a "state-sponsored hijacking, state-sponsored piracy."
He also stated that he believes there were KGB agents on the flight as well, who were also offloaded. That's another interesting element to all of this — if that's the case, clearly the government had been plotting this, which makes you wonder who revealed the guy's travel plans.
Some airlines are avoiding Belarusian airspace
It looks like some airlines are starting to avoid Belarusian airspace.
For example, Wizz Air flight 6285 from Kyiv to Tallinn made a significant detour to avoid Belarusian airspace, which added over 30 minutes to the flight time.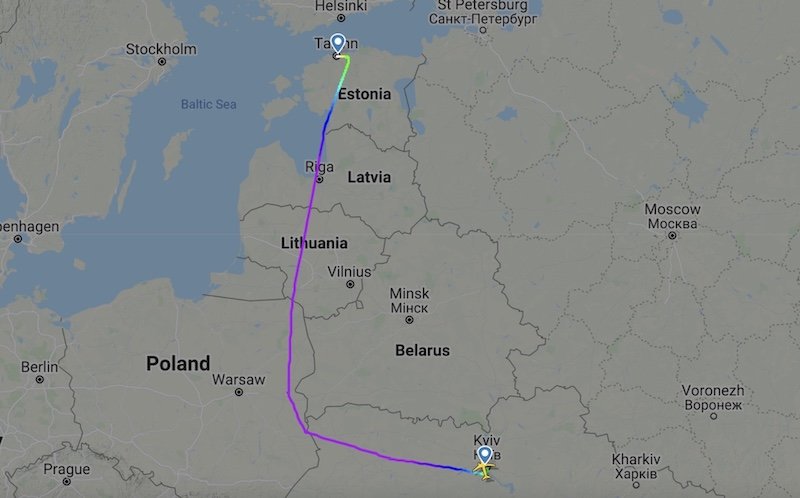 Ironically Ryanair is continuing to use Belarusian airspace. For example, look at Ryanair flight 3340 from Pafos to Tallinn.
This is despite the airline accusing the country of having just committed a state-sponsored hijacking against one of its planes. I guess it's actually not that ironic — there's nothing Ryanair loves more than money.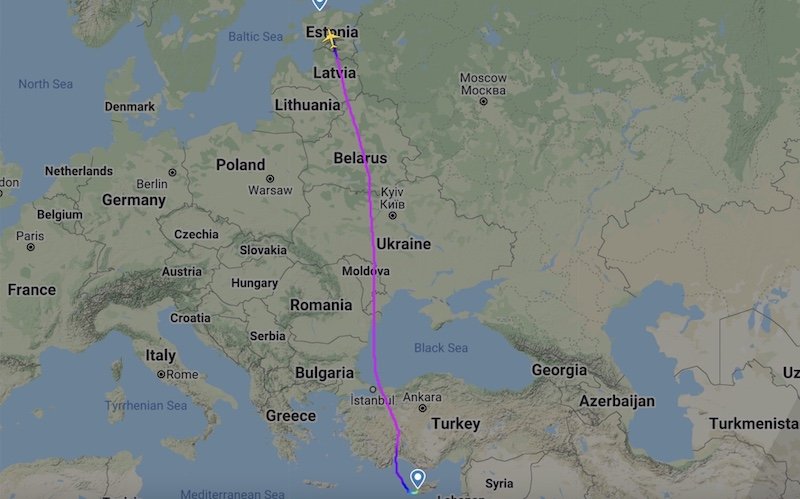 Bottom line
Ryanair's CEO is finally calling this Minsk diversion and fake bomb threat exactly what it is — state-sponsored terrorism. That's a much fairer description of the situation than Ryanair's official statement last night.
Here's to hoping that aviation authorities and airlines take action against Belarus. Unfortunately I'm not too confident justice will be served here.
What do you make of this situation, including Ryanair's response? What actions do you think aviation authorities should take against Belarus?