Hello from Kuala Lumpur! After an Air Canada Rouge flight from Tampa to Toronto, EgyptAir business class flight from Toronto to Cairo, an amusing transfer at Cairo Airport, a Royal Jordanian business class flight from Cairo to Amman, and a brief visit to Amman, I flew Royal Jordanian's 787 business class on the 8hr20min flight from Amman to Kuala Lumpur. As usual, I wanted to share my initial impressions, though a more detailed trip report will follow.
Royal Jordanian's 787 business class features a total of 24 seats B/E Aerospace Diamond seats (the same seats found on Aeroflot, Aeromexico, Air China, Saudia, United, etc.), spread across four rows in a 2-2-2 configuration.
Those are perfectly fine seats, though I think I prefer just standard forward facing business class seats with a decent privacy partition, since there's more room for your feet. Nonetheless I managed to get several hours of sleep.
Royal Jordanian managed to squeeze all 24 seats between the first and second door on the 787-8, so it's one of the tighter 787 premium cabin configurations out there. They manage to do this because there's not really any separation between the second door and the last row of business class, so you feel quite "exposed" when you're seated in row four (as I was).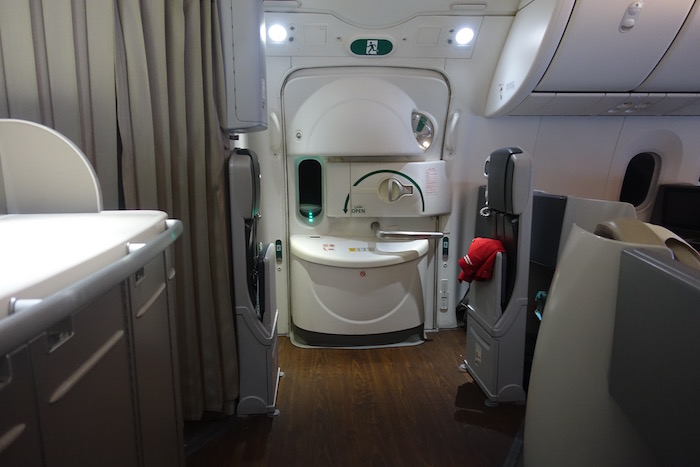 Initially I was the only person booked in business class on the flight (other than the air marshal across from me), though economy was way oversold, meaning there were about 20 operational upgrades.
The food in business class was quite good, especially when you consider that the flight left at 1:30AM. There was a full dinner service after takeoff.
It started with a selection of appetizers (mostly salmon) and salad. That was the disappointing part of the meal, as I wish they'd have more local food.
Then there was a cart with the main courses, which were served directly at the seat. I love this style of presentation, as it reminded me a bit of Air India first class. The quality of everything was great as well, including farfalle pasta, shrimp stew, chicken dijonnaise, and pepper steak.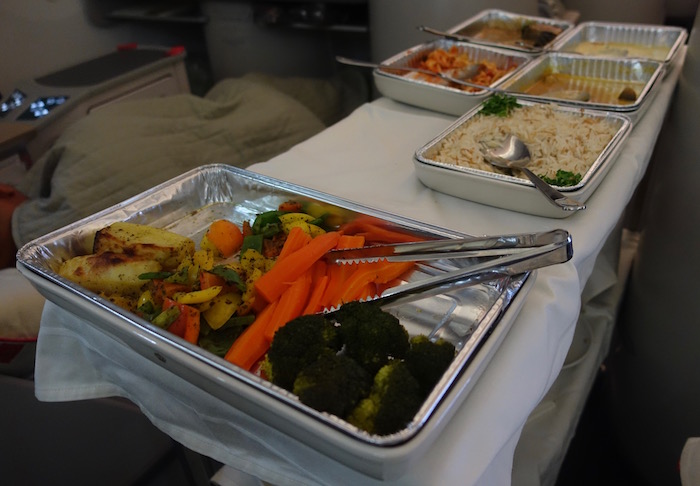 Desserts were similarly rolled around on a trolley, and at least they were local. I had baklava and "Arabic ice cream" wrapped in pistachios. Both were excellent.
Then breakfast was served before landing, which was pretty basic. I don't mind them having a small breakfast given that the flight isn't that long, I just wish it weren't primarily bread.
The crew on the sector was friendly in a way that seemed authentic. That's to say that they weren't over the top professional or attentive, but they were polite, did everything with a smile, and when I said "thank you" it was returned with "you're welcome."
As far as the amenities go, the business class amenity kit was fairly basic, and had body lotion from Aigner. The pillow was comfortable, while the blanket was a bit scratchy.
While there wasn't wifi, I found the movie and TV show collection to be pretty decent.
Perhaps the most interesting aspect of the flight were the passengers. A lot of people seemed to be coming back from their pilgrimage (going via Amman seems like the long way to go, but perhaps the fares were the best), which means you had a lot of people who probably had never been on a plane before.
The state of the bathrooms was horrible. People wouldn't close the bathroom door and then would go number two and not flush. That happened multiple times, and that's just in the business class cabin. Then they'd use water to "clean" themselves, so the entire lavatory floor was wet and smelled horrible. I understand there are cultural differences at play here, but I just wish they could have at least flushed. I entered the restroom several times, only to find it full of number two. Ugh.
All-in-all I had a good flight on Royal Jordanian. I don't love the B/E Aerospace Diamond seat, which is probably my biggest complaint, especially as Royal Jordanian has a fairly "exposed" configuration due to the number of seats they have between doors one and two.
Still, I'd certainly consider flying Royal Jordanian again, and they actually exceeded my expectations. Amman Airport is also fantastic, as I'll be talking about in a future installment. I wouldn't hesitate to fly Royal Jordanian between North America and Amman if the cost were right (be it in miles or money).