With news that Iceland is opening to vaccinated travelers from around the world, I wanted to write about a hotel opening that I've been monitoring for years.
Reykjavik EDITION opening summer 2021
While the hotel isn't yet accepting reservations, the Reykjavik EDITION is expected to open in the summer of 2021. For those of you not familiar with EDITION, it's Marriott's modern premium brand. Think of it as a modern take on Ritz-Carlton, aimed at a younger crowd (while still denying Bonvoy elite members breakfast).
The Reykjavik EDITION will be downtown, adjacent to the Harpa Concert Hall. The hotel will feature 253 rooms and suites, and will have a rooftop, nightlife space, signature restaurant, destination bar, and cafe.
Hopefully the Reykjavik EDITION actually opens this summer — I'm starting to get skeptical, given that the hotel isn't yet accepting reservations. The hotel was first supposed to open in 2018, but that timeline has been delayed over and over. As of early last year the hotel was supposed to open in 2020, though it's understandable that the opening may have been delayed.
EDITION is still a small hotel brand, but should see significant growth in 2021 — in 2021 we're supposed to see EDITION properties opening in Dubai, Madrid, Riviera Maya, Rome, Tampa, and Tokyo (a second property).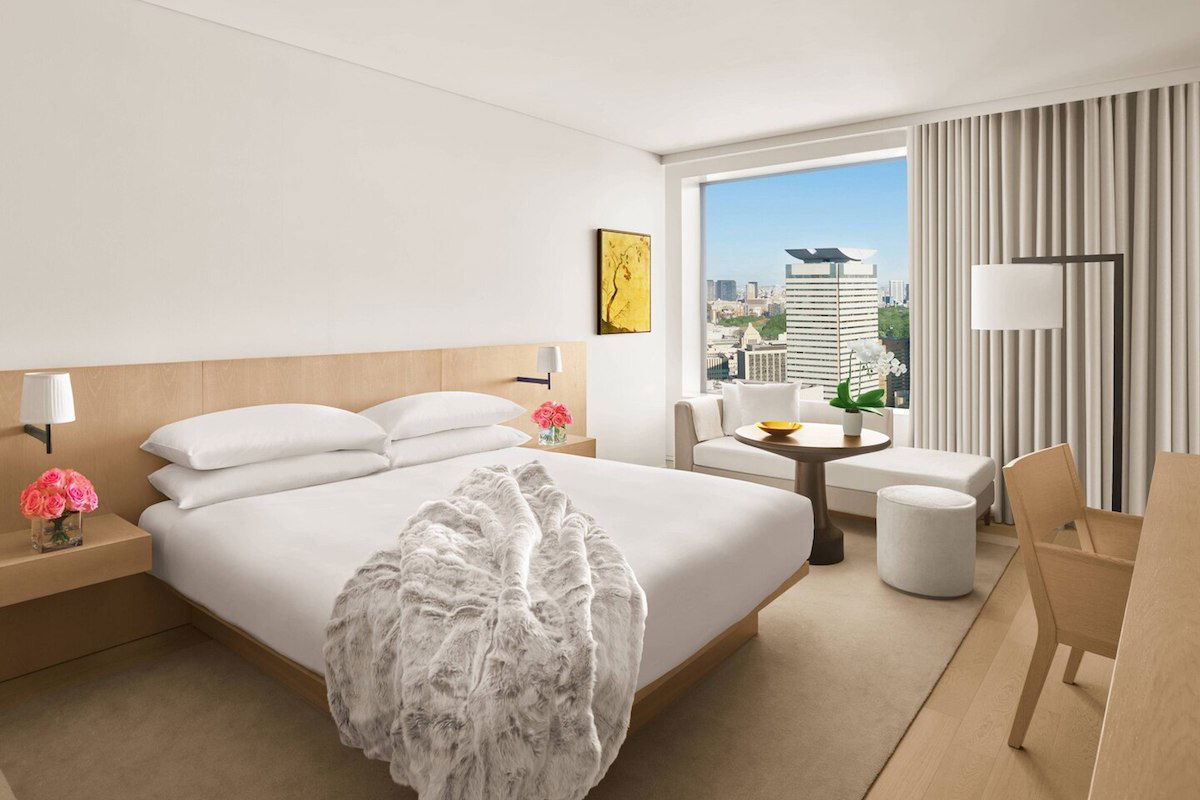 Typical EDITION room design
A unique addition to Reykjavik's hotel scene
Reykjavik is an interesting hotel market for a variety of reasons:
Iceland is an expensive country in general, though there's not much in the way of uber-luxury hospitality (with the exception of places like Deplar Farm and The Retreat at Blue Lagoon)
Reykjavik has seen the opening of all kinds of new hotels, but they're mostly mid-range and upscale, with few luxury options
Iceland has had its ups and downs as a tourist destination — for a while Iceland was overcrowded and saw a huge boom between Icelandair and WOW Air, but with WOW Air having liquidated, air capacity into the country is way down
Even for those who usually value luxury hotels, Iceland is a destination that's all about the outdoors, so not as many people may be willing to splurge for a luxury hotel here as elsewhere
I'll be curious to see what kind of rates the Reykjavik EDITION can sustain. On the one hand, it'll be one of the only true luxury hotels in the city. On the other hand, 250+ rooms is a lot of luxury capacity to add to the market — that's the same number of rooms that the Hilton Reykjavik has.
Reykjavik's current most expensive (and perhaps luxurious?) hotel is Tower Suites Reykjavik, which is a Small Luxury Hotels of the World property that's affiliated with Hyatt. Rates here can be ~$2,000 per night, though the hotel can also be booked for 40,000 World of Hyatt points per night.
The hotel has just eight rooms, all of which are suites, and it's located at the top of the 20 story Hofdatorg Tower. The hotel also has an interesting "invisible service" concept.
Tower Suites Reykjavik room
Suffice to say that this is a totally different kind of luxury than you'll get at the Reykjavik EDITION — Tower Suites is intimate and has huge rooms, while the EDITION will be large and will be a destination even for non-guests.
Bottom line
The Reykjavik EDITION is supposed to open in the summer of 2021, though the hotel still isn't accepting reservations. With Iceland having reopened its borders to more people, maybe this will give the hotel the push that's needed to open ASAP.
It'll be great to have a true luxury hotel in Reykjavik, and I'll be curious to see what kind of rates (in both cash and points) the hotel will command.
What's your take on the Reykjavik EDITION?