In the interest of full disclosure, OMAAT earns a referral bonus for anyone that's approved through some of the below links. These are the best publicly available offers (terms apply) that we have found for each product or service. Opinions expressed here are the author's alone, not those of the bank, credit card issuer, airline, hotel chain, or product manufacturer/service provider, and have not been reviewed, approved or otherwise endorsed by any of these entities. Please check out
our advertiser policy
for further details about our partners, and thanks for your support!
Capital One opened its first airport lounge a few weeks ago, coinciding with the launch of the Capital One Venture X Rewards Credit Card (review) (Rates & Fees). While there were some reports of the lounge being great based on a media preview event, personally I always like to check out a lounge when it's actually in operation, to see what kind of an experience the average guest has. Well, I'm fortunate that I had the chance to check out the lounge this morning.
Let me cut right to the chase — the Capital One Lounge DFW is spectacular, and exceeded my already high expectations. I don't make this claim lightly, but this might be the most thoughtfully designed lounge I've ever been in.
The lounge is physically beautiful, with an innovative food and drink selection, great amenities, and exceptionally friendly service. Oh, and the best part? It's still empty… really, really empty (which is a major issue with Amex Centurion Lounges). While I'm sure crowding will change over time, I'm going to enjoy the heck out of this lounge in the meantime.
How I visited the Capital One Lounge
Kind of funny backstory, just to give some perspective. I've been meaning to visit the Capital One Lounge DFW since it opened, but I just didn't have any trips planned where a layover at DFW was practical.
I was supposed to fly United today through Houston, but my flight was canceled yesterday evening, just 12 hours before departure. I looked online at options, and as it turned out, the only practical itinerary was on American through DFW. I only had an 80 minute connection , and I was flying into and out of Terminal C, but I hustled and spent about 20 minutes in the lounge. I dare anyone to tell me I didn't maximize my time. 😉
How to access the Capital One Lounge DFW
So, who can access the Capital One Lounge DFW? There are several ways to access the lounge, though one will no doubt be most popular:
See my guide to Capital One Lounges for full details on access restrictions.
Capital One Lounge DFW hours
The Capital One Lounge DFW is open daily from 6AM until 9PM.
Capital One Lounge DFW location
The Capital One Lounge is located in DFW's Terminal D, which is the airport's nicest terminal, and also typically used for international flights. All terminals at DFW are connected airside by the Skylink, so you can access the lounge regardless of which terminal you're flying out of (though you'll want to leave some extra time if switching terminals).
The Capital One Lounge is located near gate D22, and shares an entrance with the American Flagship Lounge.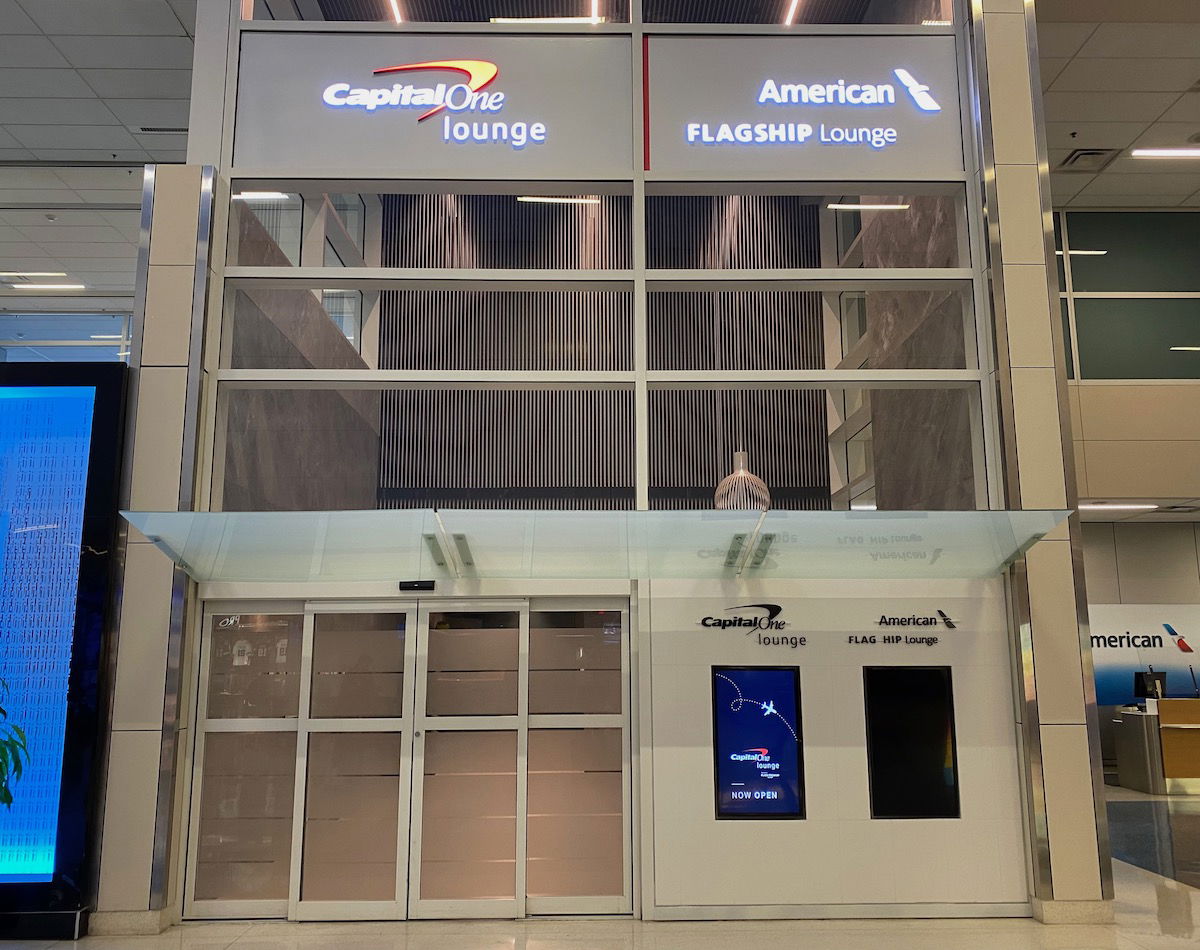 Inside the entrance you'll see a set of elevators at the end of the hall on the right. You'll just have to take those up to the fifth floor (for context, the main terminal is on the third floor, so it's two levels up).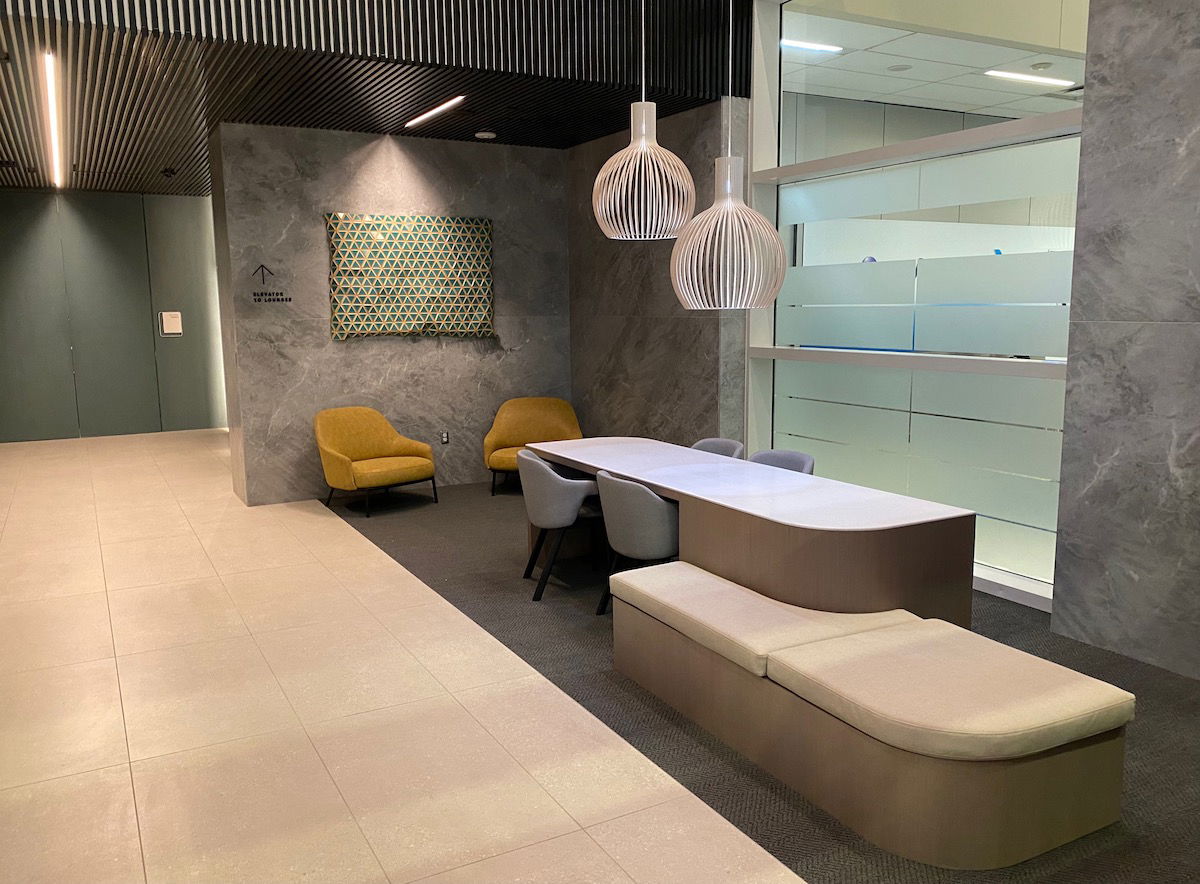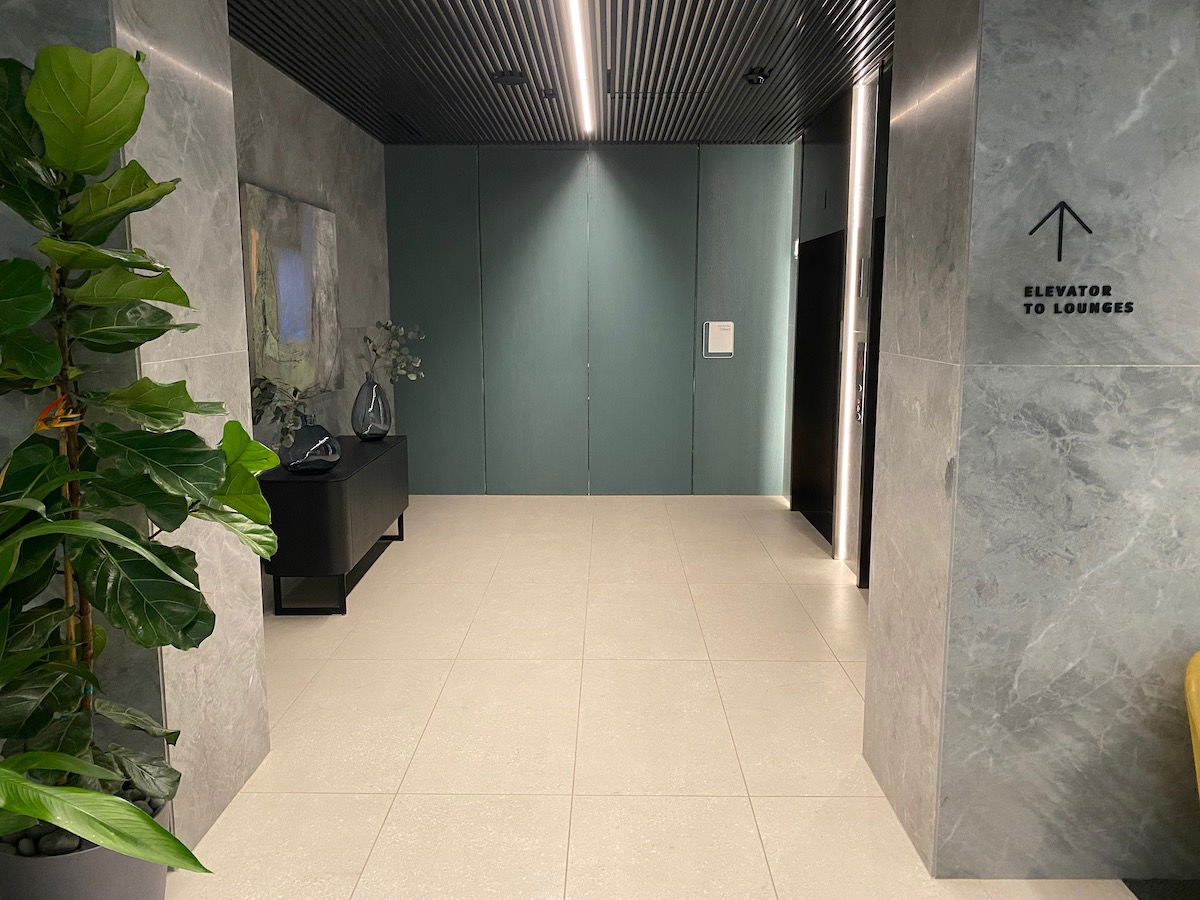 As you exit the elevators, the Capital One Lounge is to the left, while the American Flagship Lounge is to the right.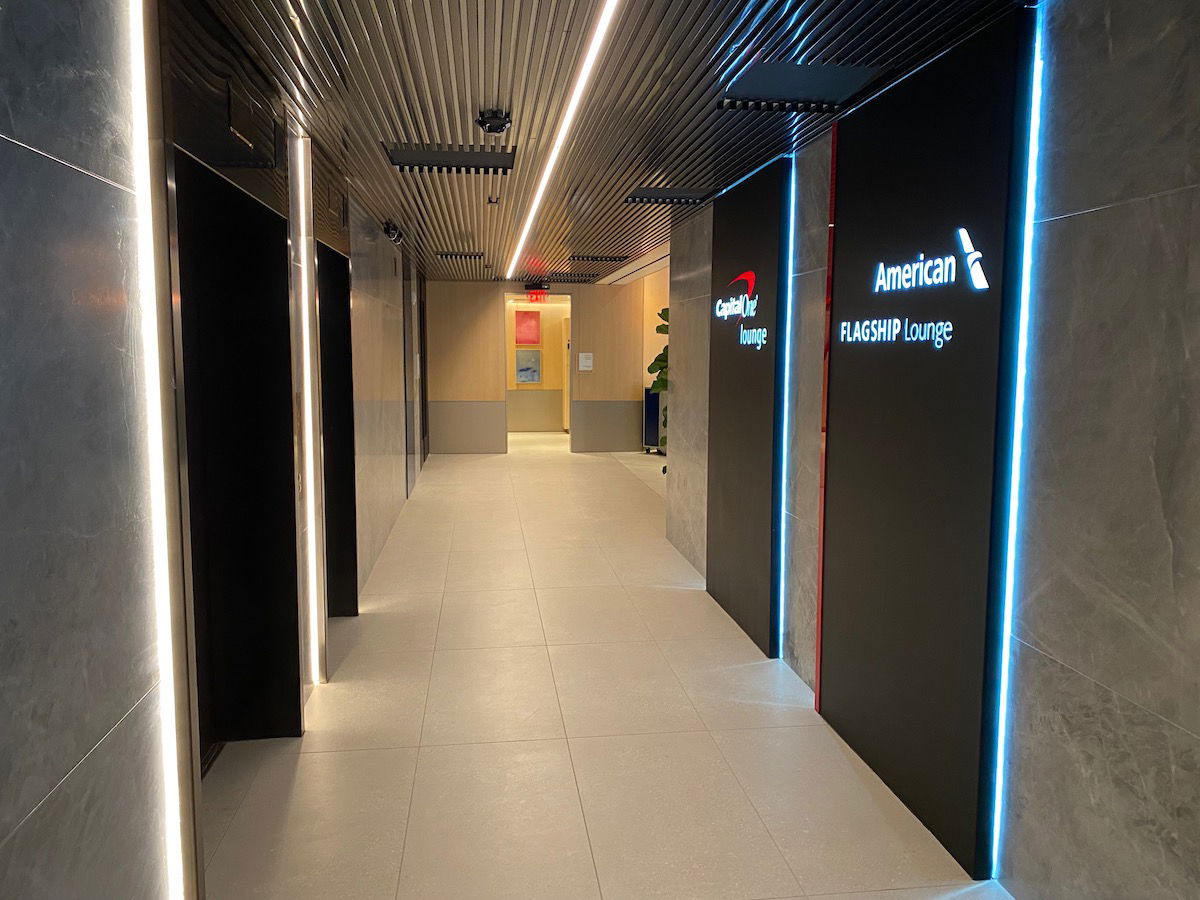 At the reception desk we were greeted by an incredibly friendly employee. I presented my Capital One Venture X and our boarding passes, and we were promptly admitted.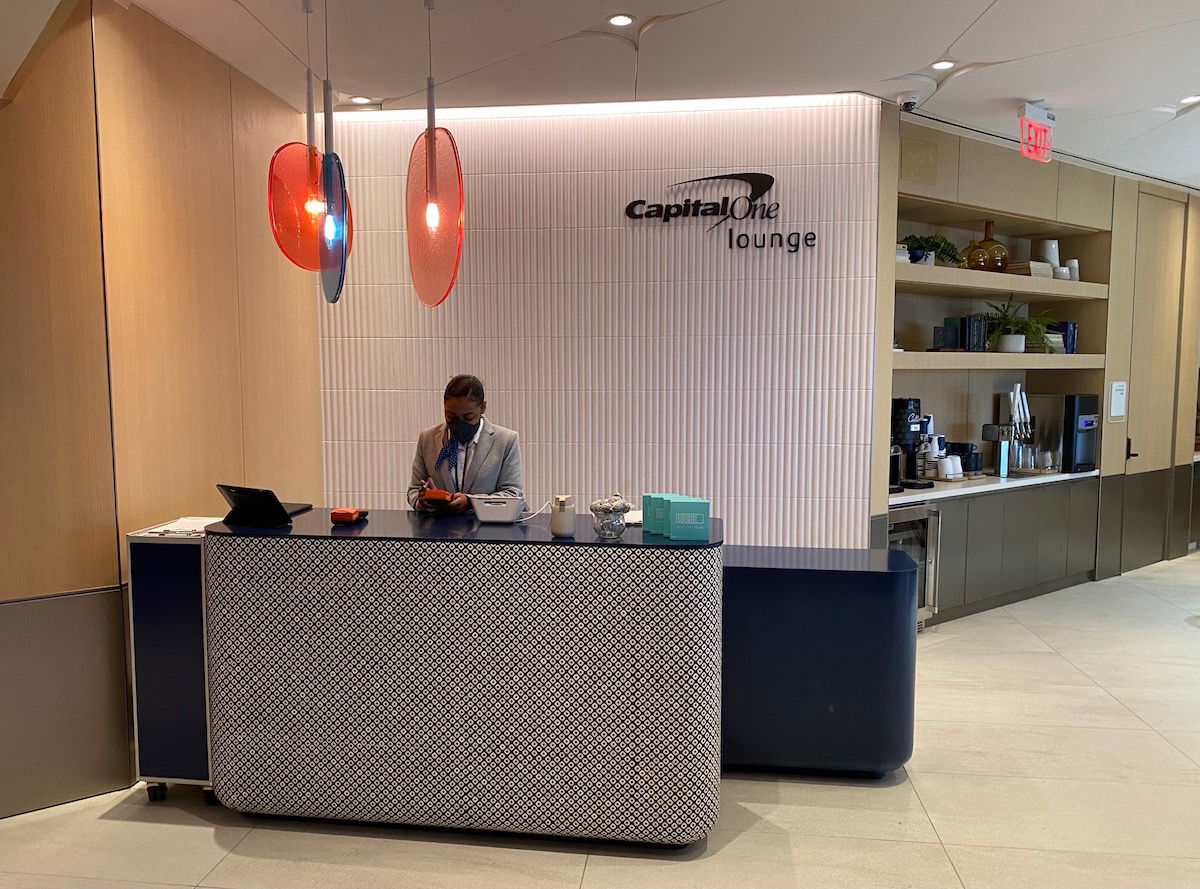 On the desk you'll see that there are a bunch of cake pops that guests can take, with a message saying "thank you for pop'ing in." Hah.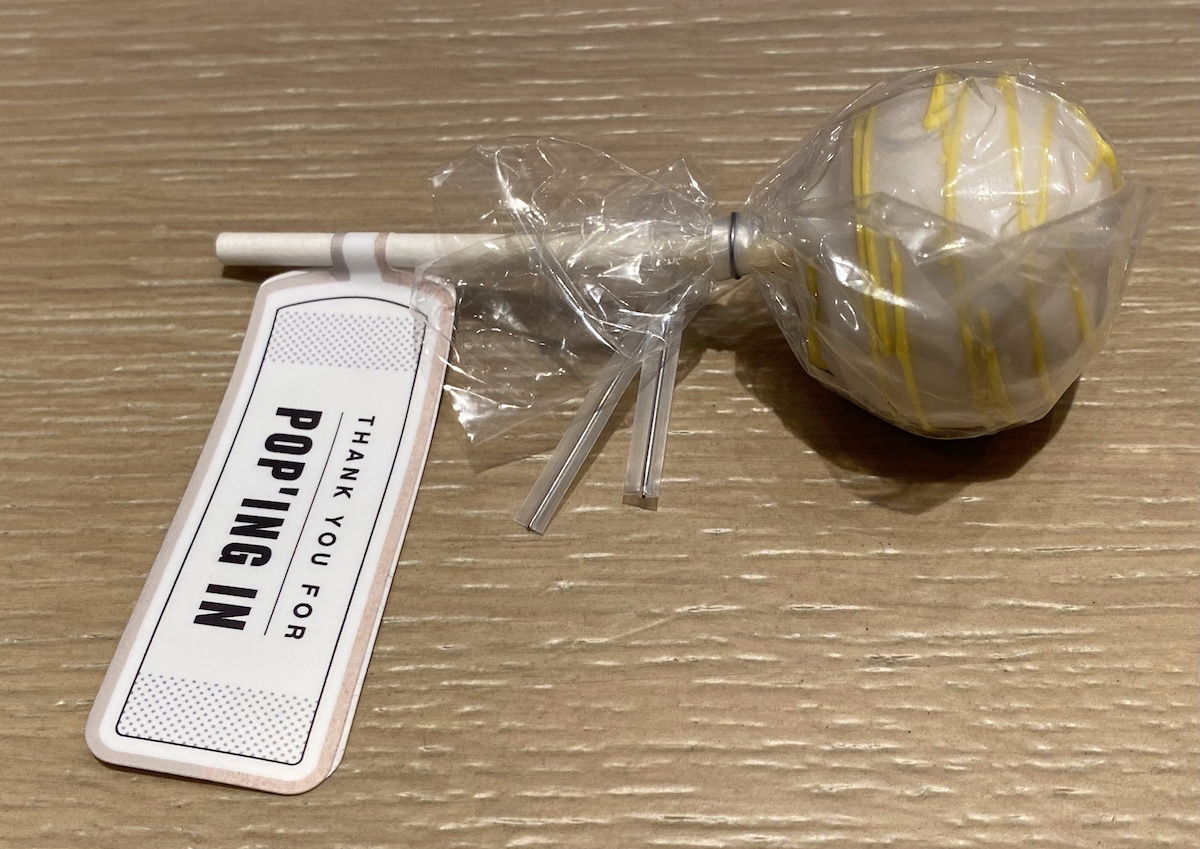 Capital One Lounge DFW layout & seating
The Capital One Lounge DFW is roughly 10,000 square feet, and is split up into several different areas. Immediately inside the entrance to the lounge is a communal table, and that's surrounded by a coffee station and the grab & go selection (I'll talk all about the food & drinks a bit later on).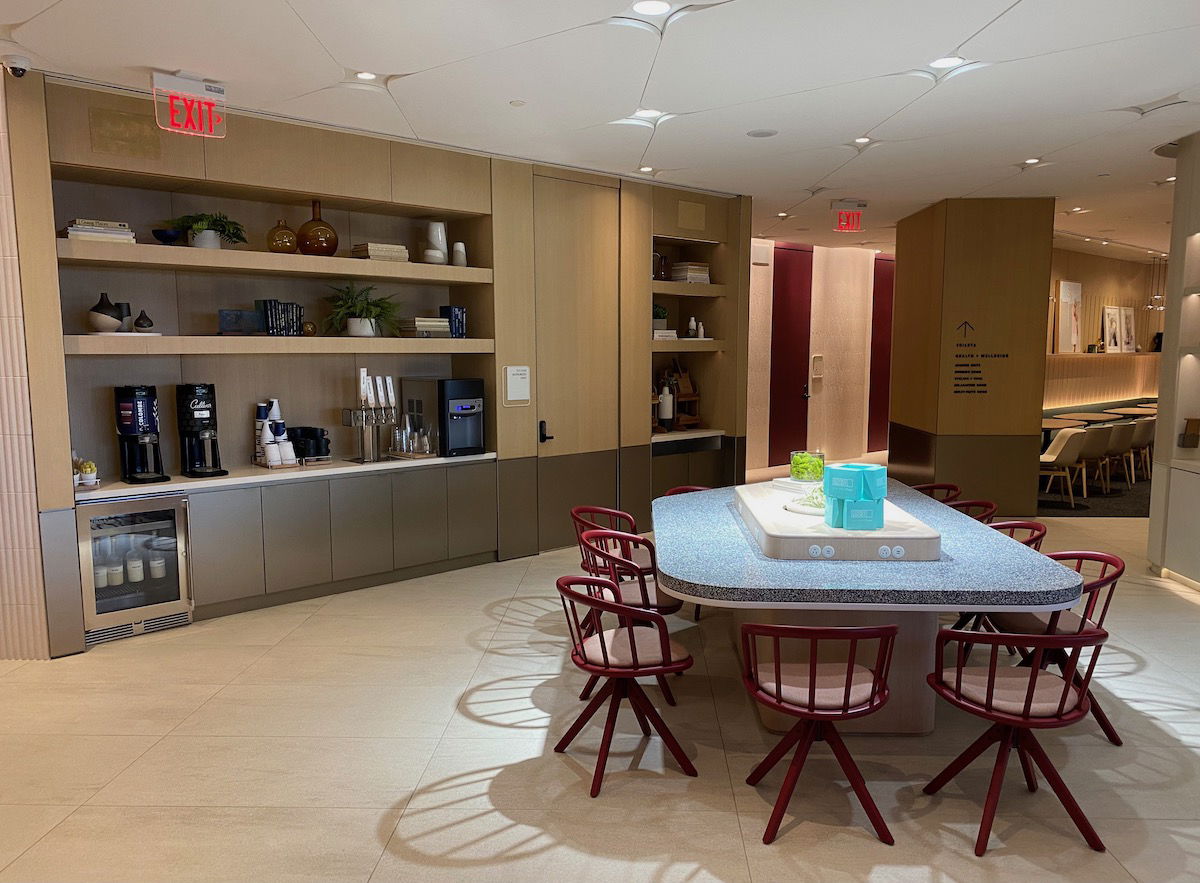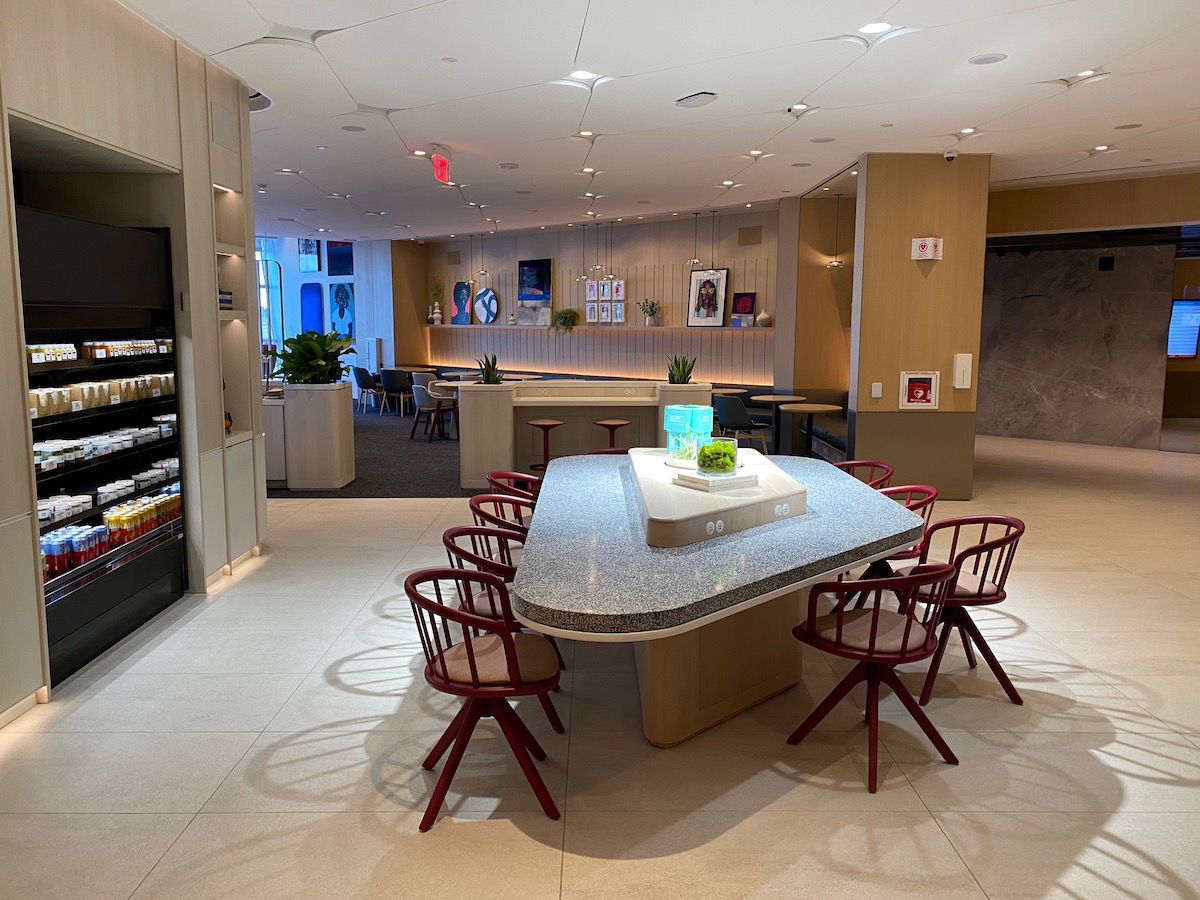 You could essentially walk a circle around the entire lounge. To the right there are a couple of sitting areas. The first area has tables with both chairs and booths. Personally I love this kind of seating, because I find it's much easier to have your laptop out while enjoying some food or drinks when you have a full table, rather than just a side table.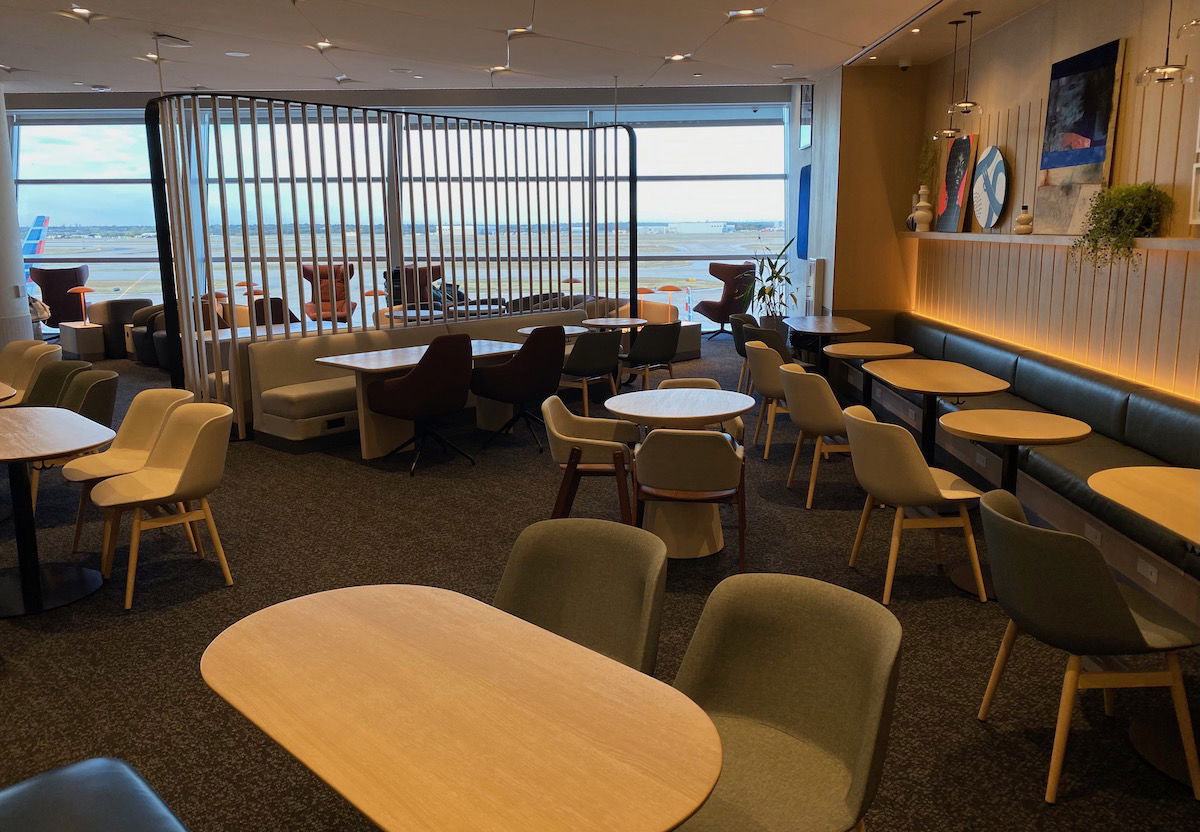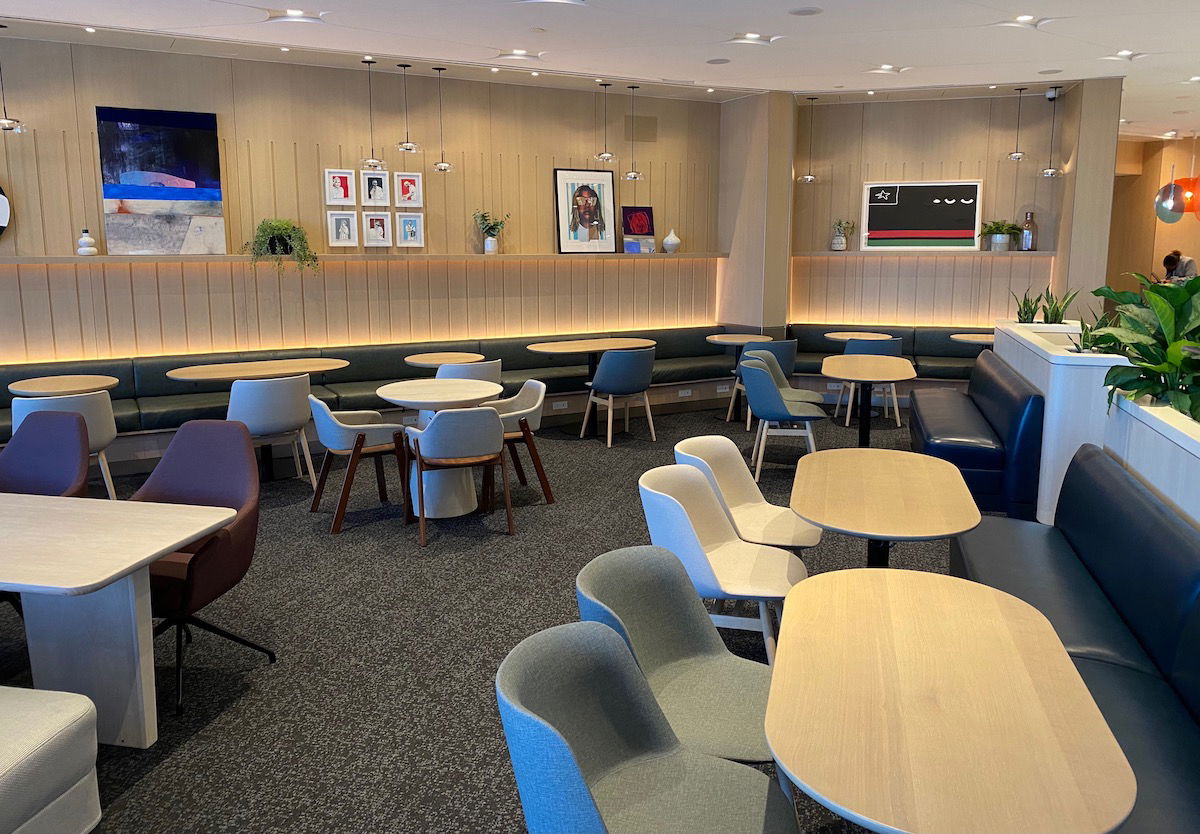 I love the art throughout the lounge, especially on the walls, which adds some personality.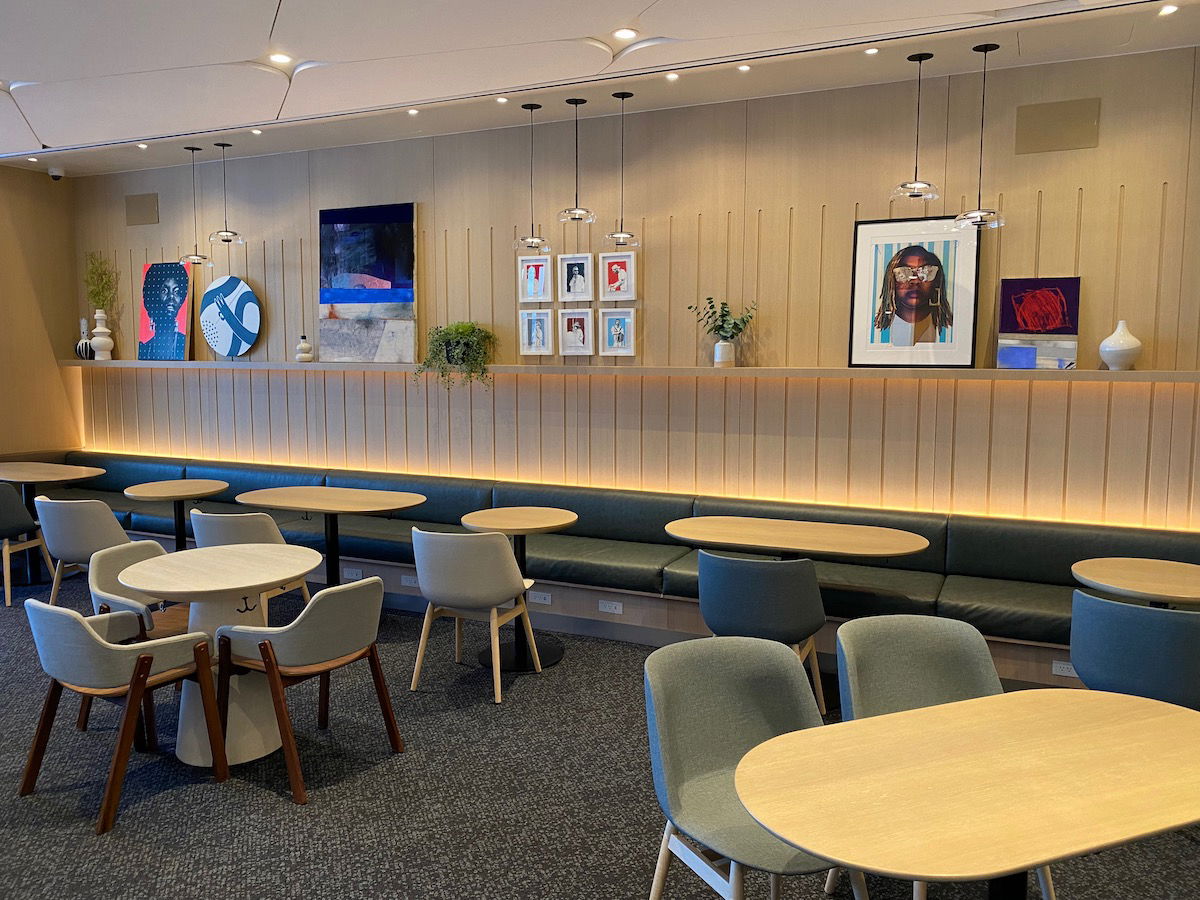 There's a divider separating that sitting area from a more traditional lounge seating area, which includes lounge chairs, as well as some tables with chairs and booths.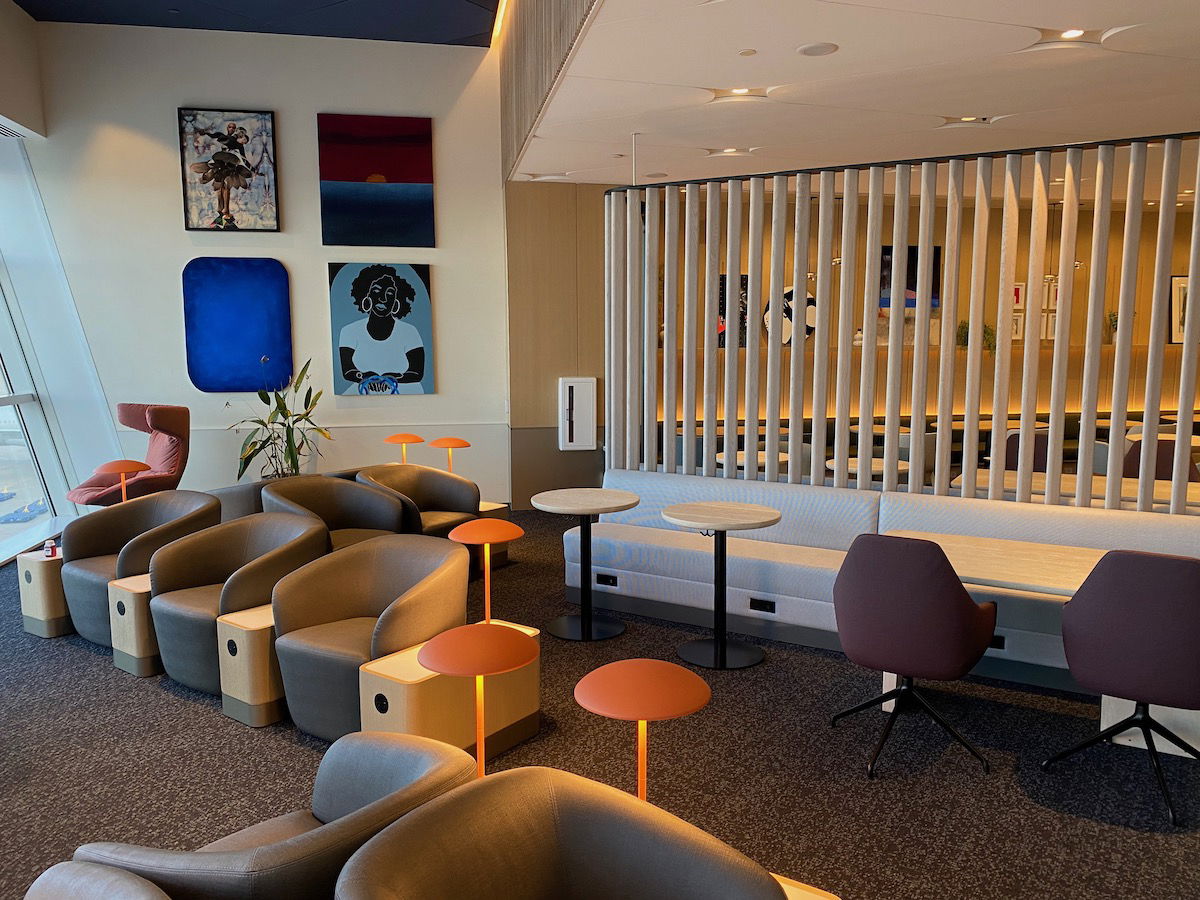 The lounge has floor-to-ceiling windows with incredible views of the apron and runways. You simply can't beat these views, and under normal circumstances there would be tons of 777s and 787s parked here.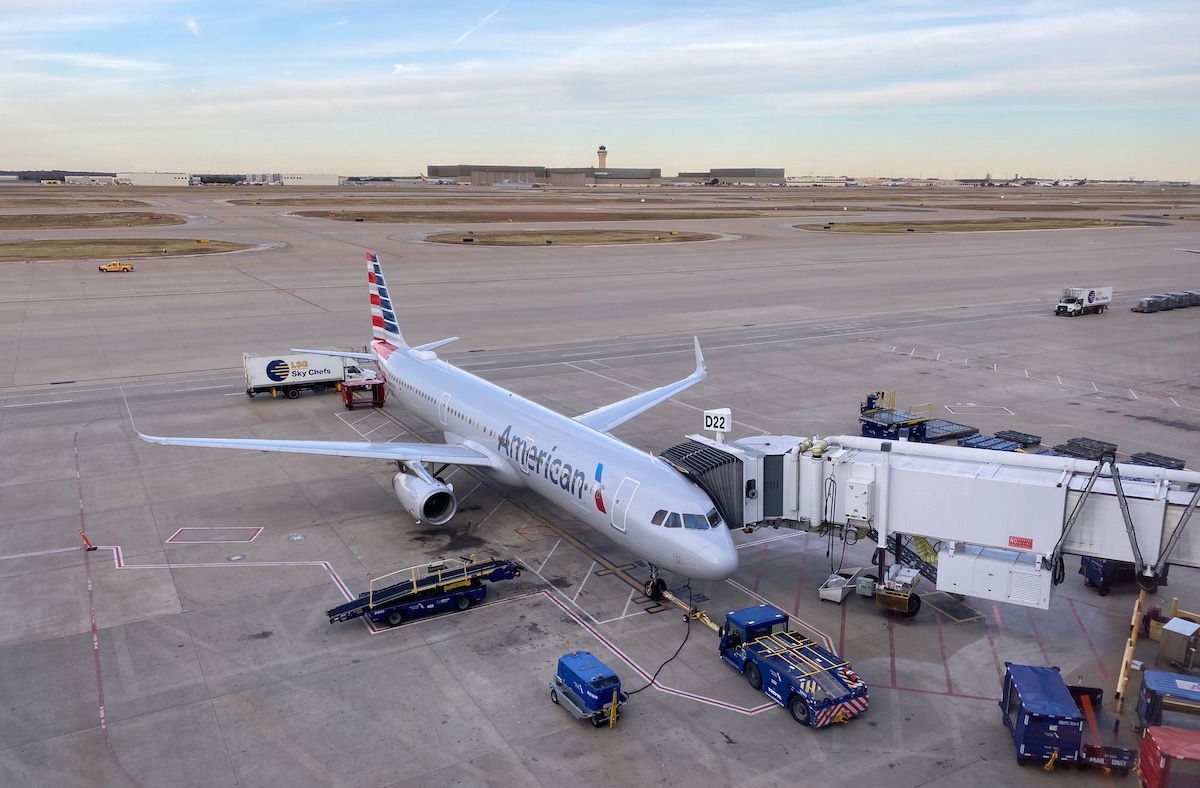 The next section of the lounge is the huge bar area, which has all kinds of seating options. This is probably the prettiest space of the lounge, if you ask me.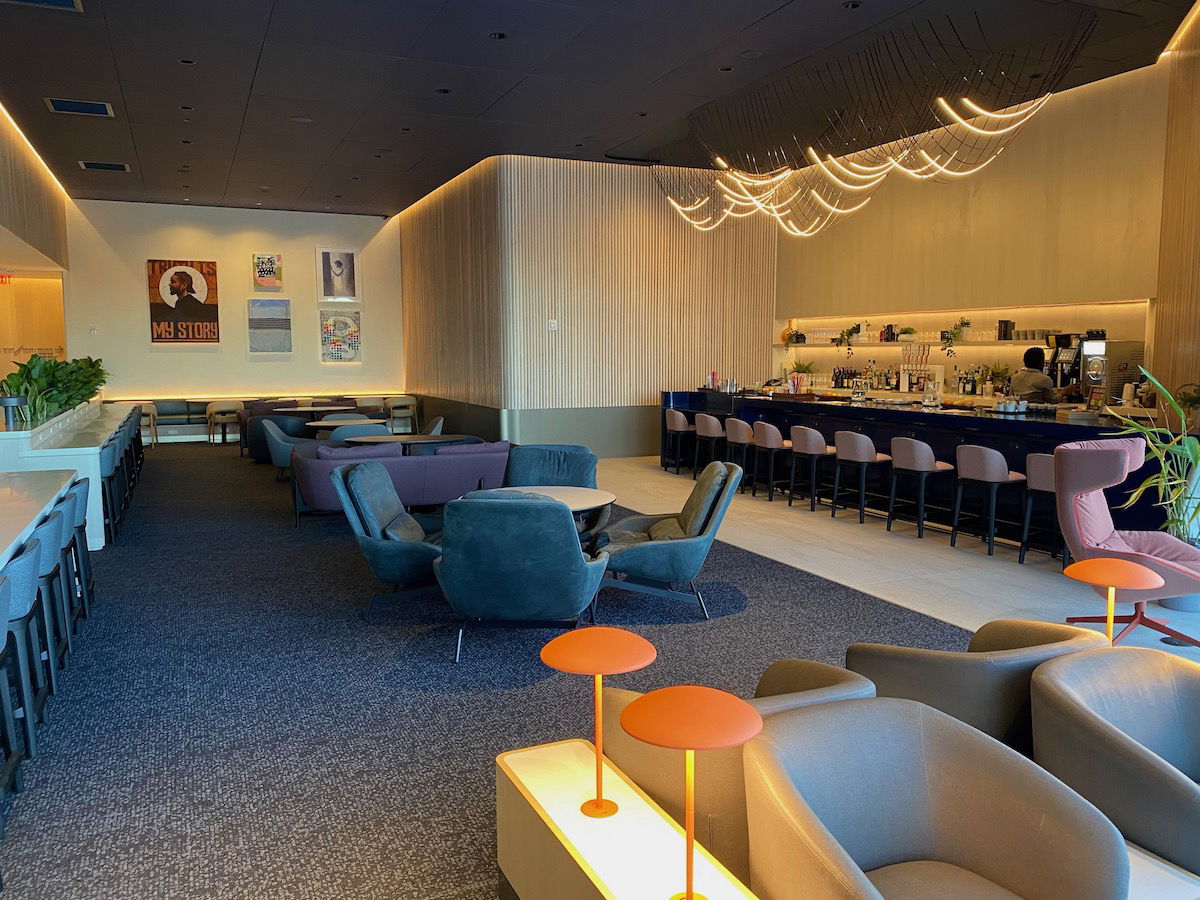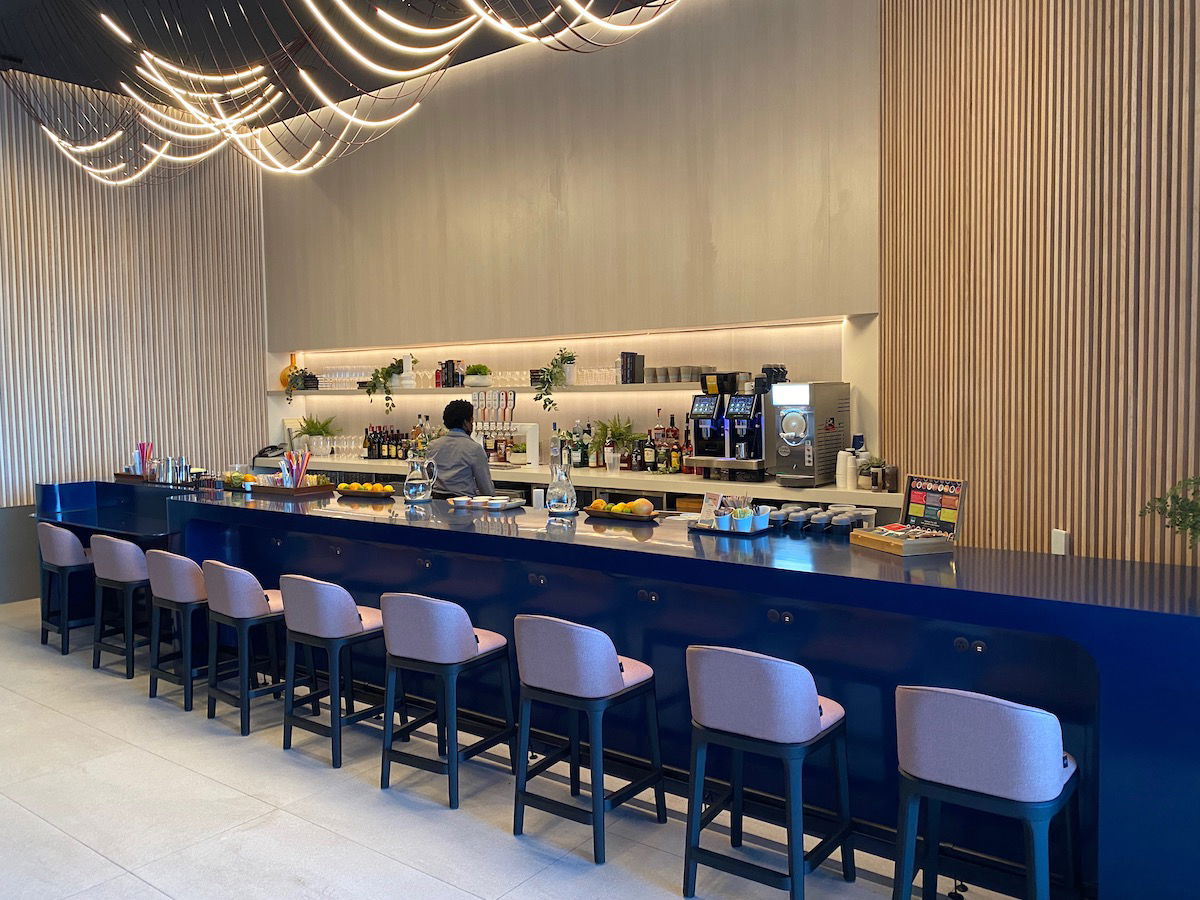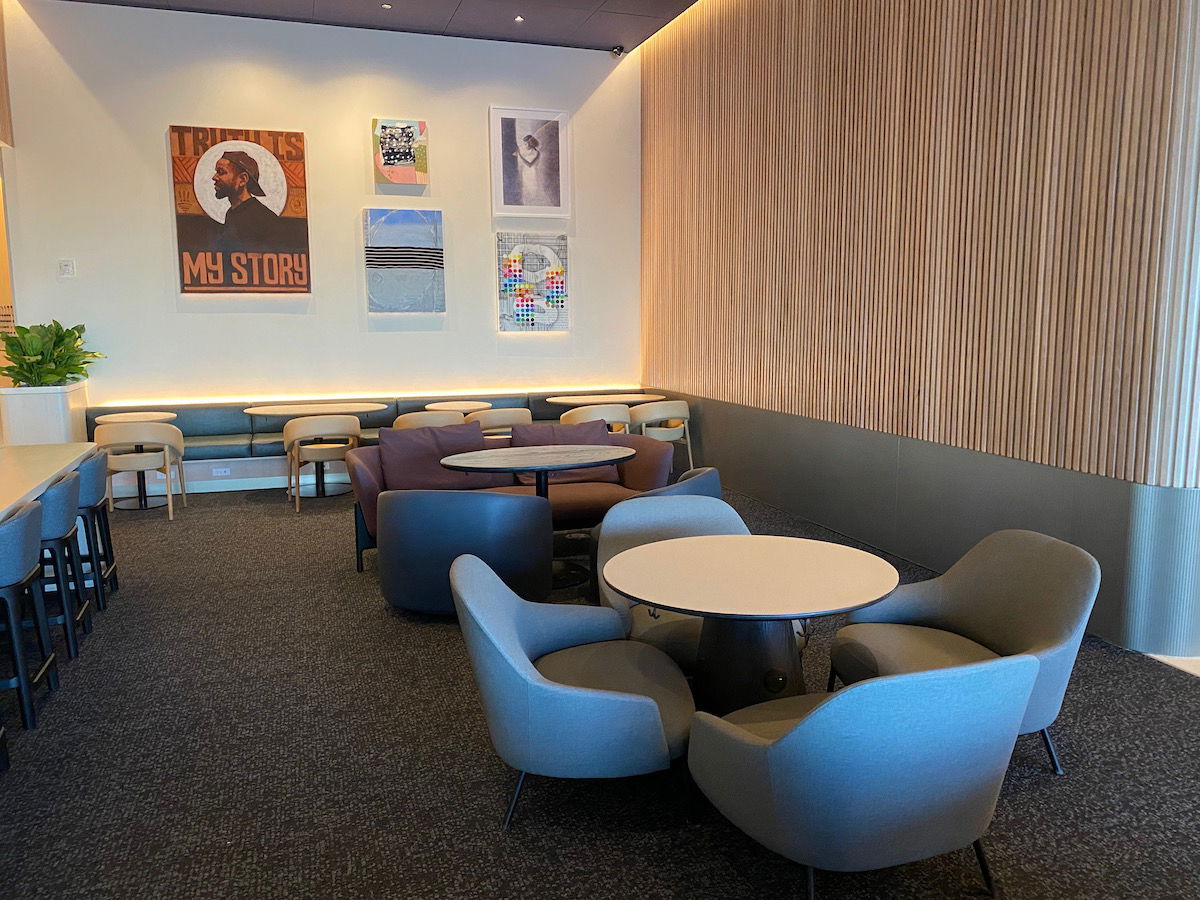 To the side of the bar is the entrance to most of the amenities (toilets, showers, relaxation rooms, the exercise room, etc.), which I'll cover later. As you go back in the direction of the front of the lounge, there's a room with even more seating.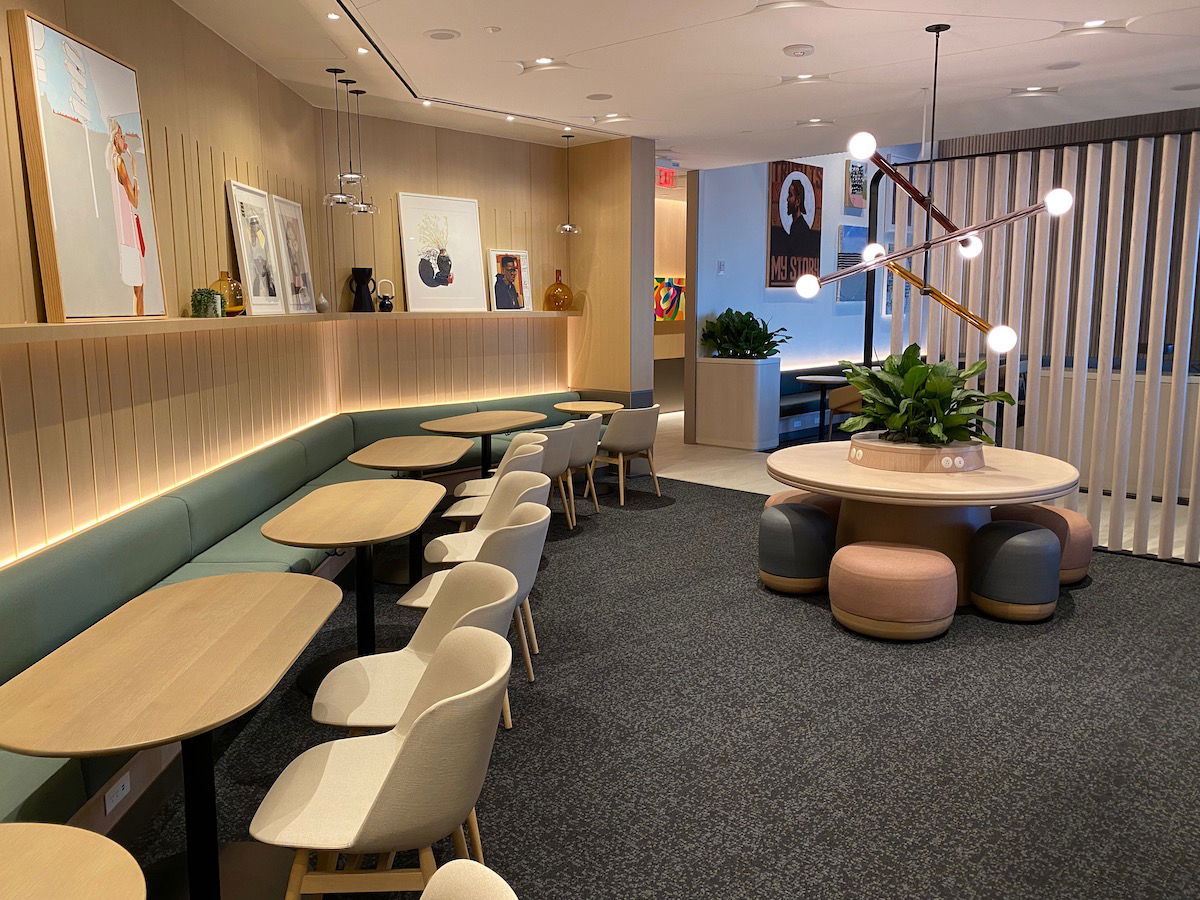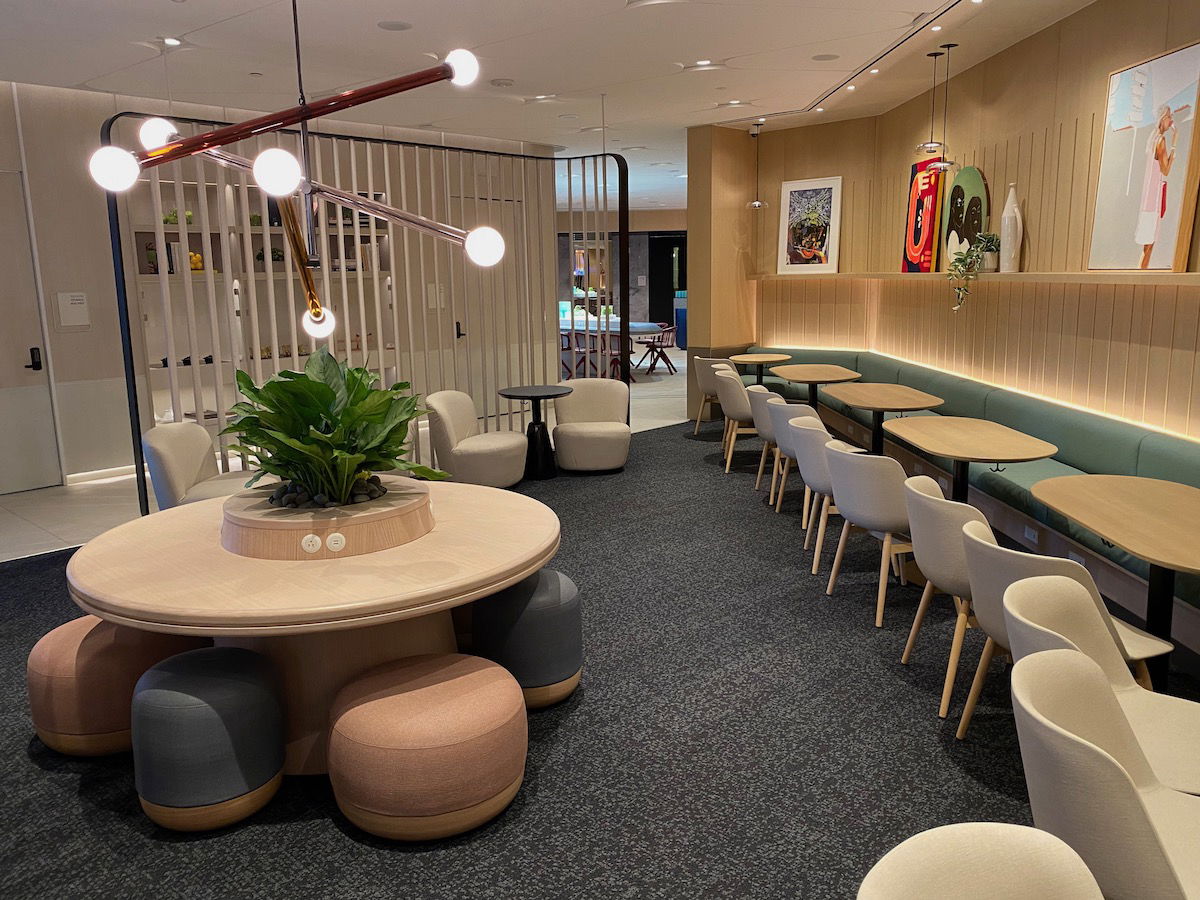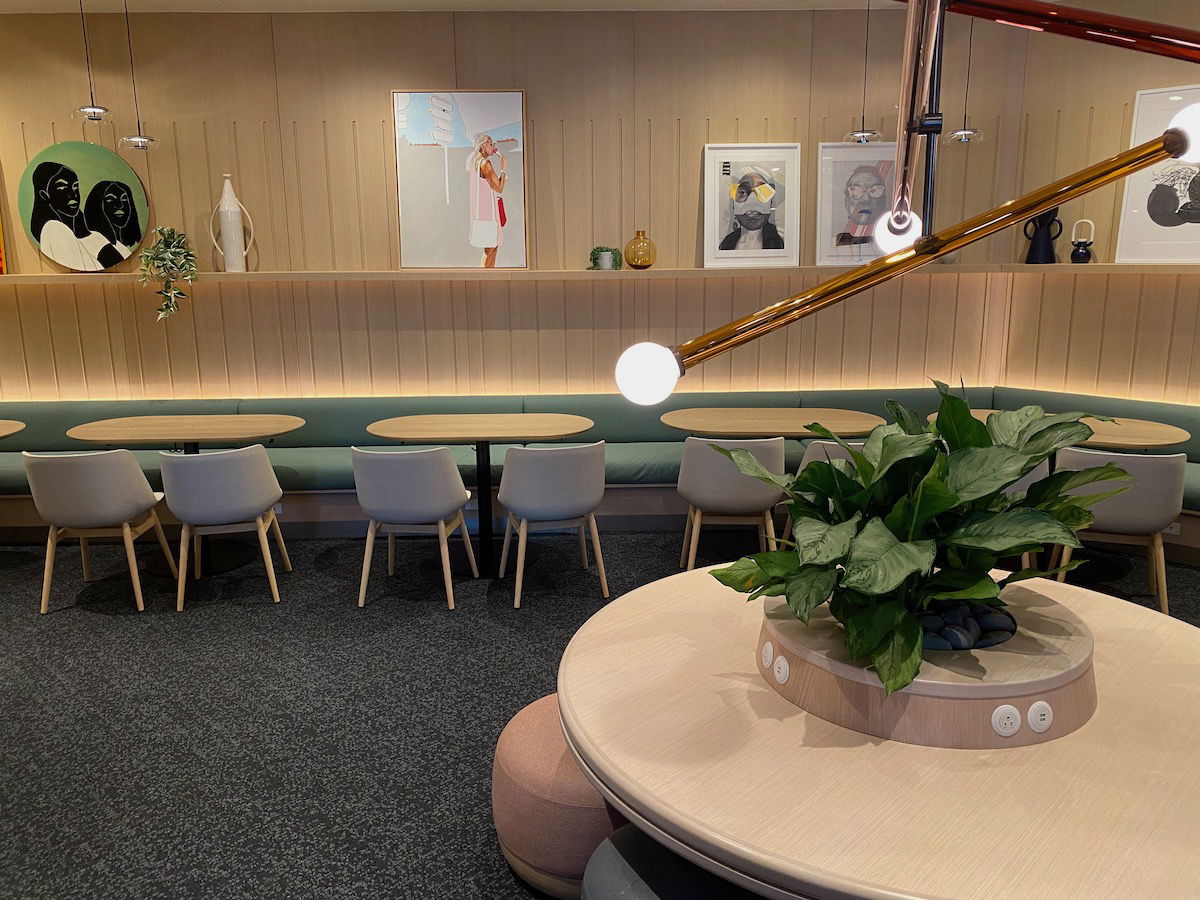 One thing that impresses me is that each seat has an AC power outlet, plus a USB-A and USB-C outlet. Like, literally every seat, even the seating at the bar. I don't think I've ever seen an airport lounge bar with built-in outlets before.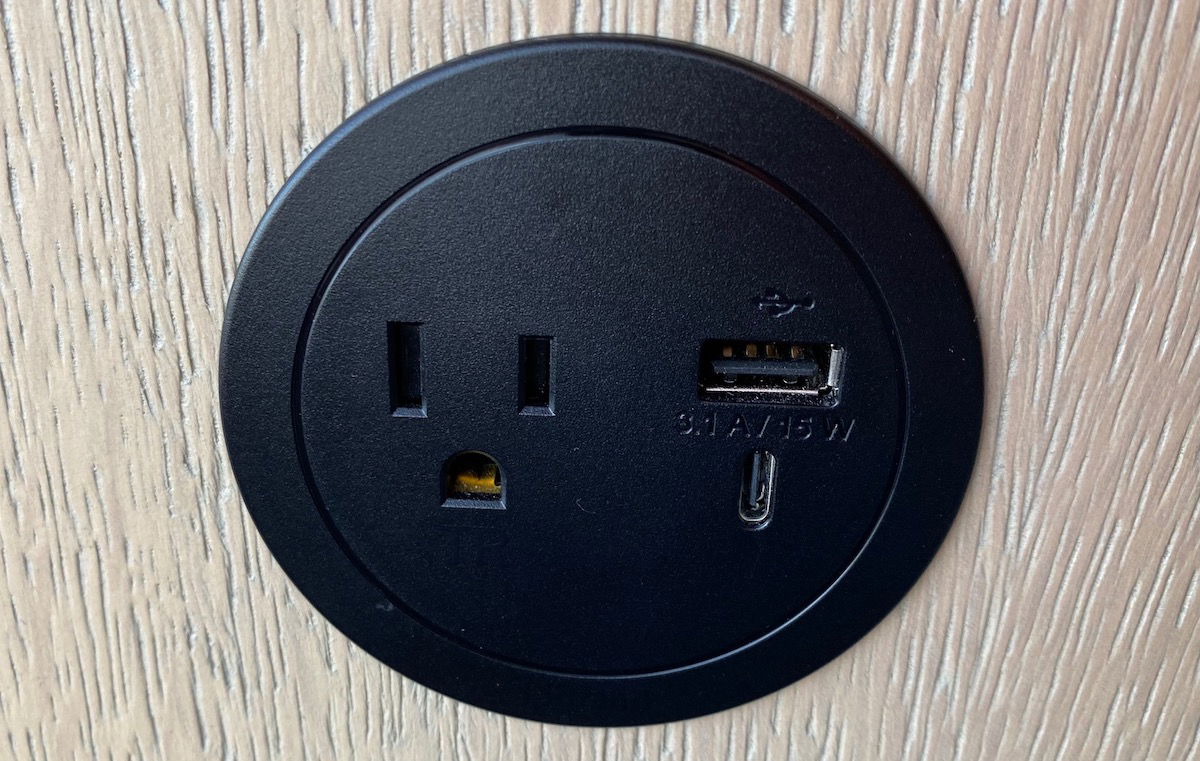 If you walk around the entire lounge, the entire center area with walkways features the food and drink selection, which is quite impressive. The food is basically built into bookshelves, which is a unique design.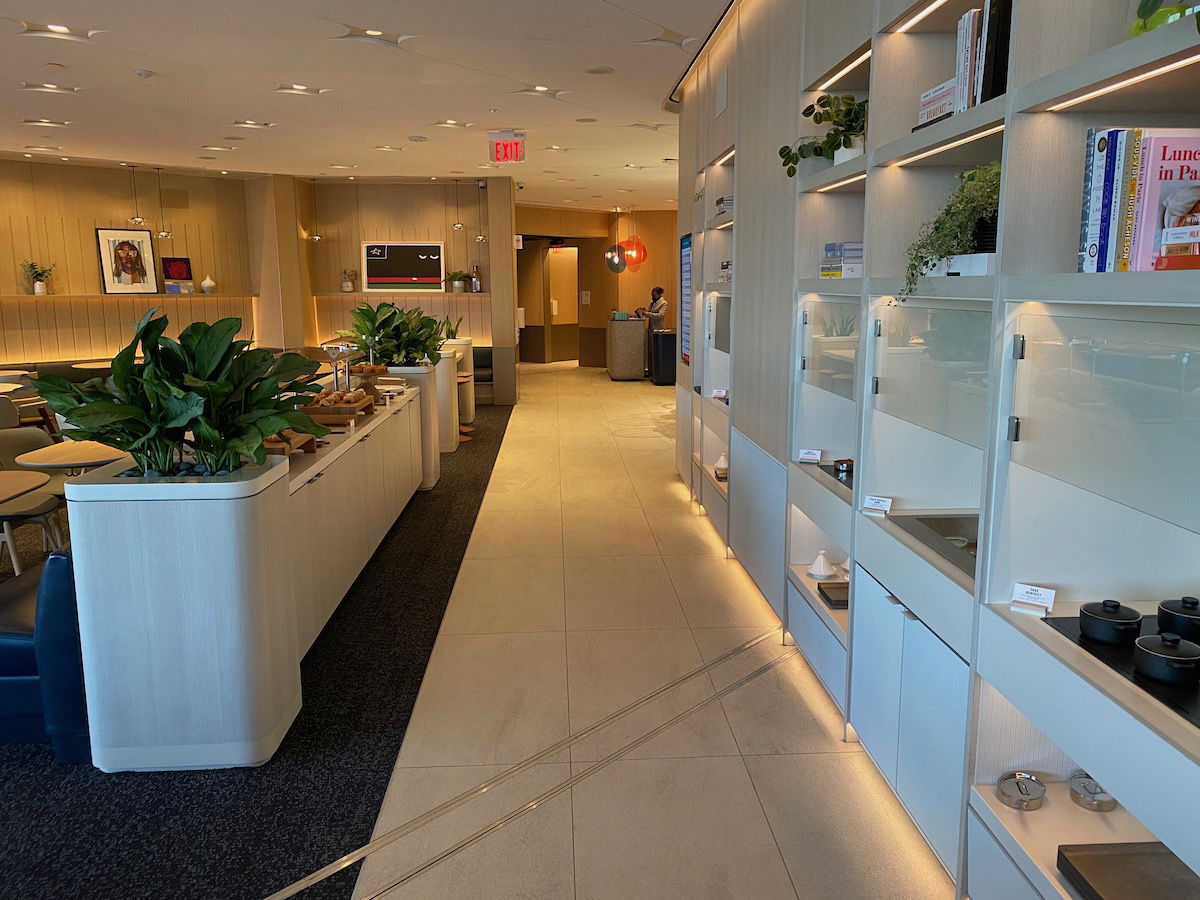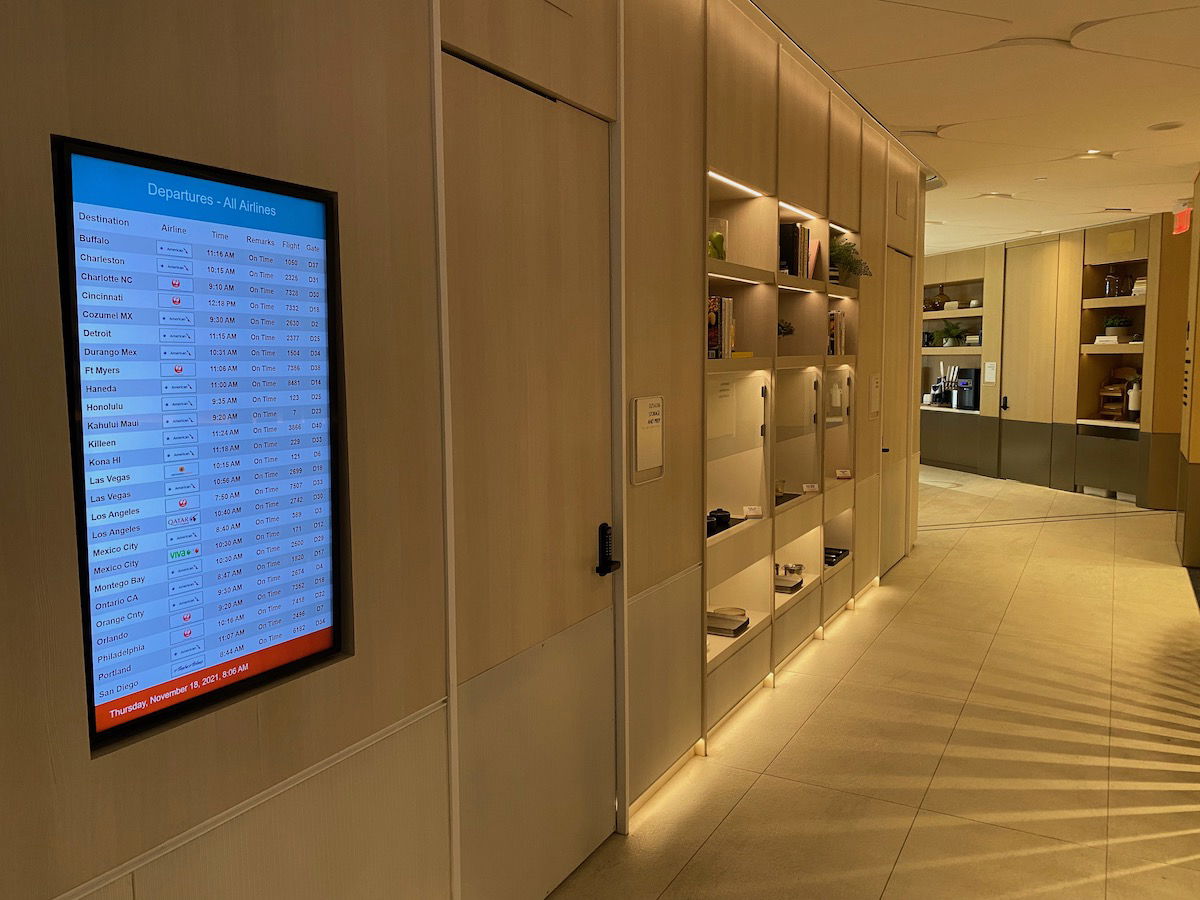 Capital One Lounge DFW food & drinks
Probably what impressed me most about the Capital One Lounge was how unique the food & drink selection was. I feel like so many airport lounges don't actually consider what people enjoy consuming in this day and age. Capital One listened.
Let's talk about what you can enjoy in the lounge, from the food selection, to the grab & go selection, to the drink selection.
Capital One Lounge DFW food selection
The Capital One Lounge DFW has a variety of hot and cold food options. The food is entirely self service, and I appreciate how the buffets are spread out throughout the lounge, so as to avoid crowding (not that this lounge is crowded yet). The last time I was in an Amex Centurion Lounge I thought that maybe a Southwest Airlines flight was boarding from the lounge — nope, it was just the line for the buffet.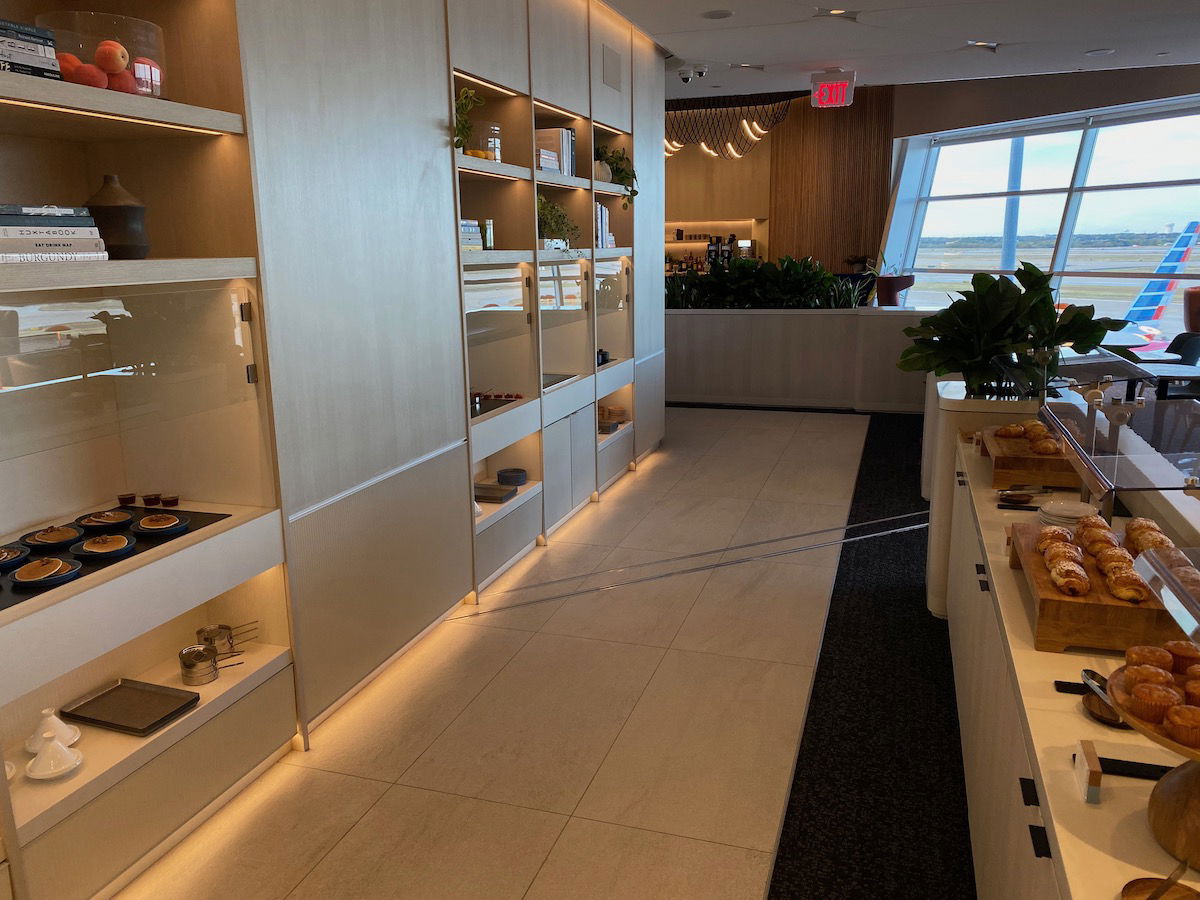 I visited the lounge around breakfast time. One section of the buffet had some bread and pastry options, including croissants, pain au chocolat, muffins, and blueberry scones.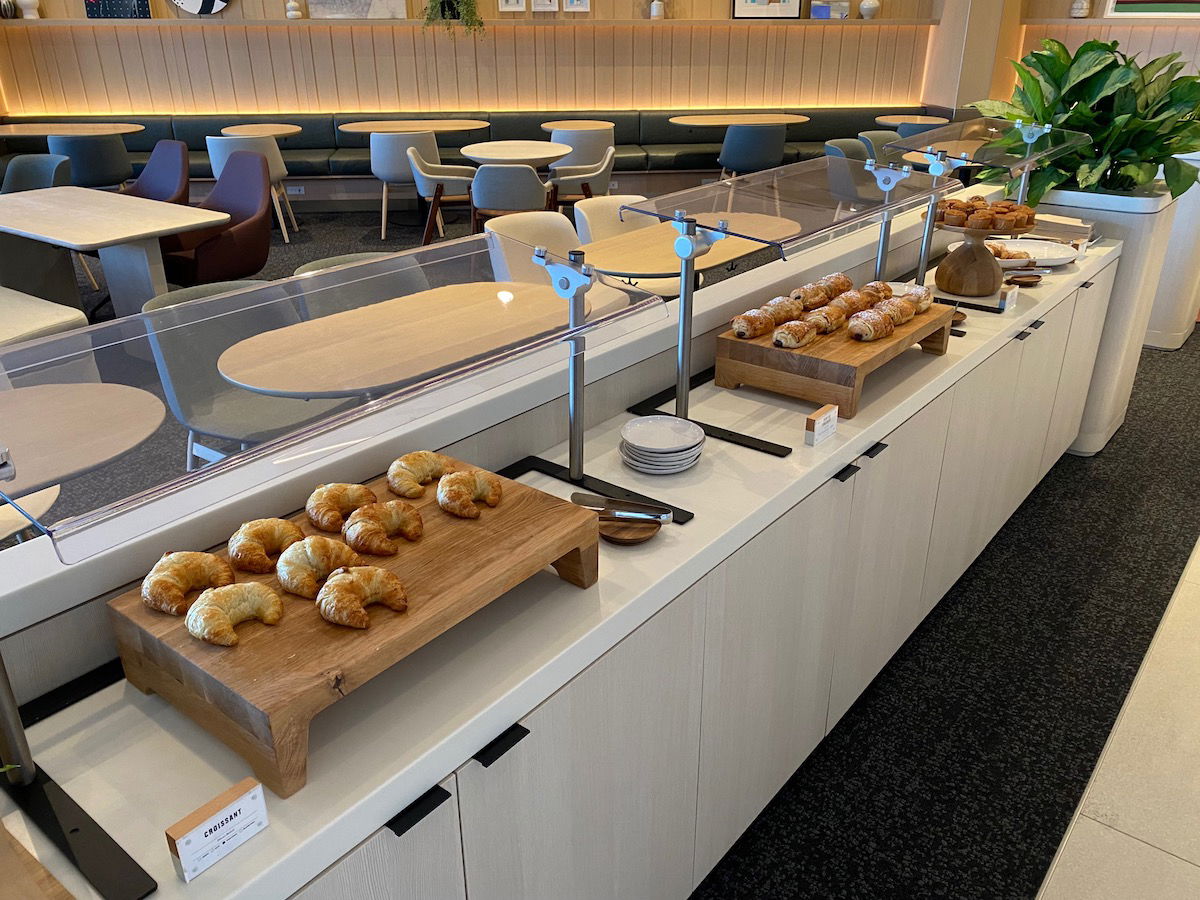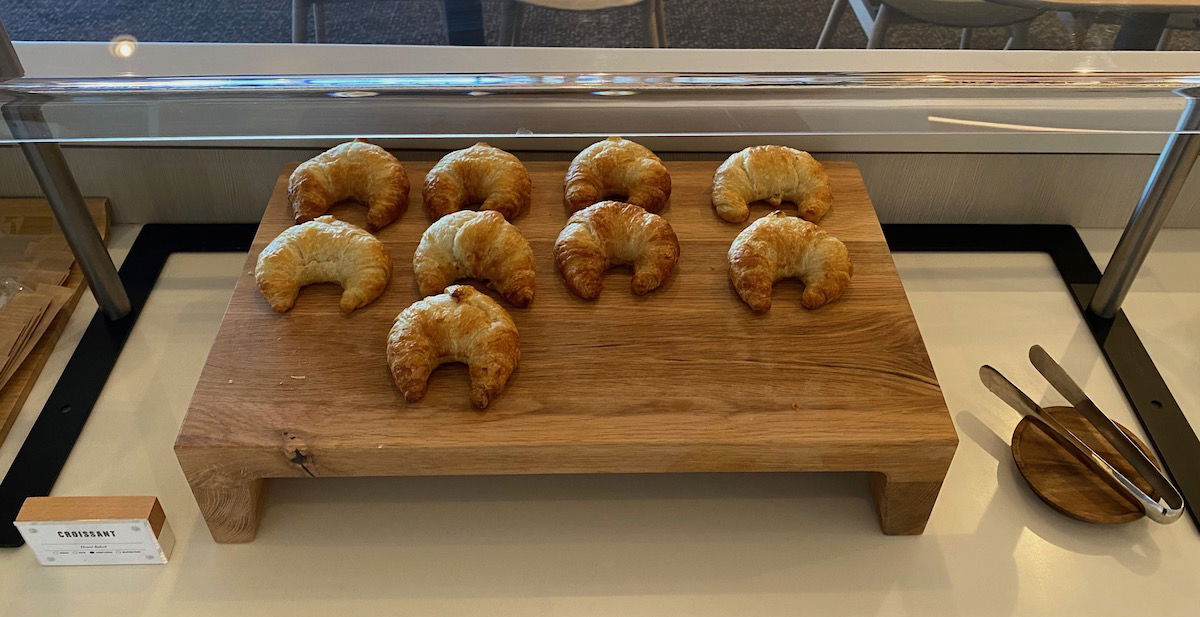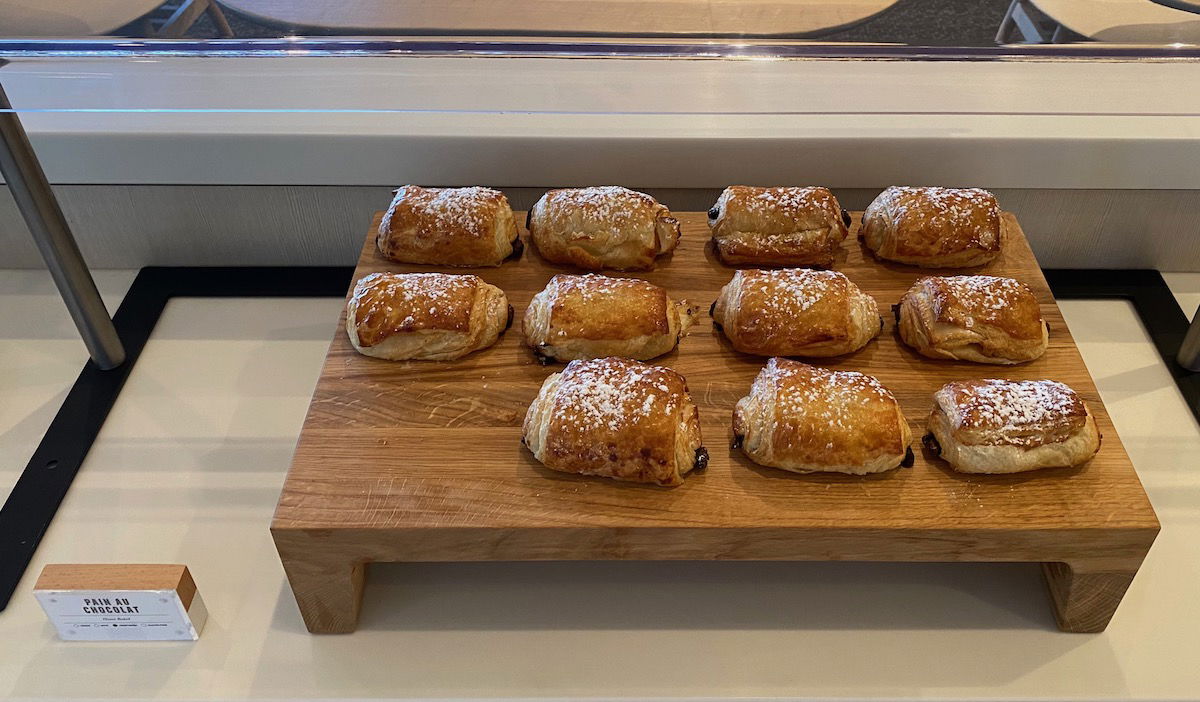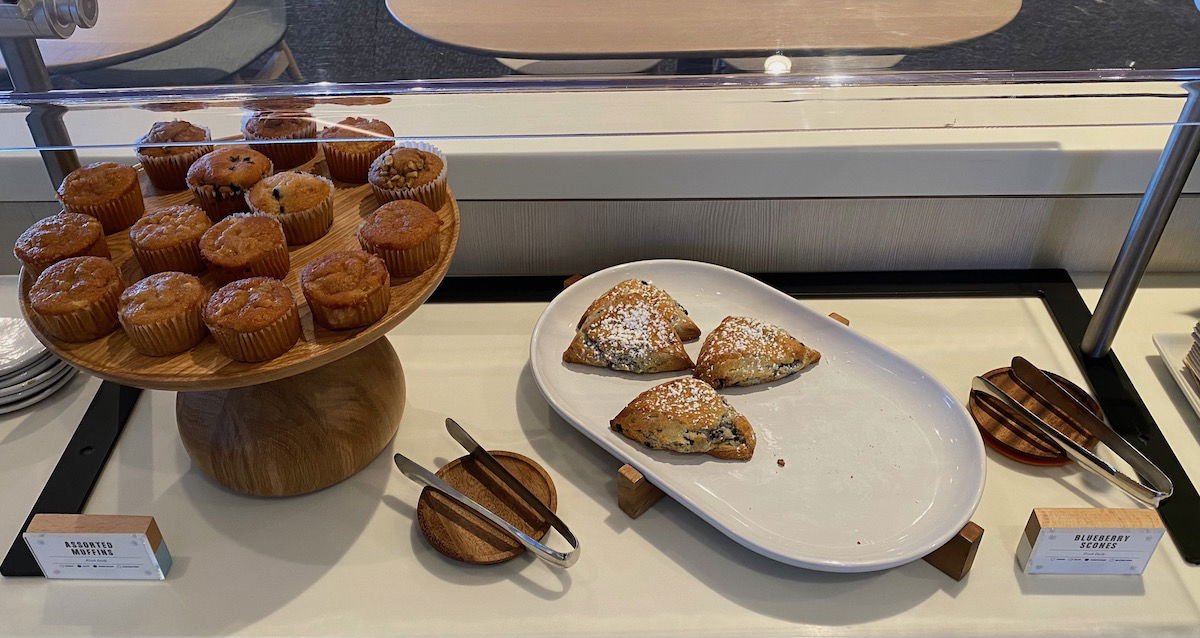 Then there were a couple of buffets with hot and cold options, including a peach granola bowl, pancakes, a savory potato hash, and eggs benedict.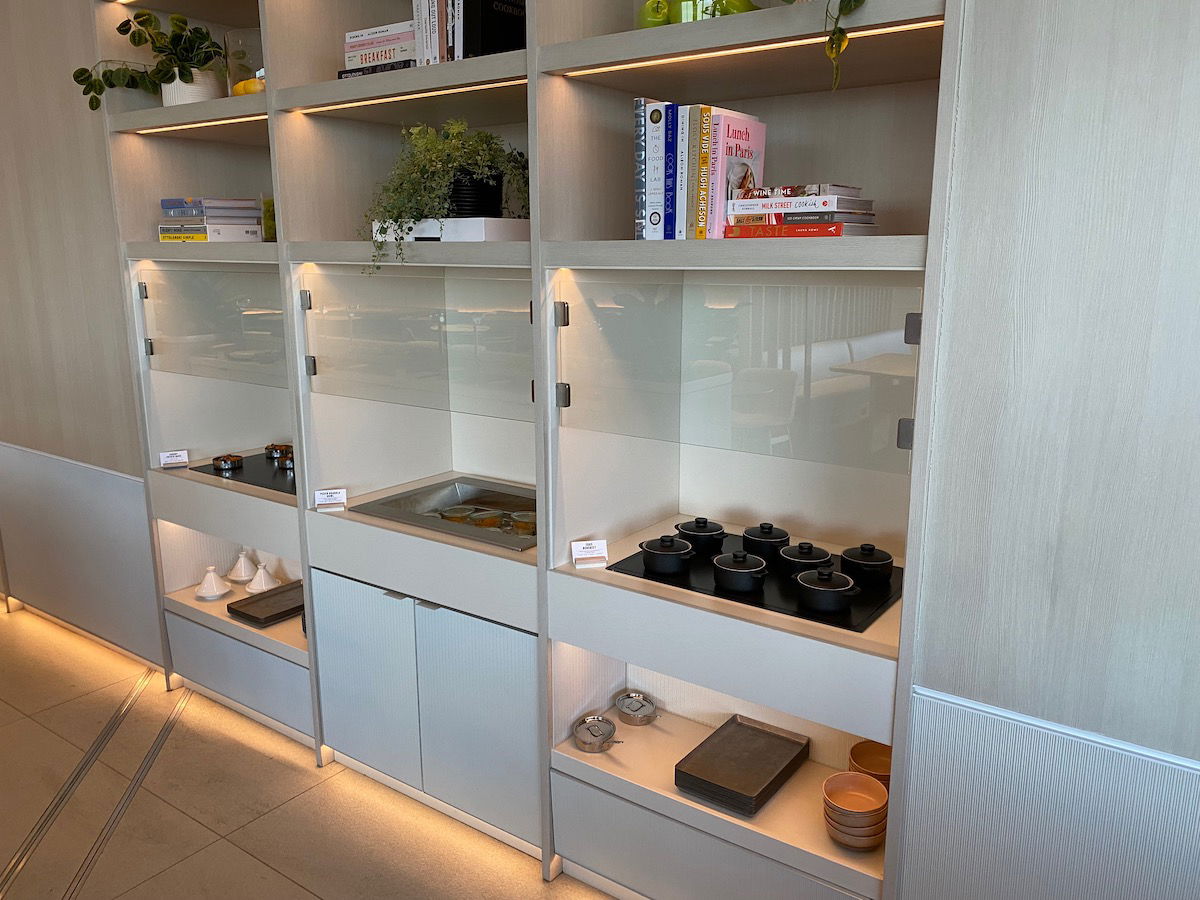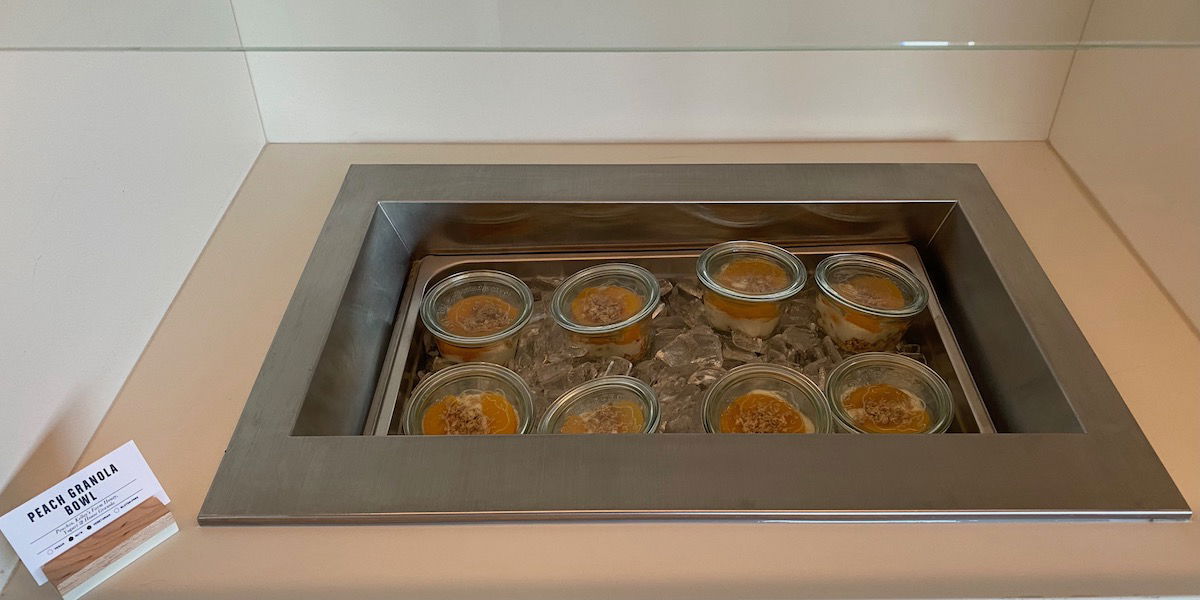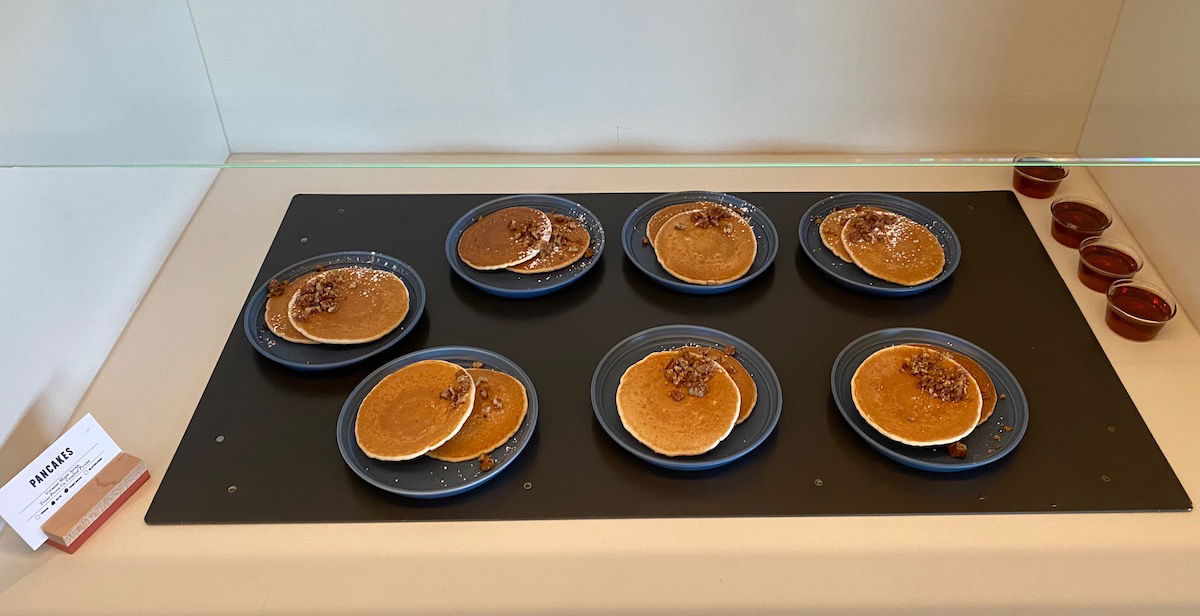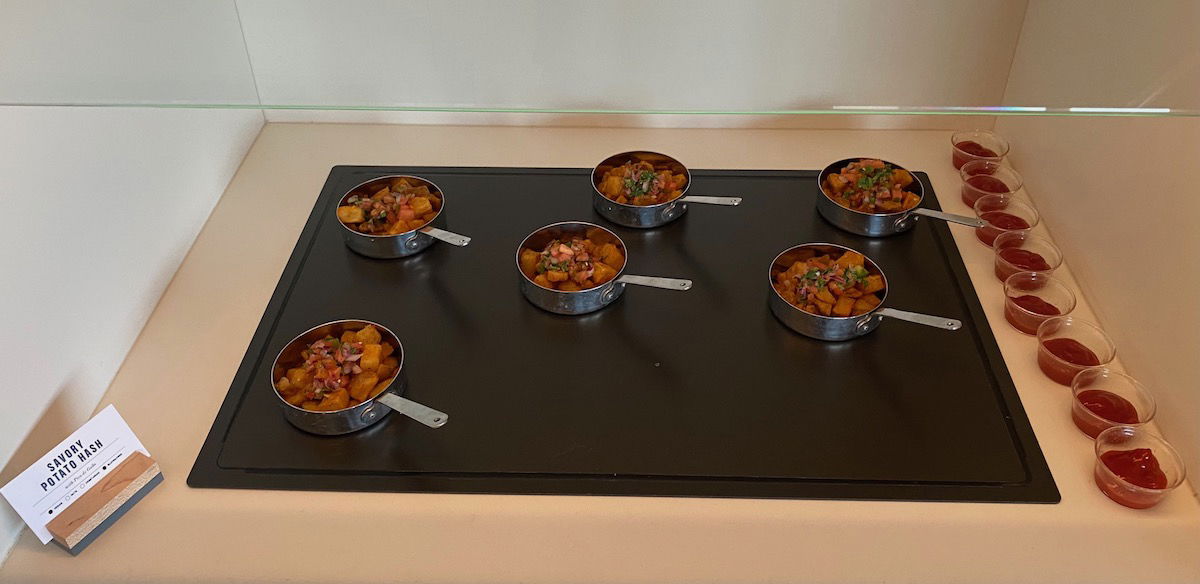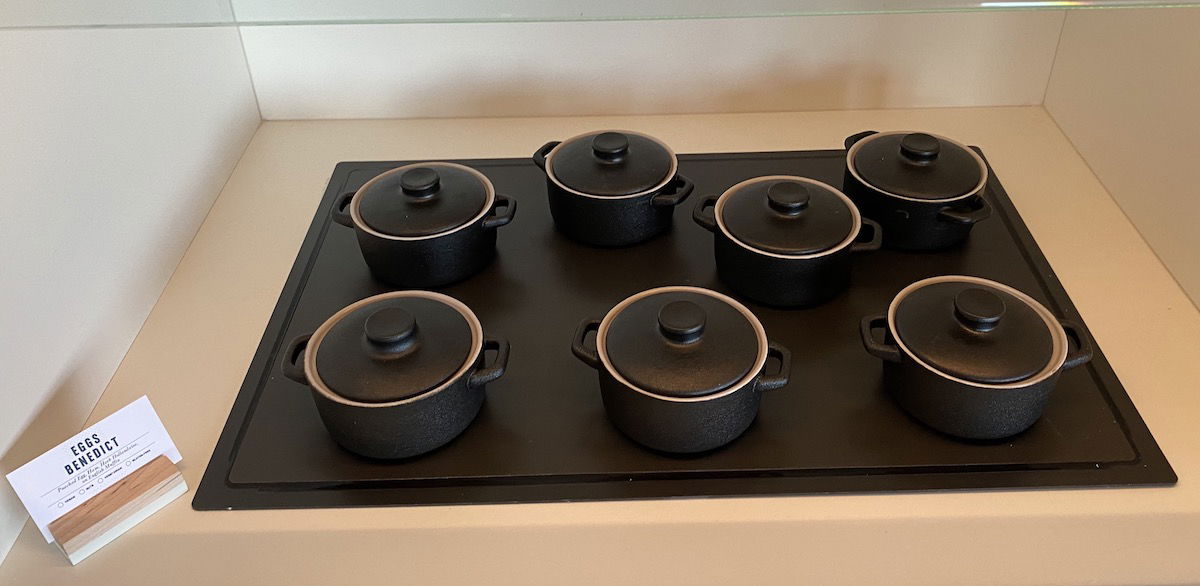 Another buffet had warm fall oatmeal bowls, charcuterie cones, and honey yogurt fruit kebabs.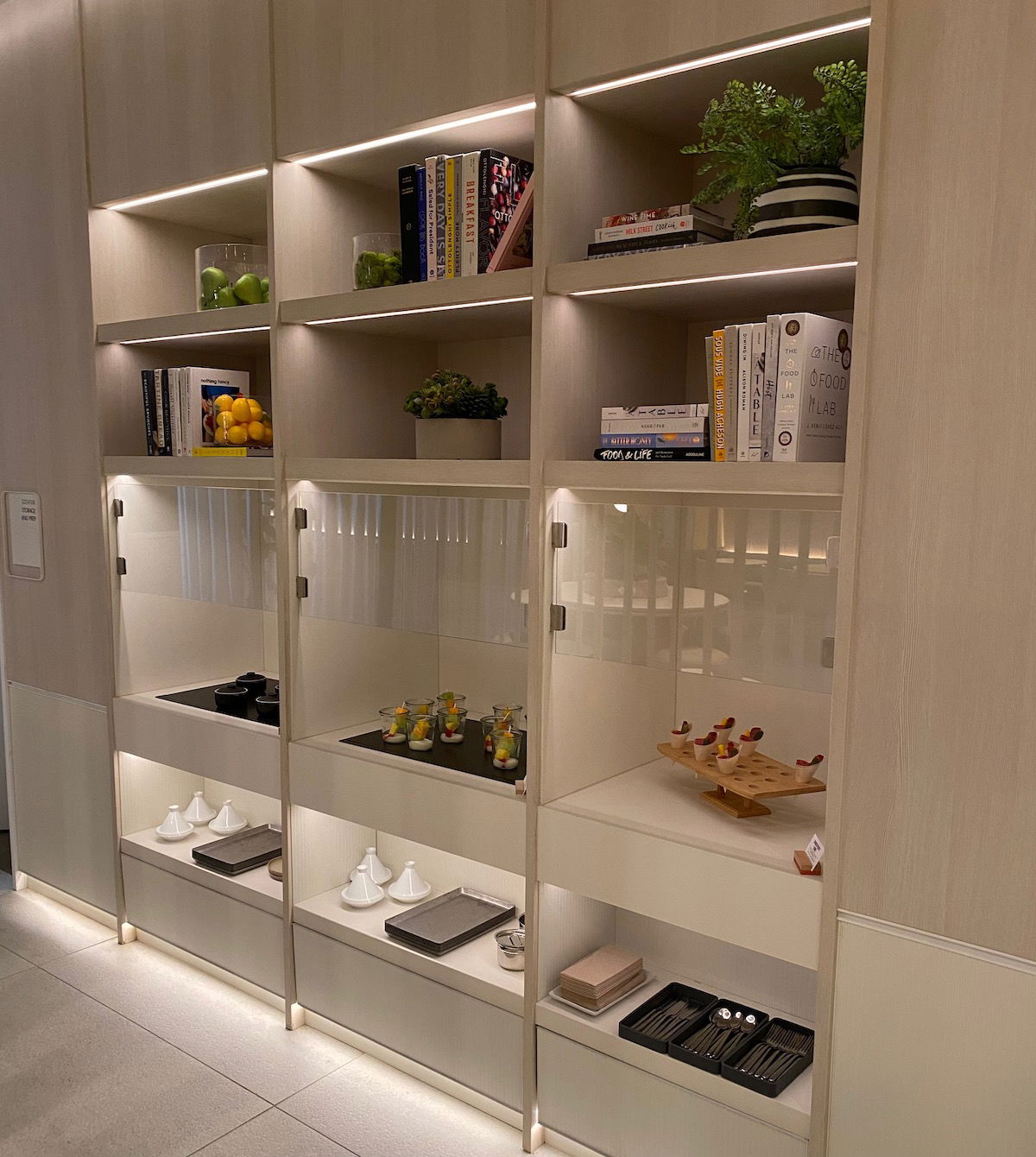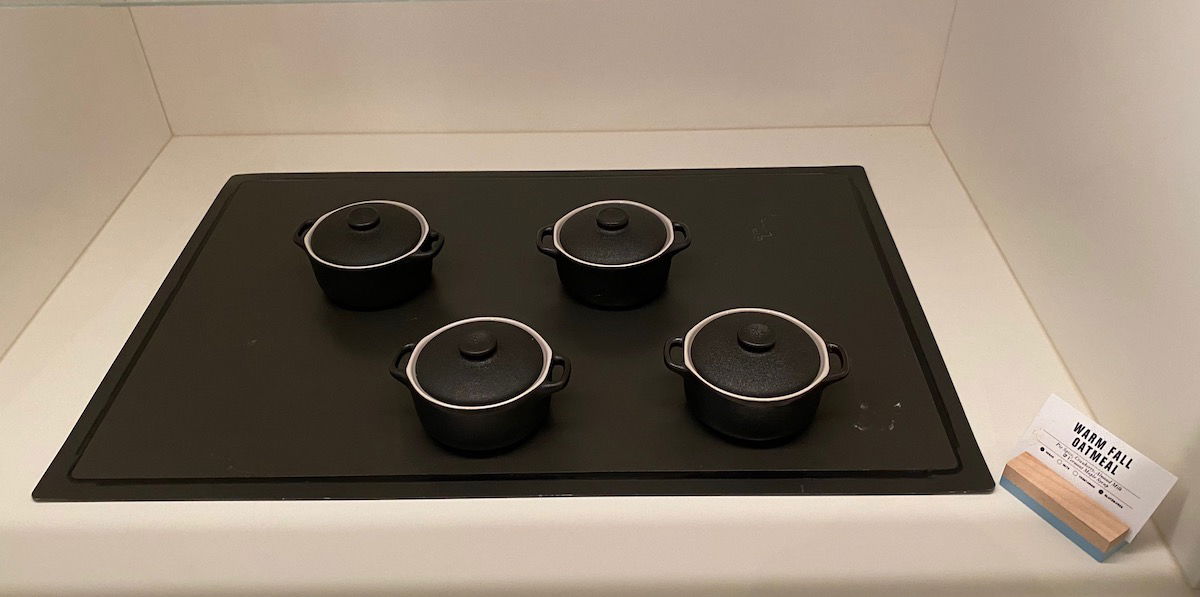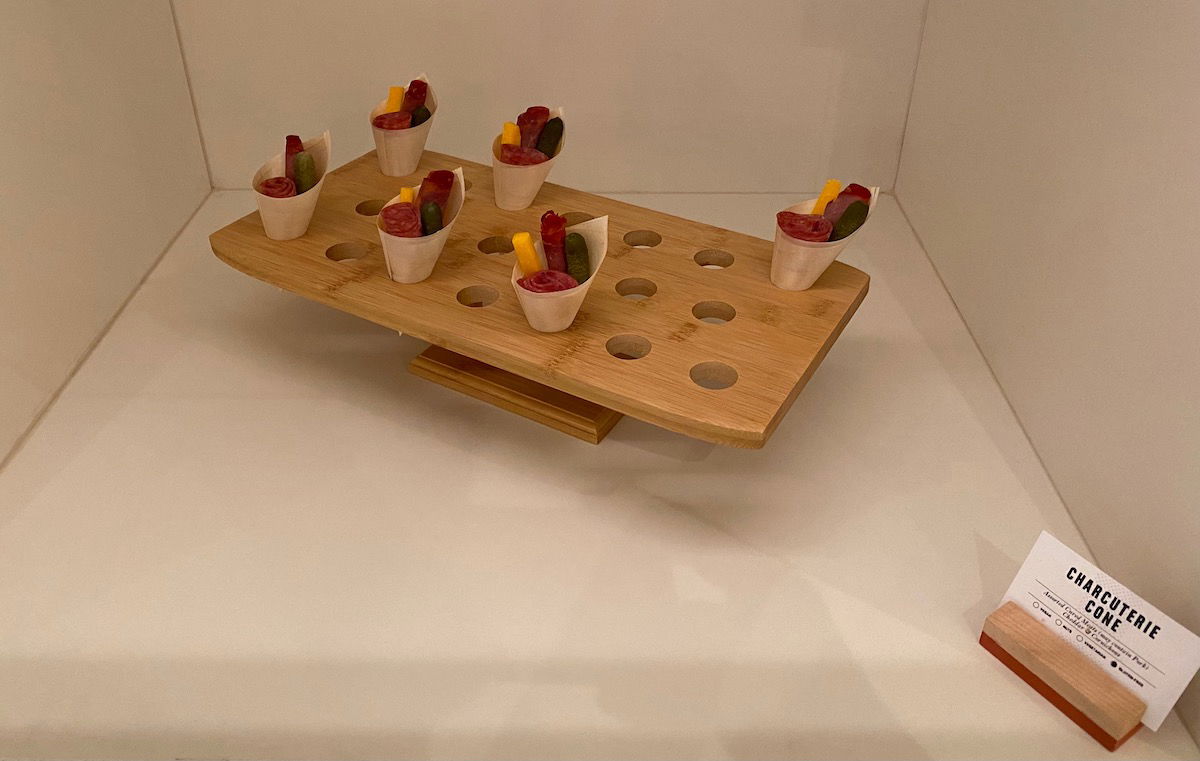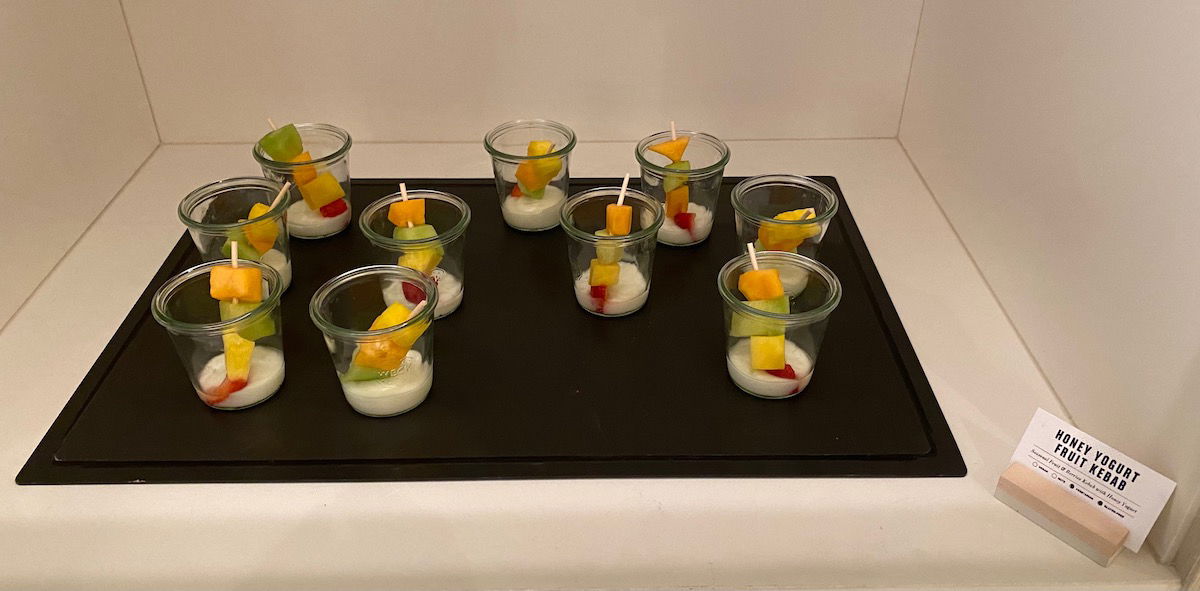 Capital One Lounge DFW grab & go food
Here's something we've never seen a lounge do before, and I love it. The Capital One Lounge DFW has a grab & go selection of food and drinks, so you can enjoy something to eat or drink on your flight.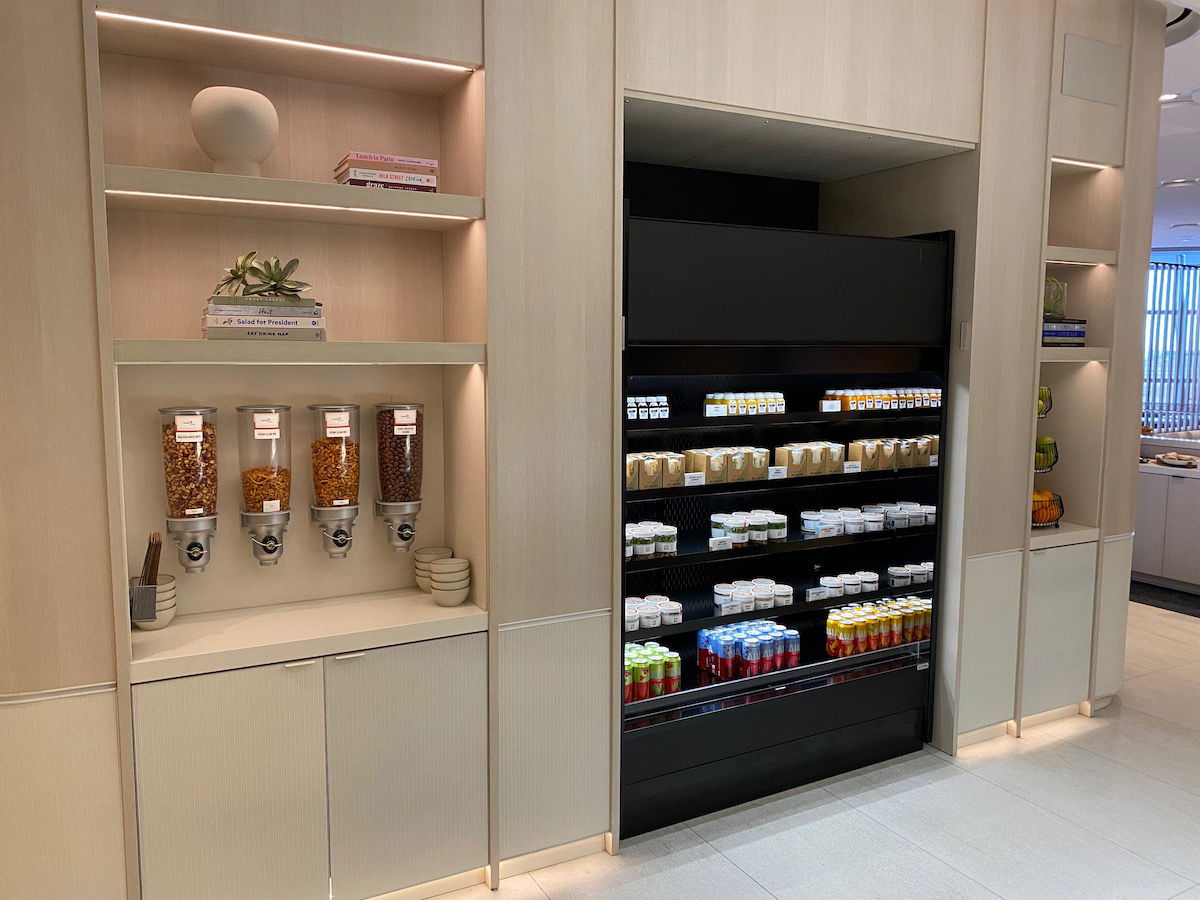 The selection included everything from cold pressed juiced, to flavored sparkling water, to a variety of sandwiches, to several types of salad bowls.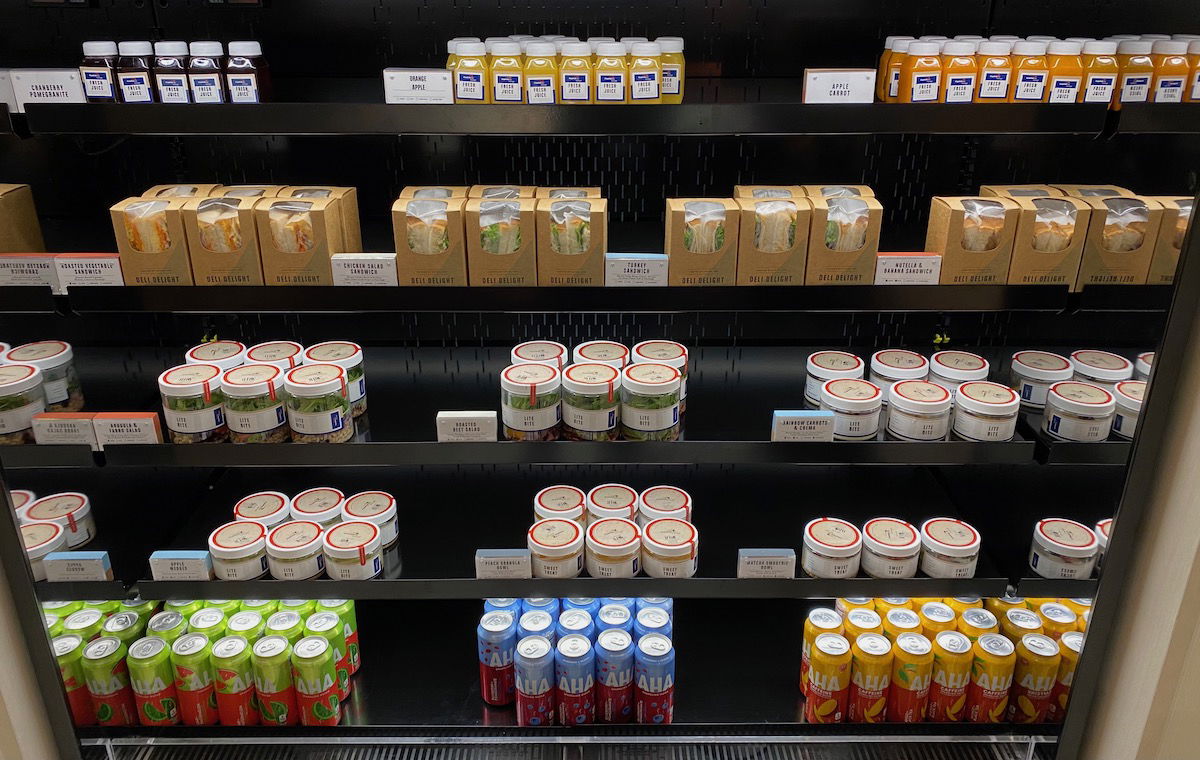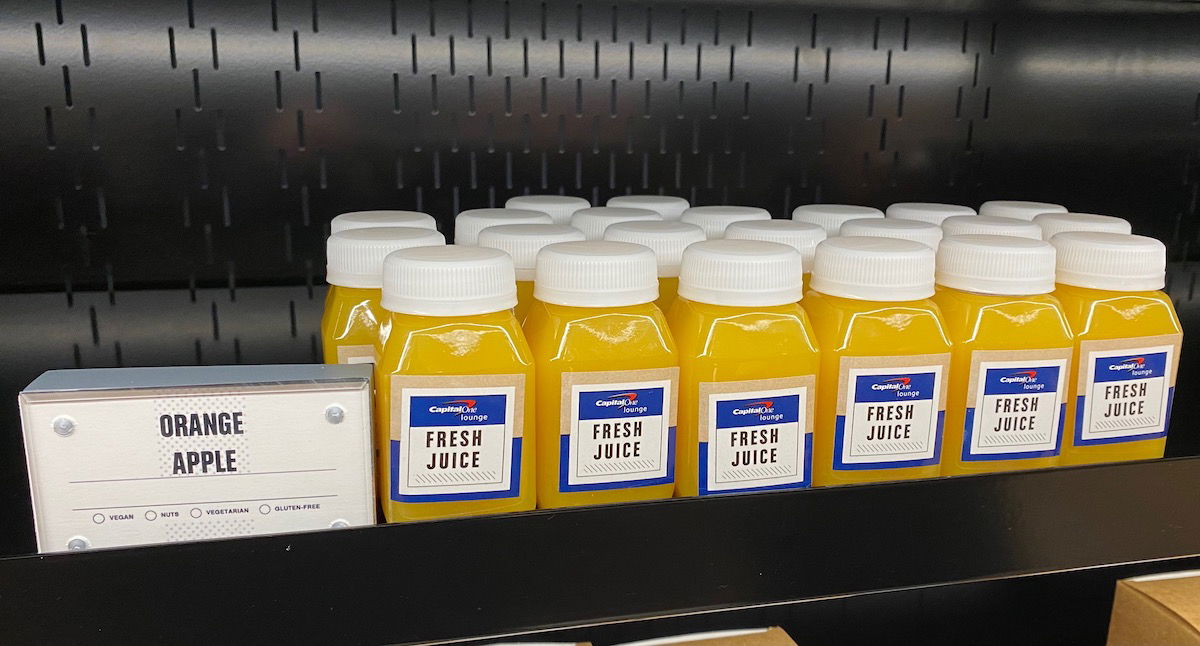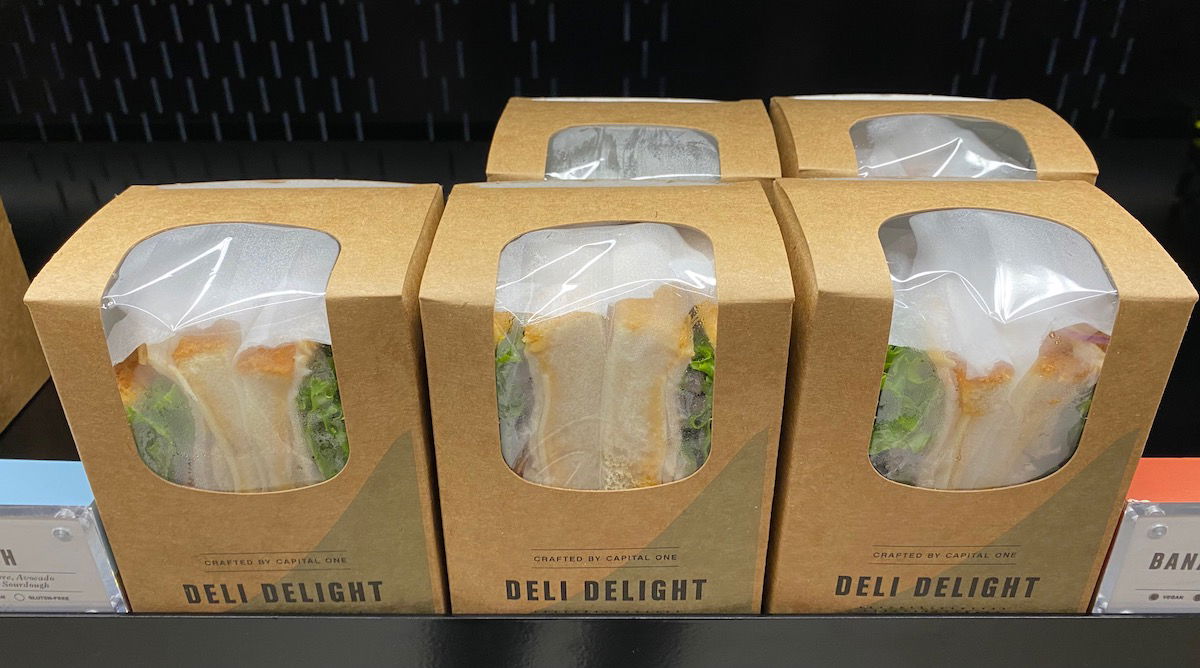 There were also a variety of snack mix options you could take to go.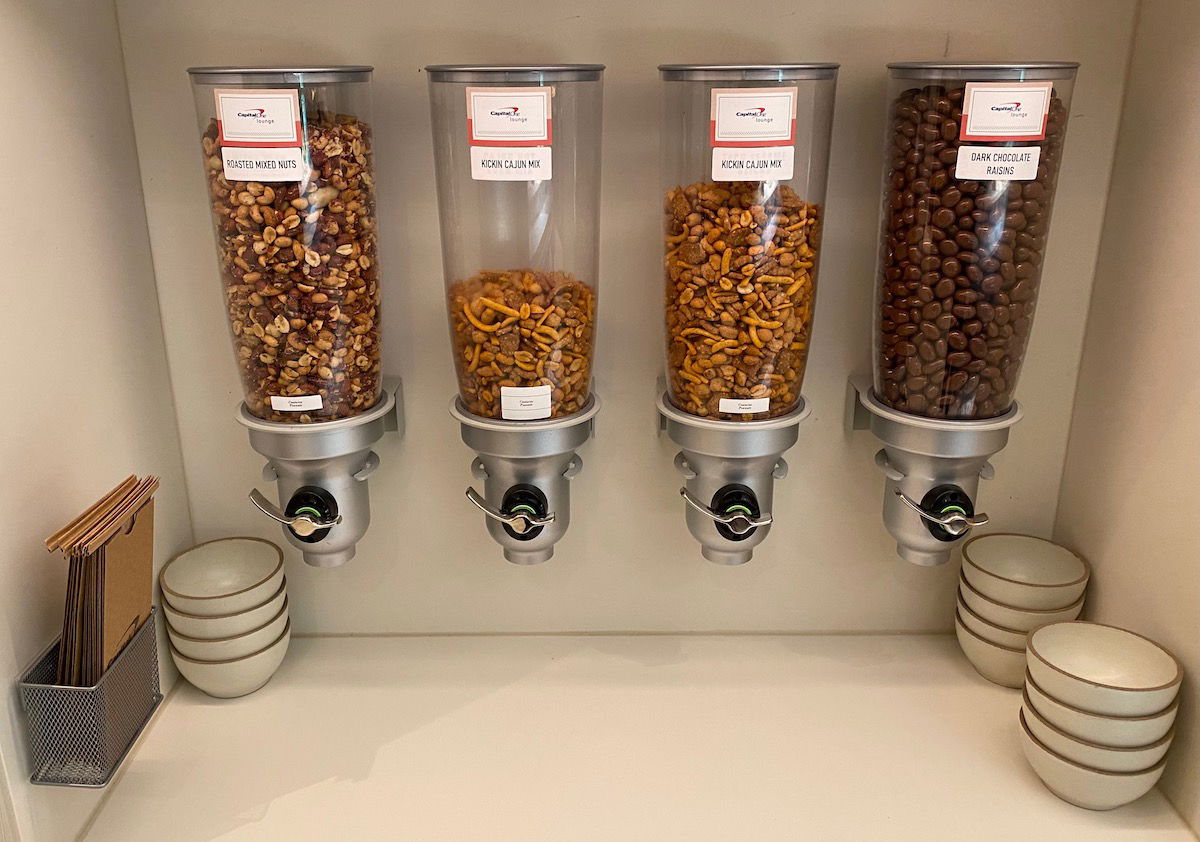 Across from the grab & go section were cute Capital One bags, as well as napkins and cutlery, so you really won't have any trouble enjoying this on your flight.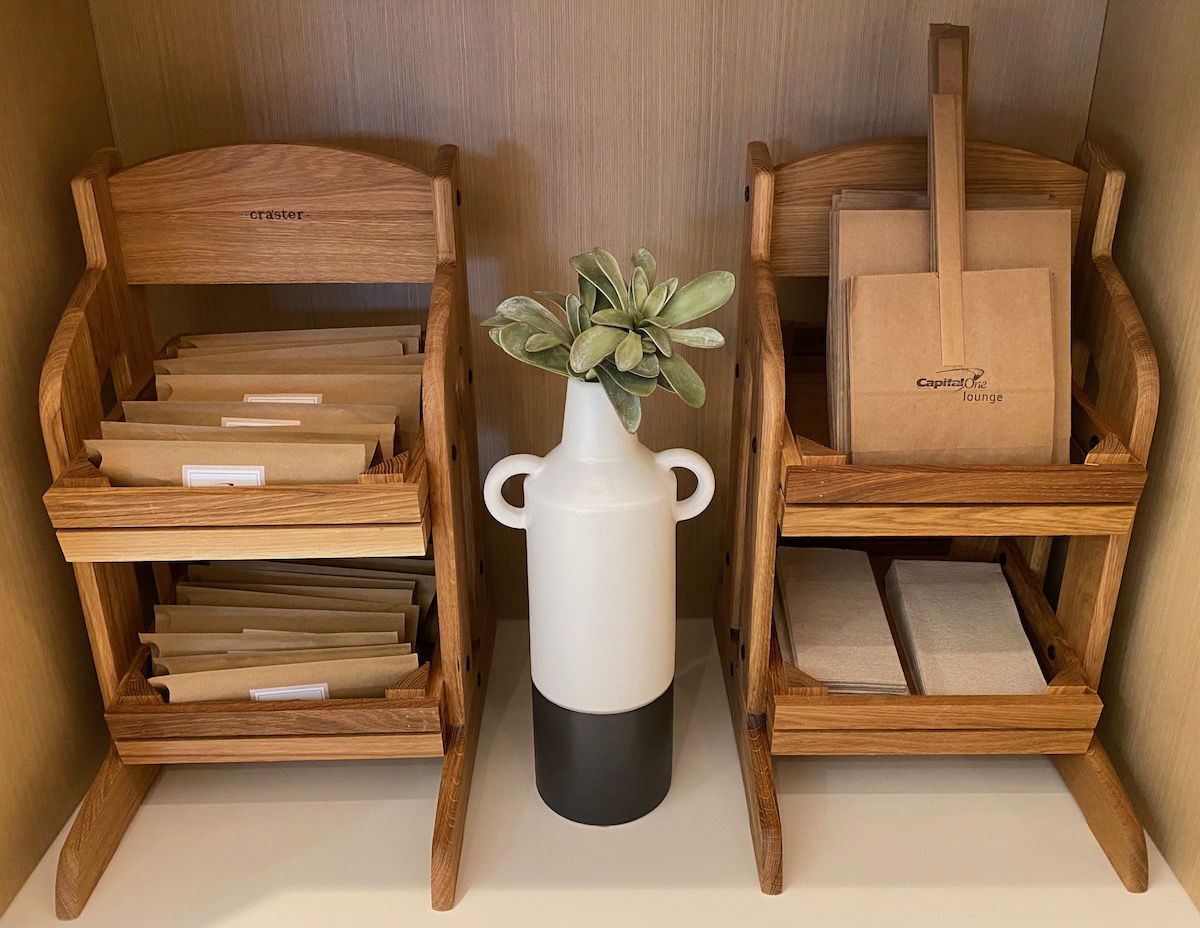 We were flying American Airlines, so naturally we took something to go, because have you eaten with American Airlines before? 😉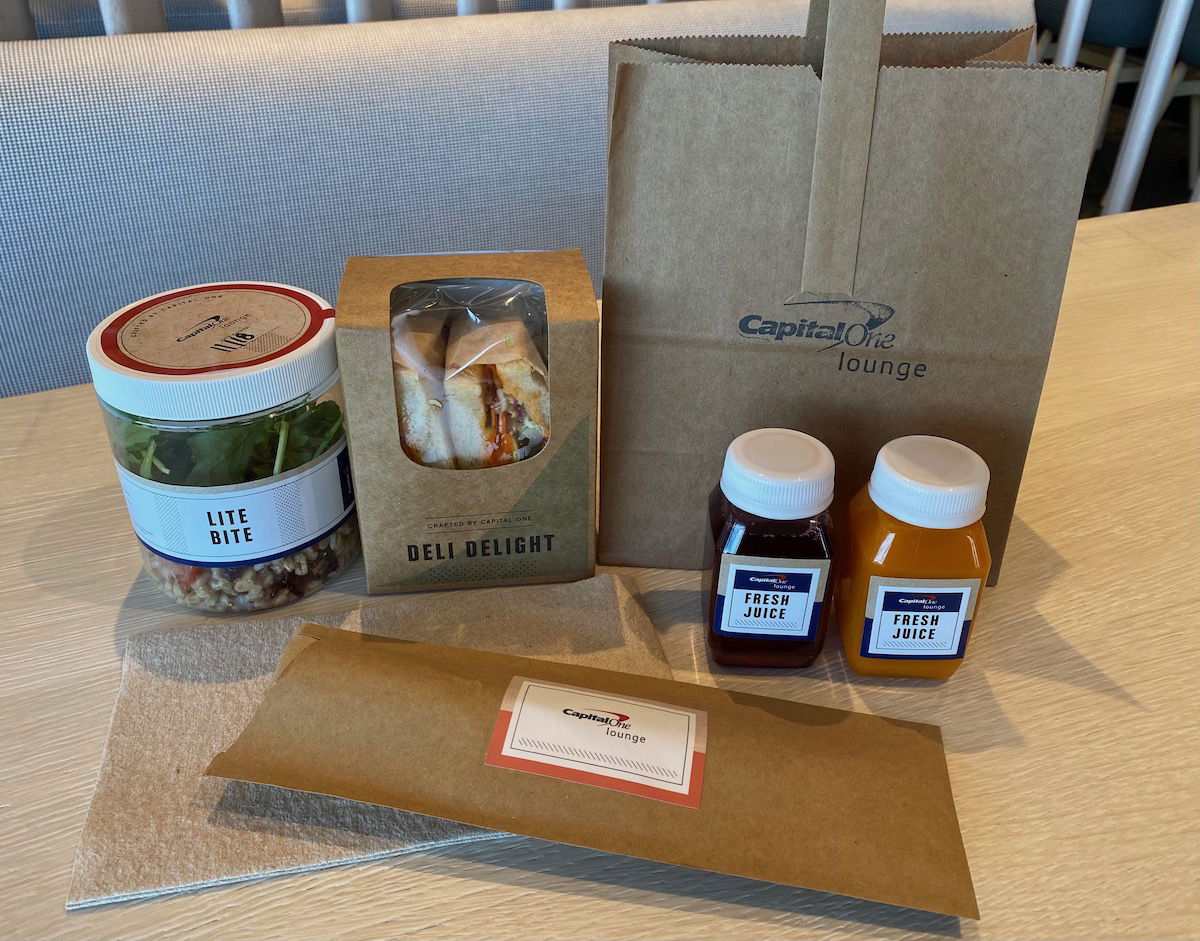 THIS IS AMAZING CAPITAL ONE, THANK YOU! That being said, am I the only one who is curious to see how long this lasts before they set formal limits on how much you can take with you, and/or have someone police the section? Some people have to ruin things for everyone, and I feel like someone is going to bring a trash bag and empty the place out (please don't be that person).
Capital One Lounge DFW drinks
As someone who likes good coffee, the Capital One Lounge is the answer to my prayers, given how hard it can be to get decent cold brew or cappuccino at airports. Near the entrance there was drip coffee, including from La Colombe and Cultivar.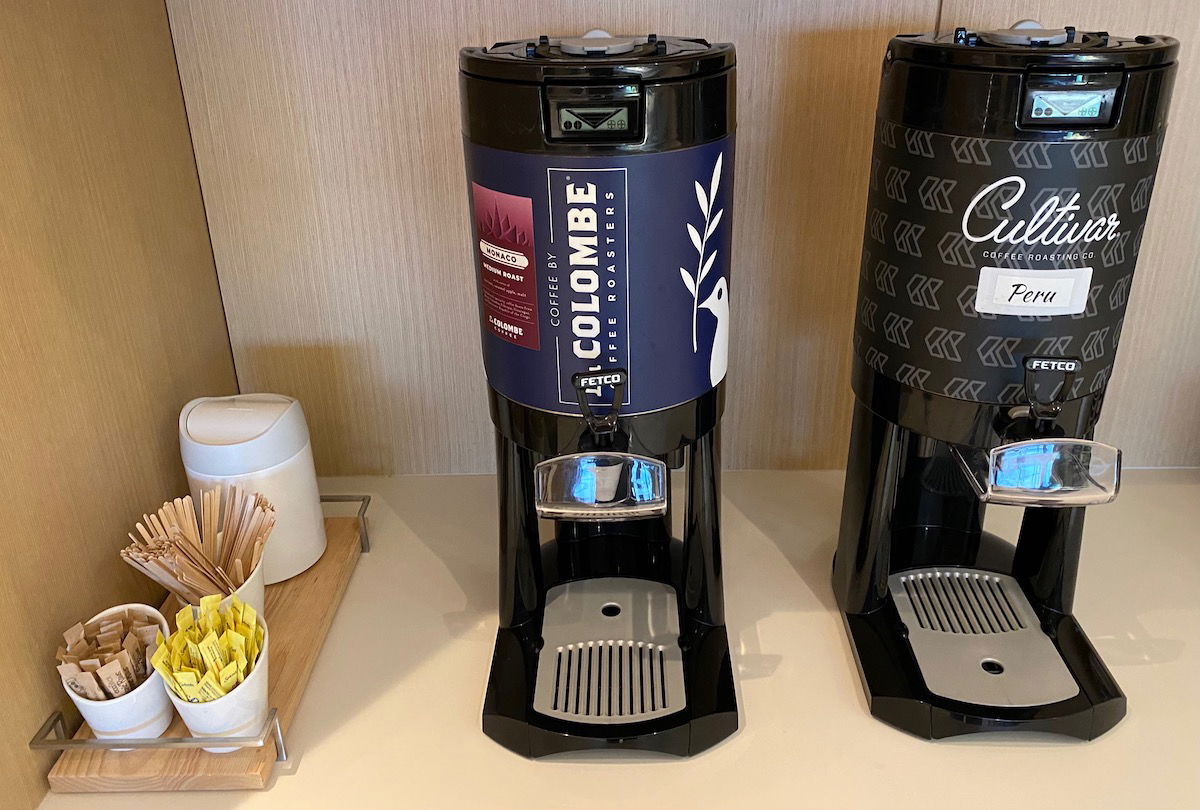 Many beverages in the Capital One Lounge are served on tap, including cold brew and lattes. I can't believe it took this long for an airline lounge in the United States to offer cold brew, let alone on tap.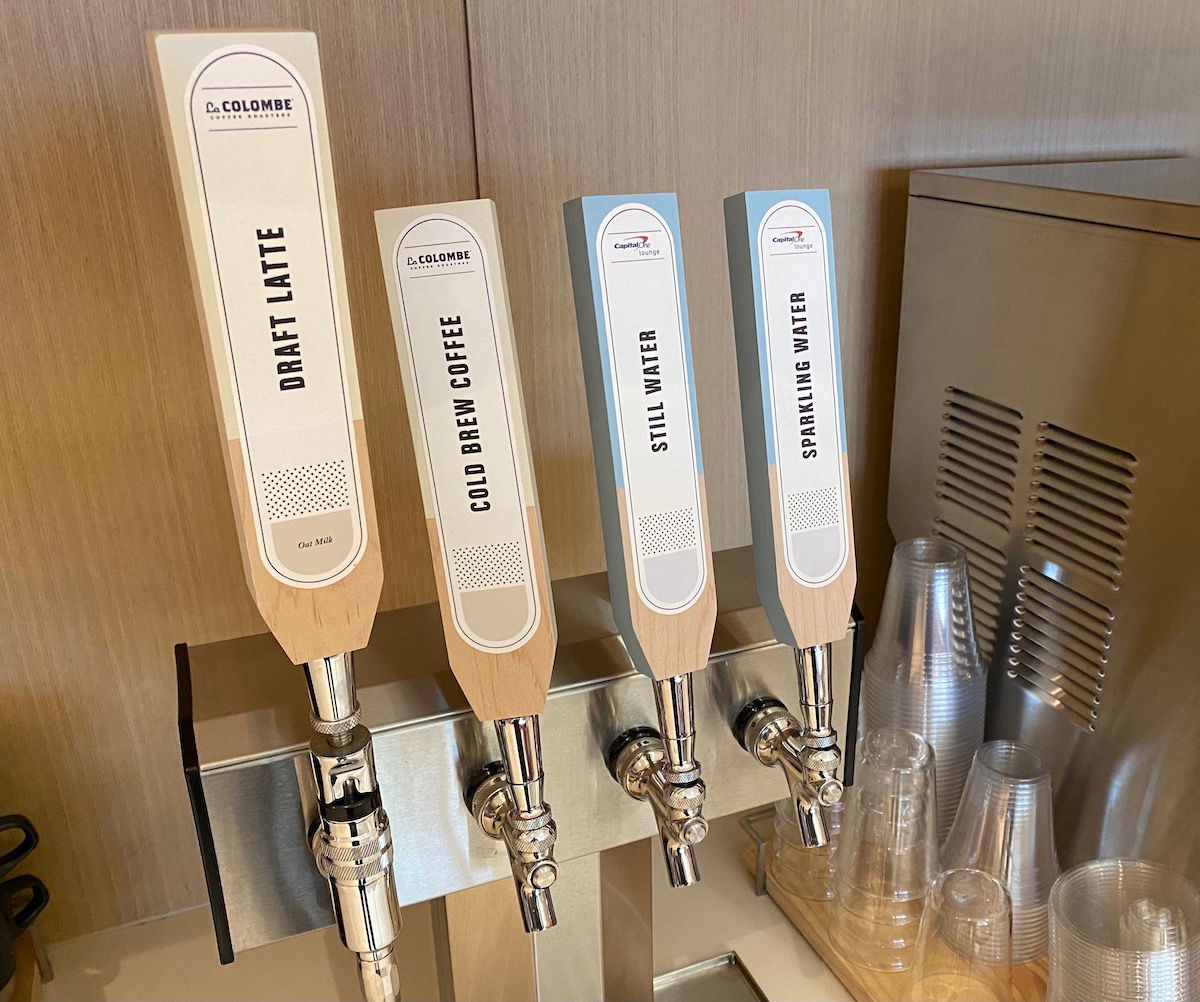 Another section of the lounge had more drinks on tap, including lemonade, iced tea, sweet tea, root beer, orange soda, and ginger ale.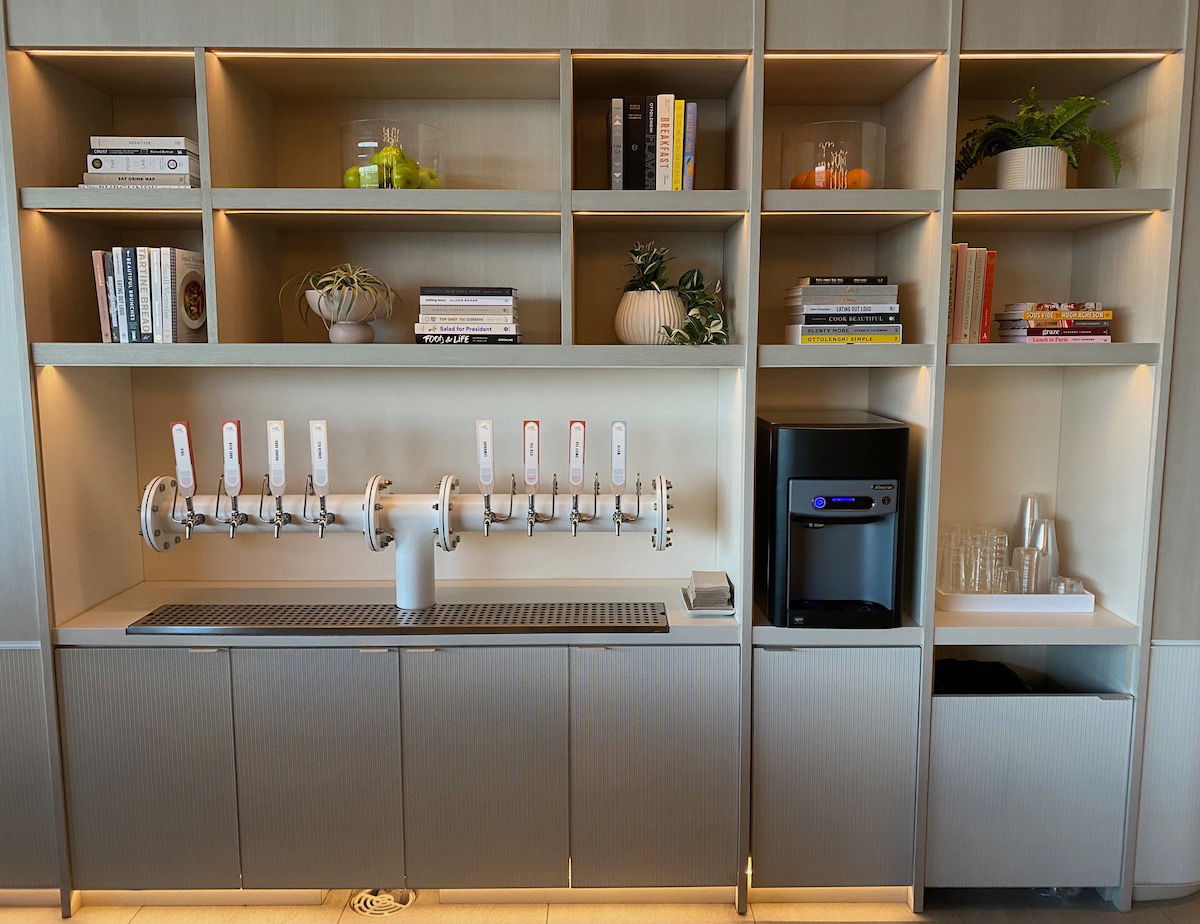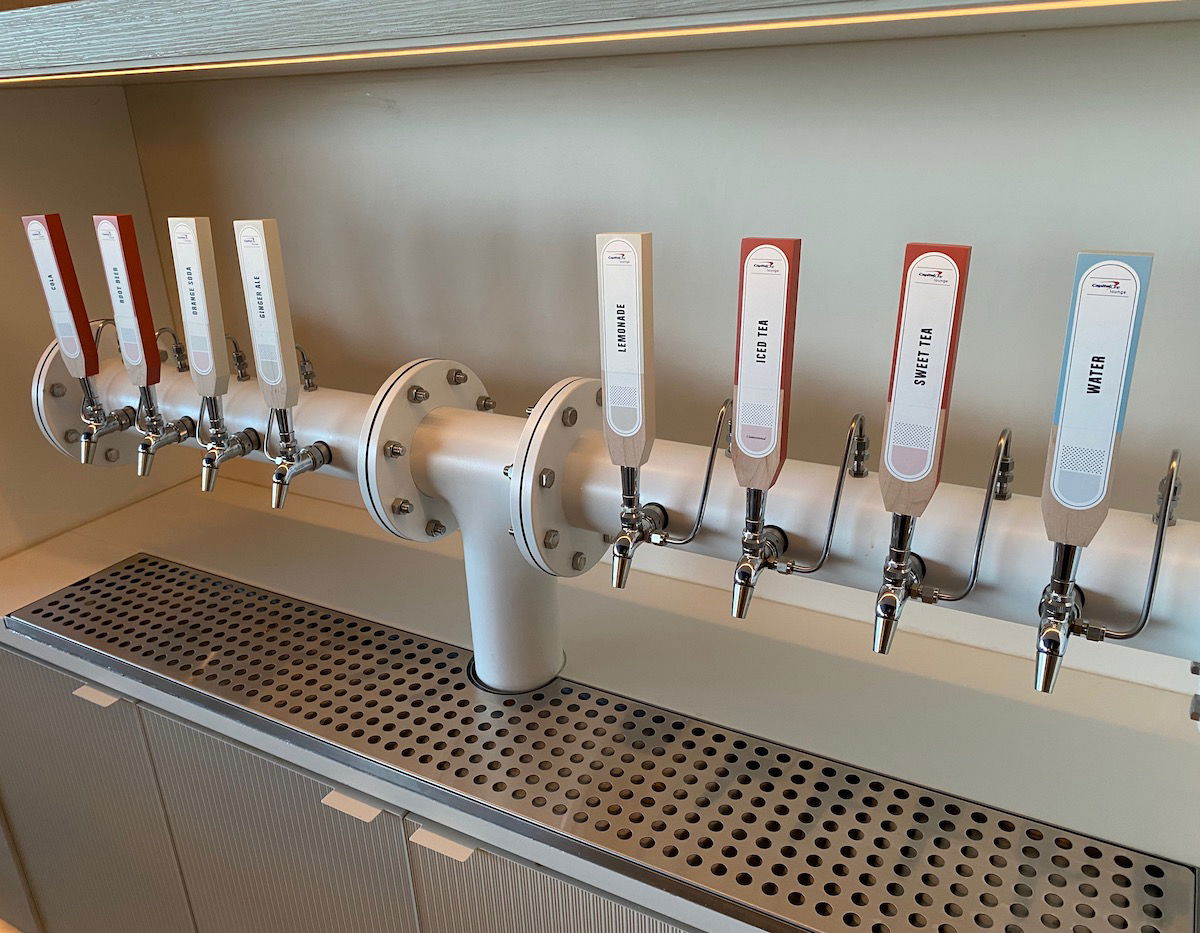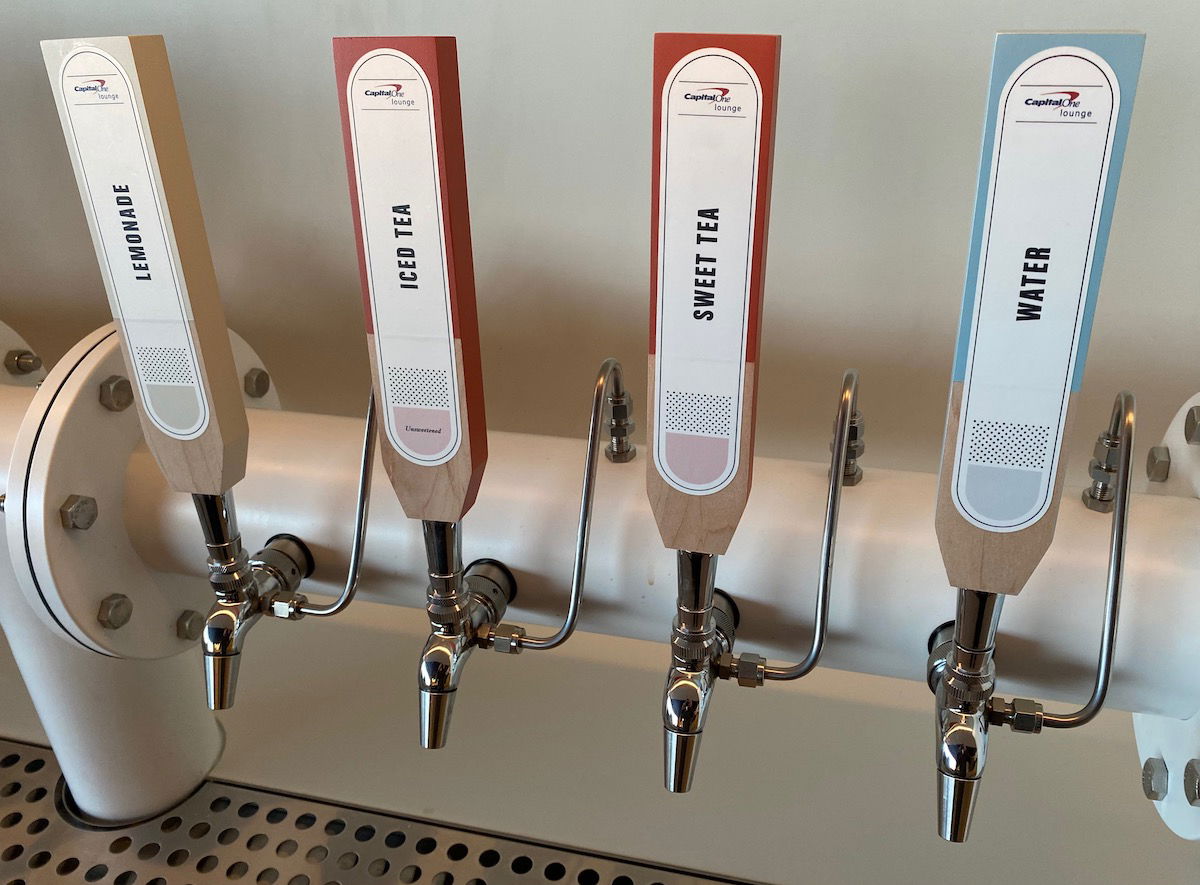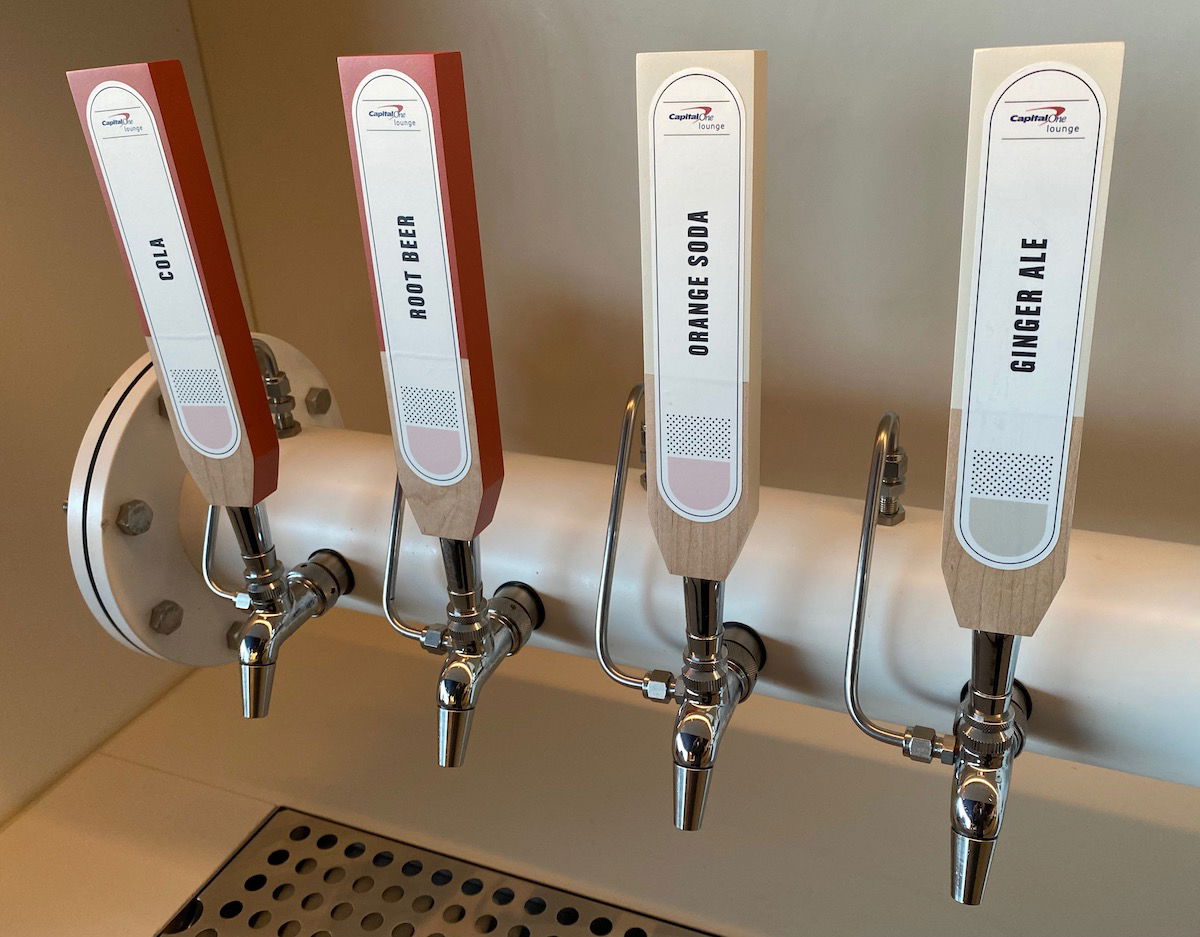 And as if Capital One's coffee game wasn't good enough already, there are also barista-made drinks available at the bar. I ordered a cappuccino, which was excellent.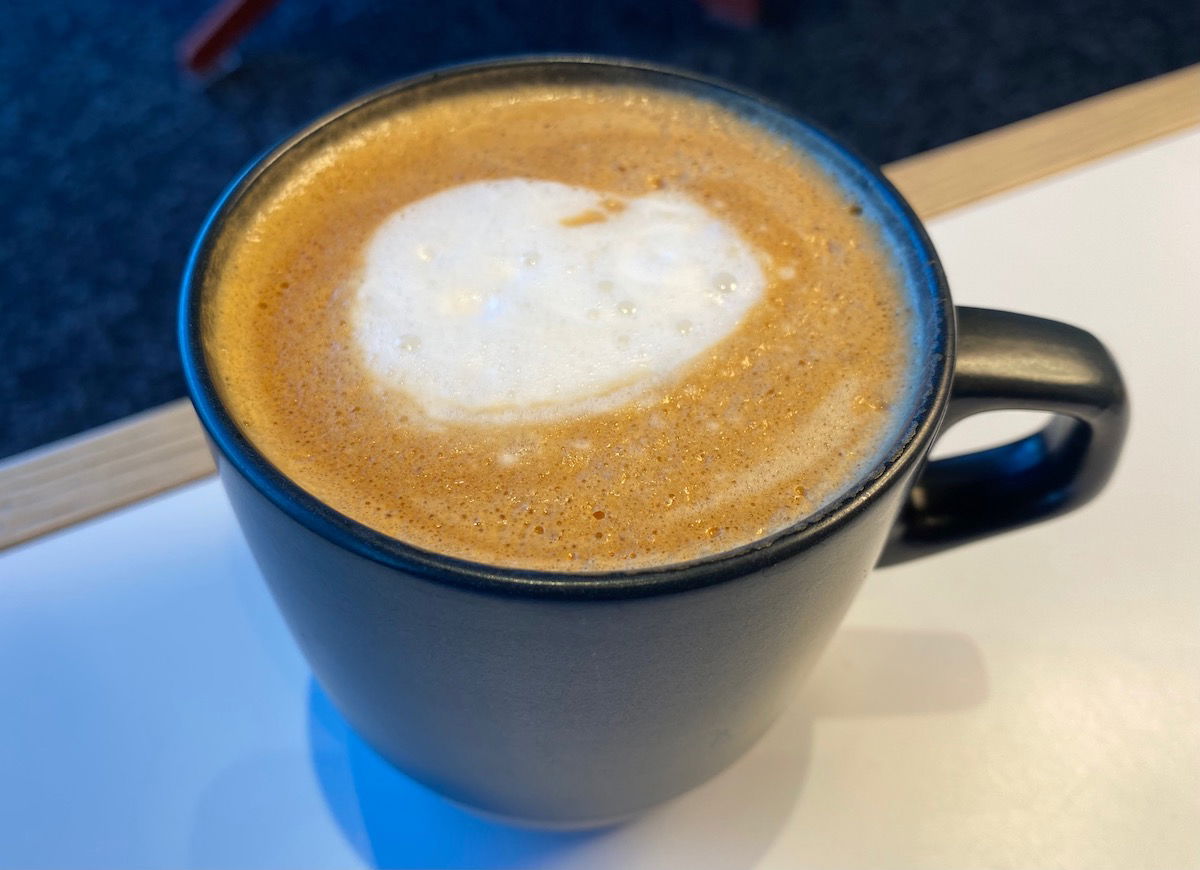 There's also a tea selection, for those who are into that.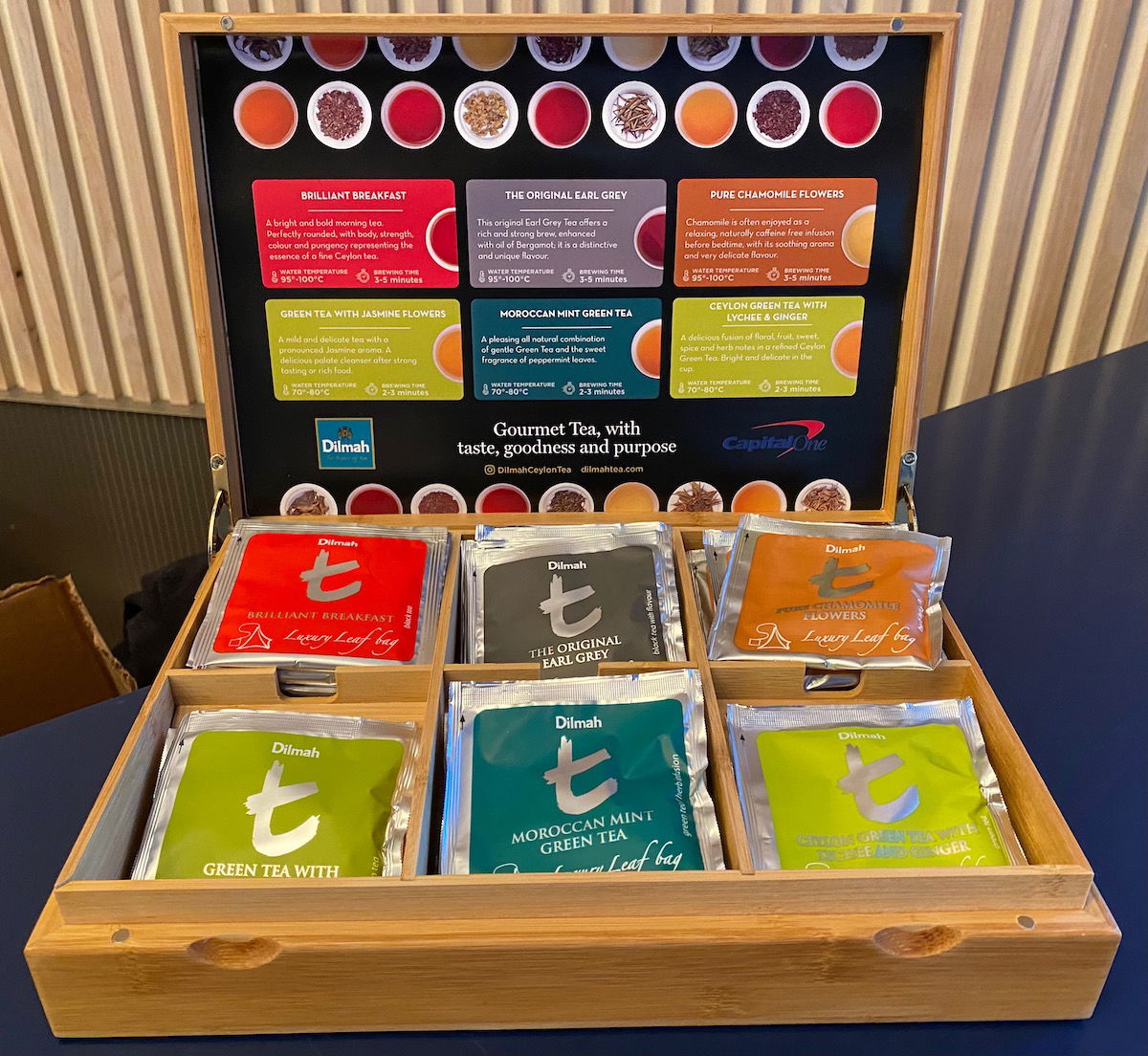 For those looking for beer, wine, or cocktails, below you can see the menu. As you can see, there are a variety of options, and everything is complimentary, except some upgraded half bottles of wine and spirits. I apologize, but I didn't have the time or desire to enjoy cocktails at 8AM this morning (and if I did, you probably wouldn't be getting the review the same day). 😉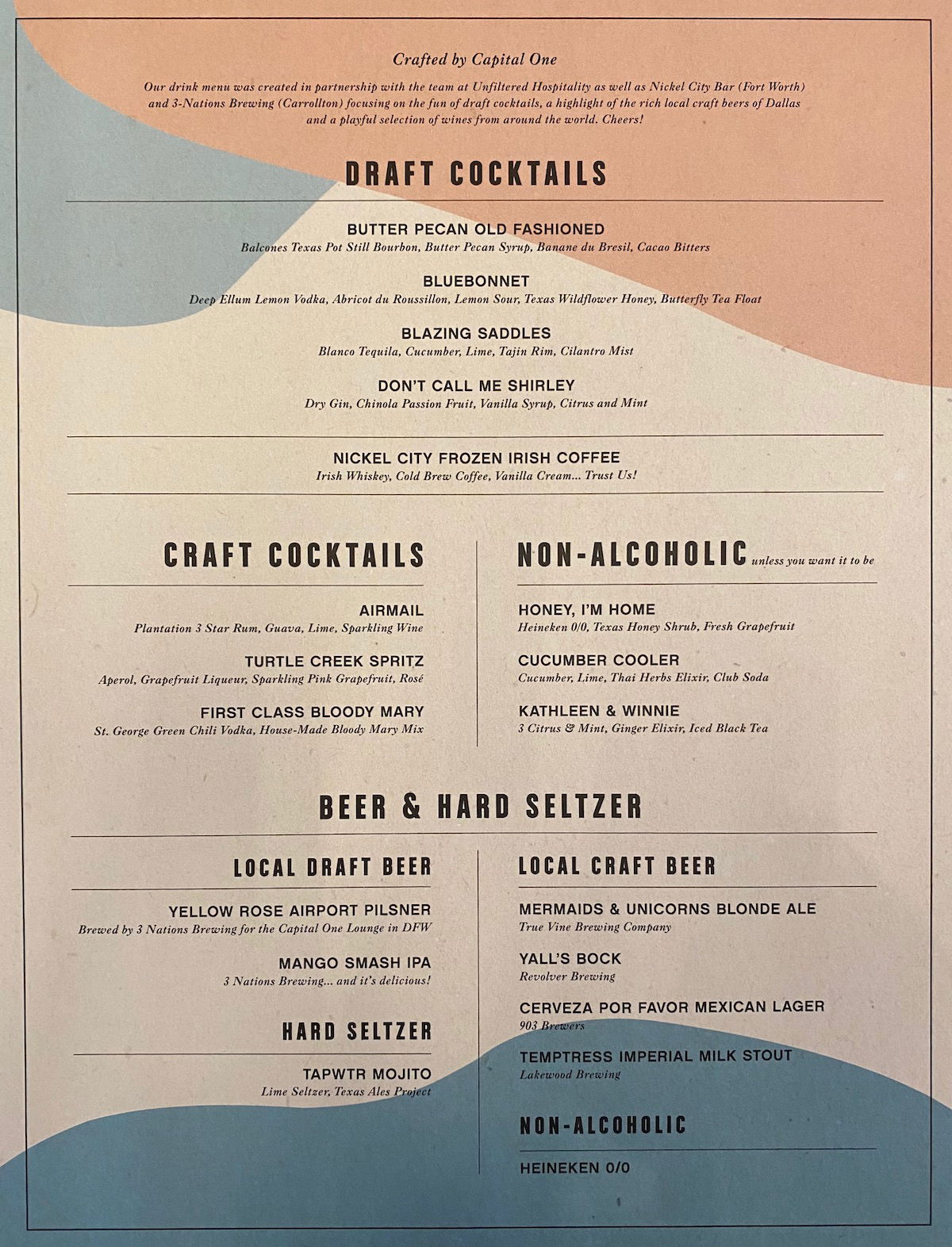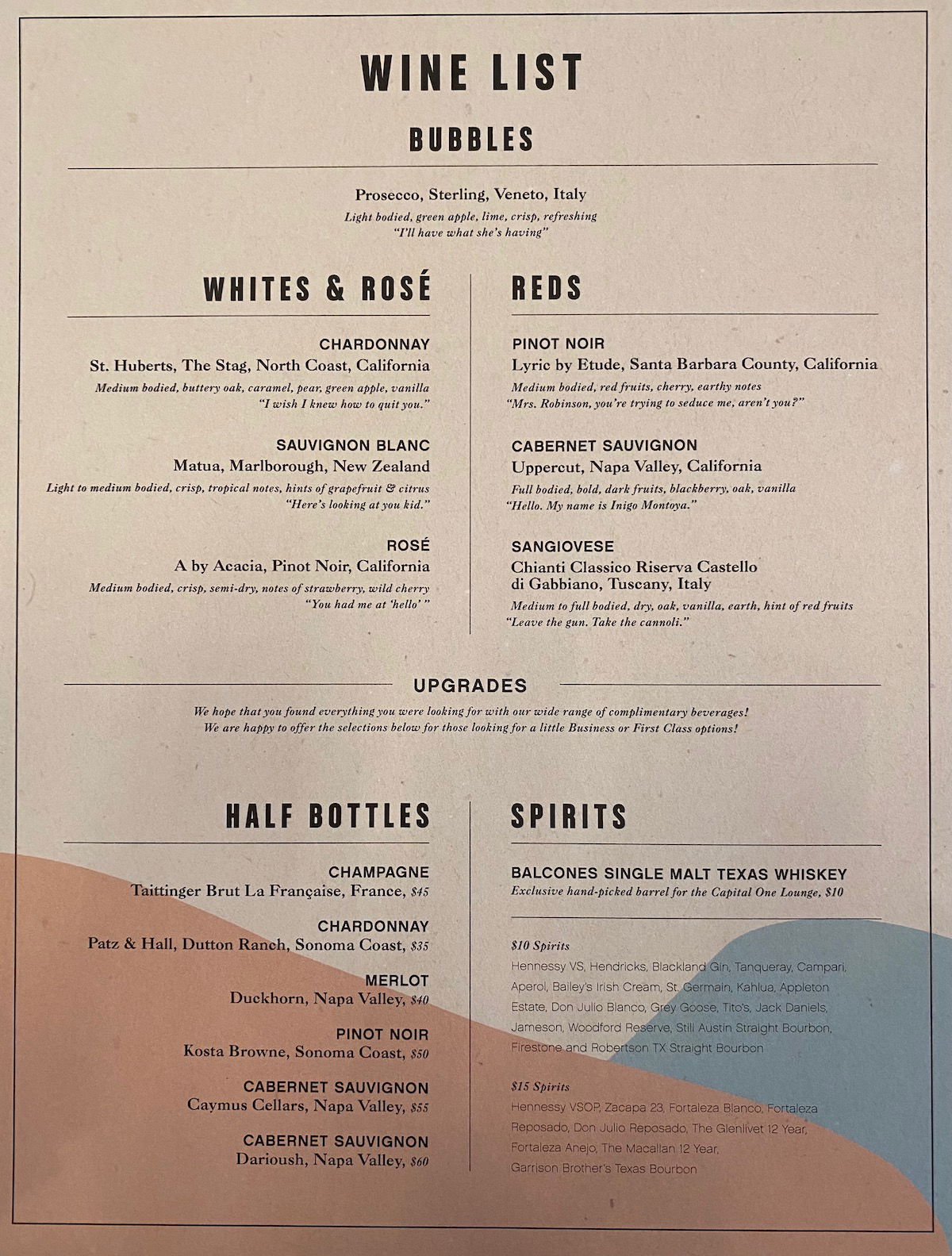 Capital One Lounge DFW amenities
In addition to lots of seating and the food & drink selection, the Capital One Lounge DFW also has a variety of further amenities. This includes:
An exercise room
Shower suites
Relaxation rooms
A nursing room
A multi-faith prayer room
Toilets
I was able to check all of these out, so let me share my thoughts on each of these below.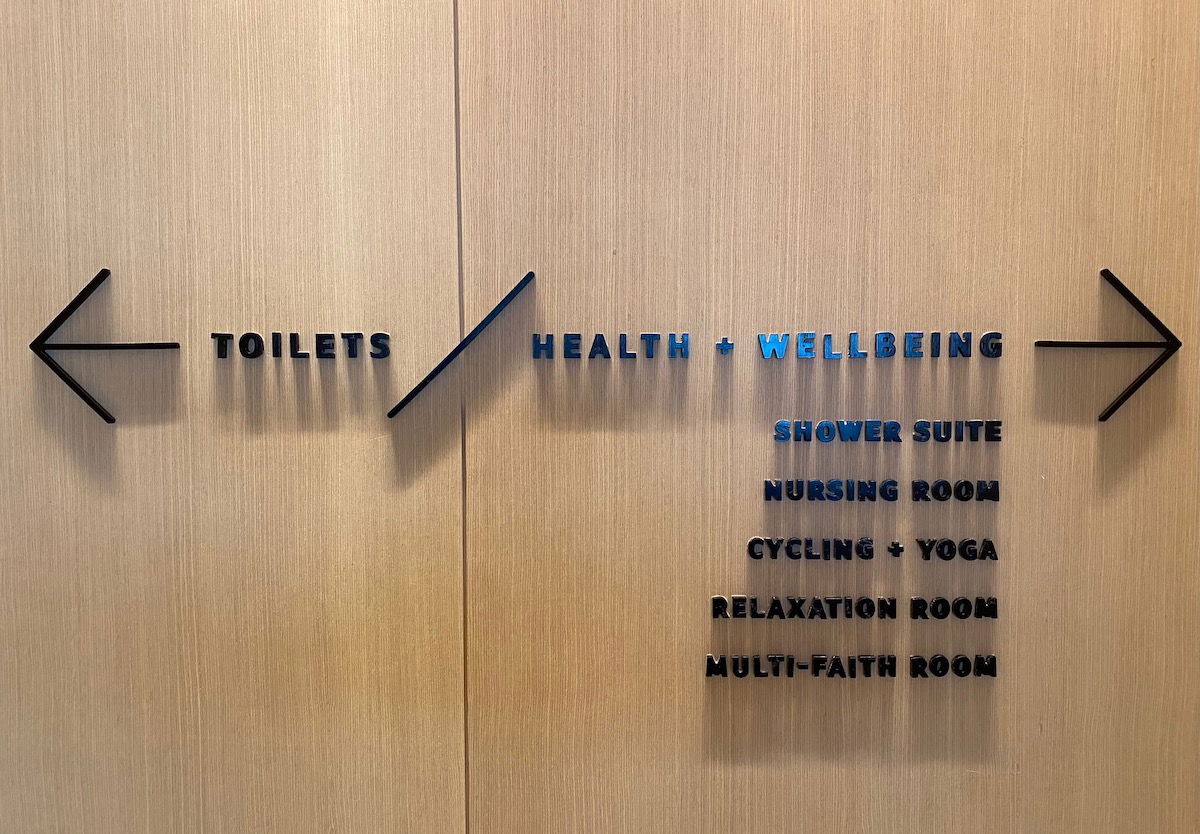 Capital One Lounge DFW Peloton bikes & yoga room
The Capital One Lounge has an exercise room with Peloton bikes and yoga. I've never used a Peloton bike before, but maybe one of these bikes with a view of 777s taxiing by is just the motivation I need, next time I have a longer layover.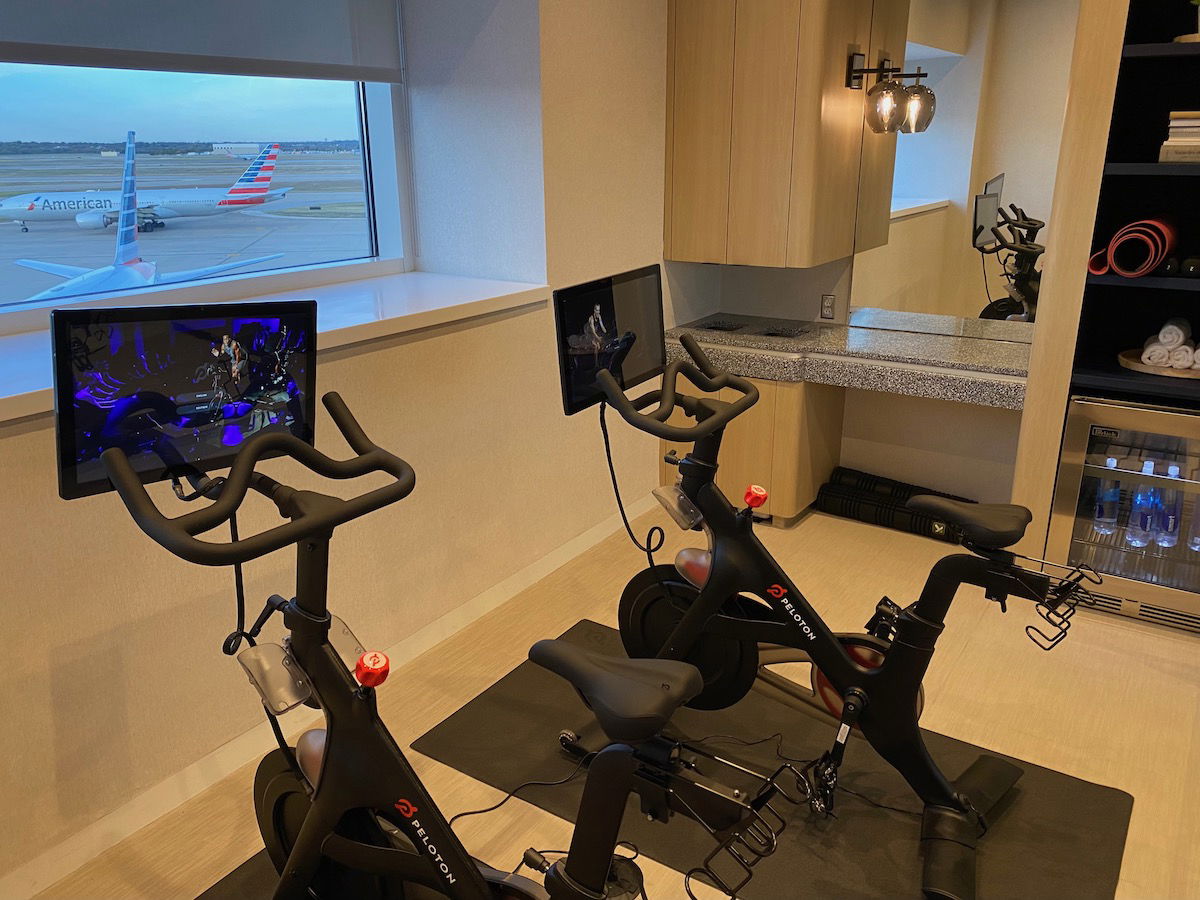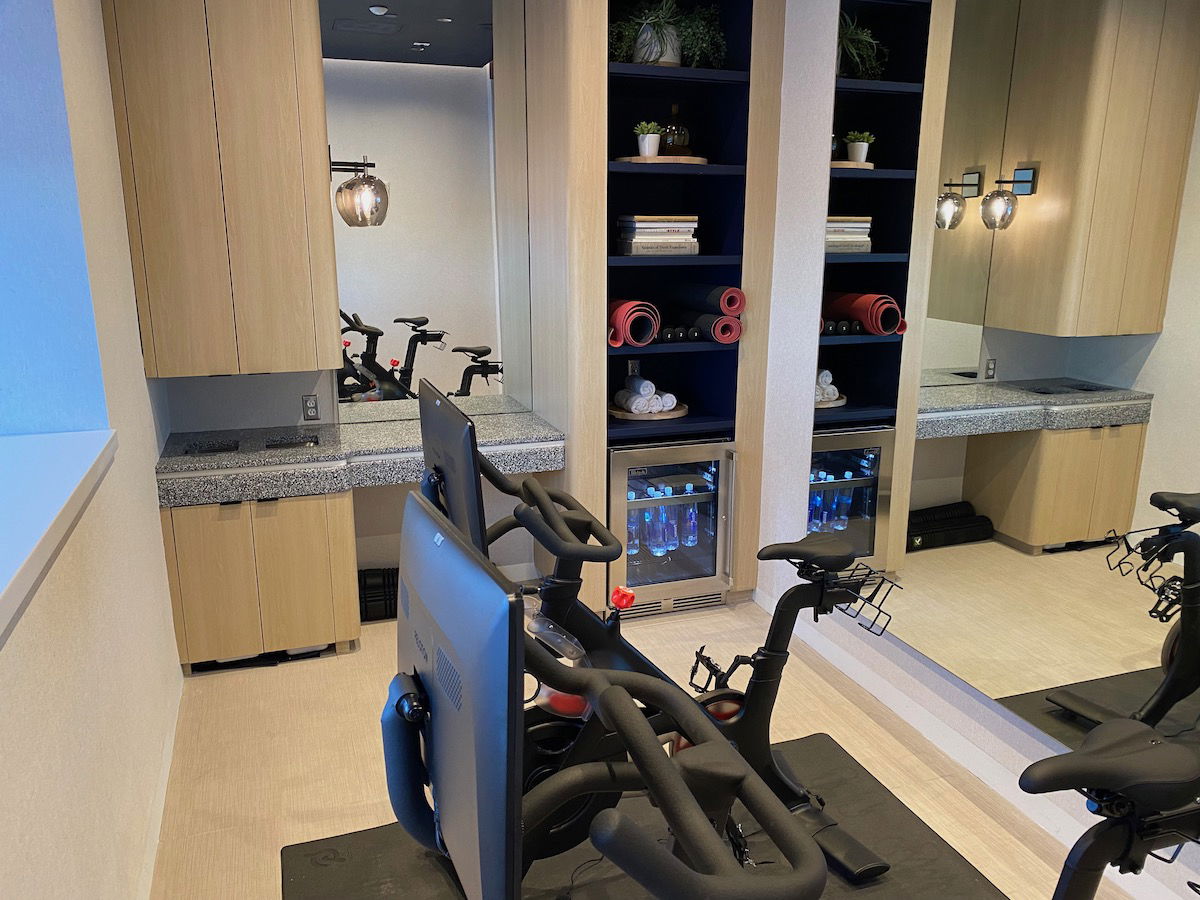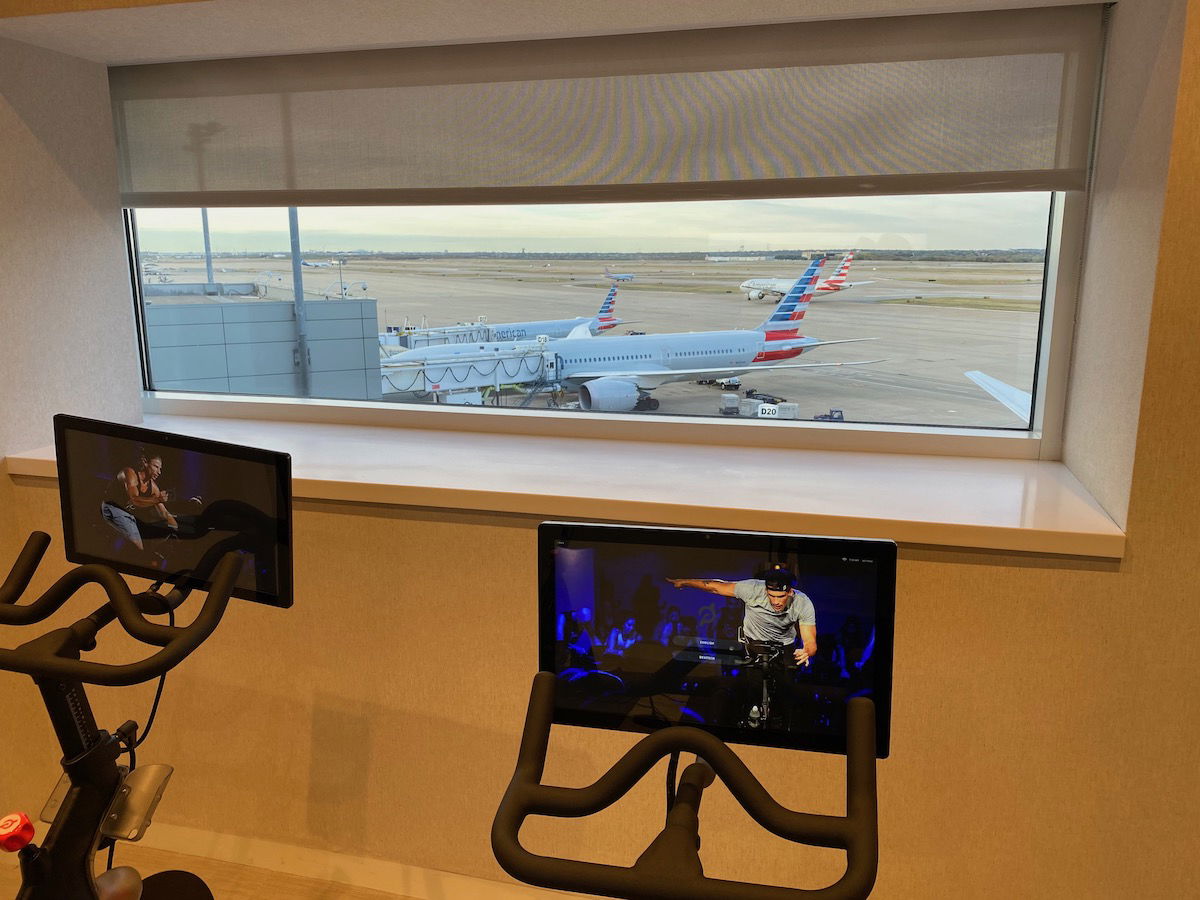 Capital One Lounge DFW showers
The Capital One Lounge has shower suites, which are well equipped. They feature walk-in showers (with both a rainforest showerhead and handheld one), toilets, and sinks, along with complimentary bath amenities and towels.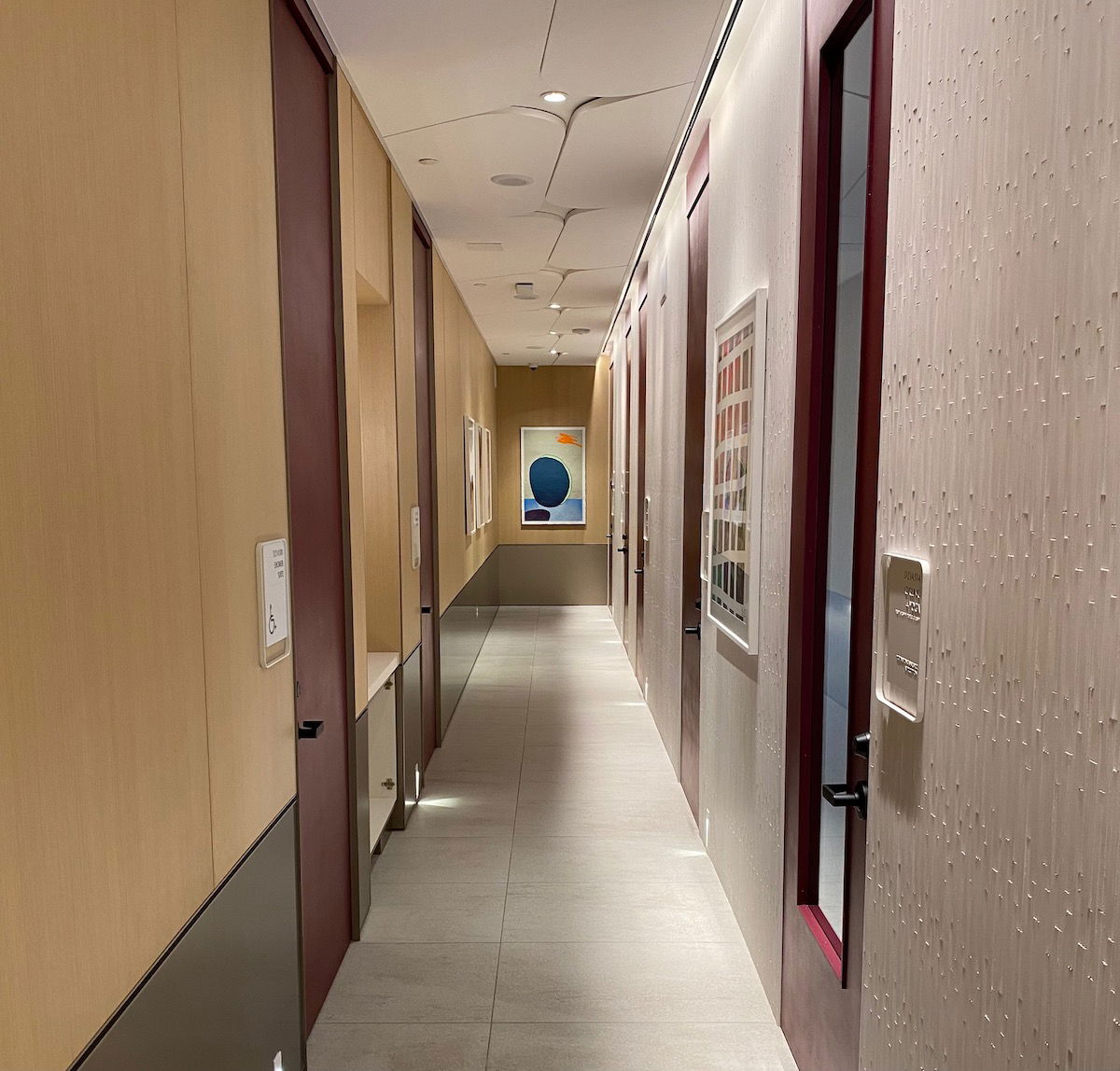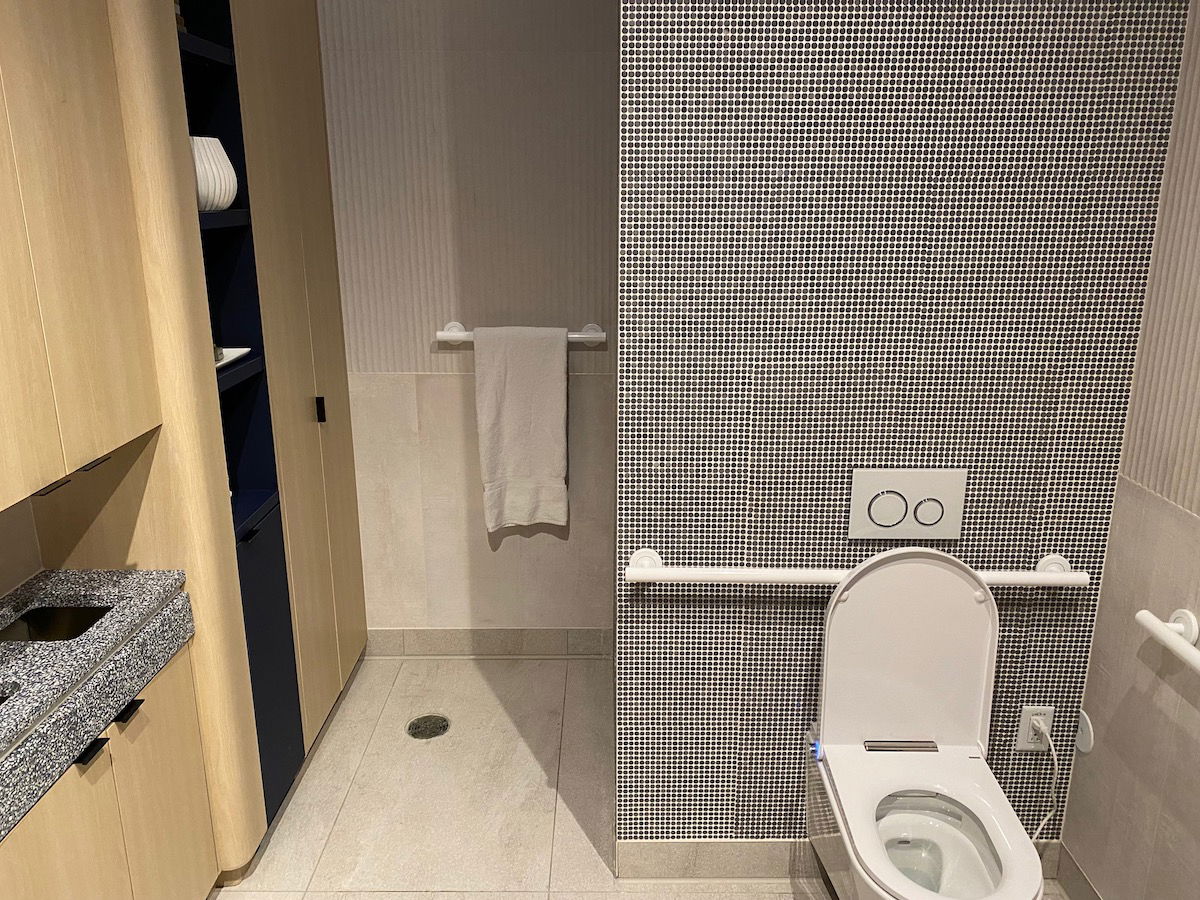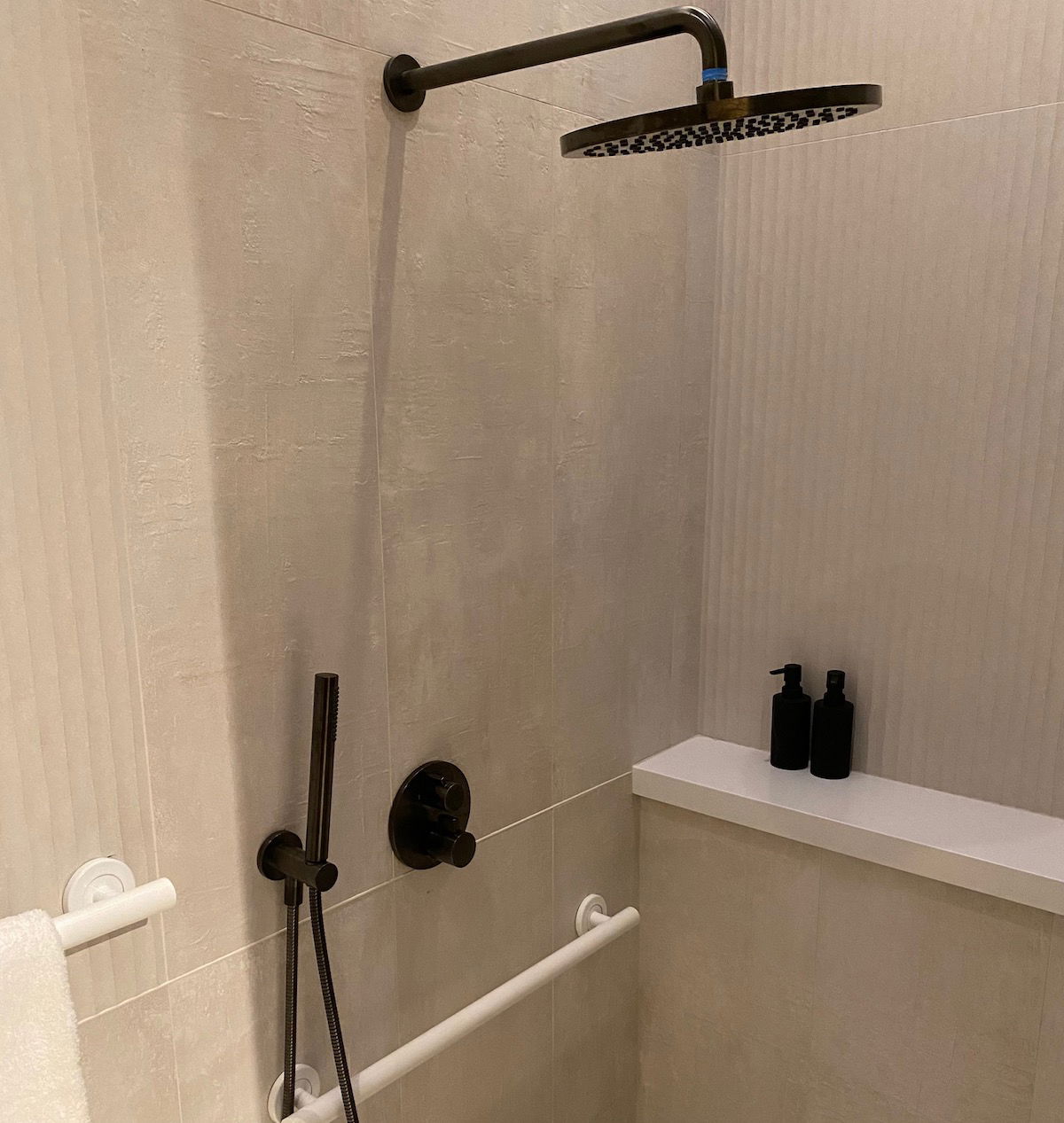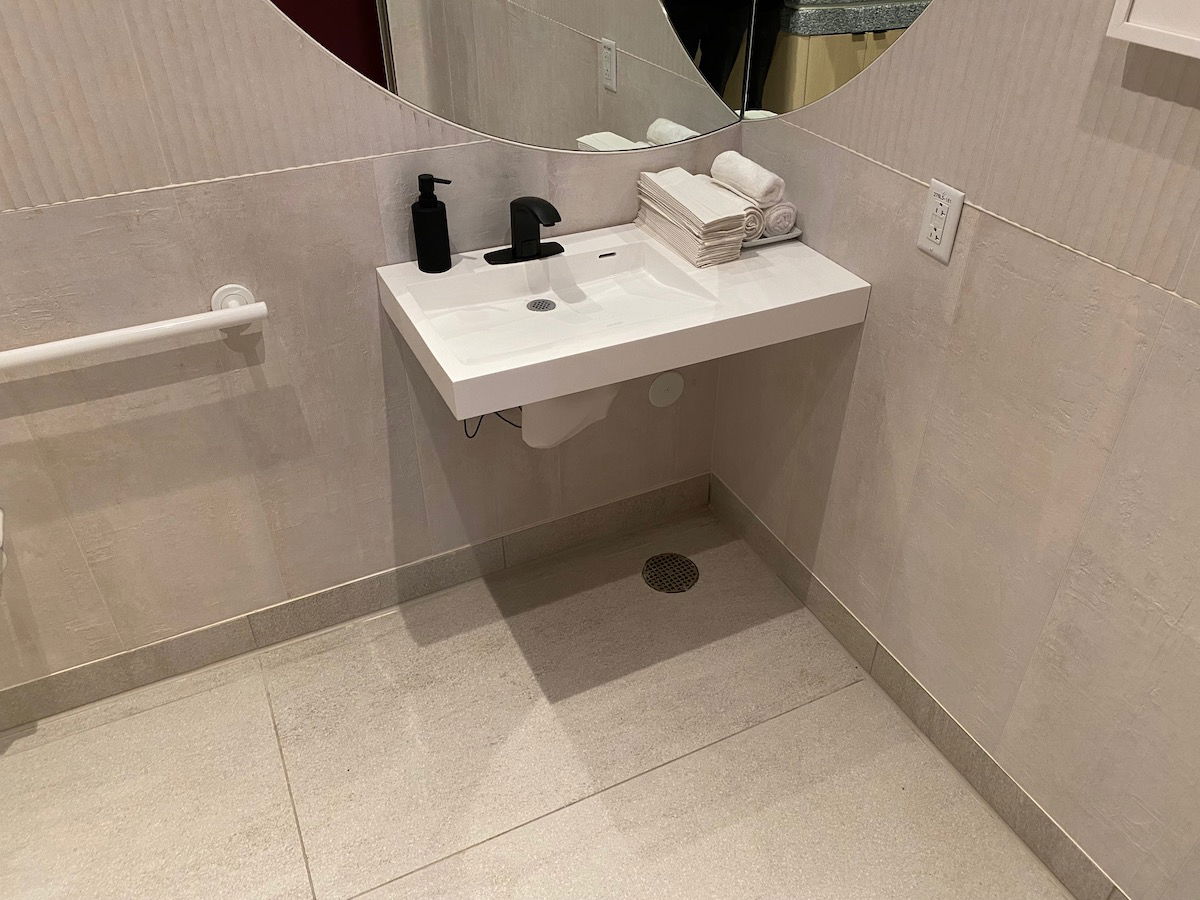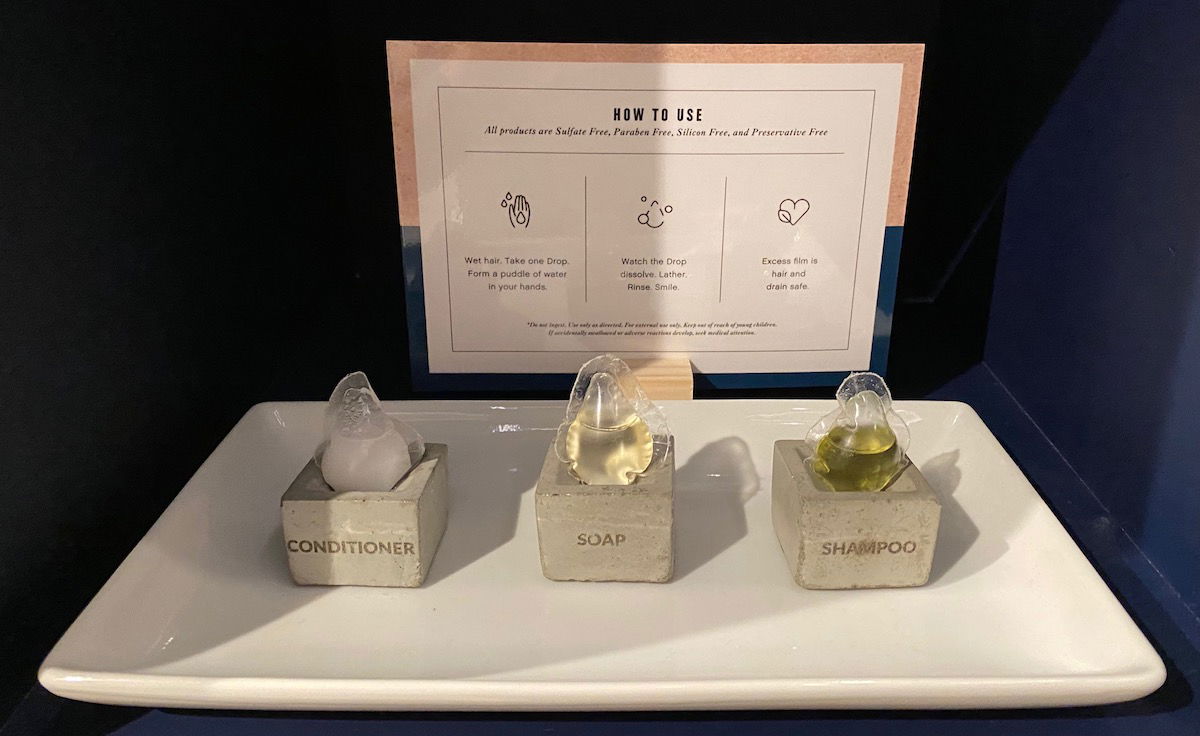 Capital One Lounge DFW relaxation rooms
The Capital One lounge DFW has two private relaxation rooms, with nap pods. I didn't have time to use one of these, but they sure do look cool.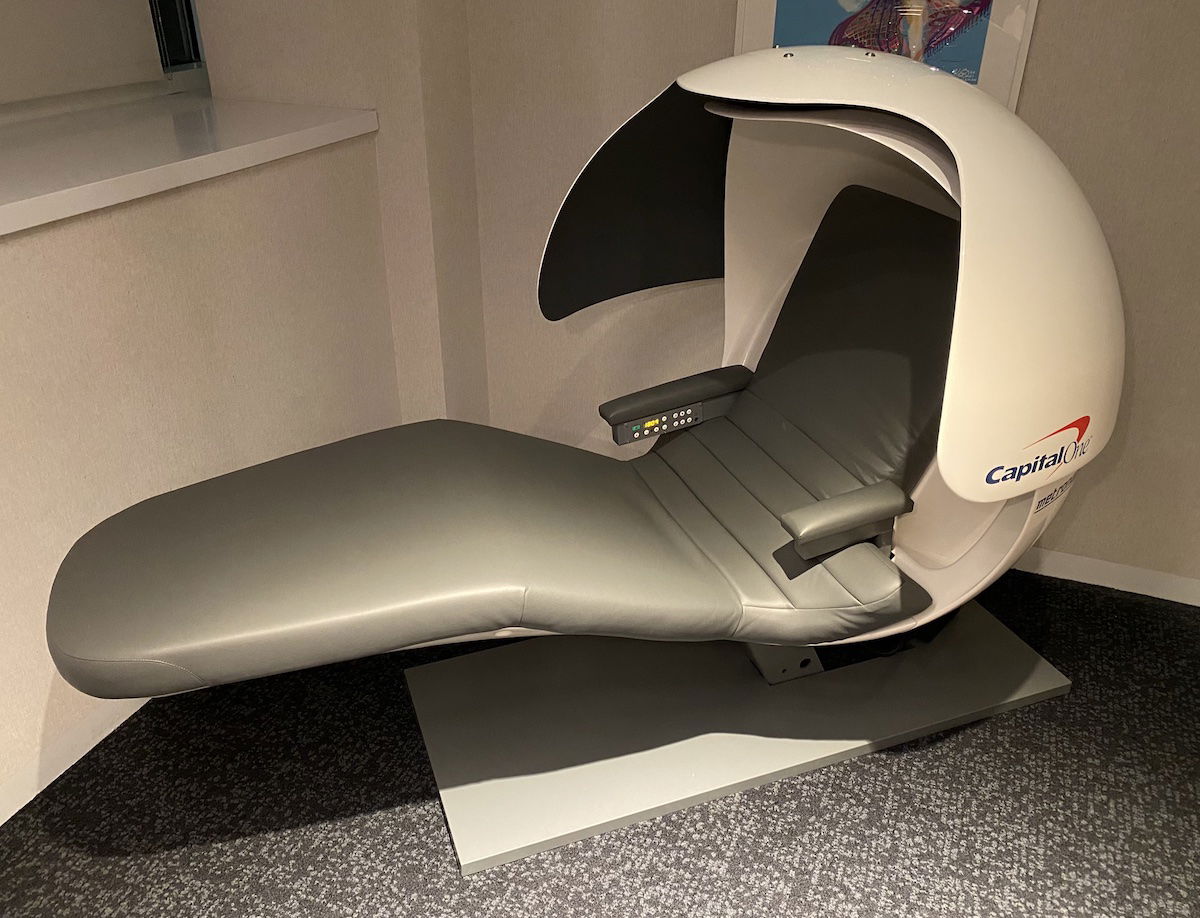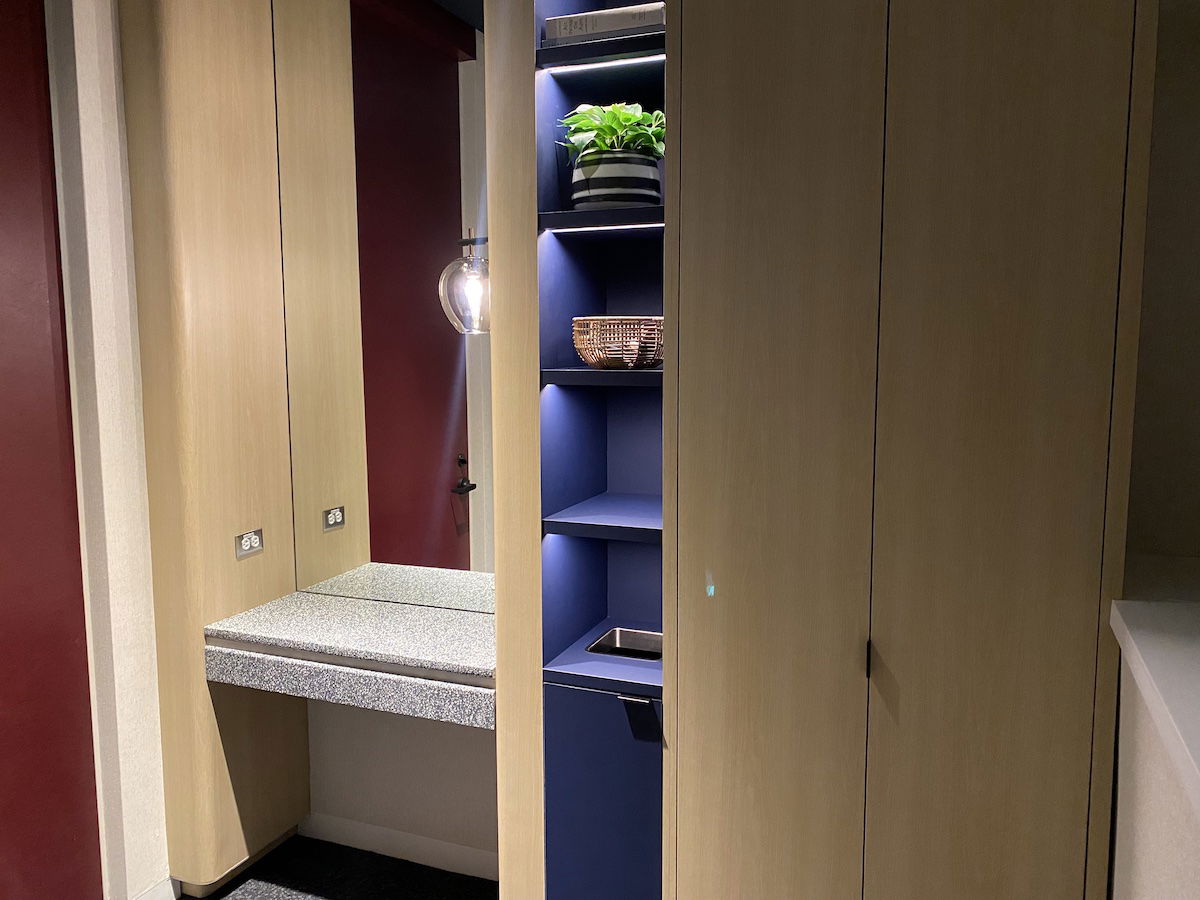 Capital One Lounge DFW nursing room
The Capital One Lounge DFW has a nursing room. That's a thoughtful feature you don't find in many airport lounges.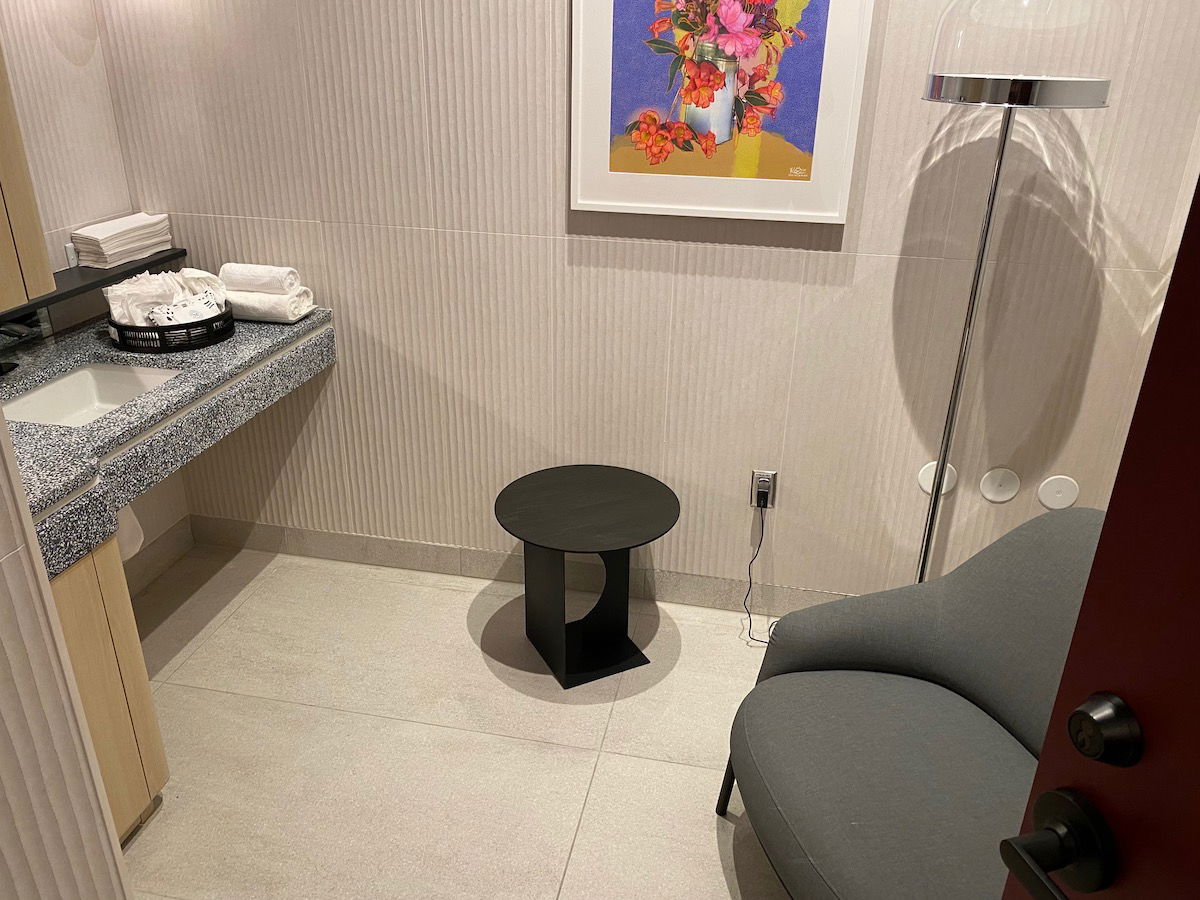 Capital One Lounge DFW prayer room
The Capital One Lounge also has a prayer room, which you don't find in many airport lounges in the United States.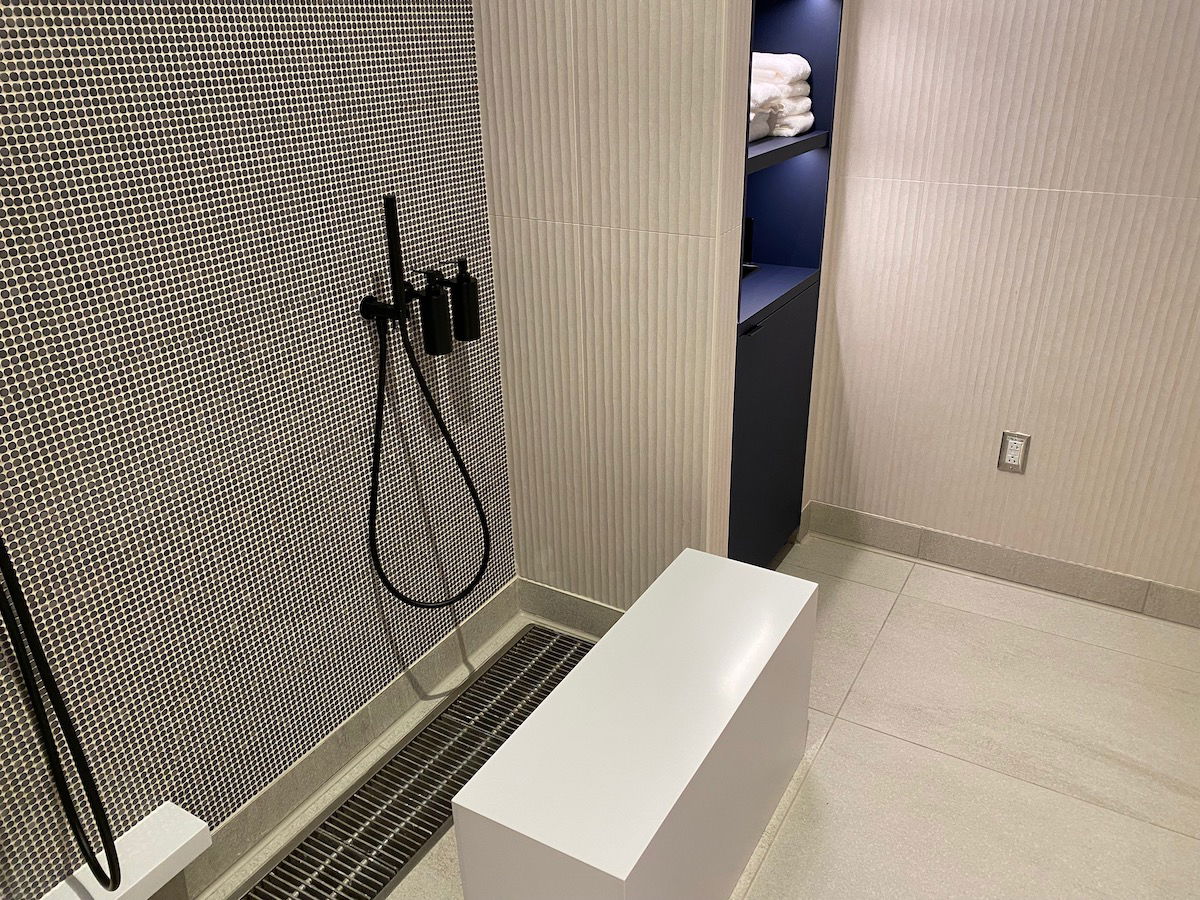 Capital One Lounge DFW bathrooms
The Capital One Lounge exclusively has private bathrooms, all of which are accessible and gender neutral. These are some of the largest private bathrooms I've seen in an airport lounge, and they even have bidets!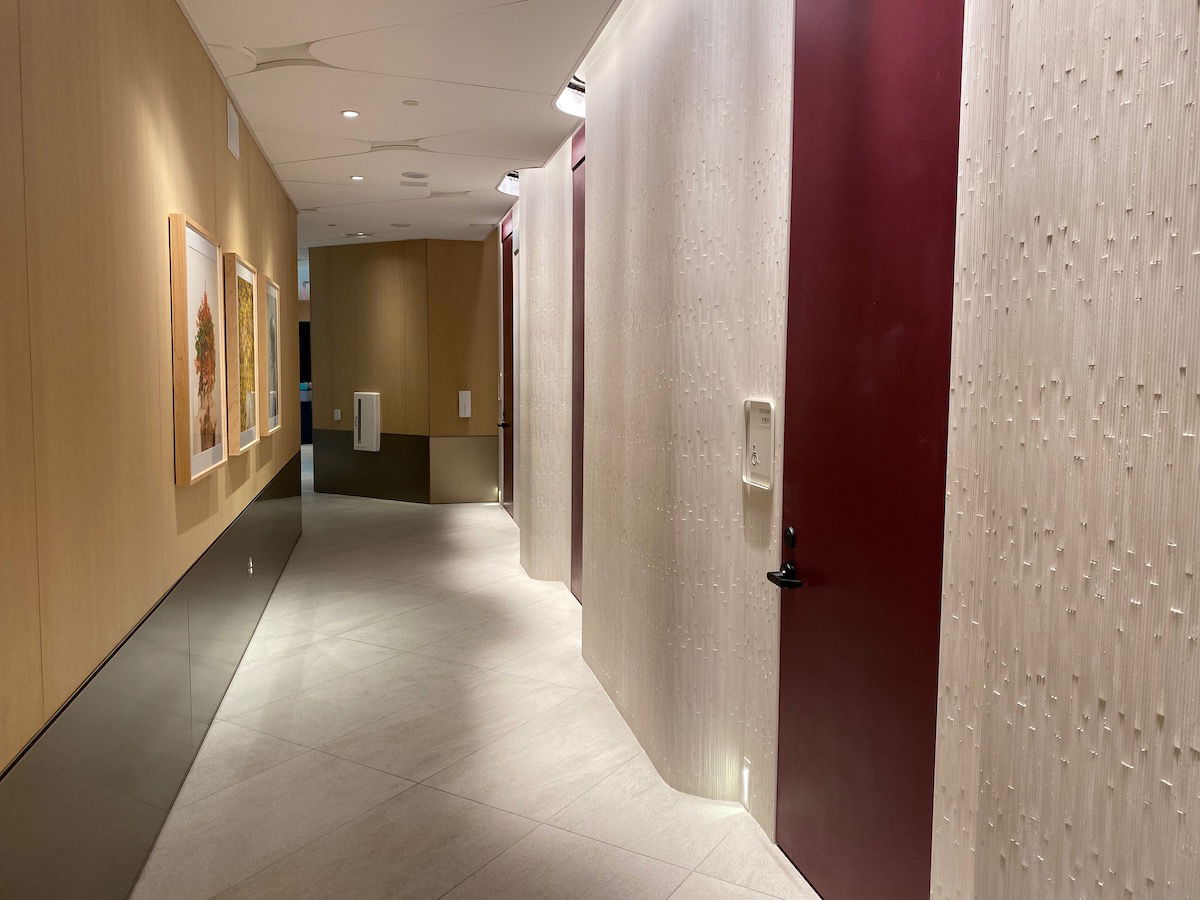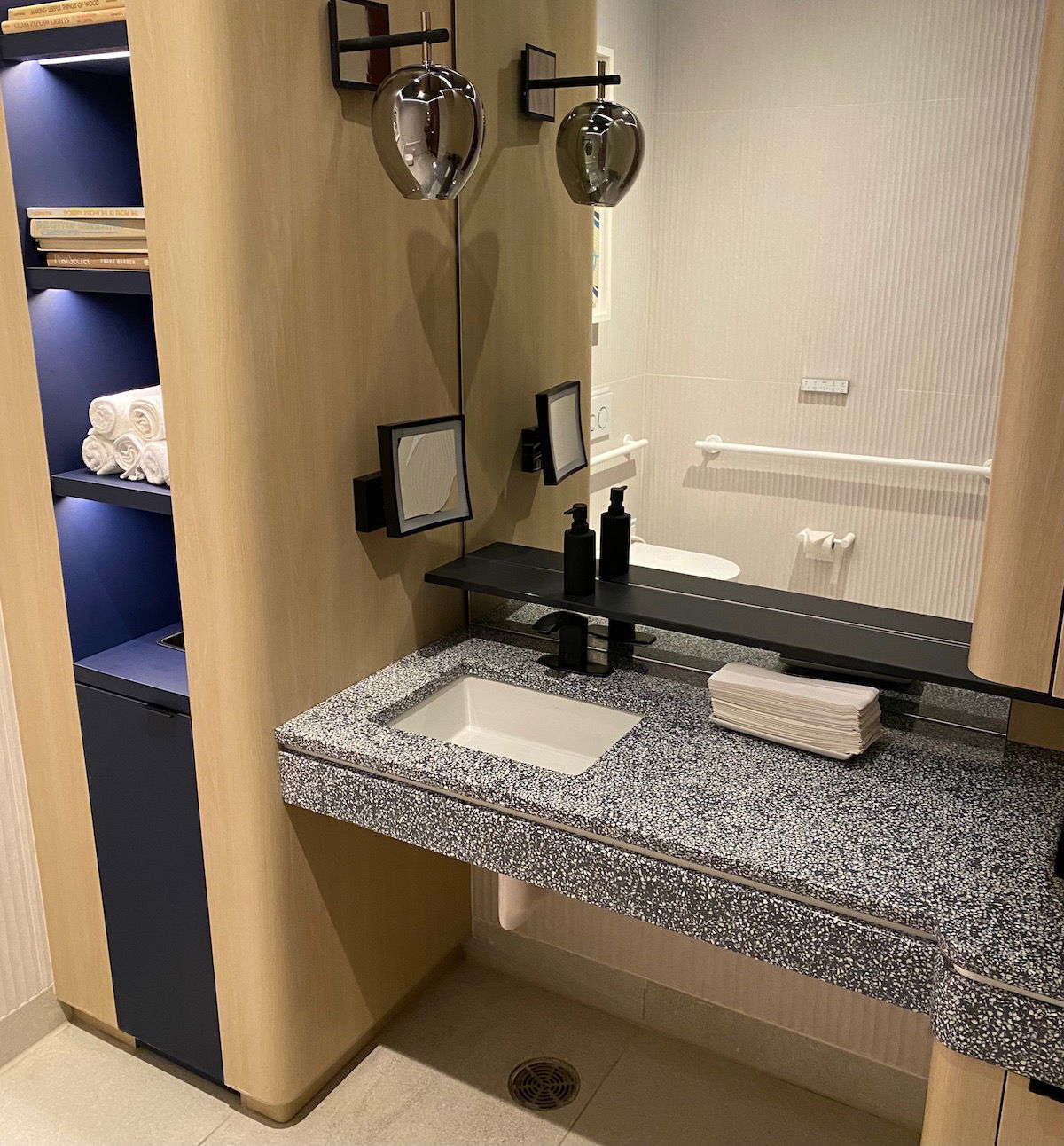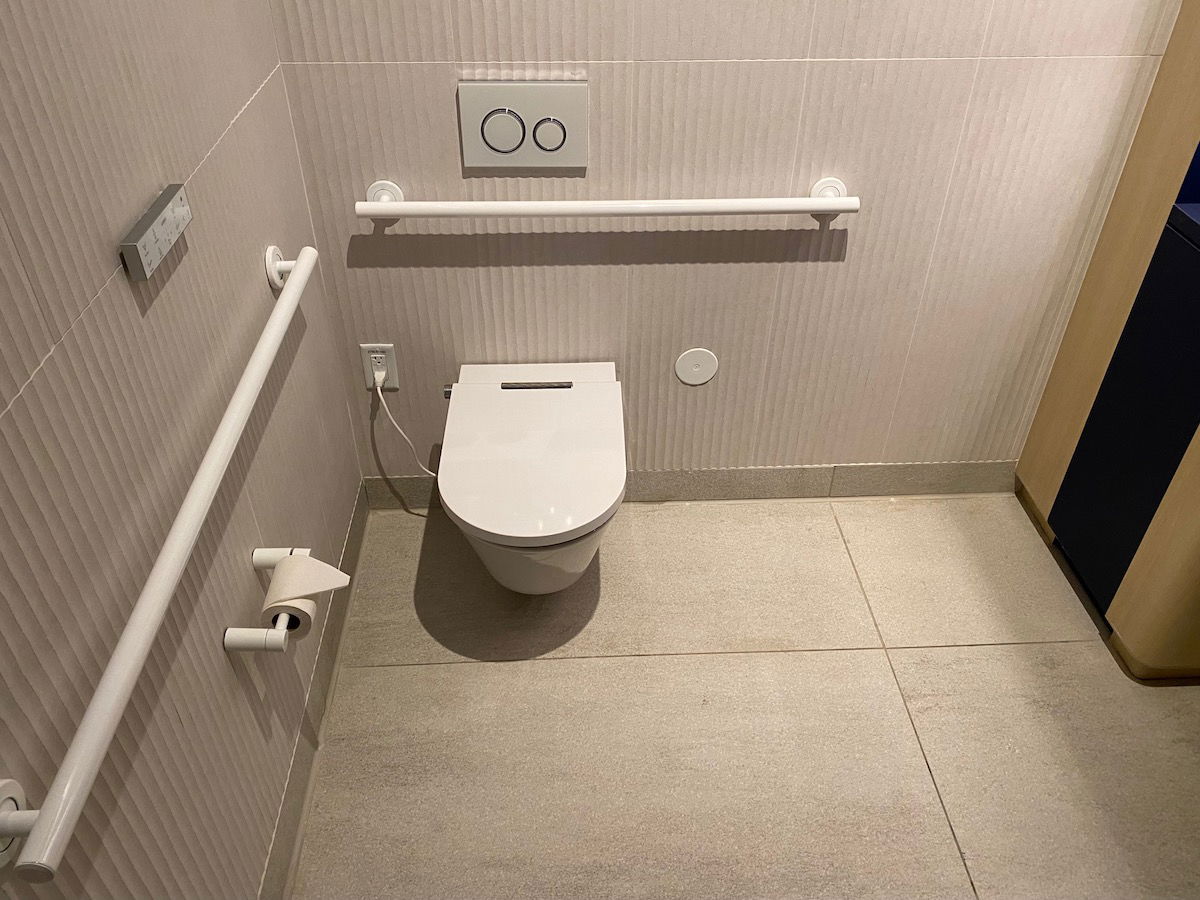 Capital One Lounge DFW Wi-Fi
The Capital One Lounge DFW has complimentary fast and free Wi-Fi. Best of all, there's no need to even enter a password, you can just connect to the network and start browsing the web right away.
Capital One Lounge DFW service
Every person working in the lounge couldn't have been friendlier or more enthusiastic. In fairness, this is a brand new lounge, so there's probably some excitement surrounding that. From the lovely lady who checked us in, to the bartender, to all the servers, they were such nice and fun people. I kind of wish I could have had cocktails with them (not them making me drink, but rather having drinks with them).
I was only in the lounge for 20 minutes or so, and when one of the servers saw my enthusiasm for the lounge, she proactively gave me a tour, and was obviously proud of all the amenities. She also recommended the pancakes, and asked if she could make some fresh for me.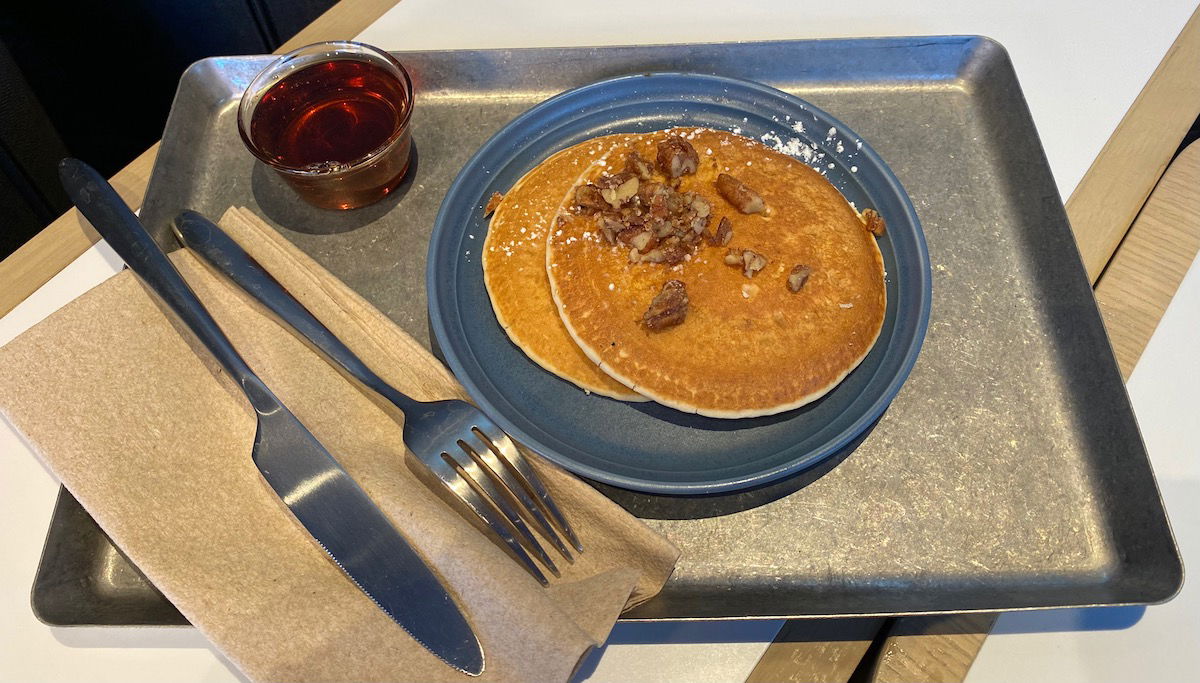 How busy was the Capital One Lounge?
I was at the Capital One Lounge DFW at around 8AM this morning. Based on the pictures I took, you may be thinking "where were all the people?" I was wondering the same thing. When I was in the lounge, there were a grand total of five guests, including the two of us. Staff outnumbered guests at least 2:1.
One of the major points of frustration with airport lounges in the United States is overcrowding, given just how many people have lounge access, especially with programs like Priority Pass. Even if a lounge is otherwise great, overcrowding can quickly take away the fun of spending time in a lounge.
The Capital One Lounge DFW is quite remarkable for how empty it is for the time being. I imagine that this will gradually change:
Not many people even know this lounge exists, given that the concept of Capital One Lounges altogether is brand new
Terminal D at DFW doesn't get much foot traffic, since it's still pretty quiet due to long haul travel not having fully recovered
Access to this lounge is primarily a benefit of the Capital One Venture X, and that card only opened to new applicants last week
As more people become familiar with the lounge and pick up a Capital One credit card, I'm sure this lounge will get busier. Still, I suspect it will be quite a while before the lounge gets as full as the nearby Amex Centurion Lounge.
Bottom line
The first Capital One Lounge recently opened at DFW, and it's simply incredible. From the design, to the lack of crowding (for now), to the exercise room, to the grab & go food, to the cold brew and lattes on tap, this is one of the most innovative airport lounges I've ever visited. Next time I hope to spend more than 20 minutes here.
I can't wait to see this lounge portfolio expand, and it's a great reason to pick up the Capital One Venture X if you travel through the airport with any frequency.
What do you make of the new Capital One Lounge DFW?