Travis is my first new contributor to the blog, who will be posting a couple of times per week. The idea behind adding guest contributors is to add different perspectives to the blog. Travis has a unique approach towards travel, given that he travels almost exclusively with his wife and young children, which is in stark contrast to my travels, which are usually alone.
---
I was recently in Michigan to see some relatives. This gave me the opportunity to visit the Lufthansa Senator lounge at the Detroit Metro airport, one of my favorite lounges in the US.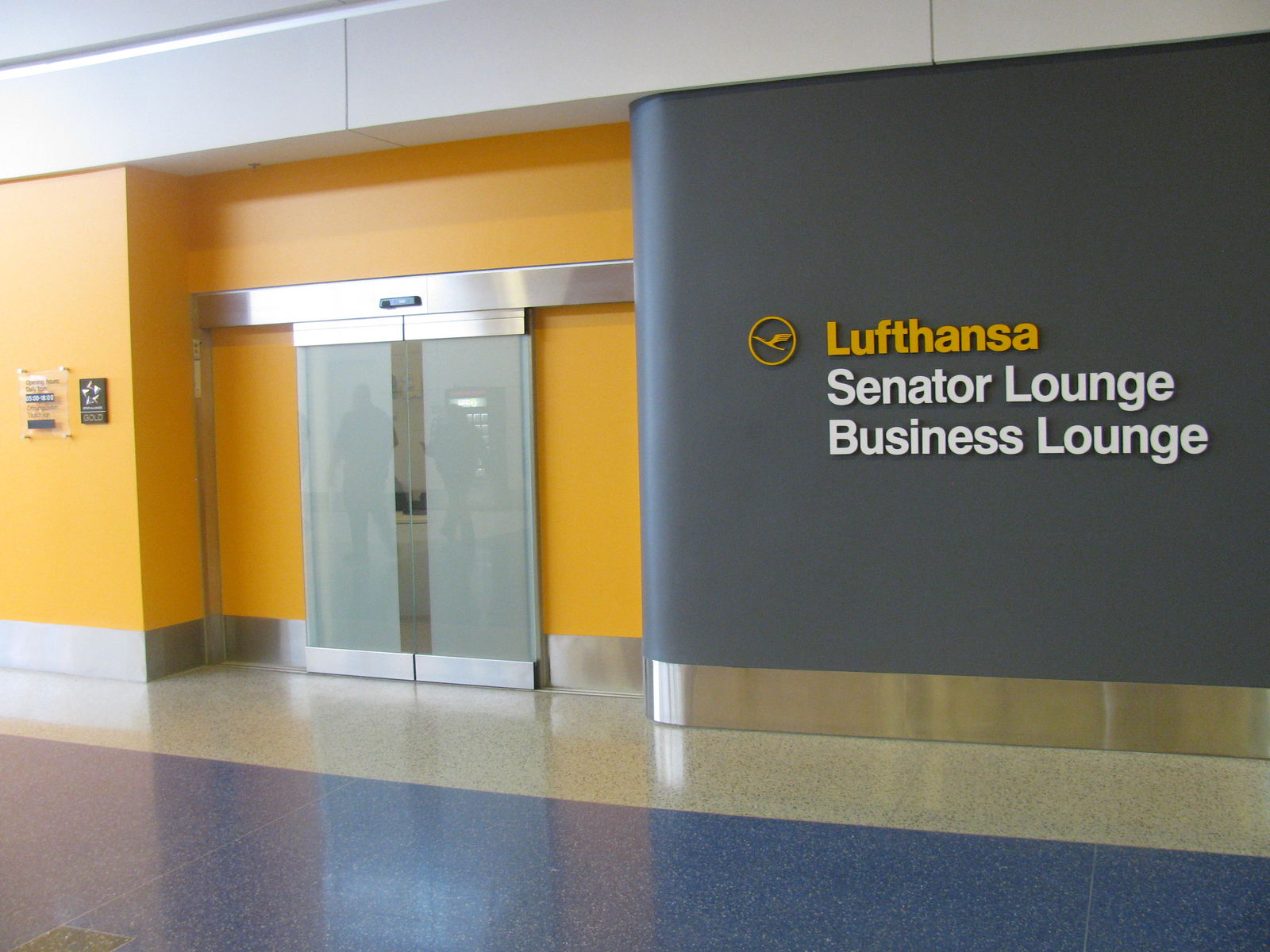 The Lufthansa lounge is located in Metro's North Terminal, which is home to Lufthansa and just about every airline not named Delta. The North Terminal replaced the decrepit Smith Terminal several years ago, and is actually quite nice. It is completely detached from Delta's McNamara fortress Terminal, and this is often a good thing. With about 28 gates, the Smith Terminal has the feel of a small regional airport — easy in, easy out. Even the car rental shuttles treat it as its own entity – you have to watch which bus you board after returning a car because some are bound for McNamara while others are going to North. Heck, you can even take different freeways depending on whether you are flying Delta or not!
The Lufthansa Senator lounge opened a few years ago and is intended primarily to serve the once daily Detroit – Frankfurt flight. The flight in itself is a bit of an anomaly since there is presumably little connecting feed (doing a Smith to McNamara shuffle seems like a huge pain). But perhaps contrary to popular belief, the auto industry is still chugging along in Michigan and the executives are still largely there so apparently there is sufficient demand for this flight.
Anyway, I quickly passed through security and turned left to walk to the lounge. It is located between gates D6 and D8. Since the Smith Terminal is a long linear concourse, it's a bit of a walk from security. But given both United and Lufthansa have their gates at the far end of the terminal, the lounge is actually on the way to your gate. Along the way you get to pass the inevitable scrum at the Spirit gates, and be thankful you're not flying them.
Upon reaching the club, I noticed that they had hours posted outside indicating they are open from 5 AM to 6PM, with no exceptions for days of the week, holidays, or anything else. These are the same hours that have been posted for years, but in my experience, they aren't always followed. I, and various relatives, have come by on holidays, snowy days, and other random days only to find the lounge closed with no sign indicating a reason. Of course, I've also seen reports of the same thing happening at this club's sister lounge in Dulles. Apparently the German adherence to schedules and policies does not completely transfer to America.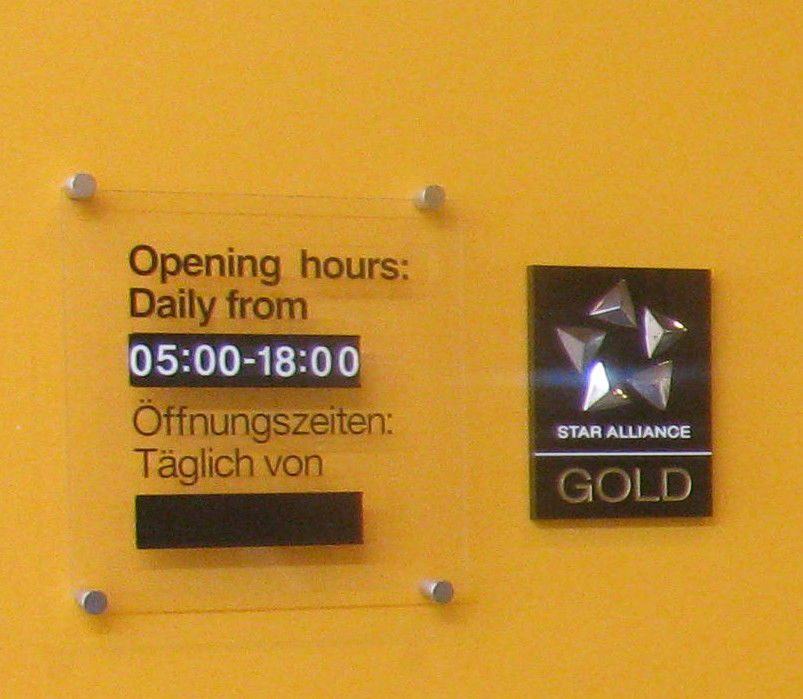 There was one person at the check-in desk when I entered. However, she informed me that I would have to wait for her colleague to return, as she was just part of the housekeeping staff. It seemed she was just holding down the fort (and keeping out the riff-raff) while the lounge matron was away from the desk – it really is a small operation. I stood and waited, and waited, until eventually she went to find her. I guess the job of protecting the sanctity of the club now fell to me – fortunately the Spirit riff-raff never wanders to this end of the terminal.
When the matron returned, I showed her my Star Alliance Gold card, and she scanned my boarding pass. It's worth noting that Star Alliance rules designate lounges as departure lounges – you shouldn't expect to be granted admission upon arriving on a United flight unless you are connecting to another United flight (and I have no idea why you would be doing that in DTW). I also asked about the hours, and she confirmed that they do open at 5 AM, though not until 11:30AM on Sundays. (See what I mean about how the hours posted out front don't tell the whole story?) Regardless, this is quite impressive considering that the lone Lufthansa flight doesn't depart until 4:30PM. Heck, I've seen United Clubs that don't even open that early, and that's at stations where United has early departures! I wonder how much revenue Lufthansa collects every time I hand them my United Premier card and tell them to bill it to Jeff?
At any rate, she motioned me to enter the club on the right. This surprised me as the Senator lounge (which Star Golds get access to) had always been on the left with the business class lounge on the right. Was I being sent to the business lounge due to overcrowding?
I politely asked which side was the Senator lounge and she explained that they had recently switched sides, such that the Senator lounge was now to the right, so indeed I was being sent to the Senator side. She shrugged when I asked why they had flipped the space around. At any rate, I was super excited. I spend far too much time at United Clubs where the biggest change of the year usually involves something like switching from Walker's shortbread to Milano cookies.
Interestingly, my wife and kids stopped by the lounge two days later during breakfast hours to find that the right side – the new Senator side – was closed, and all guests were being sent to the left side. So who knows what the scheme is. Perhaps it's as unstable as the hours.
I entered the Senator lounge and noticed that it was relatively busy, at least more so than other times that I have visited. Then I realized that the Frankfurt flight would be departing in 45 minutes, and sure enough, the place turned into a ghost town shortly after boarding started.
The club is nicely furnished and can seat 40-50 people. It's generally one large room, though the seating areas are somewhat divided with tables and chairs near the food service and comfy chairs further away. There is also a cool high-top table with swivel stools. Unlike the former lounge on the other side, there are no work carrels.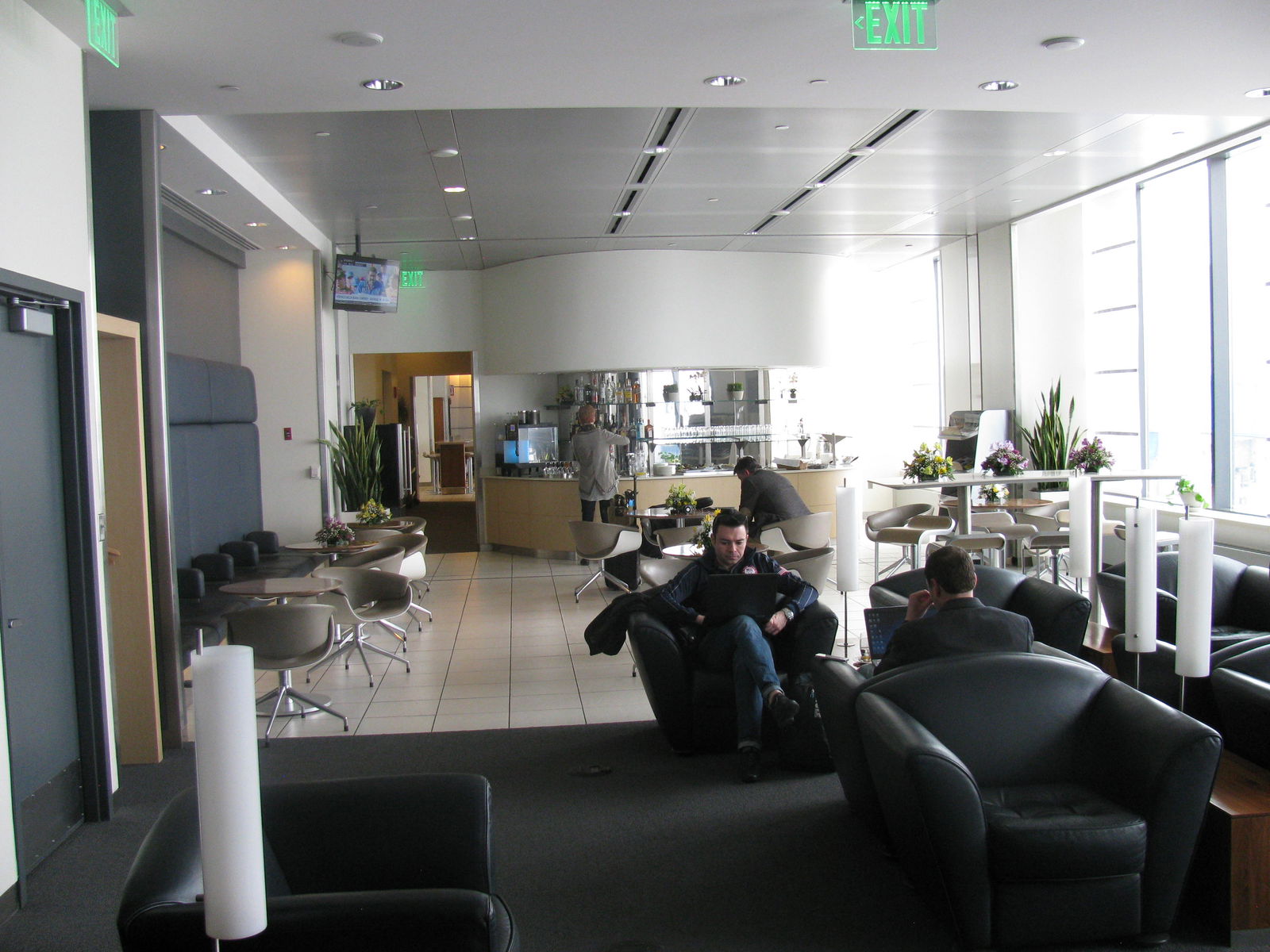 The artwork on the walls pays tribute to the Detroit auto industry, which is a nice touch, and perhaps a tip of the hat to their raison d'etre. The view from the lounge faces the tarmac though you can't actually see the Lufthansa plane as their gate is on the other side of the concourse. Instead you can view the flotilla of United regional jets that ply the Metro airspace. And of course the Spirit planes – is it just me, or does it seem like they just create a livery out of whatever paint is on sale that week?

I took a seat in one of the comfy chairs and proceeded to get a bite to eat. My past experience at this lounge was that the food offerings were somewhat limited compared to similar lounges in Germany (but still an order of magnitude better than a United Club). There used to also be small quantities of each item, and they generally weren't restocked quickly, or at all. As I recall, it used to be perhaps one hot item (maybe just soup or pasta) and then some finger sandwiches, cheese, crackers, crudites, and maybe simple desserts. So it was a bit of a crapshoot as to what you were going to get, because if the lounge was busy that day, there might not be much left.
I'm happy to report that the food service seems to have improved, both with the number of items available, and the quantity of each item. This day's offerings features three hot items.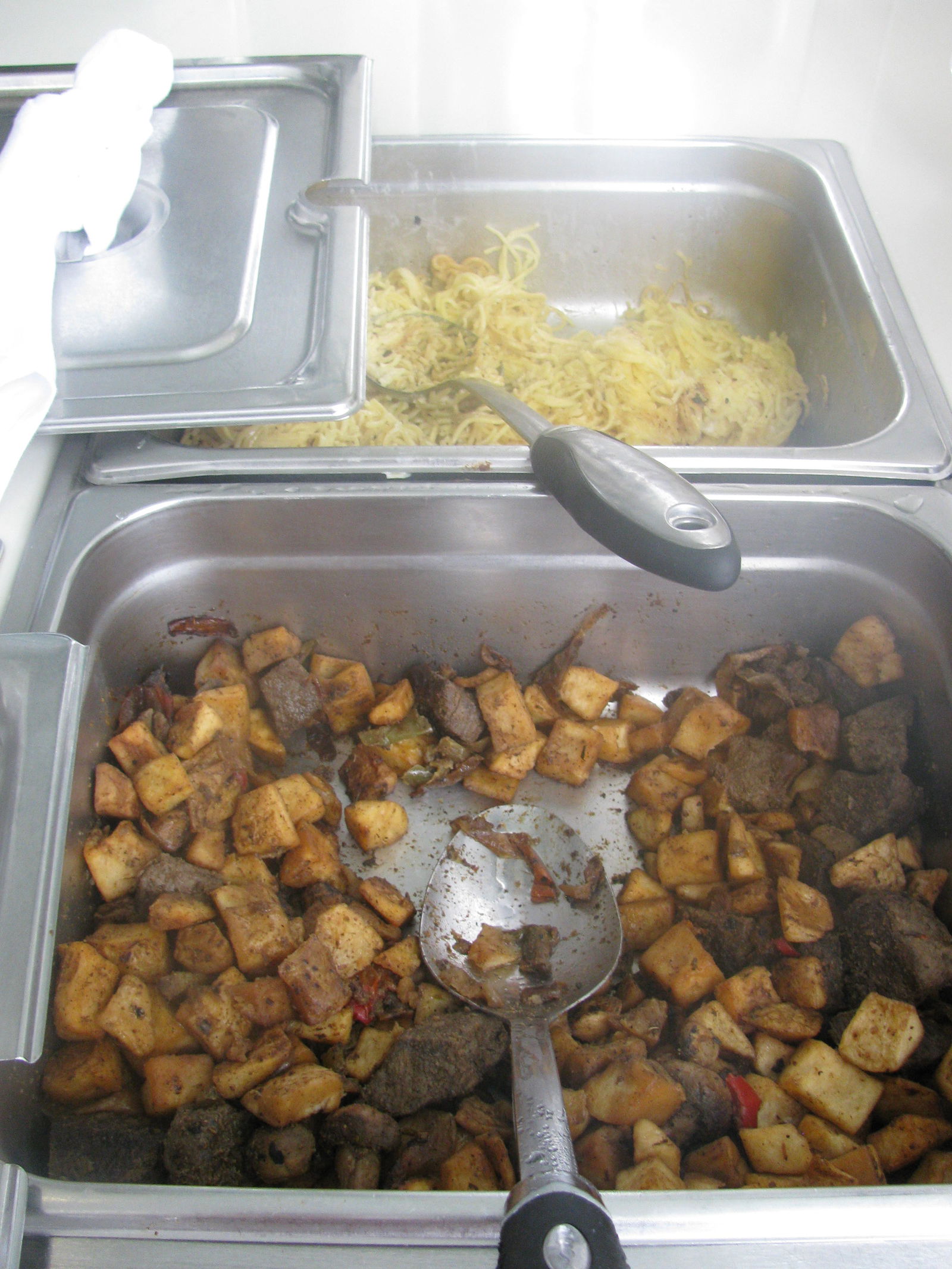 The cold items had also been expanded.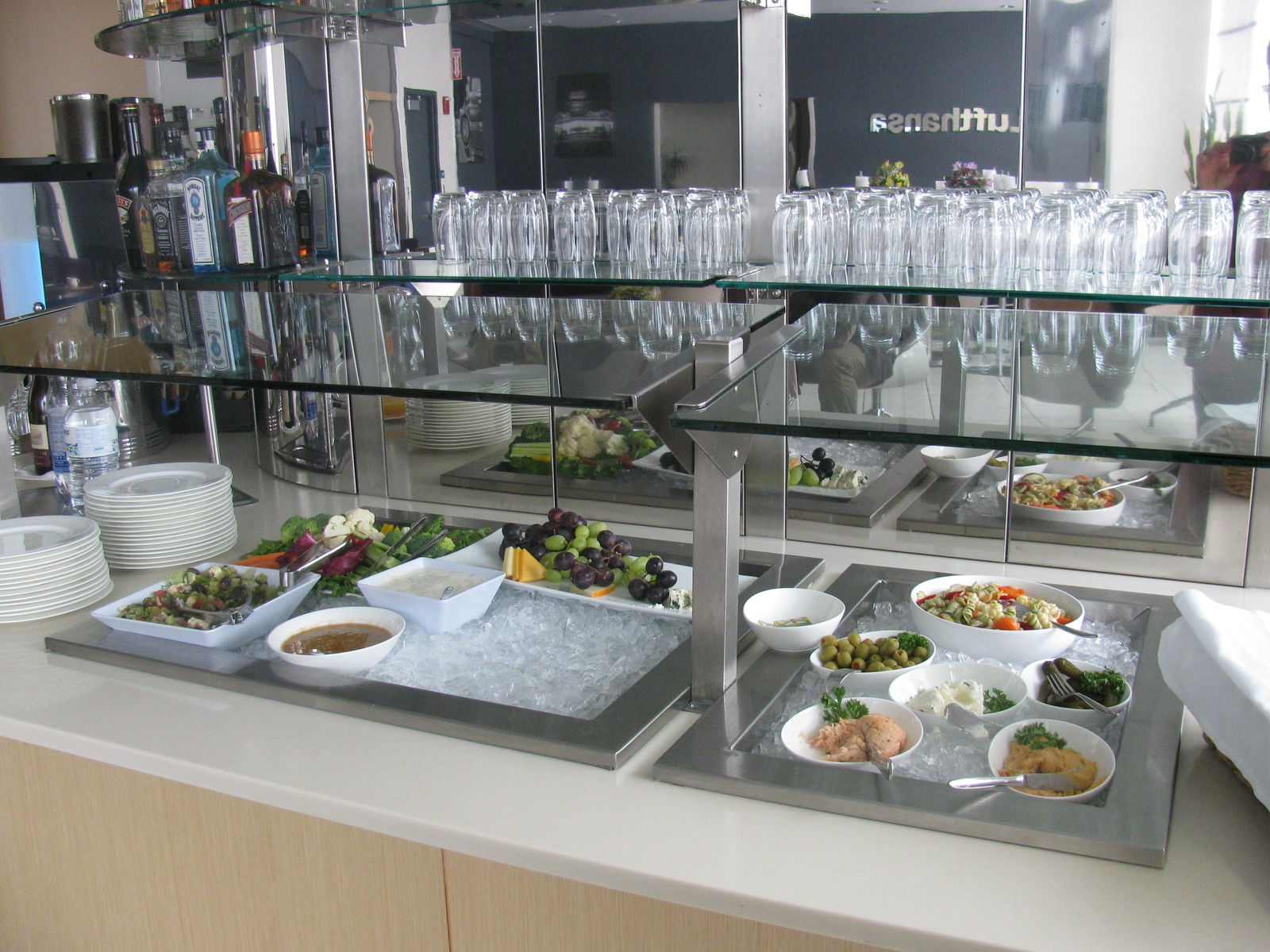 Sadly there are no warm pretzels (as the Dulles club once had), but there were pretzel rolls.
The dessert area featured nuts, gummy bears, and a nice selection of small baked goods. The serving plate for these seemed to have one of each item, which almost made me think they were for display only and that I was actually supposed to place an order for one rather than help myself. So I checked to make sure no one was watching, and then selected a single serving pecan pie, hoping that it didn't turn out to be made of plastic. (It didn't.)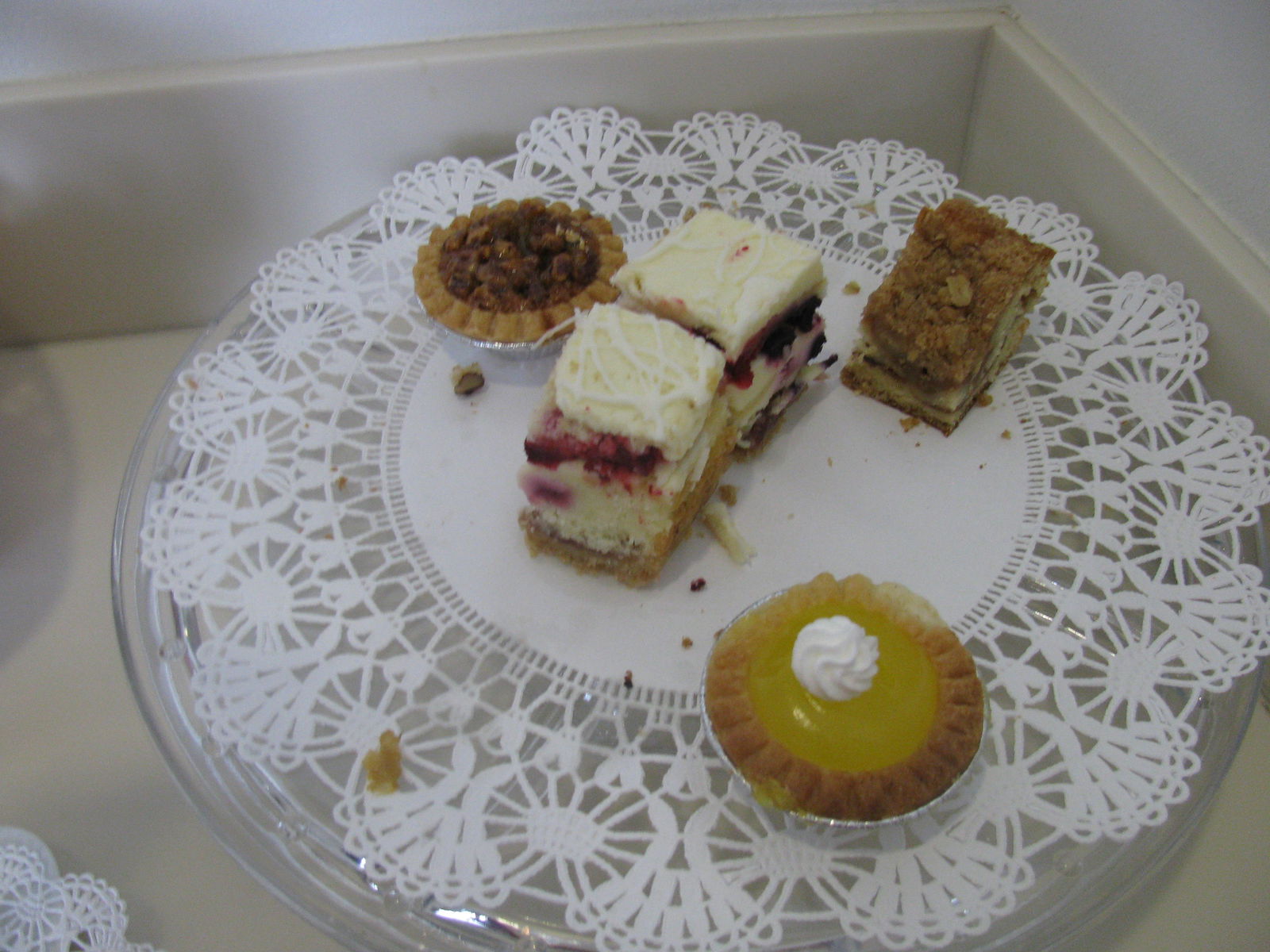 Since there was only one of each item, and I didn't see them being replaced, perhaps the advice here is that you should eat, or at least select, dessert first, especially if you see something you like.
The beverage selection is also quite good with a self-serve bar of adult drinks as well as a cooler of canned sodas.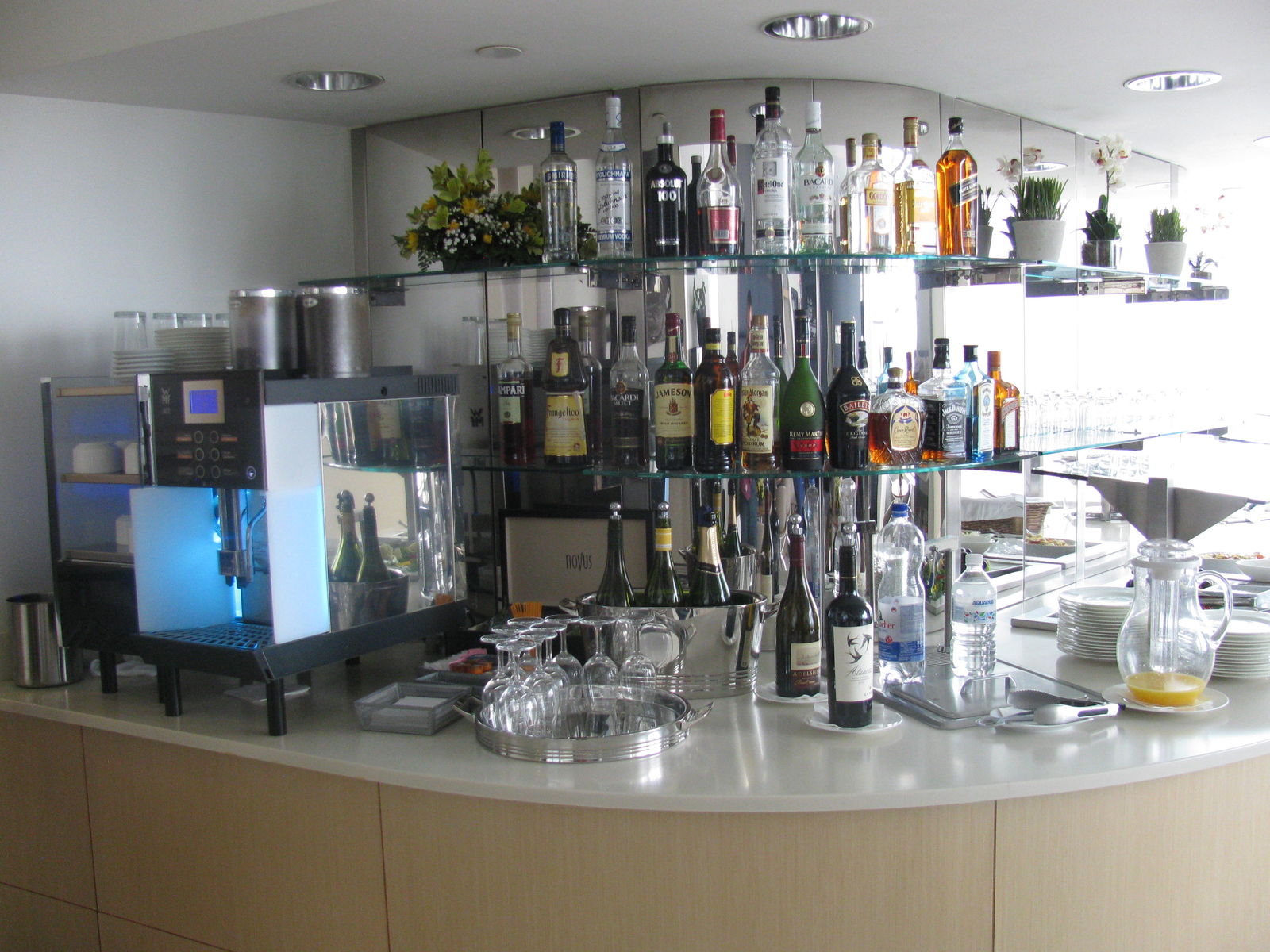 One thing that hasn't changed is the background noise in the club. As in there isn't any. I don't know exactly why, but this club has always had the feeling of a library, whereas the typical United club has the vibe of a bar. Perhaps the German clientele is more refined than their American counterparts? They also don't have a TV blaring (it was muted) to fill the void.
In the past, my wife would actually get apprehensive about visiting for fear that our children (two preschoolers) would make a commotion. Seriously, we've entered this lounge before to find that our family of four had doubled the number of people inside. And as a relatively small club, there really isn't anywhere to hide or get away. We'd eat a bit, try to keep the kids to a low roar, and then sneak out the back door.
None of that has really changed, which is fine, but something to keep in mind if you have young children.
Overall, this is very nice lounge, even a bit improved over what it was previously. It's not as nice as the Lufthansa lounges in Germany, but if you are calibrated to the club offerings of our domestic lounges that any number of credit cards with lounge access could get you into, you will be quite impressed. It is easily on a par with the Lufthansa lounge in Washington Dulles, and far more convenient for those not flying Lufthansa. Depending on the time of day, you may end up with the entire club to yourself. Just don't be too disappointed if you show up and the lounge is closed for no apparent reason.