---
After four mostly on-time domestic flights we made it to Miami at around 6:30PM, with well over two hours before our connection to Buenos Aires was scheduled to leave.
I've flown through Miami dozens and dozens of times, though only ever on American. I never really put any thought into it, but I always kind of assumed that LAN left from the same terminal as American, given their partnership and that most passengers are probably connection to and from American flights.
After looking at the departure board we realized our flight was leaving from the "J" concourse. Shame on me, I know, but I had no clue where that is. After asking at the Admirals Club we were told it's on the side of the airport, so we exited security and started walking there.
I'm pretty sure the walkway we took was really an underground tunnel to Ft. Lauderdale Airport, because it was a really long walk. But it was also one of the most fascinating airport walks I've taken. I've always joked that American's terminal at Miami Airport feels like it's in a foreign country. Nope, compared to the rest of the airport it feels more American than West Virginia.
I thought I had at least heard of most airlines out there, though we passed counters for at least a dozen airlines I had never heard of. There was also several of those luggage "wrapping" stations, which you usually only find at foreign airports.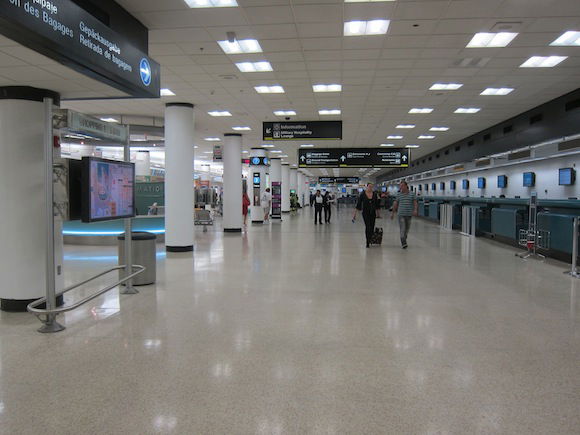 Walking to concourse "J"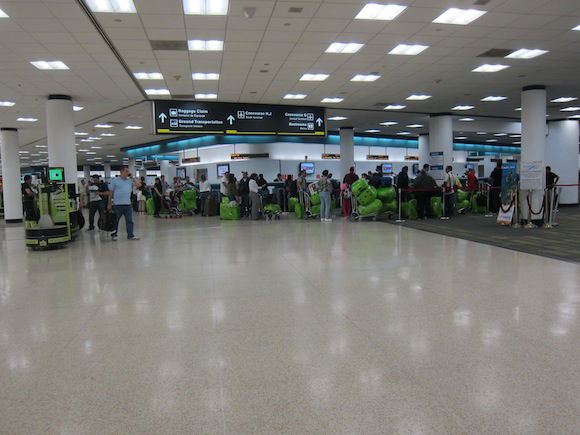 Walking to concourse "J"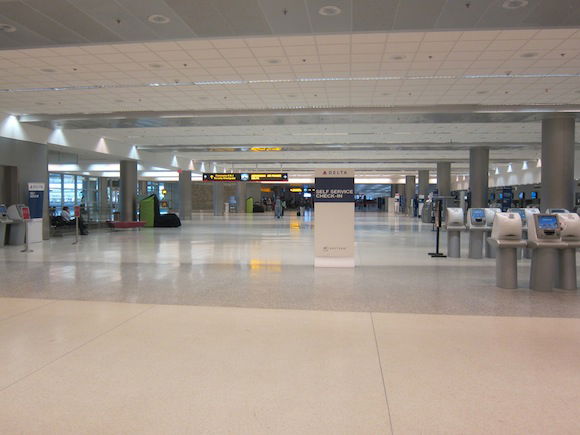 Walking to concourse "J"
After a long walk we made it to concourse "J." Fortunately we already had our boarding passes, as the check-in queue was extremely long.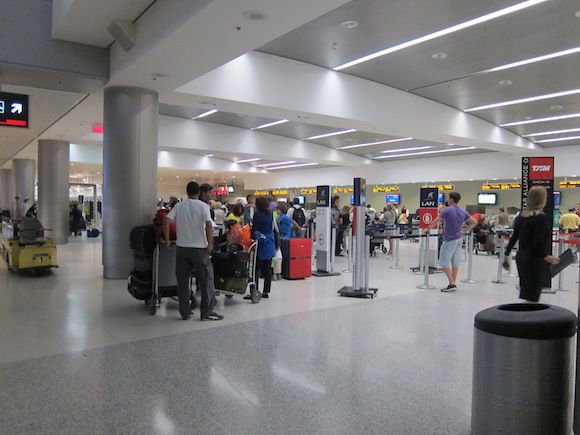 LAN check-in queue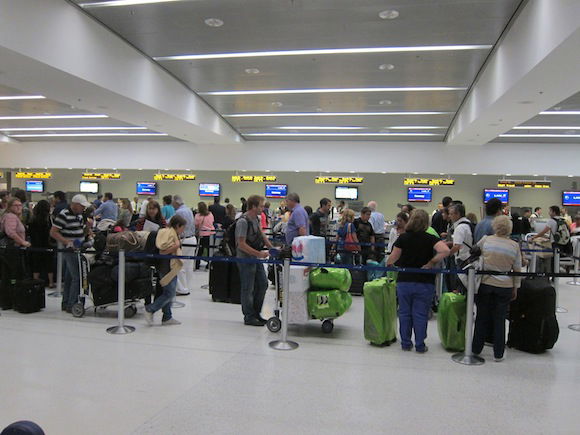 LAN check-in queue
This is where things get fun. We tried to get in the TSA line, and several of us got through fine, though one of my friends was stopped by the line checker and told his carry-on was "muy grande." Funny enough his carry-on was smaller than mine, and he even placed it in the "sizer," and it fit. The contract worker insisted it was "muy grande," though, and after a LAN supervisor got involved it had to be checked. Meanwhile my large bag got through without issue.
The TSA experience was interesting as well, as all instructions were provided exclusively in Spanish. One of my friends requested a pat down, which was returned with a blank stare.
The airside portion of the terminal didn't get much better. Just past the TSA checkpoint a toddler had thrown up. And it wasn't toddler sized vomit, but adult-I've-had-way-too-much-to-drink vomit. People weren't paying attention where they were walking, so several people walked right into it, so watching their reactions was priceless. I guess that's what you get for not watching where you walk.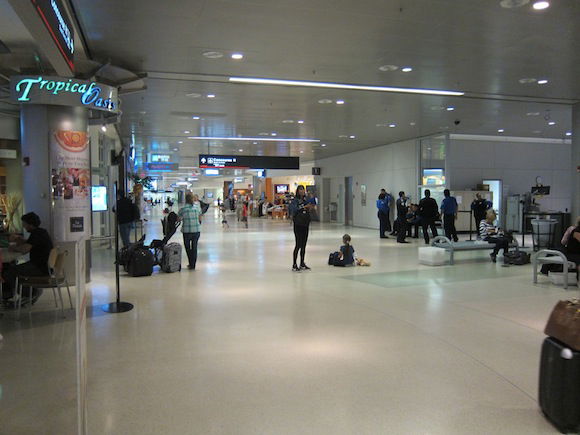 Airside
By this point it was about 7:30PM, so we headed to LAN's contract lounge, "Club America."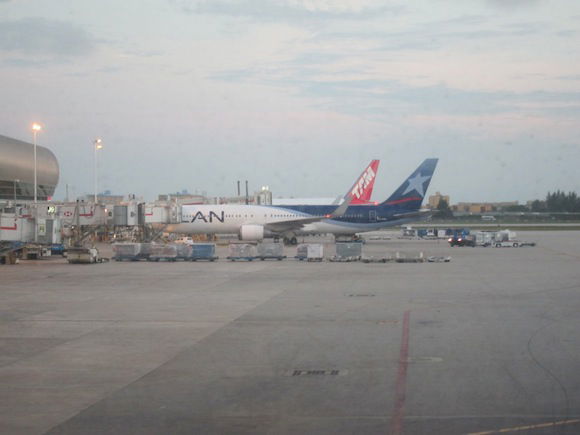 TAM and LAN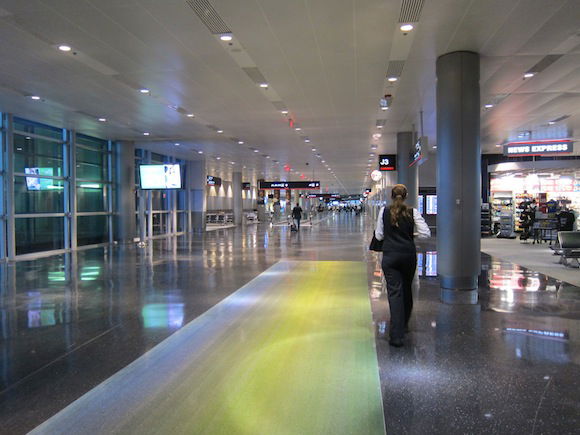 Walking to lounge
Club America is used by most airlines in the terminal and is also a Priority Pass lounge, so I didn't have high expectations as to the quality. We took the escalator up to the lounge. As a reminder, if your boarding pass isn't enough, a credit card with lounge access can get you in here.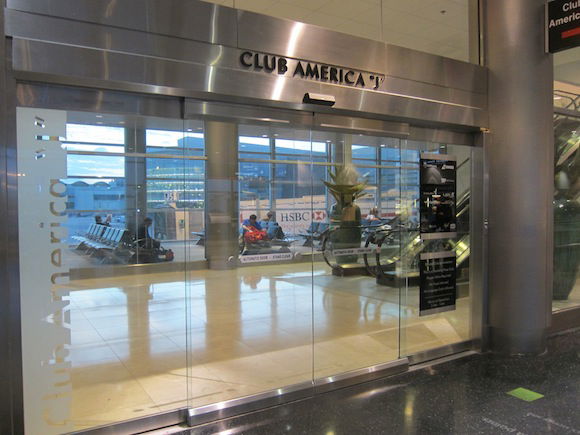 Club America lounge entrance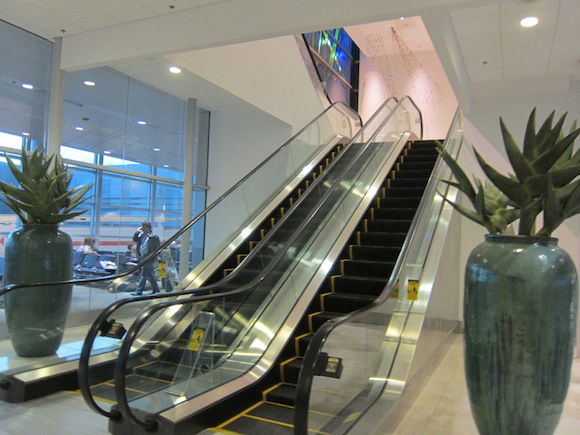 Club America lounge entrance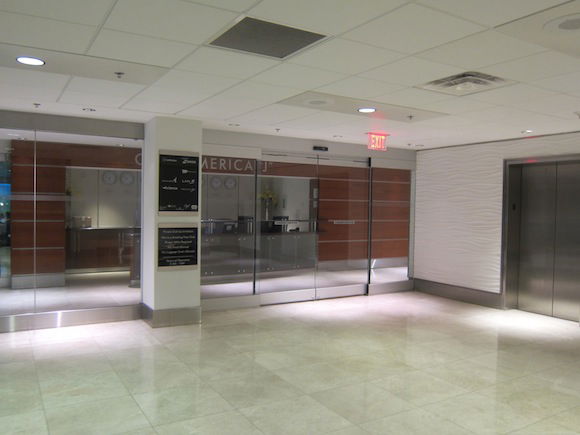 Club America lounge entrance
At the entrance we were welcomed and direct left towards the first class lounge, I assume due to our OneWorld Emerald status. Meanwhile to the right was the business class lounge.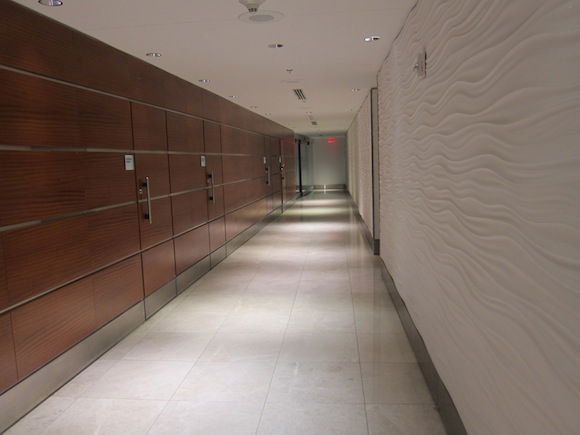 Walkway to business class lounge
While it was labeled "First Class Lounge," it was no better than your average contract or Priority Pass lounge. While it featured a good amount of seating the lounge was packed.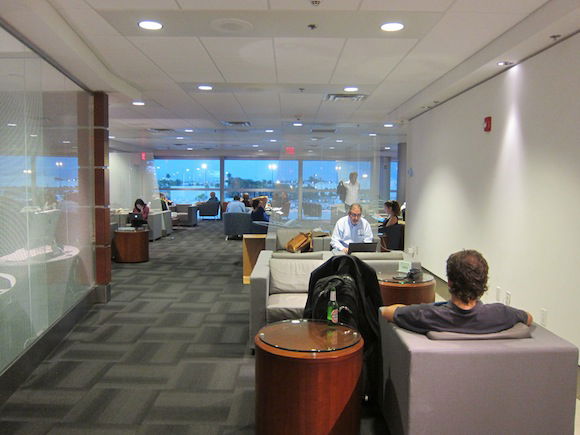 Lounge seating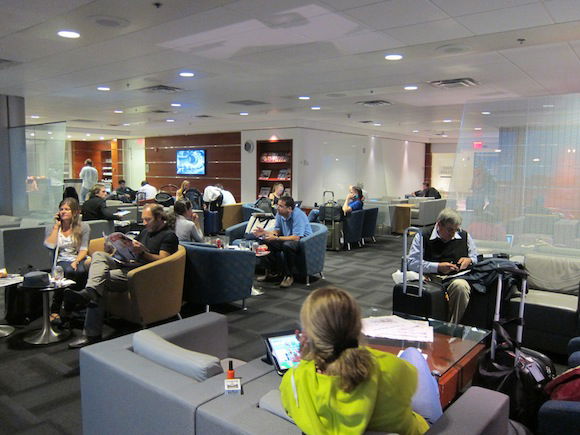 Lounge seating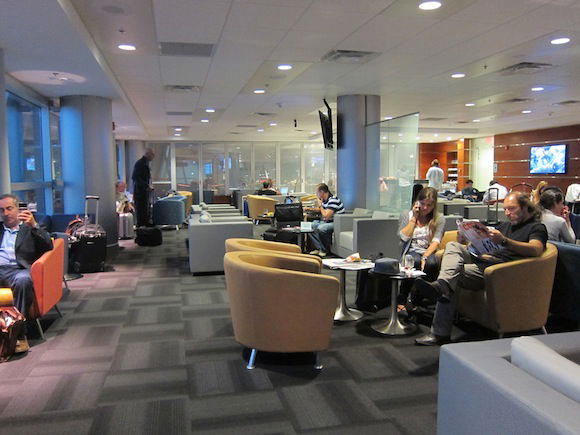 Lounge seating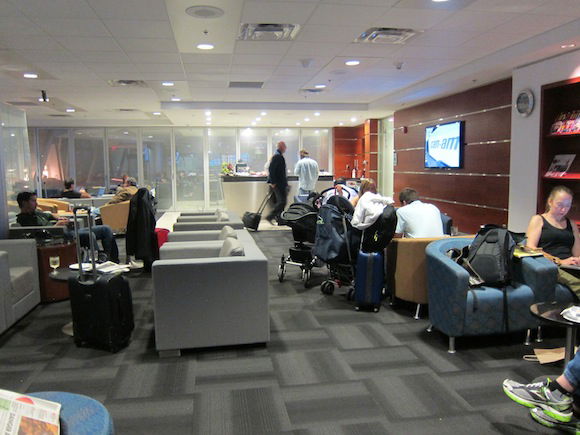 Lounge seating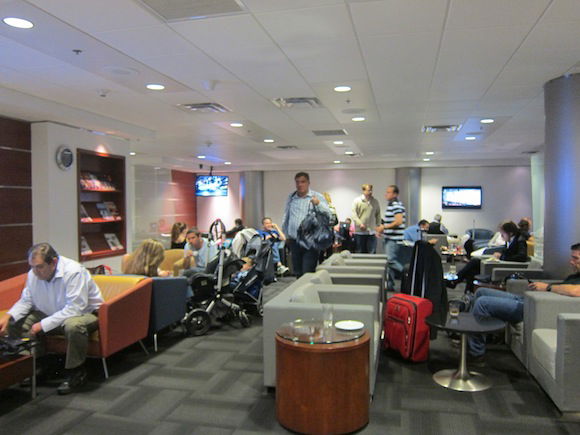 Lounge seating
The snack selection was also rather limited, a bit better than an Admirals Club, but not as good as a Flagship Lounge. Interestingly it featured the same stale cookies American has in their lounges — I thought they had exclusive rights to those?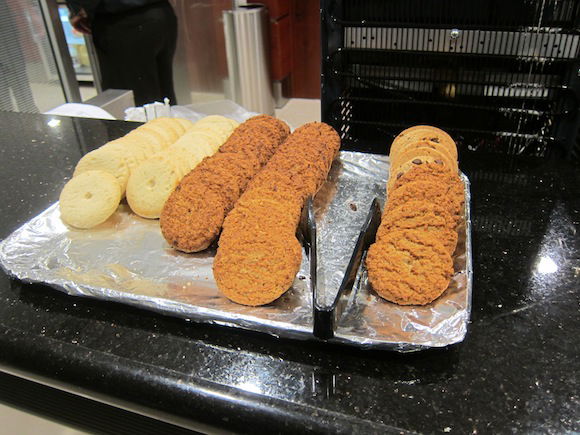 Snack selection
There were also dry finger sandwiches, packaged cookies and chips, and two kinds of soup.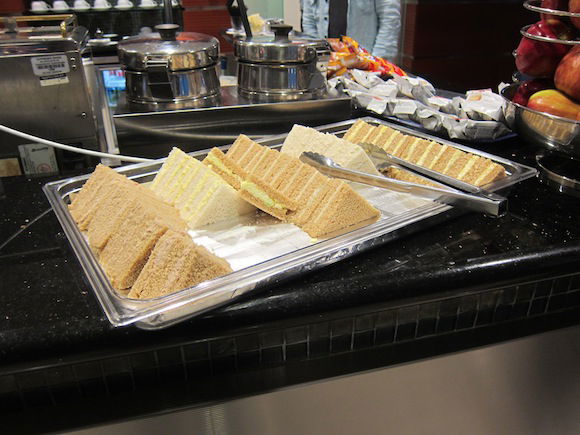 Snack selection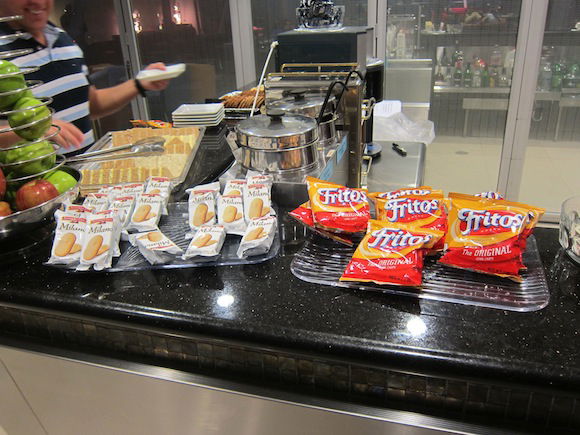 Snack selection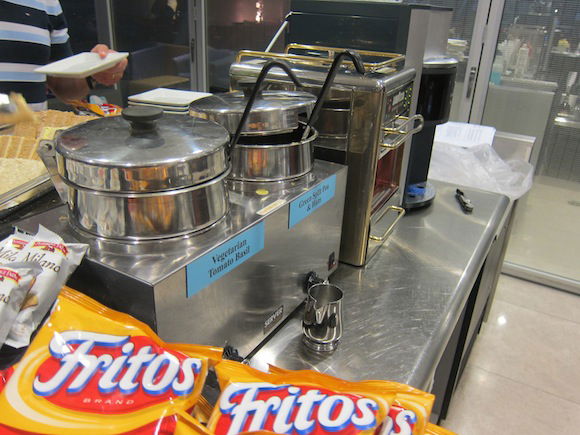 Snack selection
There was also a business center with some Macs and a printer.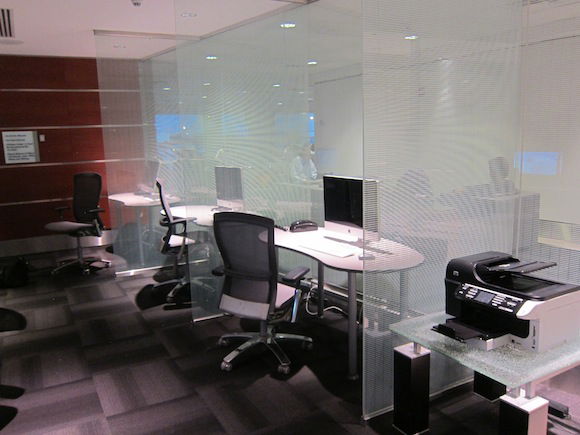 Business center
Opposite the first class lounge was the business class lounge, which was separated by a glass wall. A bit of an odd layout as the business class lounge looked more or less identical, except was less crowded.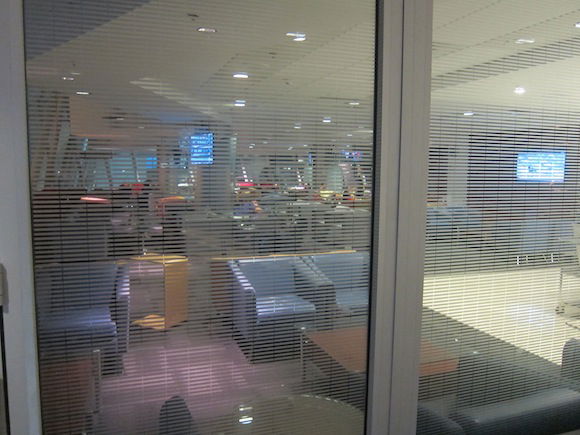 Business class lounge
At around 8PM we left the lounge and headed to our departure gate, J12. Architecturally the "J" concourse is rather nice, though the gate area itself was a bit chaotic.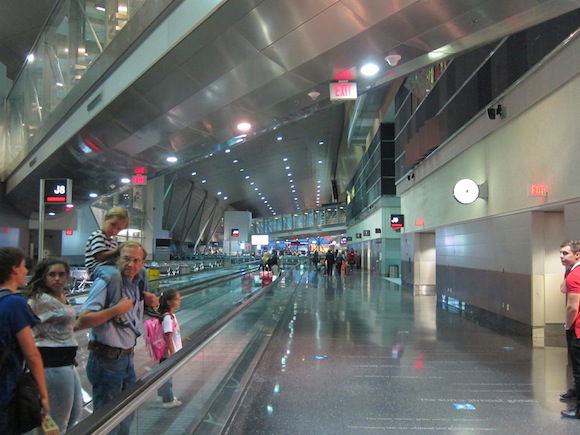 Terminal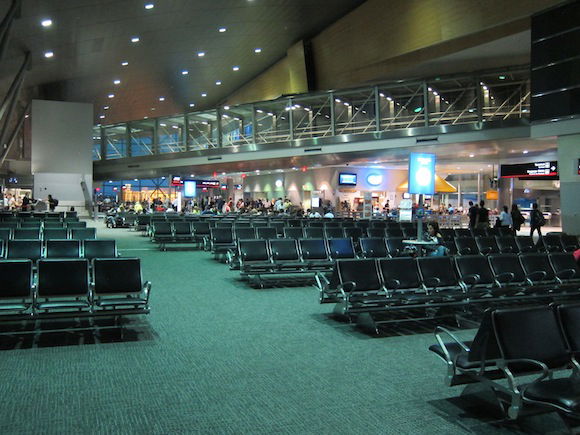 Gate area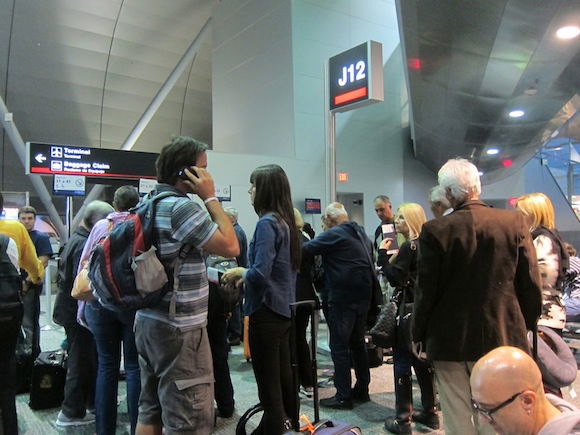 Departure gate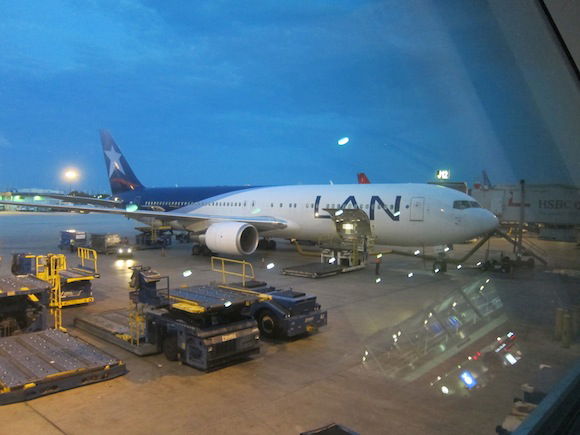 Our plane to Buenos Aires
At around 8:15PM boarding was announced for business class, and while we were among the first few in line, we all got pulled over for further document checks. The thing is there was a single gate agent working the podium and rather than him checking our documents he pushed us to the side, boarded the plane for about five minutes, and then did our document checks.
Fortunately it didn't take too long, and by about 8:25PM we were aboard.