Reader CLH posted in the "Ask Lucky" forum asking for help planning a trip to Hawaii. The full conversation is rather lengthy, but here are the relevant excerpts:
…I am trying to book DFW-LIH for next summer – exact dates July 20-30 (or 18-28 or 19-29). BA website ALWAYS tells me there is no availability for any dates around what I have selected (not just for this proposed trip but every time I search). I actually called BA directly because I thought there was a glitch in the system and surely there must be some availability somehow somewhere. But they said, nope, the website is correct and there is no availability because they can only access a couple of AA reward seats and the only way to get those seats is to watch BA.com constantly and book as soon as I see them appear. This just made me wonder about the potential to use Avios on any partner airline.

I checked other airlines and found availability on United/American/Delta/Virgin, but I could see no way to piece together a first/biz class honeymoon trip for my sister & her fiancé. I have pretty much resigned myself to getting the Delta economy seats for them, but thought I might check here to see if there's something I'm overlooking. I feel like I must be doing something wrong in not being able to use 450k+ points to buy 2 tickets.

What am I doing wrong here? Any advice is much appreciated.

P.S. Now doubly frustrated as I have approximately 200,000 Membership Rewards points, plus 200,000 BA Avios and about 50,000 Chase UR points. Not enough MR points to buy first class on any other airline. My only option appears to be using 160k Membership Rewards points to book sister & BIL in economy on Delta. Just really bummed because I thought I had a lot of miles and I would be able to give them first class tix.
Award availability to Hawaii is generally disappointing, and I can absolutely relate to how frustrating it can be to redeem miles to Hawaii — especially the smaller islands.
So let's unpack this a bit. I'm going to write this out "live" as though I were researching space for a client — hopefully seeing the process helps in booking your own awards, and ideally we'll find space for CLH's sister.
Where to start
Firstly, we know we're going to Hawaii, and we have specific dates we want to travel. This makes things a bit more complicated, but there are ways to expand the options a bit, such as:
Booking awards to Honolulu or Maui, and paying for the connecting flight to Kauai
Paying for a positioning flight from Dallas to the West Coast
Either of these alternatives will expand options dramatically, so are probably worth the extra cost. Let's see what we can find otherwise though.
Going back to the other week when I talked about how to decide which miles to use, the next step is to think about which award represents the best value: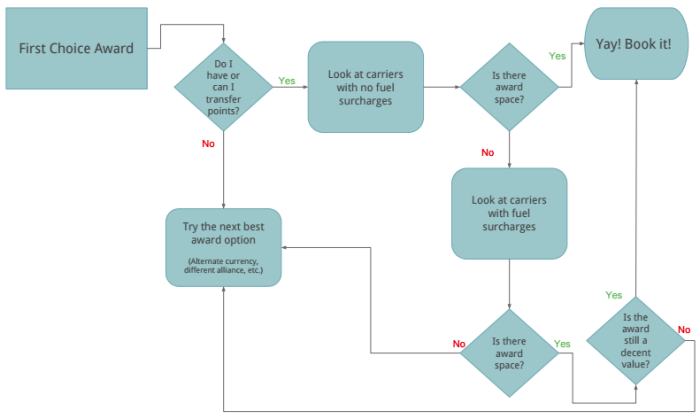 Lihue has pretty limited service, so we only have the following carriers and routes to explore:
Alaska Airlines | Oakland, San Diego, San Jose, Seattle
American Airlines | Los Angeles
Delta Air Lines | Los Angeles
Hawaiian Airlines | Los Angeles
US Airways | Phoenix
So let's walk through the potential award options to see the comparative values.
Don't assume British Airways is best
Now, CLH defaulted to thinking Avios were the best option here, and I understand that thought process. British Airways awards to Hawaii get a lot of screen time, and Avios are easy to accrue.
Avios also offer a fantastic value to Hawaii in economy, and on direct flights. A flight from Los Angeles to Lihue on either American or Alaska would be just 12,500 miles one-way, which is great!
When it gets to premium cabins, however, the value drops dramatically. British Airways charges at least double Avios for business class, and at least triple for first class. Because of how partner flights are coded, you'd pay 50,000 Avios for a one-way first class flight between Los Angeles and Lihue.
Beyond that, because British Airways has a distance-based award chart that charges by segment, you'd pay for the Dallas > Los Angeles flight separately. This would be another 10,000 miles in economy, or 40,000 in business.
So you're looking at somewhere between 60,000-90,000 Avios per person, each way. That's just a downright excessive number of miles, in my opinion.
What other options are there?
Of the carriers that fly directly to Lihue, each has a few options for redeeming miles.
Alaska Airlines
60,000 Korean Air SkyPass miles round-trip
37,500 American AAdvantage miles one-way
40,000 Alaska MileagePlan miles one-way
40,000 Delta SkyMiles one-way
50,000 British Airways Avios one-way on nonstops from the West Coast
American Airlines/US Airways
37,500 American AAdvantage miles one-way
47,500 Alaska MileagePlan Miles one-way
50,000 British Airways Avios one-way on nonstops from the West Coast
Delta Air Lines*
45,000 Korean Air SkyPass miles round-trip
60,000 Alitalia Millemiglia miles round-trip
80,000 Alaska MileagePlan Miles round-trip
"Some" Delta SkyMiles depending on your origin city
* These rates for partner programs are all dependent upon finding low-level award space on Delta. In other words, it's probably not happening. So don't transfer miles to these programs with the intention of redeeming for domestic awards on Delta unless you've verified space.
Hawaiian Airlines
25,000 – 40,000 Virgin America Elevate points one-way
40,000 Hawaiian miles one-way
60,000 Korean Air SkyPass miles round-trip
80,000 Virgin Atlantic FlyingClub miles round trip
The challenge with Hawaiian is that they don't fly to Dallas, so these awards are a bit less relevant, given the need for positioning flights.
So of these options, and given CLH's mileage balances, our first pick should probably be to try and redeem 40,000 Delta SkyMiles each way for flights on Alaska. Delta SkyMiles is a transfer partner of American Express Membership Rewards, so there would be plenty of miles for two roundtrips.
Is there award space?
For flights to Hawaii on specific dates in summer, this is going to be the real challenge. If we want to redeem SkyMiles, then all of our flights need to be on Alaska. Alaska flies between Dallas and both Portland and Seattle, so there should be some options there, but the flight to Lihue is going to be harder.
So, is there any award space in first class for two people between Seattle and Lihue that week?

No. What about from Oakland or San Jose?

Yes! The challenge with the Alaska flights out of the Bay Area though is that they are very bad for connections. They all leave at 7AM, which means our travelers would have to spend the night en route.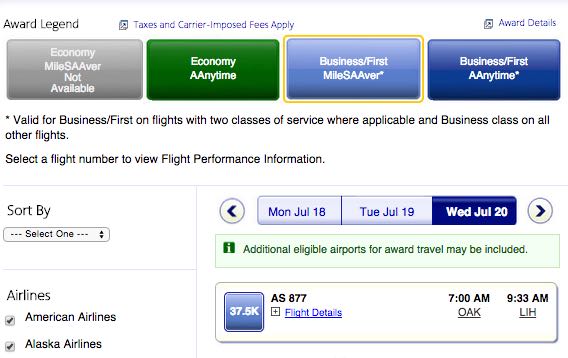 So let's look at San Diego.

Plenty of space each day, and as the flight leaves a bit later that helps with the connections a bit.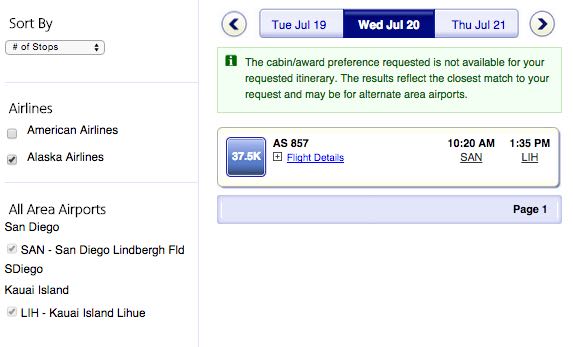 However, the only way to get to San Diego on Alaska is via Portland or Seattle. That's enough flight time that you would still have to overnight, realistically. There also isn't any first class award space between Dallas and San Diego on either the 18th, 19th, or 20th.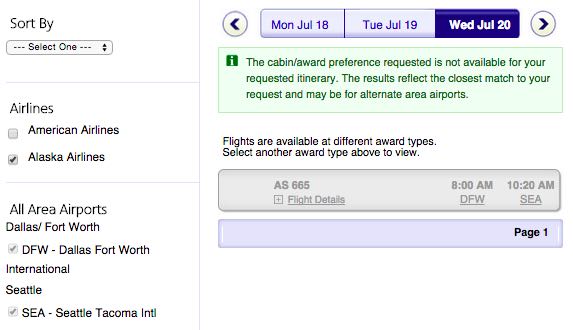 We're now looking at flying Dallas > Portland/Seattle > California [overnight] > Lihue. Those 40,000 SkyMiles for the one-way are looking like less of a deal for the one-way.
Does a lack of space change your flexibility?
Confronted with the idea of three flights (some in economy), and an overnight, many people are going to be open to being more creative. So it's time to consider options:
Can they maybe leave a day earlier, say on the 17th?
Can they purchase some positioning flights to streamline the itinerary?
Does it make sense to spend a few more miles for a better routing?
Some combination of the above?
etc.
These are very individual questions, and you have to answer them for yourself each trip.
Leave early?
Based on my experience with honeymooners, leaving earlier is probably not going to be an option, though there is first class space on Delta at a reasonable-for-SkyMiles rate on the 17th:

Buy some flights?
American operates a nonstop flight between Dallas and San Diego that would arrive in time for the 10AM flight to Lihue, but it's pricey to purchase: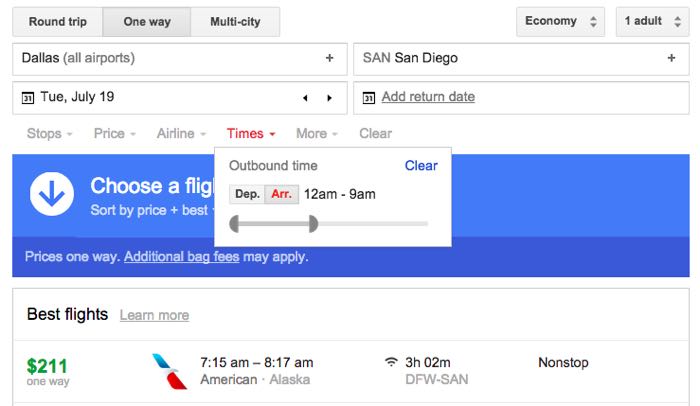 Not a deal breaker, necessarily. The better option, if we can find space, is going to be looking at purchasing a flight between Honolulu and Lihue, as that should open up more routes from North America as well.
Best award options to bigger islands?
In addition to everything listed above, if we're considering Honolulu and Maui as options, that opens up two more carriers:
United Airlines
30,000 Singapore KrisFlyer miles one-way
35,000 Miles & More miles one-way
37,500 Avianca LifeMiles one-way
40,000 Aeroplan miles one-way
40,000 United miles one-way
Virgin America
75,000 – 150,000 Virgin Atlantic FlyingClub miles round trip
90,000 Hawaiian miles roundtrip
79,000 – 137,000 Singapore KrisFlyer miles one-way
Booking United through Singapore would be a great option given the mileage balances we have to work with, so let's start there.
Building an award for travel on United
After looking at space between all the United hubs, I found space between San Francisco and Maui: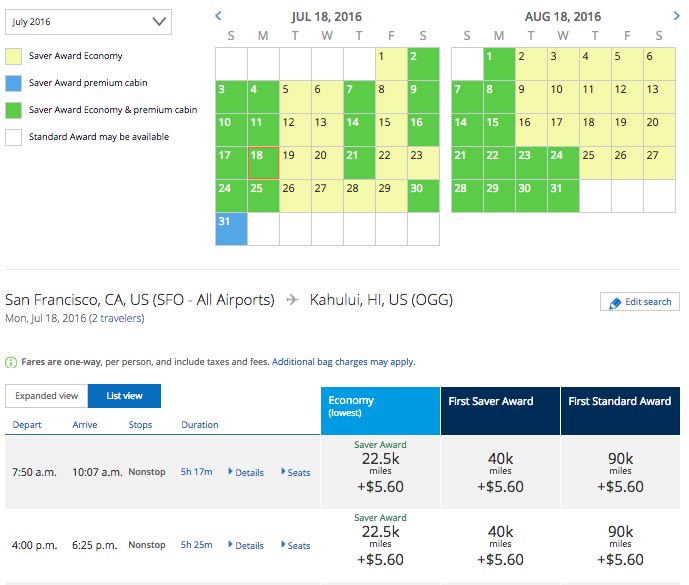 That's it. And there's nothing at the saver level between Dallas and San Francisco, so we're back to the same challenge of needing to buy positioning flights. Tickets between Dallas and SFO are comparatively reasonable, and the flight leaves late enough it would be possible to connect, but now we're looking at buying flights to San Francisco and also to Lihue.
This still might be the best option though.
Getting frustrated yet?
I am, and this is why Hawaii is my least favorite award destination on the planet. If you want to fly economy from the West Coast it's great, but otherwise finding award space to Hawaii can be an epic PITA.
So if it were my sister, at this point I'd probably recommend she go to Bali or Greece instead. It's not that many more miles, and would be much more comfortable! 😉
Assuming that isn't an option, let's look at other alternatives.
Hawaiian
While Hawaiian might have the most annoying frequent flyer program of any US-based airline, there are some potentially interesting values if you redeem partner miles.
The challenge there, however, is that Hawaiian subdivides their award space, and partners get a very very very limited subset. I don't see any space to Kauai that week, and if we're considering flights to other islands, the options on Hawaiian just aren't as compelling.
Virgin America
While this isn't the least expensive option, it definitely has the best availability. This is a new route, and you can redeem 75,000 Virgin Atlantic miles for round-trip first class awards between San Francisco and Hawaii.
When I called, they had space every day on this schedule: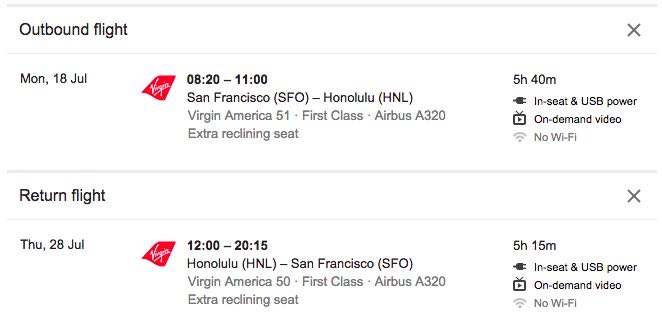 So for 150,000 American Express points round-trip for both of them, this is potentially an interesting option. It's certainly better than spending that many miles for Delta economy! Of course, the downside is you're either redeeming more miles for the Dallas > San Francisco flight (which isn't that expensive in this case), or purchasing those tickets. You also still have to organize the intra-island flights.
But there is space, every day, which counts for something.
So which option is really best?
That comes down to a conversation between CLH and the travelers, ultimately. If they have a bit of flexibility, 60,000 KrisFlyer miles each for the United flights out of San Francisco aren't a horrible choice. If the schedule is more important, redeeming Virgin Atlantic miles on Virgin America might make more sense.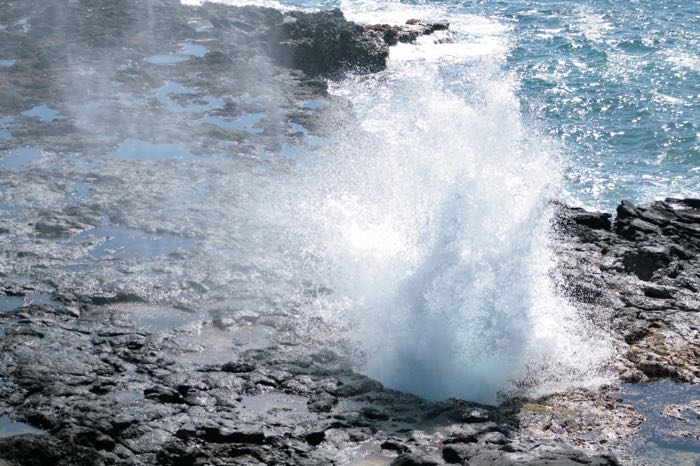 Either way, they'll be looking at purchasing some extra flights, or redeeming separate miles for some of these tickets. It's just not going to be practical to get this all on a single award, unfortunately.
Bottom line
Sometimes there just aren't any good options, and this is one of those times. If CLH had American miles this would be a bit easier (in this case — not always!), but with the miles available there aren't really any amazing choices.
Personally, I would probably look at alternative destinations (I know, other people don't want to do that), or consider purchasing tickets outright. That's partly why I always have a cash-back card in my portfolio, or at least something that gives me flexibility when I do need to purchase a flight.
I wish I had a magic solution, or even one that made me seem super smart, but I don't think it's going to happen this time, unfortunately.
Regardless though, I think spending 120,000 British Airways miles per person is a terrible value, and shouldn't be the default choice for premium cabin awards to Hawaii.
What would you do? Anyone have any other ideas?