In the interest of full disclosure, OMAAT earns a referral bonus for anyone that's approved through some of the below links. The information and associated card details on this page for the Blue Business Plus Credit Card card has been collected independently by OMAAT and has not been reviewed or provided by the card issuer. These are the best publicly available offers (terms apply) that we have found for each product or service. Opinions expressed here are the author's alone, not those of the bank, credit card issuer, airline, hotel chain, or product manufacturer/service provider, and have not been reviewed, approved or otherwise endorsed by any of these entities. Please check out our advertiser policy for further details about our partners, and thanks for your support!
Back in 2012, one of the hottest award redemptions was redeeming British Airways Avios for transatlantic travel in Aer Lingus business class. There were two thing made this redemption especially sweet:
While British Airways had huge carrier imposed surcharges for travel on their own flights, the surcharges on Aer Lingus were much smaller
British Airways has a distance based award chart, and they charged 12,500 miles for economy and 25,000 miles for business class for a flight of under 3,000 miles — Boston to Dublin covers a distance of just under 3,000 miles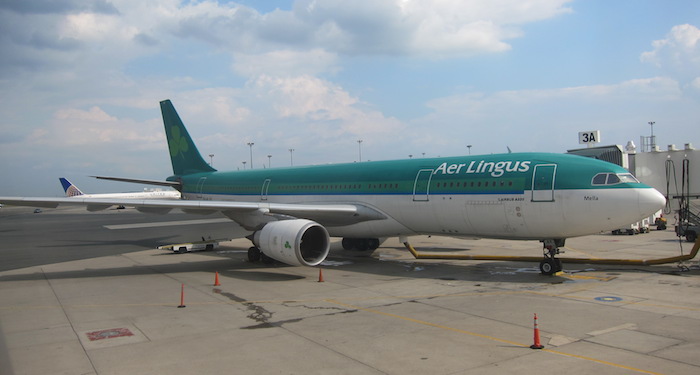 Suddenly everyone was redeeming their Avios for flights from Boston to Dublin on Aer Lingus, be it in economy or business class. I wrote a report about my experience flying from Boston to Dublin and back.
It has been several years since this redemption value was widely talked about, so I figured it would be fun to revisit this, a couple of British Airways Executive Club devaluations later.
How many Avios are required for Aer Lingus award redemptions?
British Airways devalued their award chart in 2014, during which time they introduced peak and off-peak pricing. All partner awards price at the peak level. Here are the current rates, which are the costs per segment (if you're flying multiple segments, they use additive pricing):
Zone // Flight Distance
Economy
Off Peak // Peak
Premium Economy
Off Peak // Peak
Business
Off Peak // Peak
First
Off Peak // Peak
Zone 1
1-650 miles*
*Not available in North America
4,000 // 4,500
5,750 // 6,750
7,750 // 9,000
15,500 // 18,000
Zone 2
651-1150 miles
6,500 // 7,500
9,500 // 11,250
12,750 // 15,000
25,500 // 30,000
Zone 3
1151-2000 miles
8,500 // 10,000
12,750 // 15,000
17,000 // 20,000
34,000 // 40,000
Zone 4
2001-3000 miles
10,000 // 12,500
20,000 // 25,000
31,250 // 37,500
42,500 // 50,000
Zone 5
3001-4000 miles
13,000 // 20,000
26,000 // 40,000
50,000 // 60,000
68,000 // 80,000
Zone 6
4001-5500 miles
16,250 // 25,000
32,500 // 50,000
62,500 // 75,000
85,000 // 100,000
Zone 7
5501-6500 miles
19,500 // 30,000
39,000 // 60,000
75,000 // 90,000
102,000 // 120,000
Zone 8
6501-7000 miles
22,750 // 35,000
45,500 // 70,000
87,500 // 105,000
119,000 // 140,000
Zone 9
7001+ miles
32,50 // 50,000
65,000 // 100,000
125,000 // 150,000
170,000 // 200,000
With that in mind, how many Avios are required for one-way transatlantic redemptions on Aer Lingus?
Aer Lingus flights covering a distance of 3,001-4,000 miles cost 20,000 Avios in economy, or 60,000 Avios in business class
Aer Lingus flights covering a distance of 4,001-5,500 miles cost 25,000 Avios in economy, or 75,000 Avios in business class
In other words, Aer Lingus flights to/from Boston, Chicago, Hartford, New York, Toronto, and Washington, fall in the 3,001-4,000 mile range, while flights to/from Los Angeles, Miami, Orlando, and San Francisco, fall in the 4,001-5,500 mile range.
You might say "wait a minute, I thought Boston to Ireland was under 3,000 miles one-way? It sure is, but unfortunately British Airways selectively modifies geography when it works in their favor. In this case they decided it was too good of a deal, so they now pretend that it's a 3,001-4,000 mile flight.
What are the fees like?
The great news is that while a one-way business class award ticket from the US to London on British Airways would cost you $500 in carrier imposed surcharges, it's significantly cheaper when booking travel on Aer Lingus.
Aer Lingus has the seem fees if traveling in economy or business class. You pay everything other than the base fare.
For a flight from the US to Dublin, that should run you a total of $34.47.
Meanwhile from Dublin to the US, that should run you a total of $81.37.
Searching & booking awards on Aer Lingus 
These awards aren't bookable on British Airways' website, so you'll have to call to make your booking. If you want to search award availability, you can do so on ExpertFlyer. That's probably the easiest place to do so. Award availability is wildly inconsistent — sometimes it's easy to come across, while other times it isn't. The toughest destinations for award space are Los Angeles and San Francisco, so don't expect to find availability on those flights.
In terms of the award fare classes, you'll want "U" class for business class and "T" class for economy class.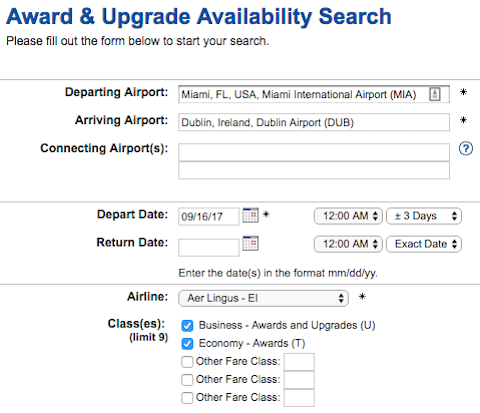 So, are Avios redemptions on Aer Lingus still a good deal?
On one hand it's hard to feel like they are, when between Boston and Dublin economy has gone from costing 12,500 miles to 20,000 miles, and business class has gone from costing 25,000 miles to 60,000 miles. That latter award is 240% of the price it used to be.
At the same time, Aer Lingus does have a new business class product. They used to have angled seats.
Now they have fully flat seats, with a majority of seating featuring direct aisle access.
But in absolute terms, it can still represent a good deal.
For example, for a few more days there's a 40% bonus on transfers from Amex Membership Rewards to British Airways Executive Club. So that's like paying 43,000 Amex points for a one-way ticket on most of Aer Lingus' routes from the US to Dublin.
As a reminder, Membership Rewards points can be earned via cards such as:
So no, this isn't the no brainer, "must do" redemption that it used to be. However, there are still plenty of circumstances under which this represents a great deal. It's just too bad that British Airways doesn't consistently use their distance based award chart, or else Boston to Dublin would cost fewer Avios.
I just recently completed the minimum spend on the British Airways Visa Signature® Card, and I plan on using some of those Avios for an Aer Lingus business class award.
Has anyone redeemed Avios on Aer Lingus recently?