The site I'm about to write about has been around for quite a while, though somehow I didn't hear about it until Angelina Travels wrote about it earlier today.
As anyone who collects hotel points knows, finding hotel reward nights is typically much easier than finding saver level award flights. Most major hotel chains advertise no blackout dates, and in the case of some hotel groups (including Hilton, Hyatt, and Marriott), you can redeem points as long as a standard room is available (meanwhile IHG Rewards Club only makes a subset of standard rooms available as awards).
This really isn't that restrictive, though I also know that I've found myself in a situation a countless number of times where I wanted to redeem points at a hotel, only to find they didn't have availability. Maybe they only had premium rooms, or maybe the hotel was sold out completely.
The thing is, award rooms almost always open up closer to the arrival date, as people cancel. So you just have to be really persistent.
The good news is that there's a free site that can help with that. Open Hotel Alert will alert you when a room opens up at a hotel (you can either set it so that it will let you know if any room opens up, or you can set it so it only alerts you if a specific room type opens up).
While this is also intended for revenue stays, for us the best use will probably be on award stay.
For example, say you want to redeem points at the Park Hyatt Paris over New Years. Over that period the cheapest room is a 1 King Bed Deluxe, which doesn't qualify as a standard room.
If you wanted to redeem points here you'd need for there to be a 1 Queen Bed or 2 Twin Beds room.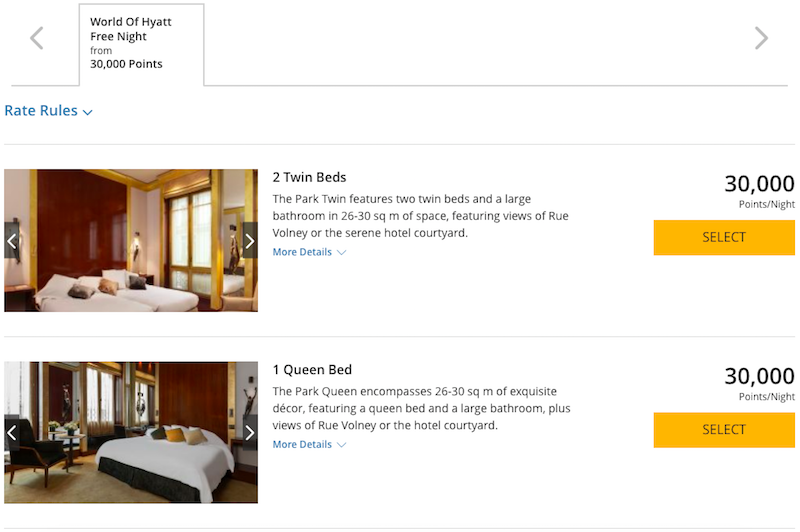 So that's where Open Hotel Alert can help. You can select the hotel, and then select your check-in and check-out date.
It will display availability for the room types that are available, and will offer to alert you for the room types that aren't available. So if a room isn't available, click any of the "Alert Me" buttons.
Then you'll be able to select which room type you want to be alerted about. Just provide your phone number and email address, and they can call and/or email you.
In case you're wondering how it's possible that they can do this, they explain their business model on their FAQs page:
This is a wonderful service. How can it be free?

We are able to provide our service at no cost to travelers because we earn a commission when travelers book rooms using our service.
Essentially if you do end up booking a hotel, you can follow their link to booking.com, and then they'll get a commission.
Unfortunately they won't be making any money off of those of us who are just trying to find award nights.
Bottom line
I've long thought to myself that a service like this would be useful, so I was happy to learn about this. It's especially great that this is free. I can see this coming in handy for finding standard rooms at hotels for the purposes of finding award nights.
Has anyone used Open Hotel Alert, or a similar site?