Qatar Airways has just sort of announced a bunch of new destinations, that they plan on launching in 2017-2018. I say "sort of," since the press release mentions several new routes, though most of them don't yet have official start dates. Qatar Airways is notorious for announcing routes and then not following through on them, so I'll believe the routes when the inaugural flights take off from Doha.
Per the press release:
Qatar Airways, the award-winning and fastest growing airline in the world, today announced eight more destinations for 2017-18, in addition to seven previously announced new cities for a total of 15 new gateways. Joining the Qatar Airways' route network, which spans more than 150 destinations on six continents around the world, are: Canberra, the airline's fifth destination in Australia; Dublin, Ireland; Las Vegas, the airline's 11th destination in the United States; Rio de Janeiro, Brazil; Santiago, Chile; Medan, Kualanamu International Airport, the airline's third destination in Indonesia; and Tabuk and Yanbu, the 9th and 10th destinations in Saudi Arabia.

These newly-announced destinations join the already-announced list of new destinations to start in 2017: Auckland, New Zealand will start 5 February 2017, and will be the world's longest commercial flight; Sarajevo, Bosnia; Skopje, Macedonia; Libreville, Gabon; Nice, France; Chiang Mai, the airline's fourth destination in Thailand; and Douala, Cameroon.
Qatar Airways' eight new destinations include:
Canberra, Australia
Dublin, Ireland
Las Vegas, United States
Rio de Janeiro, Brazil
Santiago, Chile
Medan, Indonesia
Tabuk, Saudi Arabia
Yanbu, Saudi Arabia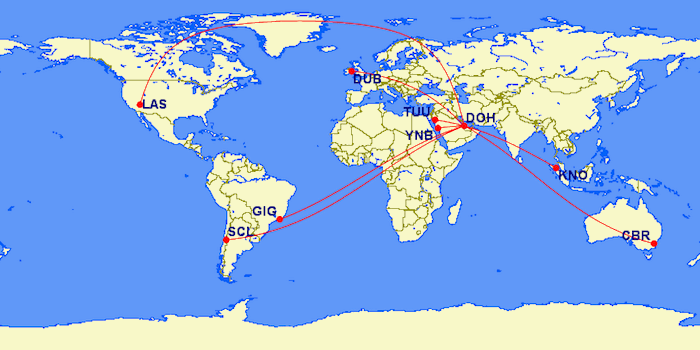 The problem is that many of these new destinations aren't actually newly announced. Six months ago Akbar Al Baker announced that Qatar Airways would start flying to Las Vegas in January 2017, and nearly a year ago he announced that they wanted to start flights to Santiago.
So I'd say this would only really be a new announcement if there were start dates for the flights (even then it's questionable, as Qatar Airways has delayed the launch of their Auckland flight several times), but in this case he's simply again reaffirming Qatar Airways' intent to fly to these destinations.
The most puzzling part of all this is that Qatar Airways perpetually has a huge aircraft shortage, given that deliveries never go as planned for them. Yet somehow they keep announcing new routes that simply aren't realistic given their current fleet. Then the routes get delayed and sometimes canceled, and the rest is history…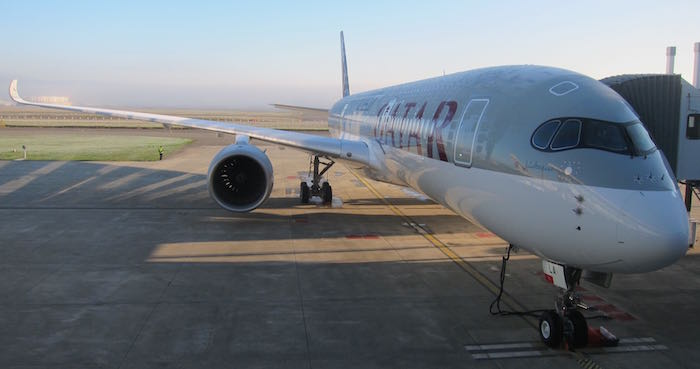 I'm also sort of amazed by how many ultra longhaul flights Qatar Airways is announcing here. Las Vegas, Rio de Janeiro, Santiago, and Canberra? All of those routes are over 7,000 miles. The economics of ultra longhaul flying are very challenging, and I'd be shocked if more than one of those routes ever turned a profit. This comes at a time when Etihad has completely pulled out of South America.
Perhaps the route from Doha to Santiago will operate via Rio de Janeiro. That would make more sense that operating two separate flights to South America, but even then, I have a hard time imagining they'd turn a profit on the route.
What do you make of Qatar Airways' new route announcements?