Qantas is ready to move forward with "Project Sunrise," and the airline doesn't seem to care whether their pilots are onboard with it or not.
Qantas' "Project Sunrise" A350 flights
For years Qantas has been talking about how they'd like to be able to fly nonstop from Melbourne and Sydney to London and New York. They call this goal "Project Sunrise," and these would be the world's longest flights.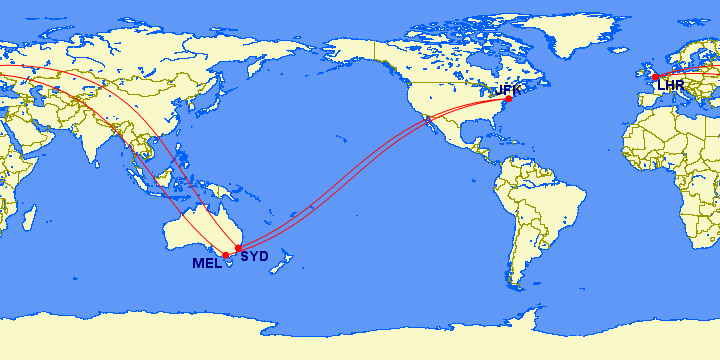 Qantas has made good progress on this, and in late 2019 the airline announced that they've selected the A350-1000 for this "mission."
Airbus has essentially proposed adding an additional fuel tank to the A350-1000 while also increasing the maximum takeoff weight, which would give the A350-1000 the range it requires.
Qantas has decided on the A350-1000 if they move forward with Project Sunrise, but up until now they haven't fully decided on whether they'll move forward with the project or not. The airline has until the end of March to finalize their order with Airbus, assuming they want to commence flights by early 2023.

Pilot negotiations are proving tricky
Before the March 2020 deadline, one important issue that Qantas has tried to finalize is their agreement with pilots for these flights.
Qantas has been negotiating with their pilots union, AIPA. Discussions center on productivity and efficiency gains, and when we're talking about flights this long, there are quite a few points to negotiate:
Can Qantas use the same pilots across the A330 and A350?
How many pilots will be required for these ultra long haul flights? Ultra long haul flights usually have four, but should these flights have even more pilots, given how long they are?
How will those pilots need to be split up between captains, first officers, and second officers, given the different wages? Is one captain, one first officer, and two second officers sufficient, or do these flights need more senior pilots?
What should the pay scale look like for pilots who fly the A350?
Qantas is looking for some concessions from pilots, claiming these new flights would lead to more pilot jobs and promotion opportunities. But the union is playing hardball.
Qantas doesn't actually care what pilots think
On Thursday, Qantas International CEO Tino La Spina sent an email to pilots, essentially threatening to hire new, lower cost pilots altogether if they couldn't agree to the terms management wants:
"We will be left with no viable alternative but to have Sunrise flying performed by a new employment entity that can provide the cost base we need for this important business opportunity.

To be absolutely clear, this is not our preferred option. And we know that flagging this will not be well received by many of you. But we want to make sure you have all relevant information when you are weighing a decision."
The issue seems to come down to second officer pay. Qantas is offering a mild pay increase and improved conditions to existing pilots, but wants to be able to pay future second officers (the most junior pilots, who will largely work as relief pilots on these flights) less.
At this point Qantas is saying that they'll offer a wage package directly to pilots to vote on, if they can't get anywhere with the union. The logic is that presumably individual pilots would accept what's a better deal for them, while the union cares more about the pay and working conditions for future pilots.
The head of the pilots union has responded with the following:
"The approach that Qantas is now showing publicly has been a characteristic of these discussions and shows how this business would apparently prefer ultimatums at this critical juncture to building consensus."
If Qantas can't get anywhere directly with pilots, they're even threatening to hire a new group of pilots altogether who would exclusively operate these Project Sunrise flights at lower costs.
Bottom line
It seems like Qantas is ready to move forward with Project Sunrise, regardless of whether the pilots are onboard or not.
On the surface I find the "we'll just hire people cheaper than you if you don't want to do it" approach to be off-putting, especially given the extent to which the airline industry is seniority based. That means employees largely don't have the option of realistically switching companies if they're not happy with what they're being offered.
That being said, I'm not fully privy to where both parties stand at this point to know for sure whether the pilots or management are being unrealistic here.