There's no airline in the world that has made a bigger 'song and dance' (as Australians would say) about receiving their Boeing 787 Dreamliners than Qantas. Despite hundreds of 787 frames being delivered, for dozens of airlines around the world, for many years before Qantas even received their first, the Qantas PR machine went into overdrive about their 'revolutionary' new aircraft.
Qantas has received five 787-9 aircraft so far, with a further nine on order. These aircraft are three class, with business, premium economy and economy. Qantas had originally planned to use this new aircraft type to both replace their ageing Boeing 747 jets, as well as open up new route opportunities, thanks to the 787's increased range and fuel efficiency.
Qantas launched a direct flight from Perth to London using this aircraft earlier this year, making it the first non-stop scheduled flights between Australia and Europe.
Qantas uses an interesting mix of aircraft into Asia, especially its two most important Asian destinations, Singapore and Hong Kong. At one stage it was an almost all A330 operation, which was great for consistency so passengers would know exactly what to expect. But as Qantas decided to move its traditional A380 'stopover' city from Dubai back to Singapore, this meant a complex mix of aircraft types and products to Singapore and Hong Kong that even I struggle to keep up with.
For example, on the Sydney to Hong Kong route alone, depending on the time of year, you may be flying on an A330, an A380 or a 747, as the airline regularly changes aircraft types based on both seasonal demand, and aircraft availability.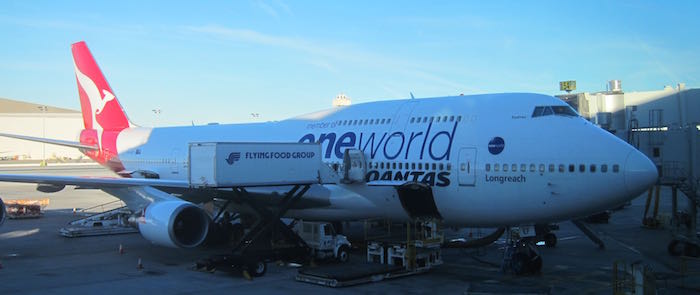 Well, Qantas has now made yet another change to their Hong Kong route network. They will be operating their new Boeing 787-9 Dreamliner aircraft to Hong Kong, on the following routes and dates:
QF29 Melbourne to Hong Kong departing 9:45AM arriving 4:15PM (Mondays, Tuesdays, Thursdays, Fridays and Sundays) from 13 December 2018, also on Saturdays from 28 January 2019
QF30 Hong Kong to Melbourne departing 6:05PM arriving 6:35AM (+1) (Mondays, Wednesdays, Thursdays, Fridays and Sundays), also on Saturdays from 28 January 2019
QF97 Brisbane to Hong Kong departing 9:40AM arriving 4:30PM (Wednesdays only) from 19 December 2018, and then Wednesdays and Fridays from 30 January 2019
QF98 Hong Kong to Brisbane departing 7:05PM arriving 5:50AM (+1) (Tuesdays only) from 19 December 2018), and then Tuesdays and Fridays from 30 January 2019
QF117 Sydney to Hong Kong departing 12:55PM arriving 7:15PM (subject to change) (each day except Tuesdays) from 30 March 2019
QF118 Hong Kong to Sydney departing 9:15PM arriving 9:55AM (+1) (subject to change) (each day except Wednesdays) from 30 March 2019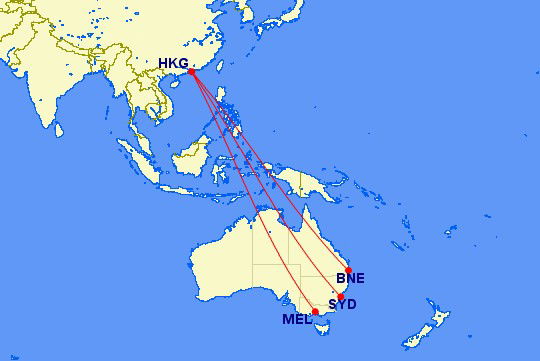 For those flights changing from a Boeing 747 or Airbus A380, in business class at least this is a significant upgrade as the hard product changes from a 2-2-2 Skybed MK2, that looks like this: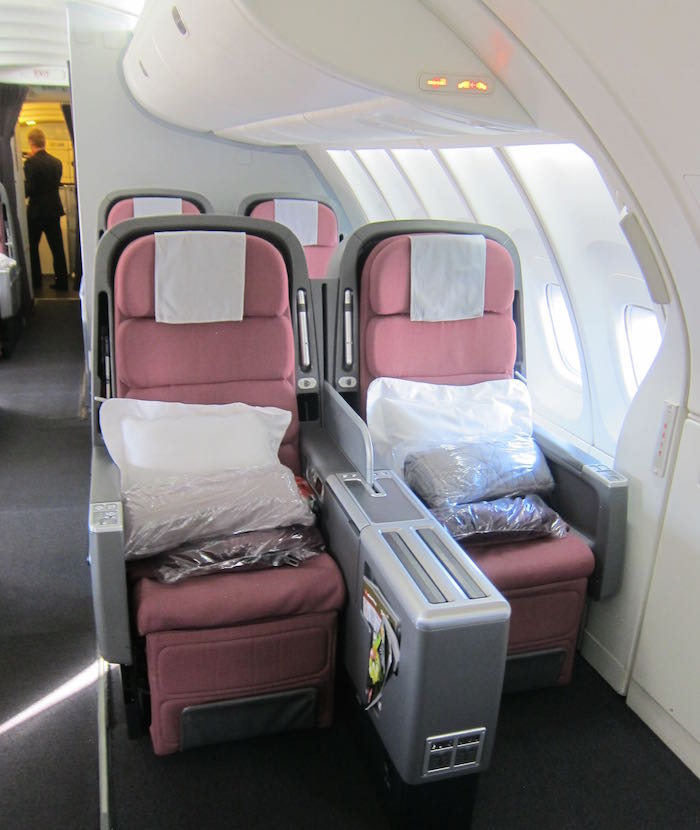 To their latest 1-2-1 Business Studio that looks like this: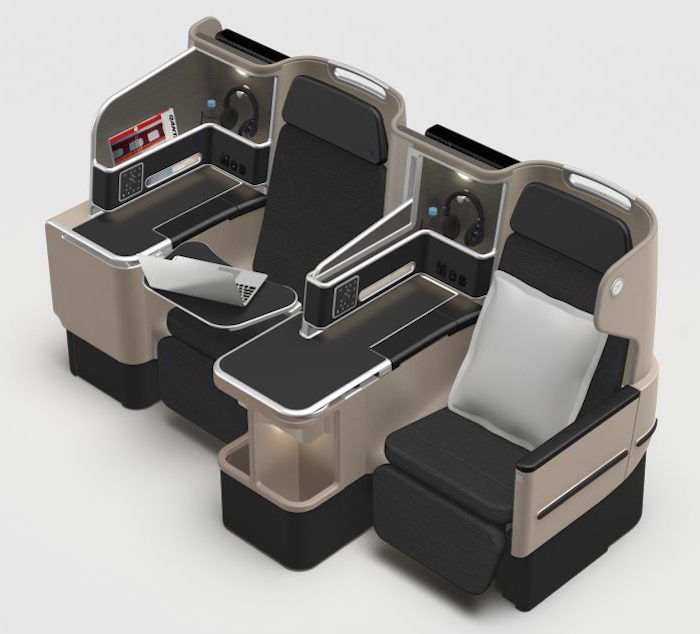 For premium economy passengers however, I'd probably want to stick with the A380 or 747 as the Dreamliner premium economy has terrible reviews, because of its insufficient legroom and complex foot rest.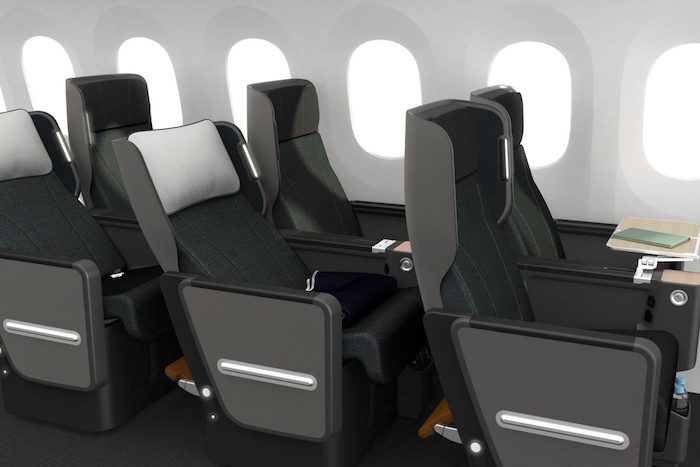 First class on Sydney to Hong Kong A380
Qantas has also announced today, that for those seasonal Sydney to Hong Kong flights operated by their A380 flights over the Australian summer (QF127 and QF128 from 1 December 2018 to 30 March 2019), they will actually sell first class seats on the flight, rather than operating business class as the highest class of service (but allowing elite status business class passengers to select those first class seats), as they have traditionally done over previous summers.
If you do want to book one of these seats, Qantas first class award availability on the route is wide open, as there's space almost every day. The best value for booking this is to use American AAdvantage miles — they charge just 50,000 miles one-way, and don't have any carrier imposed surcharges.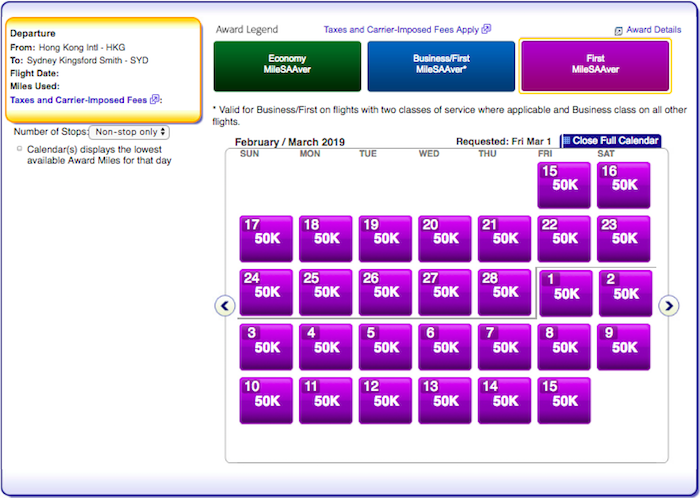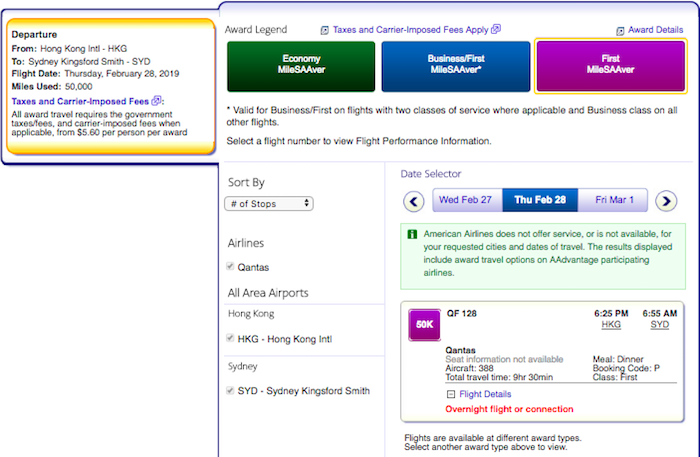 Bottom line
I had expected to see Qantas 787s solely on ultra long haul routes as they took more deliveries, such as Sydney to San Francisco, and Sydney to Vancouver. But the 787 is a capacity downgrade from the 747 so if they can currently fill 747s to North America with its aging products then they would be crazy to 'upgrade' the flight to a smaller plane.
If your Hong Kong flight has changed to a 787 Dreamliner service, this may be an upgrade or a downgrade, depending on which aircraft (and class) you were originally on.
With Virgin Australia and Cathay Pacific flying direct between Australia and Hong Kong, all with excellent products, there's fierce competition on these routes, but after Qantas upgraded their A330 hard products (to the same Business Suites as found on their 787s), it doesn't seem hugely necessary to roster these aircraft designed for ultra long-haul flights, onto flights as short as eight hours.
I would expect the Hong Kong schedules to remain complex, and continue to change. I'm more excited about seeing what new routes become a reality for Qantas as they continue to take delivery of more Dreamliners.
What do you make of Qantas sending their new 787s to Hong Kong?