This has been a pretty big week for aviation in terms of firsts. I've written about both of these routes before they actually launched, but now that both flights have taken off, I thought it would be fun to look at them one more time.
The first ever nonstop scheduled flight from Australia to Europe
Arguably the most interesting new route of 2018 operated for the first time yesterday (Saturday, March 24, 2018). Qantas 9 operated from Perth to London nonstop, which is noteworthy since this is the world's first ever scheduled commercial flight operating nonstop from Australia to Europe.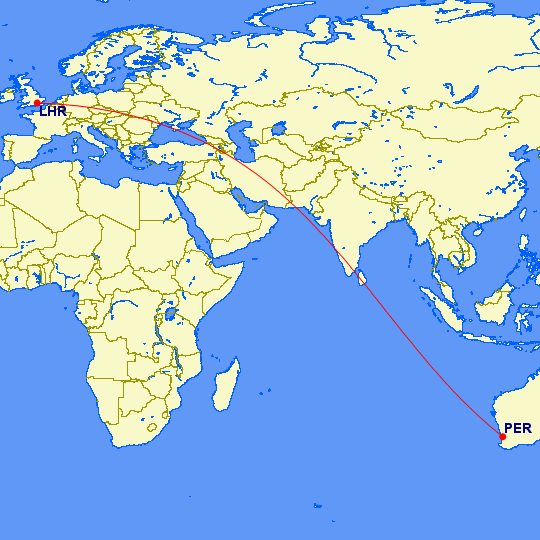 The flight is being operated daily using a Boeing 787-9, and covers a distance of 9,010 miles. This makes it the world's second longest flight, as Auckland to Doha on Qatar Airways covers a distance of 9,032 miles, so it's just a hair longer.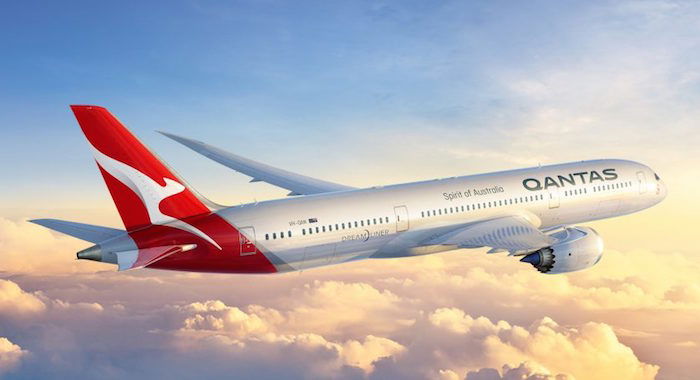 Yesterday's flight from Perth to London was blocked at 17hr20min, while the entire journey ended up taking 17hr14min.
That's a long trip, and I imagine quite convenient if traveling in business class, given that the plane features Qantas' new seats. However, in economy (where the 787 is in a 3-3-3 configuration), I imagine this is a significantly less comfortable journey.
A flight to Israel over Saudi Arabia
On Thursday, March 22, 2018, Air India launched 3x weekly flights between Delhi and Tel Aviv. As such that may not seem so noteworthy, though what makes the route interesting is that Air India was granted permission to operate the route through Saudi Arabian airspace.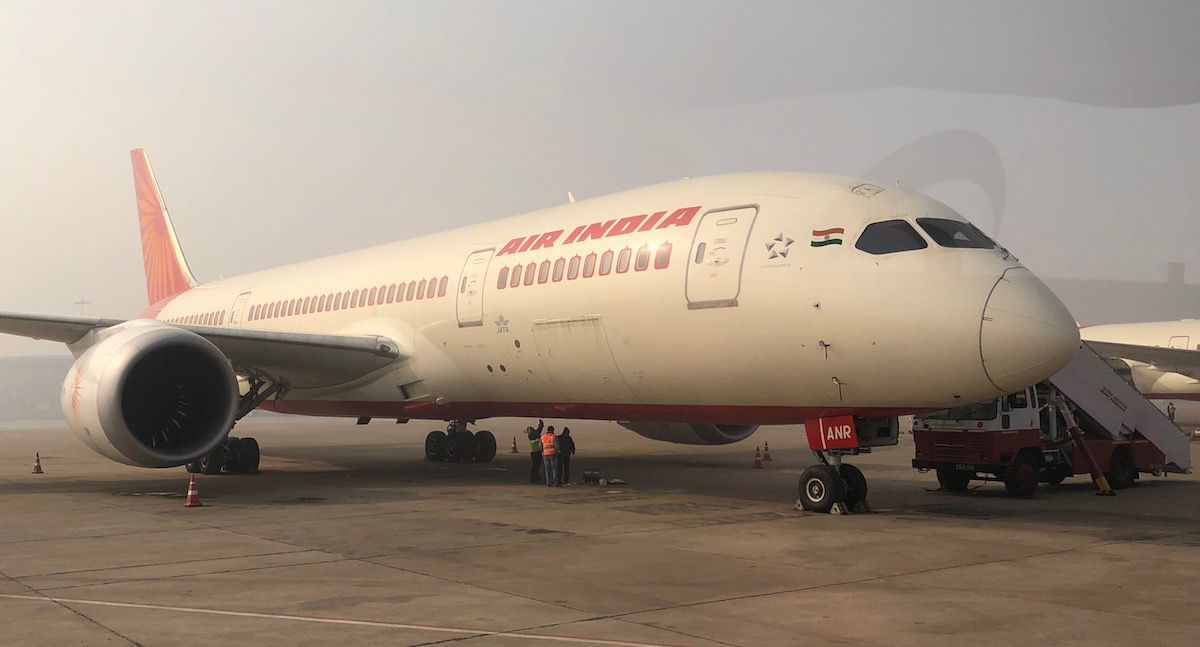 In the past few decades, the only flights that have operated direct from Saudi Arabia to Israel have been on Air Force One with a US president onboard, so even being able to use the airspace is a big deal.
As big of a deal as this is, there was a lot of misinformation when this was first announced. An Air India spokesperson said that the airline had been granted the right to fly over Saudi Arabia, while the Saudi Arabian aviation authorities denied that was the case. Now that the inaugural flight has operated, we can officially confirm the flight did use Saudi Arabian airspace.
Despite this, Air India still isn't able to operate anywhere close to a direct routing, given the other airspace they have to avoid. As a point of comparison, EL AL flies from Mumbai to Tel Aviv, which is almost exactly the same distance as Air India's Delhi to Tel Aviv flight. EL AL's flight is blocked at 7hr35min, while Air India's flight is blocked at 7hr25min.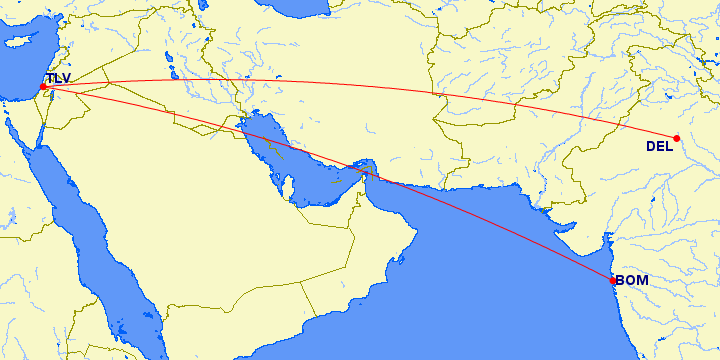 The direct distance of both flights is about 2,500 miles, while the distance flown for Air India is ~3,430 miles, and the distance flown for EL AL is ~3,680 miles.
For reference, here's the FlightAware for the Air India flight: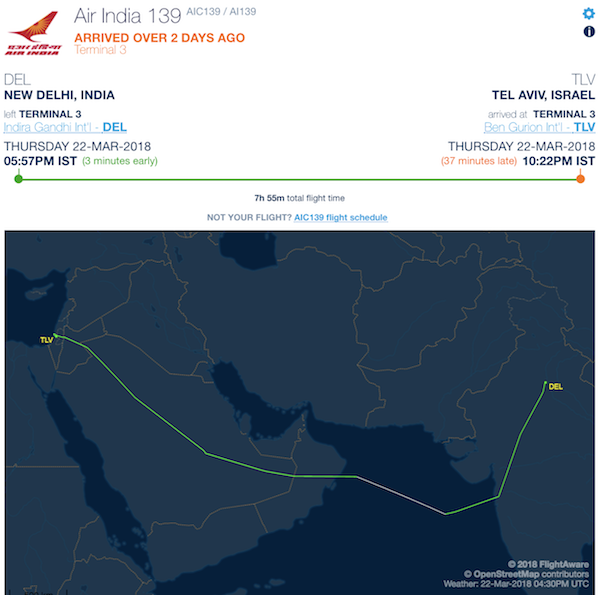 And here's the FlightAware for the EL AL flight: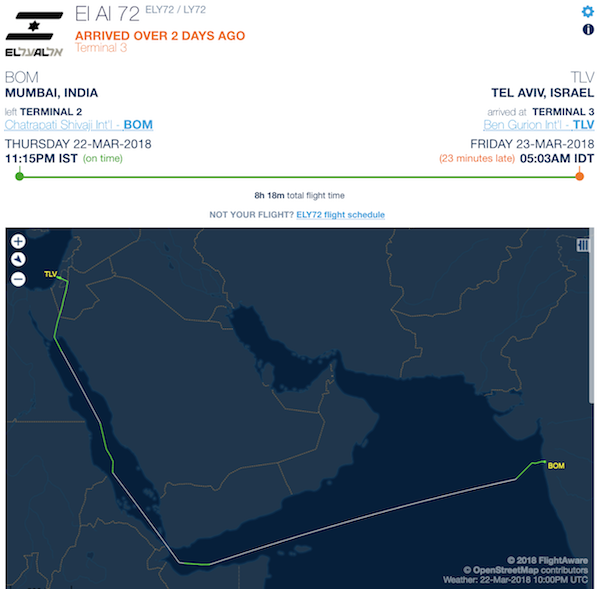 Bottom line
These new flights from Qantas and Air India are both quite interesting.
The Qantas flight is significant since it connects two continents that didn't previously have a direct link. While it's cool to have such a flight, the catch is that 17+ hours in 787 economy probably isn't all that pleasant. Furthermore, unless you're originating in Western Australia, your journey isn't necessarily any more direct, since you'll still have to connect in Perth.
A new flight to Israel that uses Saudi Arabian airspace is a step in the right direction, and I hope the trend continues. I'm skeptical. Some argue this is a sign of relations warming up a bit, though I'd argue just as easily that it's a slap in the face towards EL AL, since it puts them at a further disadvantage.