I've written before about how my "urge" to get on a plane has lessened lately. My sweet dog and his abandonment issues have a lot to do with it, as it's heartbreaking to leave him, but I've also found my interests have changed somewhat.
I still love flying.
But where previously I'd have been happy flying six segments to get to Singapore, going to a hawker stall, and then turning right back around, now I find myself wanting to spend more time in the places I go to. I love nature, and while I once wouldn't have been able to justify the extra time it takes to get to more remote destinations, now there's nothing I enjoy more than spending a few days with Ford, hiking and exploring a new place.
My friend Matt Kepnes of Nomadic Matt has gone through a similar transition, though for different reasons. He's spent the past ten years traveling more or less full-time, and has recently published a book about his experiences.
As opposed to the quick trips I've generally done, when you're in a place for weeks or months on end, you obviously have more opportunities to get to know a place. So Matt has put together a list of tips for getting the most out of a destination, even if you only have a short time to visit.
---
Travelers are always looking for new ways to get the most out of their travels. While the points and miles game can get you to your destination, what do you do when you get there? How do you get the most out of your time there and see beyond the hotel?
I've been traveling the world regularly since 2006, covering more than 100 countries, hundreds of thousands of miles in the air (though not as much as Ben), and meeting countless people along the way.
Though I'm a budget traveler and stay in more hostels than hotels, once you get to a destination, we travelers all face the same question: what should we do?
It doesn't matter the comfort you came in, the thread count of your sheets, or your budget.
You need something to do while you're in a city.
Nomadic Matt's tips for finding local experiences
In my years as a nomad, I've figured out some good ways to get the most out of your destination, experience the local culture, and get away from the tourists! These methods will work no matter your budget, age, or travel preference.
They will help you peel back the layer of the onion and get a sense for the rhythm of life where you want to go.

There's more to Prague than the Old Town Square
1. Embrace the "Sharing Economy"
Hotels, cruises, resorts – they are opulent and fun. But one of the points I make in my new book is that they can wall you off from locals. They don't really give you a sense of the destination.
I love what is called sharing economy websites. These platforms allow you to bypass the traditional travel gatekeepers and go directly to locals for activities, meals, and accommodation. They are my primary way of getting to know people when I'm traveling. You get a lot more unique tours, experiences, and food offering through them. I got to hang with a French family who gave me a ride in Swizterland, shown a jazz bar in Lyon, a rock concert in Munich, have Sunday dinner with a family in Copenhagen, and learn about history in London. Some of my favorite sharing economy apps and platforms are:
Airbnb – This is a great website shared and private accommodation direct from local home owners but they also have a good experiences feature where you can do fun activities with locals.
EatWith – This website lets you have unique dining experiences with local cooks. It's like a dinner party with strangers. You get a decent meal and a chance to interact with locals.
Vayable – I like this website because customized tours with local experts. You get people who are just passionate about one thing about the city showing you around and unearthing a lot of hidden spots you normally wouldn't find.
Couchsurfing – This is website for free shared accommodation with locals but what I really use it for is the events and hangouts feature. Most big cities in the world have active communities and you'll find events happening every night of the week for people of all ages.
2. Visit Local Tourism Offices
Every major city will have a tourism office. Not only is this a good place to learn about local discounts and tourism passes, but it's a great way to see what's happening while you're there. Their job is to literally tell you what to do. I think they are a really under utilized resource! These offices are staffed with locals in the know about what is going on in the city so ask them "what do they do for fun" and let them show you around. Tell them you want what they do not what tourists do. Plus, they offer lots of exclusive discounts and that can help you save a lot of money!
3. Take a Cooking Class
I think you really learn a lot about a country via the food they eat. I don't mean what's in a restaurant but what's in the supermarket and local farmer's market. You get a sense of what they like to eat and how they like to eat. Some of my favorite memories revolve around food. I think taking a cooking class us a great way to add some depth (and deliciousness) to your travels. Learn how to make pasta in Italy or how to make pho in Vietnam. Explore the markets, learn how to pick fresh produce, and chat with the farmers and vendors who bring the cities to life. You learn about people by how they eat.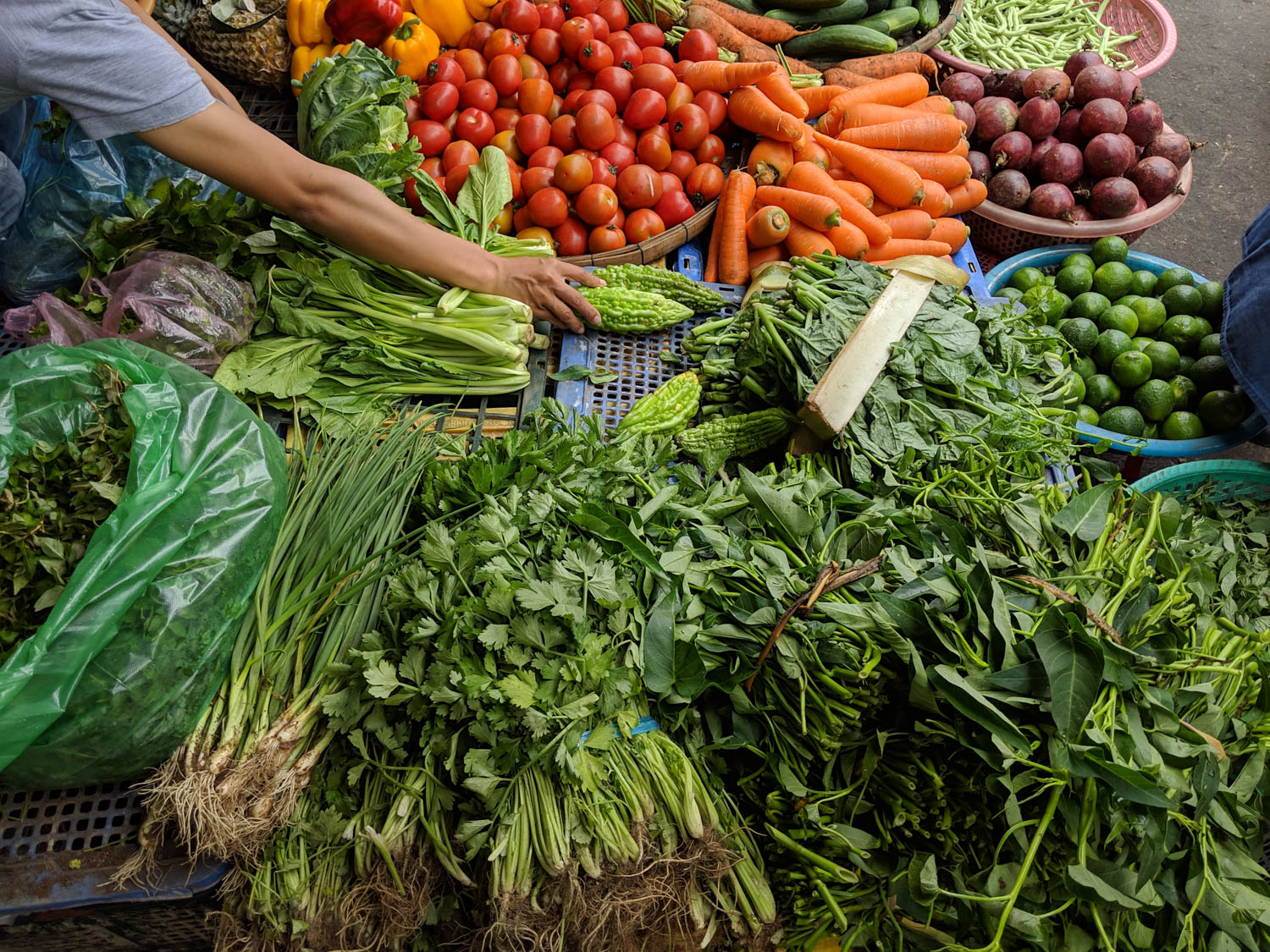 The morning market in Hoi An, Vietnam
4. Use Meetup.com and Facebook groups
Love to play chess? Swing dancing? Trail running? Slacklining? Use meetup.com or Facebook groups for local groups that share your interests. I mean if you like doing this stuff, why not do it in another city? Not only will you get to do something you love, but you'll get to chat with locals about it.
I love doing this because it's just a great way to have fun and meet new people. I think this also a great way to overcome the "what do I talk about?" fear that holds many people back. By going to one of these groups, you already have a shared interest to talk about!
5. Take a Walking Tour
Walking tours are an awesome way to get to know a city, learn something interesting, and make some friends. I take countless walking tours when I travel – from free tours to food tours to history tours and everything in between. Not only do you get a chance to learn something (the more the obscure tour, the better), you get a local person to ask a ton of questions to in a small group setting. It's a win-win combination! Some suggested companies that are a little bit more global than others:
Be sure to check the local tourism office or Google for local walking tour companies.

Matt on a hiking tour in Patagonia
Bottom line
At the end of the day, the best way to add depth and detail to your travels is to interact with locals in as many different ways as possible. Travel is all about gaining perspective, and the best way to do that is by talking with people who might have a different view of the world than you do.
In all my years of travel, my favorite moments came from when I was doing the things every day people do and interacting with people who lived in a destination. That's travel. Sitting in your hotel ordering room service? That's a vacation.
And there's nothing wrong with that. Everyone needs a break.
But if you want to travel and get to know a place, you have to get to where the people are. These are five ways to make that happen!
---
Matthew Kepnes runs the award winning budget travel site, Nomadic Matt. He's been traveling the world regularly since 2006 and has been writing about ways people can travel better, smarter, and longer since 2008! He's also the author of the New York Times bestseller How to Travel the World on $50 a Day and his writings and advice have been featured in The New York Times, CNN, The Guardian, Budget Travel, BBC, Time, and Newsweek.
His new travel memoir, Ten Years a Nomad, is story of wanderlust, friendship, and gets to the heart of why people travel long term. It's full of stories and advice from the road and is available now!