It's fun to sometimes reflect on how perspectives change over time. I'll be 29 next month. 30 is right around the corner. Time flies, and I still feel like a kid.
I started flying frequently at the age of 15, which means I'm going on having done a lot of travel for nearly half of my life. Many millions of miles and collectively years of jetlag later, I feel differently about some things than I used to.
What appealed to me as a kid
As a kid all I wanted to do was travel and fly. When I was on a plane I was happy. I loved everything about planes, and I thought the key to my happiness in life was flying.
I was very active on FlyerTalk, and I'd always ask those who traveled constantly what they did for work that allowed them to fly so much. For a long time I thought I'd end up choosing a career based on my desire to travel frequently (well, I guess I sort of did in the end anyway). I figured it didn't really matter what I did, because I'd be happy if I was flying. If you love traveling and flying and you can get paid for doing that, well, then how could life be any better?
I can't help but smile when I see people ask similar questions online nowadays. "I'm in school and want a job that requires a lot of travel, what should I do?"
Or people even ask me this all the time — "this sounds like a dream job, how do you get to fly all the time?"
How my desire to travel evolved over time
Over time I largely got to live my dream of traveling constantly. To this day I fly hundreds of thousands of miles per year, and for years I even lived in hotels full time.
A lot of people said "oh, what a sad and lonely existence." The reality is that I'm an introvert, and I wasn't actually sad doing any of this.
I'm not sure what exactly collectively drove me to this point. Maybe it's a combination of being introverted and being gay, and long feeling like I didn't fit in, and therefore constantly being on the go was oddly satisfying.
But the truth is that I don't regret any of it. My life has changed greatly, but I don't now look back on the past and say "what a horrible, sad existence." I smile when I think about it, and consider it to be the "good old days."
How I feel now
In the past several months I've had a significant change of heart.
For as long as I can remember, I'd always feel an "itch" to get on a plane if I had been on the ground for a week. It was truly an addiction. Now, there are no doubt much worse addictions out there, but I truly believe it was an addiction nonetheless.
Up until today I was home for over a month. Believe it or not, in that entire time I had zero desire to immediately go anywhere. ZERO. This is the first time in 15 years I've felt this way.
Now you might say "well that sucks if this is your job," but not really. Let me explain.
What has changed?
As I get older my priorities in life are changing.
For one, while frequent travel can be fun, it takes a huge physical and emotional toll. Huge. You're constantly tired, it's a struggle to eat healthy, it's tough to have relationships, etc. But that's part of the game.
The past month that I've been at home I've worked out at least six days per week, I've been eating well, and I've been getting amazing sleep. When you combine those things, I feel fantastic, which I simply don't feel when constantly traveling.
As I get older I'm prioritizing health over thrills. I've also changed what makes me happy. Nowadays I derive 99% of my happiness from being able to wake up in good health, and having my family in good health as well.
Maybe there's one other factor that has most changed how I feel, though. No, not my husband — I love him, but I actually think for humans distance is good sometimes, because it makes you miss that person more. That's especially true since we both work from home, and are together basically 24/7. So travel is good in that sense.
Rather what makes me heartbroken to leave home is Winston, our dog. He's the sweetest guy on earth. He also has serious abandonment issues, given that he had been surrendered in the shelter twice before we got him.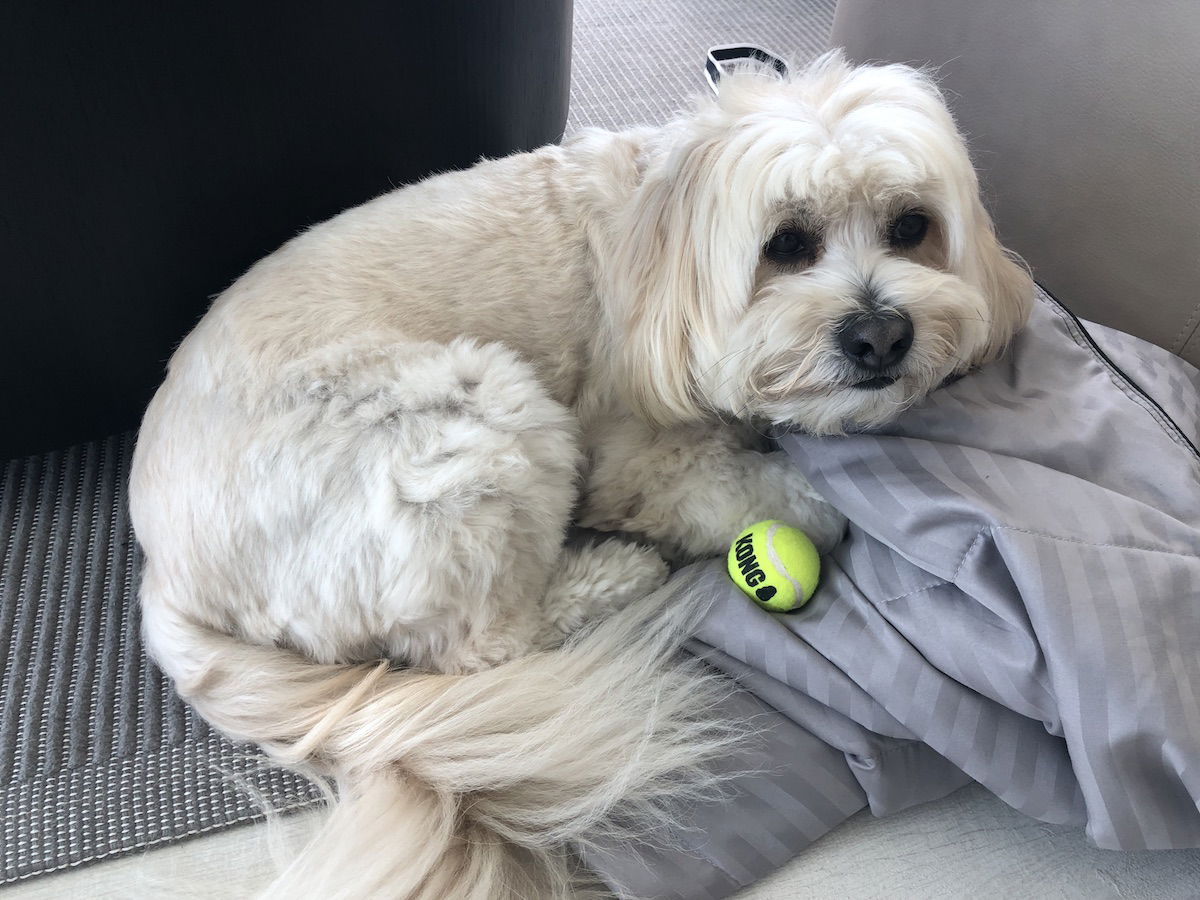 At first, when we traveled it was clear he thought we were leaving him permanently. Heck, when we left home for five minutes he'd feel that way. Fortunately over time he has started to learn that we always come back. But that doesn't change his depressed demeanor whenever I take my suitcase out of the closet. He knows exactly what's happening, and I feel so badly about it.
I really, really love dogs, so for a long time I resisted the urge to get one, since I knew it would change how I feel about things. Well, it sure does. My heart breaks every time I leave him, and it doesn't get easier. Ford and I would like to eventually have kids, and I imagine that's a million times worse.
What does this mean going forward?
What does all of this mean? After all, travel is sort of my job. No, nothing major is changing. Rather I just hope to travel a bit more purposefully:
Rather than planning travel last minute because I have an "itch," I'm planning travel many months in advance; I actually enjoy anticipating travel, which is a sensation I rarely had in the past, since my travel planning was based on fueling an immediate addiction
I'm being more deliberate about where Ford and I go; we're planning trips to places we want to go, to make sure that it's actually worth leaving home for (over the coming year we're traveling to Lebanon, Japan, Ireland, Greece, Iceland, the Maldives, and we're taking a Ritz-Carlton cruise)
I still plan on doing just as many review trips as before, and I'll try to do them as efficiently as possible
The enjoyment I get out of travel hasn't changed much. I still love seeing places, I still love taking review trips, I still love flying, and I still love seeing sunrises and sunsets from above the clouds.
What has changed is my need to constantly travel in order to fuel an addiction.
If anything, this has actually made me enjoy places more. I feel like going places is now "special," rather than just feeling like I'm constantly on the go.
What's my point?
You might be saying "okay, great, what's your point?"
Well, maybe this post is intended mainly for the young people out there, who want to make life and career decisions based on a desire to travel. If you told teenage me that 15 years down the road I wouldn't recommend making huge life decisions around a desire to travel constantly, I would have said you were nuts.
Over time, priorities in life change. I have no regrets with life up until now, but I've gotten to the point where I love being home more than anything else. I like having a daily routine, because it's something I never had in the past, and I don't feel the desire to "escape" that.
Let me once again emphasize this isn't a "retirement" from travel at all. Rather it's intended to be what I'd consider to be a healthy transition from constantly feeling the itch to go somewhere, to being content and grateful with every day that I get to live healthily, and having a greater appreciation when I do go somewhere.
I love this industry just as much as I did on day one, and I still have the best job in the world, as far as I'm concerned.
If you're a long time very frequent traveler, I'd be curious to hear if your thoughts have evolved over time as well!