Southwest Airlines is experiencing a huge number of cancelations and delays this weekend, and the carrier's explanation doesn't make much sense…
Southwest cancels 1,800+ flights
On Saturday and Sunday alone, Southwest Airlines has canceled over 1,800 flights (and that's as of 9AM on Sunday, so expect things to get worse). According to data from FlightAware:
On Saturday, October 9, 2021, Southwest canceled 808 flights (24% of the schedule) and delayed 1,154 flights (35% of the schedule)
On Sunday, October 10, 2021, Southwest canceled 1,007 flights (27% of the schedule) and delayed 120 flights (3% of the schedule)
Expect the number of cancelations (and especially the number of delays) to increase massively throughout the rest of the day, and also into Monday and Tuesday, since there's a huge domino effect to airline irregular operations.
Southwest blames ATC & weather for cancelations
Why is Southwest experiencing so many cancelations this weekend? The airline blames this on "ATC issues and disruptive weather." There's only one small problem with that — it seems like it's only Southwest impacted by ATC and weather issues, which sure doesn't add up:
On Saturday American canceled 66 flights (2% of the schedule), Delta canceled 16 flights (less than 1% of the schedule), and United canceled 11 flights (less than 1% of the schedule)
On Sunday American canceled 63 flights (2% of the schedule), Delta canceled three flights (less than 1% of the schedule), and United canceled six flights (less than 1% of the schedule)
Given that all airlines use the same ATC system, and there's large overlap in terms of hubs between these airlines, something isn't adding up. Interestingly when Southwest had an operational meltdown in June 2021, the airline blamed… wait for it… weather and ATC.
Now, in fairness, there were some major issues with Jacksonville air traffic control there, and while Southwest has a significant presence at the airport, it doesn't explain the extent of the issues we've seen. So while weather and ATC likely partially contributed to Southwest's problems, it doesn't tell the full story.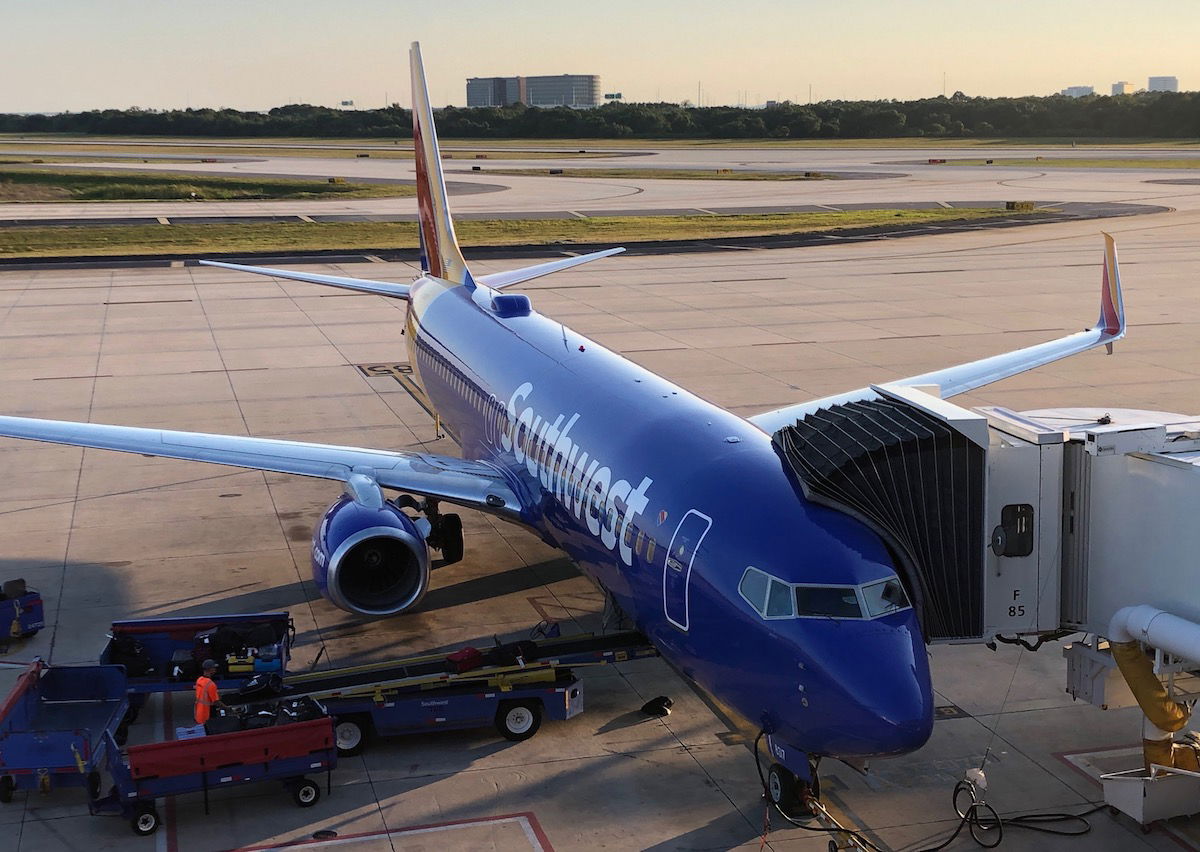 What's the real reason for Southwest's issues?
Staffing has been a consistent issue in the airline industry since we've seen a recovery in demand following the pandemic. Many major carriers in the United States are short staffed across various roles, especially with pilots and flight attendants.
Many employees took early retirement or voluntary separation packages from airlines around the start of the pandemic, and with demand having recovered so quickly, airlines now need more staff. While airlines may have enough pilots and flight attendants to cover their schedules, when there are delays, cancelations, or staff call in sick, they don't have sufficient employees on standby.
The further issue with the airline industry is the domino effect when it comes to irregular operations. Airline operations are incredibly complex, and when a plane has a problem in one place, it can have huge issues down the line.
It seems that there could be something further going on. It's my understanding that a huge number of Southwest pilots have called in sick this weekend, much more than usual. It's anyone's guess what the cause of that is, but it follows the Southwest Airlines Pilots Association (SWAPA) on Friday asking a court to block the airline from requiring vaccination, in anticipation of an upcoming federal mandate.
SWAPA had already filed a lawsuit against Southwest, claiming that the airline was violating labor laws. The union now doesn't want the airline to be able to require vaccination (in line with the expected federal mandate) until existing issues are resolved. The union claims that the airline is taking unilateral action that violates the Railway Labor Act (including requiring vaccination), which is supposed to govern relations between airlines and unions.
Given the timing here, I have a hard time imagining that it's a total coincidence that so many pilots are calling in sick this weekend.
Bottom line
Southwest Airlines is experiencing a huge number of cancelations and delays this weekend, and I imagine this will continue, and likely even get worse. The airline is blaming ATC and weather, essentially claiming it has absolutely no control over these cancelations. However, Southwest seems to be the only airline impacted to this extent, which sure makes you wonder.
It's my understanding that a lot more pilots than usual have called in sick this weekend, and that just happens to coincide with the union having yesterday taken legal action against the airline over the vaccine mandate. Coincidence? You tell me…
Beyond whatever action may or may not be going on, the situation is exacerbated by the lack of spare employees that major airlines currently have, meaning that when things go wrong, it can take even longer to recover.
If you have a Southwest flight booked in the coming days, don't expect it'll necessarily operate as planned.
Has anyone been caught up in this weekend's Southwest Airlines mess?