United Airlines is expected to announce some new international routes tomorrow, and we have some hints about what we should expect…
United's October 2022 international route announcement
United Airlines is expected to announce new international routes at 8AM ET tomorrow (Wednesday, October 12, 2022). These are routes that are expected to launch in the summer of 2023.
United likes to have some fun with new route announcements, and for the past couple of years the airline has invited the public to guess the routes in advance, by teasing them one day before. This year is no different. There are actually two separate sets of clues here.
For one, United has posted a video to social media, containing some clues. Once again, United's SVP of Global Network Planning and Alliances, Patrick Quayle, made an appearance.
On top of that, United has internally posted a picture shared by @IshrionA, showing images of nine destinations. When you combine the two, I think we have some pretty good hints.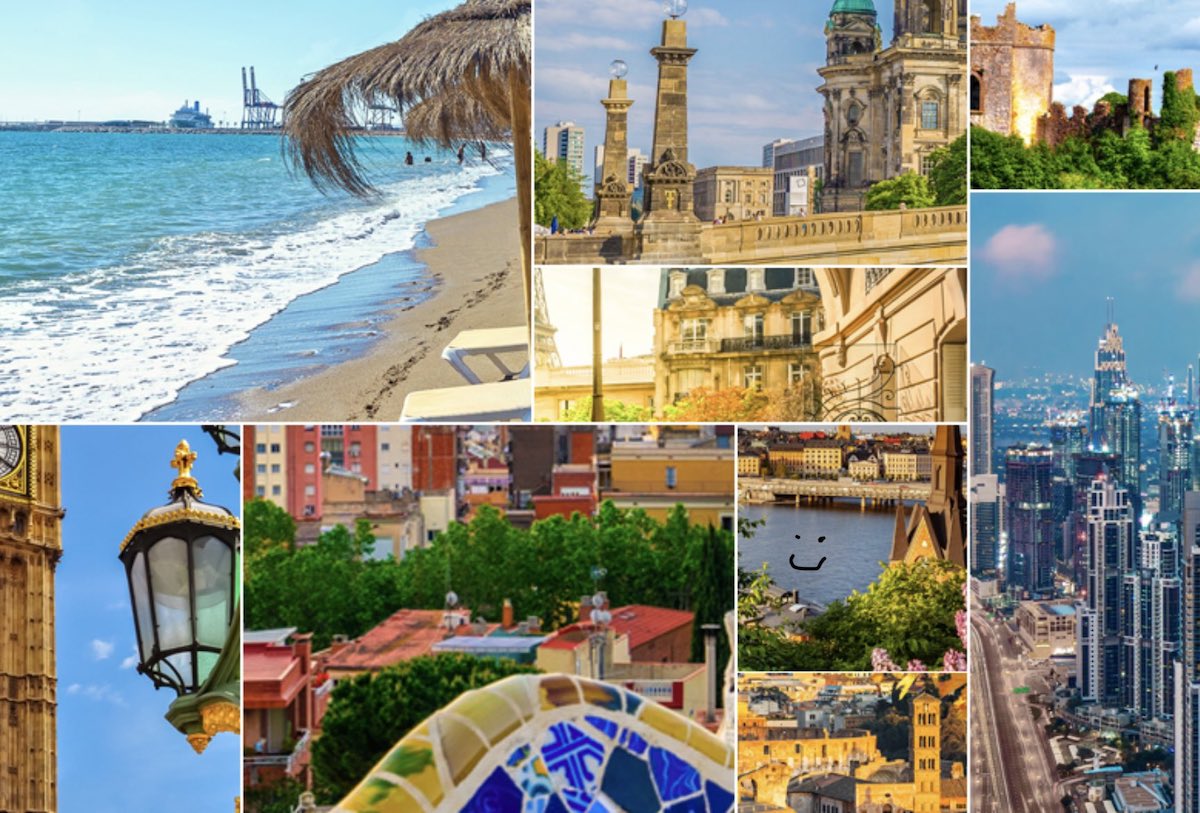 What routes will United announce?
All we can do is speculate, so let's start with the collage of nine picture. Best I can tell, the pictures feature:
Berlin, Germany
Barcelona, Spain
Dubai, United Arab Emirates
London, United Kingdom
Malaga, Spain
Paris, France
Rome, Italy
Stockholm, Sweden
I'm not sure what the castle picture at the top right is (maybe Dublin, Glasgow, or Shannon?). It's also not clear if the Berlin or Dubai announcements would actually be additional new routes, or if they're just including them since United recently announced Newark to Dubai and Washington to Berlin routes.
That brings us to the video, which contains a few more clues:
There are two bags in an overhead bin with "LAX" and "LHR" luggage tags, so is the airline adding capacity in that market, or are those unrelated clues, suggesting there will be expansion from LAX and to LHR, but not necessarily between those airports?
The flight attendant adjusting the seat seems to have four star tattoos, which is the flag of Chicago (at first I thought they were four-leaf clovers, but I don't think so)
There's a picture of a bear and cherry blossom, so it sounds like maybe there will be a California to Japan route, though that's not transatlantic
Quayle can be seen drawing a map in a Polaris seat, and it looks to me like a map of Spain with Malaga circled; presumably the "646" area code is a clue, as that's New York
There's someone reading a book with a Swedish flag
There's someone looking at the United app with flight number UA507, with a 1:10PM arrival time
I'm not sure I get the clue with the twins?
It seems to me like Newark to Malaga is a sure bet, and Barcelona Airport has already confirmed on social media that United is launching a Chicago to Barcelona route. So those two seem almost certain, but the rest are trickier. I know OMAAT readers are super observant, so I'm curious what y'all come up with.
Bottom line
United will be announcing new international routes on Wednesday (October 12), and I'm curious to see what the airline has in store for us. I love these guessing games from United, so feel free to get your speculation in below! I'm curious if anyone can guess all of them.
What clues did you notice, and what routes do you think United will launch?