United Airlines has just announced that it's going to announce some new international routes tomorrow, and oh my gosh this is just too fun.
United announcing new international routes
New route announcements can be exciting for us avgeeks, and United really embraces it. Not only does United in my opinion have the most exciting route network of any major airline in the United States, but the airline makes a game of announcing new routes.
Yesterday United posted a teaser photo on Instagram, which had an envelope that states "confidential" and "new United international routes" on it.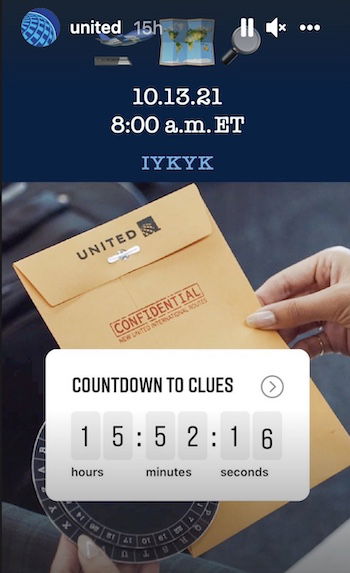 Sure enough, at 8AM ET this morning, the airline posted a video on social media about an upcoming route announcement. The airline says we have 24 hours to guess the routes, which suggests to me that the announcement will be made tomorrow.
This isn't the first time that United has done something like this. In September 2020, the airline posted a video on social media containing similar clues, and boy was it fun to guess the routes!
What clues are in United's video?
As you can see, in the video two people mix up their suitcases, and then try to find one another. For those wondering, the guy featured in the video is Patrick Quayle, United's brilliant VP of International Network. He seems to have an envelope in the video containing the new routes.
A few observations:
The video references LAX, ORD, and IAD, so I'd imagine all three airports are getting new international routes
There's a bag lock that shows the numbers "102" and "324," and those are the country codes for Ghana and Angola; it seems to me like United is launching a tag flight between Accra and Luanda
There's a backpack with pins — one pin says "Porto," one pin has the Swedish flag, one pin says "Prague," and one pin says "NCE," so I'm guessing there will be new flights to Porto, Portugal, Stockholm, Sweden, Prague, Czech Republic, and Nice, France
The Bavarian flag is on the back of the woman's cell phone, so presumably there's a new route to Munich
There's a crossword puzzle featured, which contains the words "Arsenal," "Bread," "Curacao," "Fernando," "Lasagna," "Lye," and "Thorn," and I'm not sure what exactly to make of this; is a new route to Curacao the only clue, or should we also read into Arsenal (new UK routes?), Lasagna (new Italy route?), and the rest of the words?
This is just too fun, and I can't wait to hear what OMAAT readers notice.
Bottom line
United Airlines seems to be planning an international route announcement for tomorrow (Thursday). United has long been the most creative US airline when it comes to long haul routes, and I can't wait to see what United launches next. As an avgeek I also love how United makes such a game of guessing new routes.
If you want to play along in the comments section, I'd love to hear OMAAT readers' route guesses!